With facelifted versions of the Mercedes-Benz C-Class and Audi A4 available in, and en route to, South Africa, much is expected of their upcoming rival, the all-new BMW 3 Series. We don't know what the G20 will ultimately look like, but we can tell you what BMW's latest business class sedan is like to drive. Our Irish correspondent Neil Briscoe drove a 330i prototype at the Nurburgring.
If a car can be driven fast with ease on a demanding race track, then it's probably, within a certain margin for error, a good car. If a car can be driven at high speeds on a freeway, in comfort and comparative silence, then it is almost certainly a good car. If a car, one car, can do both of those things on the same day and feel equally good then it's probably the new BMW 3 Series.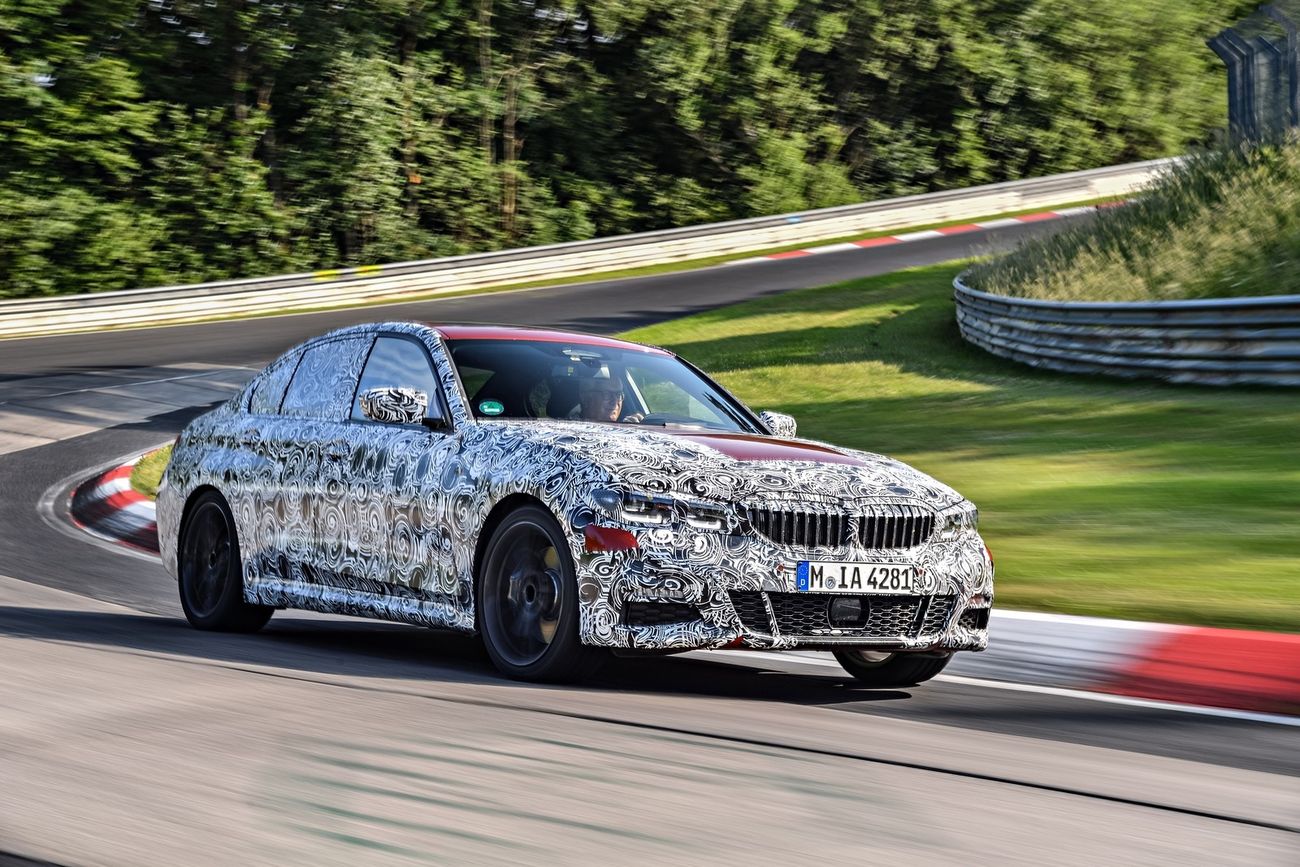 There can be few tracks that demand more of a passenger car, in terms of outright handling ability and balance, than the Nurburgring.
This is the G20-generation 3 Series. It is the 7th iteration of BMW's business class sedan since the original was launched way back in 1975. So, the 3 Series has a lot of history to live up to, but its problem is the present. Right now, demand for sedans is generally falling, certainly in the 3 Series' biggest markets of Europe and North America. Customers are favouring crossovers and SUVs. Indeed BMW is feeding that addiction itself, by creating a huge family of SUV models — from X1 to X6, with a super-luxury X7 well in the works.
Some definite detail differences
Into that modern world comes the new 3 Series, with its classical sedan styling and proportions. Not that we can tell you a lot about the styling, for now. All of the early prototypes we drove were covered in camouflage tape that, even at close range, made it hard to pick out exactly what the car looks like.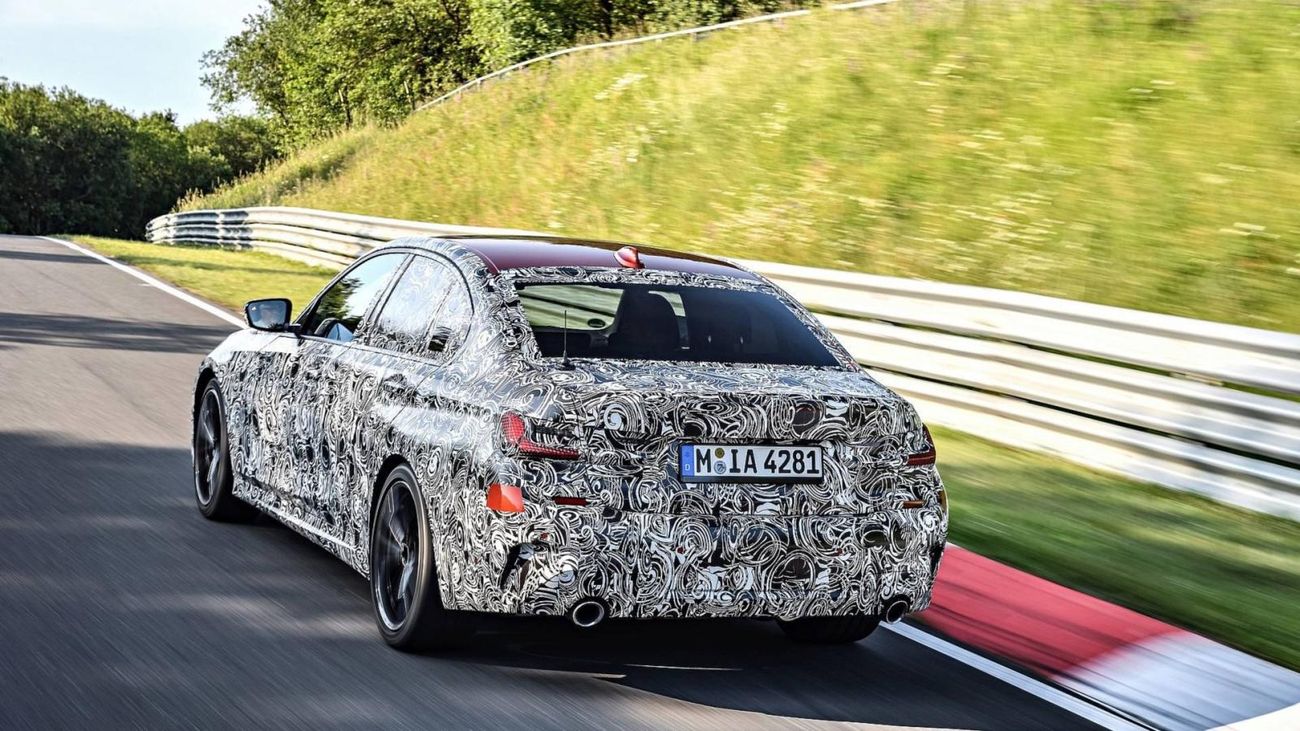 The G20-generation 3 Series has typical, yet undoubtedly well-proportioned, sedan design features.
When you step back, it looks very much like a 3 Series should — long bonnet, 4 doors, short boot — but there are some definite detail differences. The rear of the car looks a little more sculpted than before, and the new headlights are far slimmer, narrower and more high-tech than those of the old 3 Series.
The cabin has seen some surprisingly big changes, however. Again, we're only seeing small details here, as most of the interior of the test car was covered with thick felt fabric to keep unauthorised eyes away, but there are definitely new all-digital instruments. These now push the main dials for speed and engine rpm out to the edges of the display, leaving the centre of the screen free for navigation and trip computer details, and they have a design that seems retro… a little bit '80s, actually.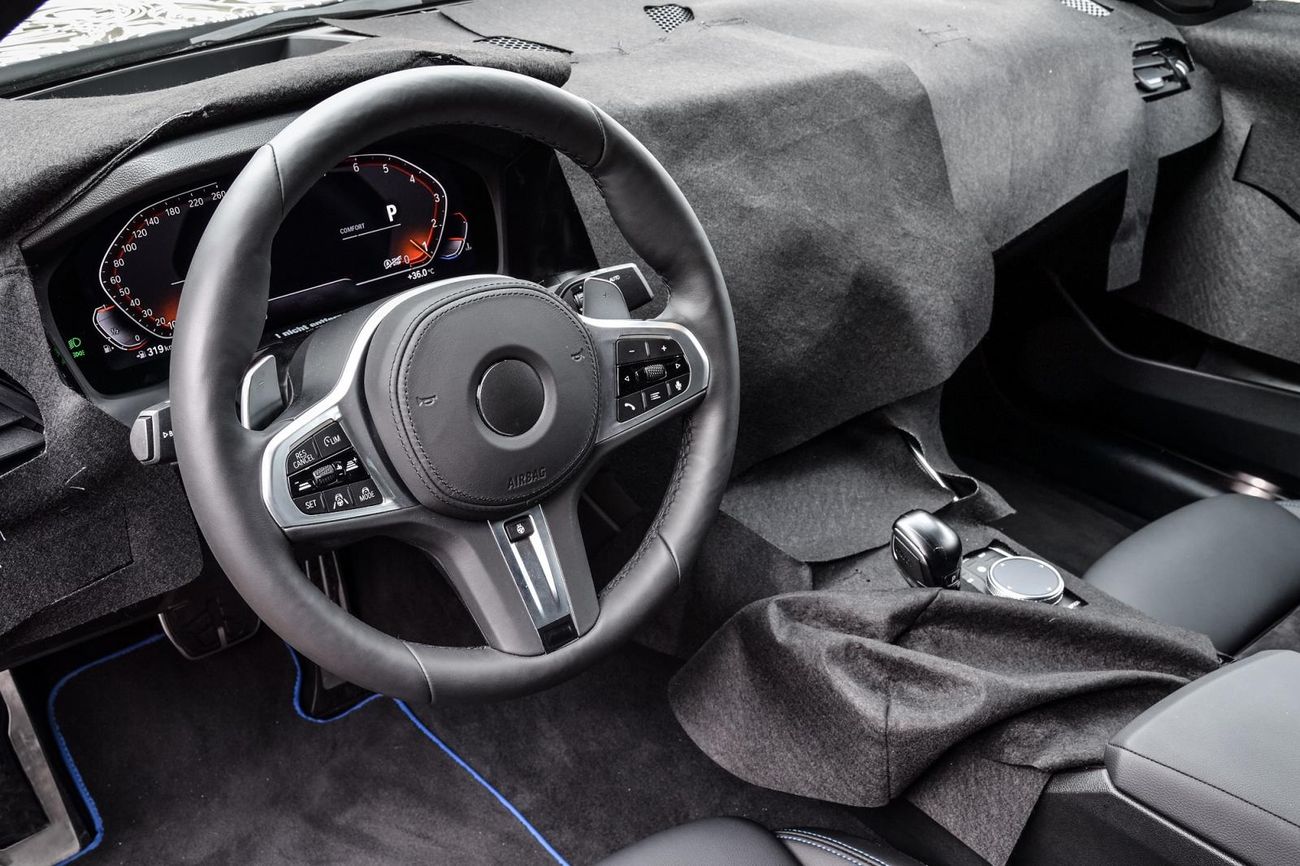 Our correspondent notes 80s Bimmer cues to the cabin design, which we think hints at a fascia that is angled towards the driver.
In the centre stack, there's the familiar iDrive infotainment screen and the usual rotary controller, but the visual details are a little different, with new switches and buttons, and even on these early prototypes, very high levels of quality. Occupant space, as ever, is fine — it's not a particularly roomy sedan, but it's good by the standards of its class — and comfort levels are very high.
Hydraulic suspension stops
Those comfort levels will be helped by a major change to the chassis: BMW has equipped its business class sedan with hydraulic suspension stops. These replace traditional solid rubber bump stops that can cause a jarring sudden stop to suspension movements on poorly surfaced roads. Instead, when the 3 Series' suspension reaches the limits of its travel, it pushes a piston into a cylinder filled with hydraulic fluid, which absorbs the worst impact, and allows the suspension a more gradual, comfortable recovery to its normal position.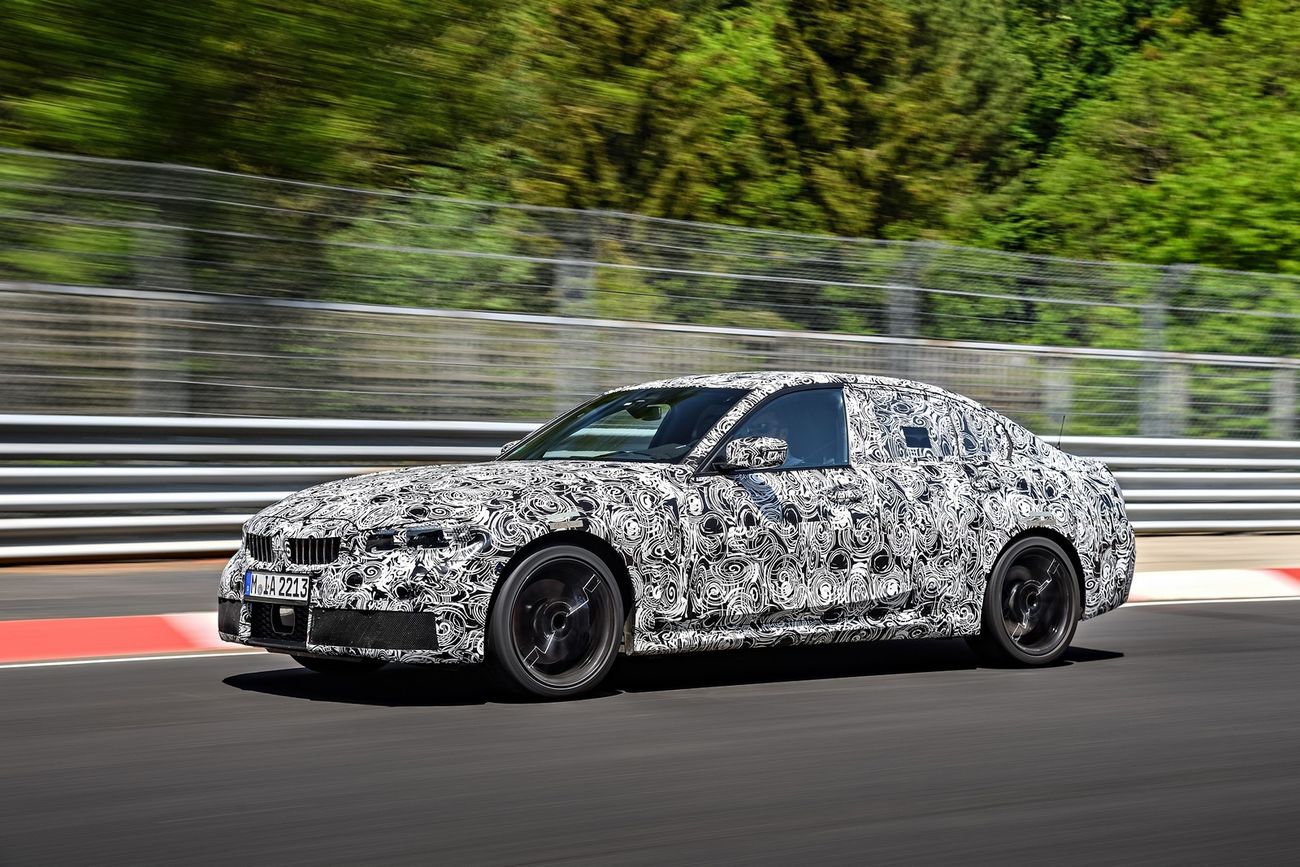 The dynamic-acting hydraulic suspension stops provide the new 3 Series with better bump absorption.
Does it work? Mostly, yes, although all of the cars we were driving were fitted with sportier, firmer M Sport suspension, which is 10-mm lower than that of a standard derivative, which meant that, on very bumpy stretches, we were still feeling some sharp, sudden suspension movements. However, it's likely that a standard 3 Series would perform better in such conditions.
If you're buying an M Sport version, you can also specify an active rear differential, which is similar to the one used by the high-performance BMW M3, but in a lower state of tune. It certainly helps the 3 Series to find extra grip and traction, even in the very wet conditions we were testing these cars.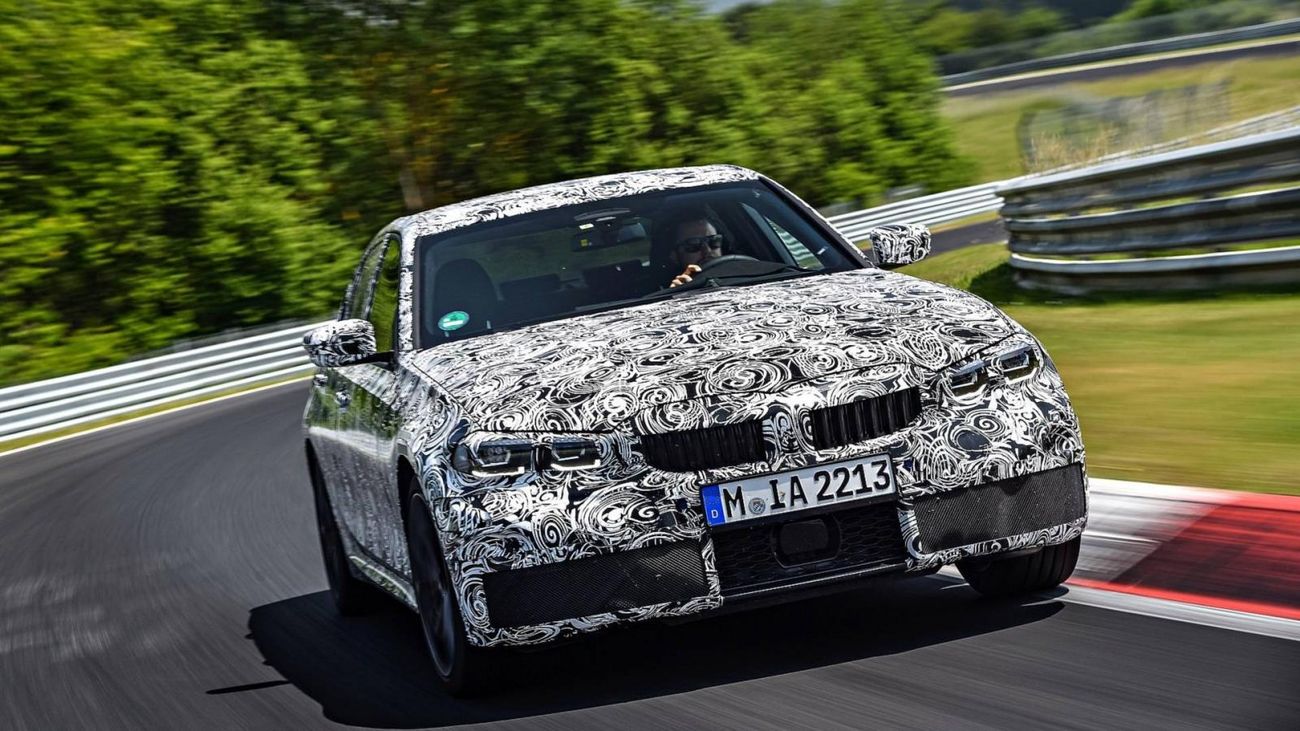 Performance aficionados will relish the opportunity to savour the active rear differential on a non-M BMW model...
So far, all we've driven is the 330i model, which uses BMW's 2.0-litre 4-cylinder turbopetrol engine. It's being updated for the G20 model, and will get an extra 5 kW of power and an extra 50 Nm of torque, which, given the current version's figures, suggests the new derivative has peak outputs of 190 kW and 400 Nm of torque. The whole car is around 55 kg lighter than before, which augers well for improved fuel consumption and emissions (BMW has not yet released specific figures, however).
Much-improved steering feel
Does it still drive as a "proper" BMW should? It sure does… The biggest advance has been made in the steering, which is light and accurate but, for the first time since BMW switched to electric power-assisted steering, it has proper road feel and feedback. In fact, the steering feels very like an old-fashioned hydraulic power steering setup, transmitting so much information of what's happening under the front tyres back to your hands. It makes the G20 3 Series feel exceptionally confidence-inspiring on difficult roads, simply because you always know how much grip the car has at the front.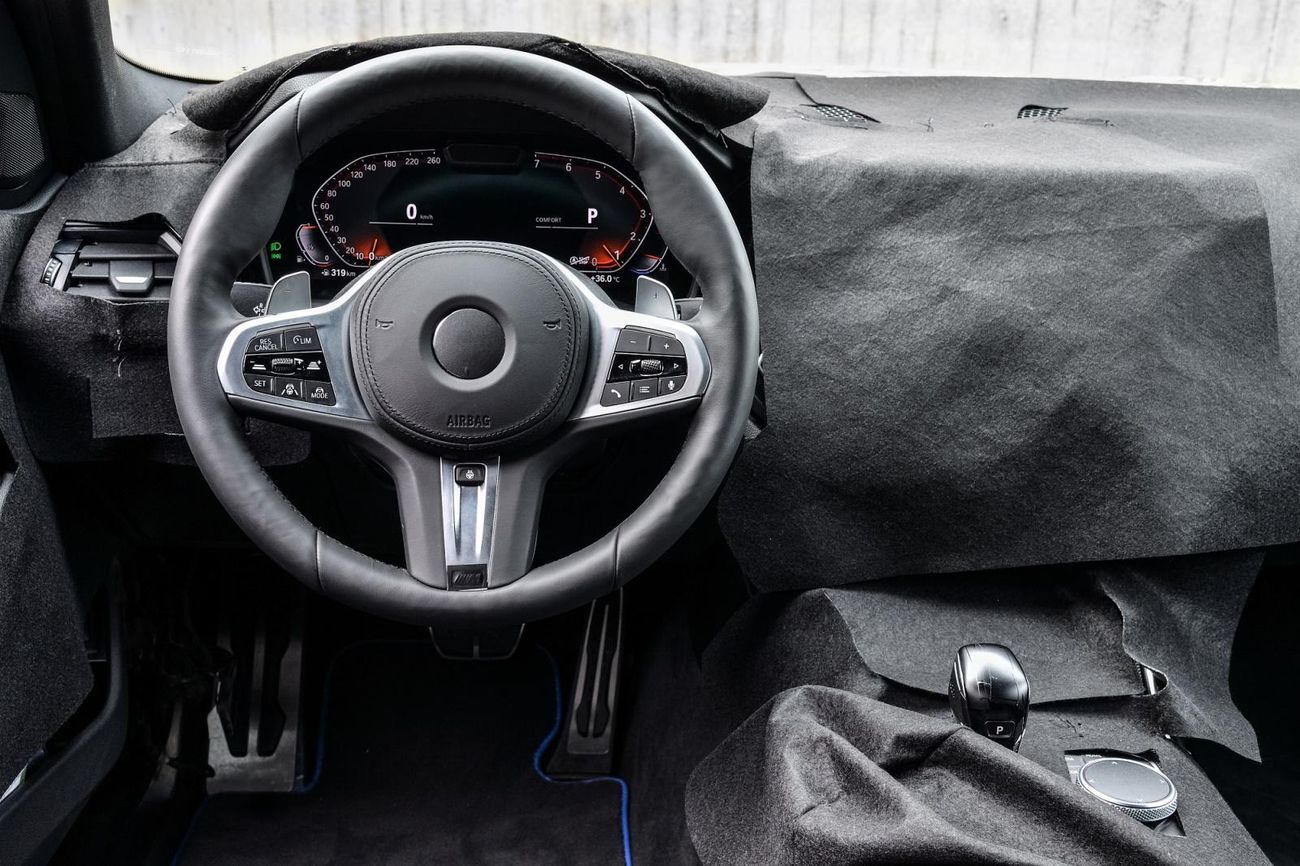 While the new 3 Series' steering wheel is very reminiscent of those fitted to the X3, note that the speedometer and rev counters are on the outer edges of the display.
On highways, refinement is impressive, especially the suppression of wind and tyre noise, so for all its driver engagement, the 3 Series is still a comfortable tourer.
On the feared Nordschleife
However, there is no sterner test for any car than a lap of the famed Nürburgring. Flowing across the Eifel Mountains of north-west Germany, the 'Ring has for decades been both famous and infamous — a true challenge of both car and driver. And on our drive, it was pouring with rain — almost monsoon conditions.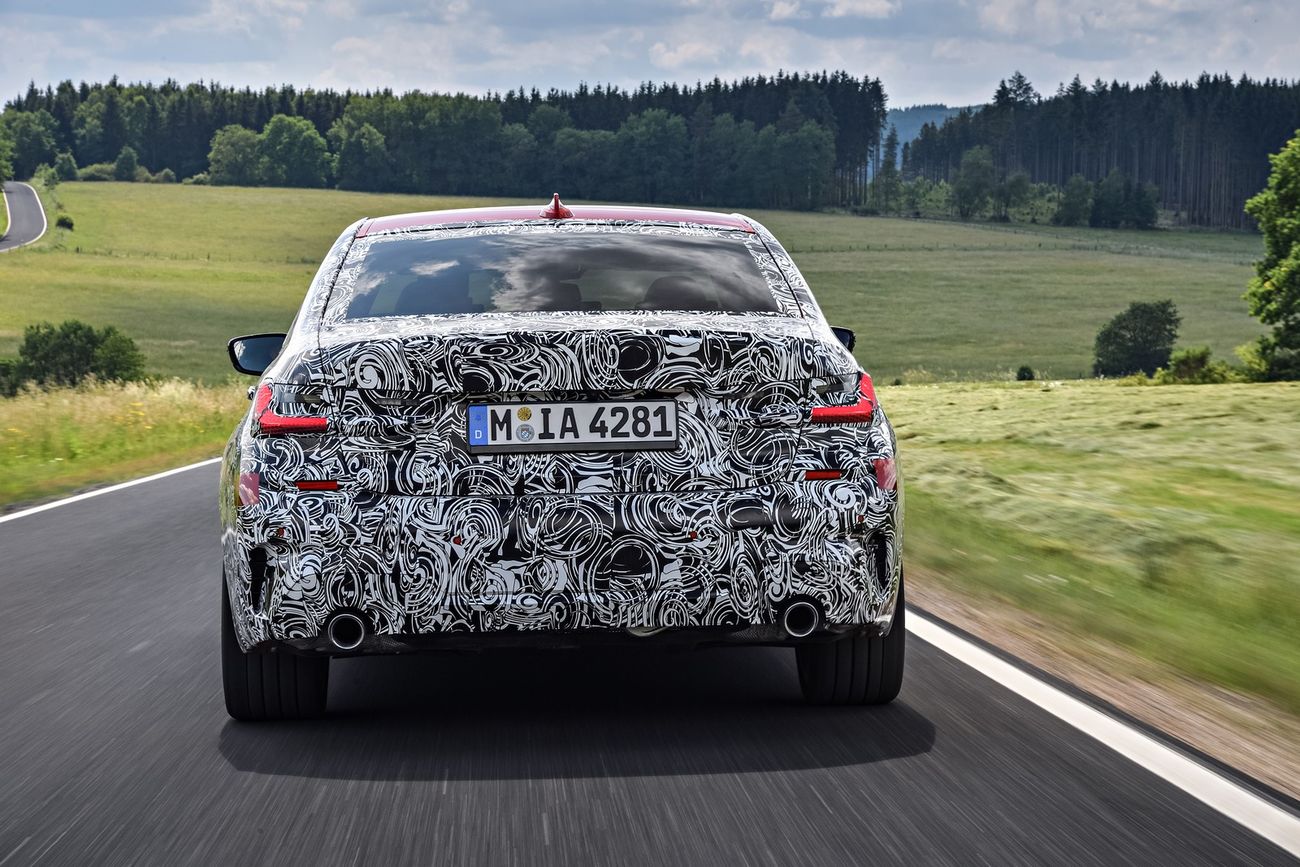 Although it is difficult to distinguish finer features through the camouflage, it is safe to expect that the tail light clusters will be a lot more distinctive than on the current car.
The 330i didn't miss a beat. Comfortable premium saloon it may be, but switch the 3 Series into Sport+ mode and it makes the Nürburgring, even a wet Nürburgring, its playground, happily sliding its rear out when you want to; happily finding grip and piling on speed when you want to do that. It's a hugely impressive performance, and one of those rare cars that can do comfort or race track, and feel equally good at both. We can't wait to try the finished product after the Paris Motor Show.
For more details of the G20-generation 3 Series, click here.
Related Content:
Mercedes-Benz C-Class (2018) Launch Review
Mercedes-Benz C-Class (2018) Specs & Price
Spy Shots: BMW 3 Series is coming