BMW is preparing the 7th-generation 3 Series for its big reveal at the upcoming Paris Motor Show and the Munich-based firm has now revealed some details of its new business class sedan.
Codenamed G20, the 3 Series is an important product for BMW and the new forthcoming model needs to up its game if it's to effectively compete against cars such as Audi's A4 and the Mercedes-Benz C-Class. The new 3 Series is in the final testing stages and BMW has been honing its suspension, steering and braking at the famous Nurburgring ahead of the newcomer's official reveal, which is scheduled for the upcoming Paris Motor Show in October 2018.
Although exact engine outputs, as well as claimed performance and consumption figures have yet to be confirmed, BMW does say that the new 3 Series will feature a thoroughly revised 4-cylinder petrol engine (the most powerful 4-cylinder engine ever to be fitted in a BMW series production model). Fuel consumption is said to improve by 5% thanks, in part, to an enhanced 8-speed Steptronic transmission. The provision of a particulate filter helps to make this engine meet the Euro 6d-TEMP standard.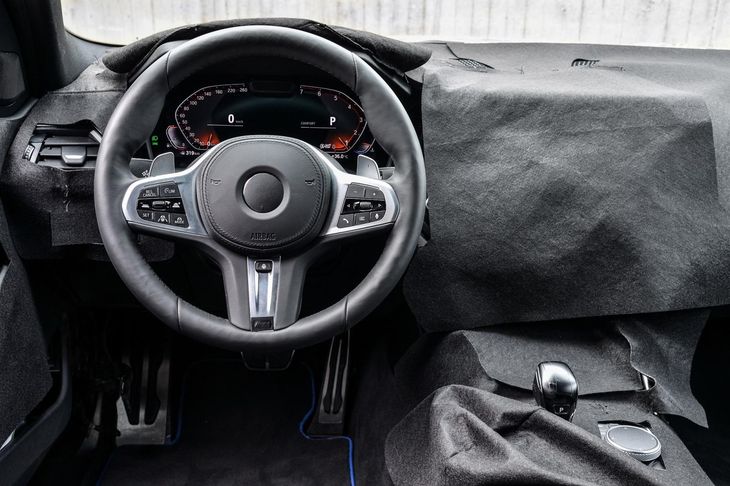 The cabin of the new BMW 3 Series, note the new digital dashboard
Suspension Overhaul
For the new 3 Series, BMW has lowered the centre of gravity by 10 mm and axle load distribution is optimised at 50:50 while weighing some 55 kg less than the outgoing model. BMW has also stiffened the body structure and overhauled the suspension for a sportier and more forgiving ride.
One of the distinguishing features of the G20 is a hydraulic damping system, with lift-related dampers that function continuously and progressively in relation to the respective spring travel. The vibrations that occur when compensating for bumps and during dynamic cornering can be neutralised gently and precisely, says BMW.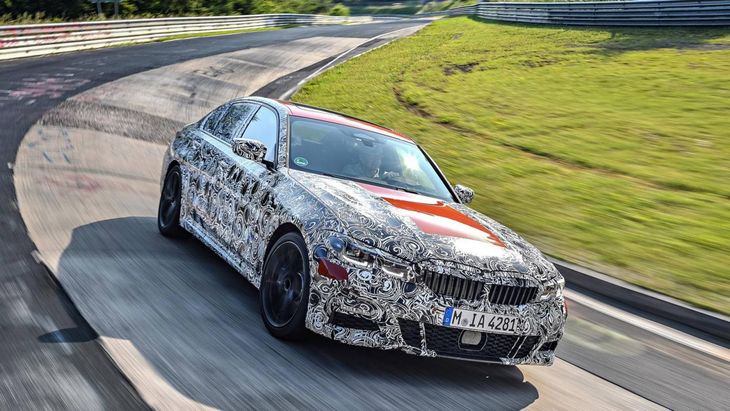 The new BMW 3 Series will benefit from an advanced suspension
Peter Langen, Head of Driving Dynamics, explains "We're using the lift-related dampers as an active set-up element so as to create supreme driving properties in all conditions. With short spring travel, a sensitive damping response ensures comfortable vibration compensation. When the car passes over large bumps, the body movements are controlled by increased damping forces."
With M sports suspension fitted, the car is lowered by 10 mm and fitted with 18-inch light alloy wheels and mixed tyres. With this configuration, damping forces are some 20% higher than the standard set up. "This means the difference from the standard suspension is much more perceptible than before," adds Langen. "We've also made the M sports suspension much sportier, with more rigid bearings and stabilisers, harder springs and additional body struts."
The M sports suspension is offered in combination with Variable Sports Steering, which has been specially configured for the 3 Series to enhance responsiveness and feedback. Furthermore, an electronically controlled locking function in the rear axle differential of the new BMW 3 Series is linked to Dynamic Stability Control in an effort to enhance cornering dynamics.
"Unlike conventional mechanical locks, the regulated M sports differential can optimise so much more than just traction," says Peter Langen. "In addition to cornering dynamics, there is a particularly tangible increase in drive stability in the event of load changes, for example. This allows the new BMW 3 Series to be driven remarkably confidently and effortlessly even when travelling in dynamic style."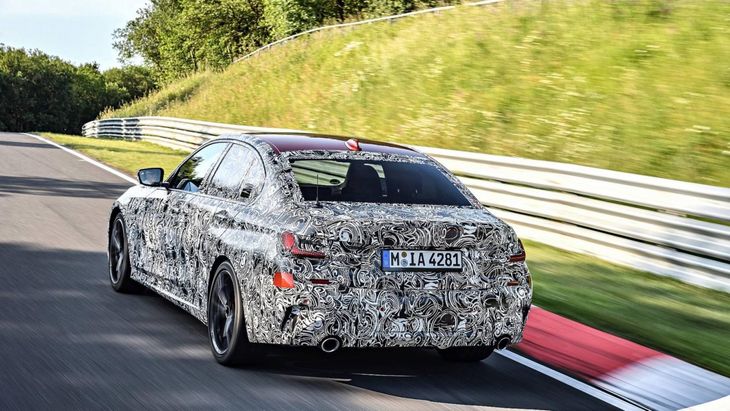 Engine and Powertrain
As before, the new 3 Series' engine range will kick off with the same 1.5-litre 3-cylinder turbopetrol as used in the 1 Series and Mini models. The aforementioned 4-cylinder turbopetrol engine (which will power the 330i derivative) is a 2.0-litre unit producing 4-cylinder turbopetrol engine and, thanks to an extra 5 kW of power and an extra 50 Nm of torque, will have peak outputs of 190 kW and 400 Nm. The only 6-cylinder versions will be the 340i and the forthcoming M3, although of course a 3.0-litre six-cylinder 330d turbodiesel will be offered in some markets, hopefully, South Africa included.
With an eye to the future, BMW will offer two plug-in hybrid variants of the G20 3 Series — one will be based on the same 2.0-litre turbocharged engine as used in the current 330e plugin, and will be able to travel a claimed 80 km on a single charge of its batteries. A more affordable version, based around the 1.5-litre gasoline three-cylinder engine, as used in the 225xe, will have a 50 km battery-only range. Eventually, BMW will offer a fully-electric version.
The new BMW 3 Series is expected to reach South Africa in 2019. We will keep you updated as more details emerge.
Buy a new or used BMW 3 Series on Cars.co.za
Watch the teaser video below!

Related Content:
Mercedes-Benz C-Class (2018) Launch Review
Mercedes-Benz C-Class (2018) Specs & Price
Spy Shots: BMW 3 Series is coming