The first diesel-powered Bentley has been revealed and while diesel engines don't have sporty aspirations at face value, the outputs and performance of the diesel Bentayga suggest otherwise.
At the heart of the Bentley Bentayga diesel is a 4.0-litre V8 motor. This motor is sourced from the Volkswagen Audi Group and enthusiasts will correctly assume that it's from the forthcoming performance variant of the Audi Q7, the SQ7. It has not one, not two, but three turbochargers. Admittedly two of the turbos are exhaust driven, while the third turbo is powered by an electric motor to minimise lag. The outputs are staggering. How does 320 kW and a mighty 900 Nm grab you? Power reaches all four wheels through a ZF-sourced eight-speed automatic gearbox and despite its portly size, the Bentayga can sprint to 100 kph in 4.8 seconds and roll on to a top speed of 270 kph.
Interestingly, its top speed is 20 kph higher than its Audi sibling, which is predictable, because Bentley outranks Audi in the VAG family and the Bentayga costs significantly more than the Q7. We're expecting the Bentayga diesel to join its petrol brethren in South Africa sometime in 2017.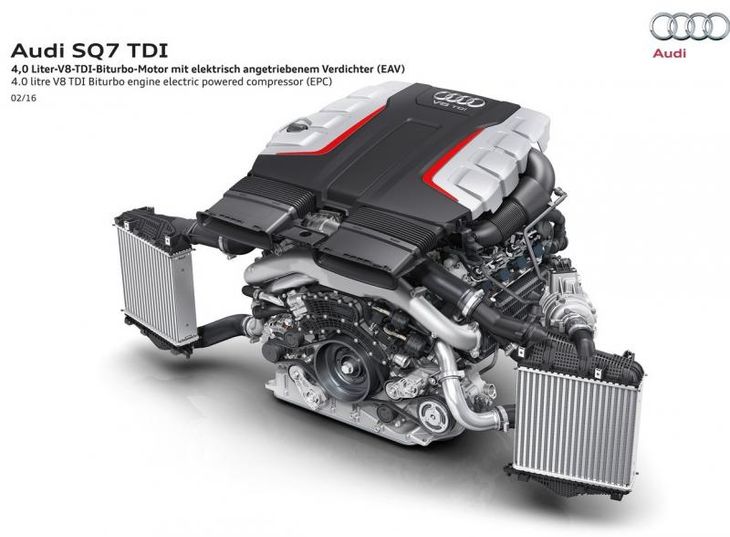 The Bentayga Diesel uses an identical engine to this unit found in the Audi SQ7.
Further Reading
Top 5 Cool Facts: Bentley Bentayga
Bentley Bentayga Lands in South Africa