Earlier in 2019, it was widely reported that this – the 3rd-generation TT – would be the final iteration of Audi's iconic sportscar. The range was recently updated, so it won't be discontinued very soon, but we have to ask: Is the front-wheel-drive coupe still worth considering if you're in the market for something stylish, sophisticated... and quick?
We like: Still looks fresh and modern, highly-advanced cabin, reasonably practical, excellent specification, fun to drive briskly
We don't like: A front-wheel-drive performance Audi breaks tradition, some odd options
Fast Facts
Price: R670 000 (R761 042 as tested October 2019)
Engine: 2.0-litre turbopetrol
Power/Torque: 169 kW/370 Nm
Transmission: 6-speed automatic (S tronic)
Fuel consumption: 6.3 L/100 km (claimed)
​Load capacity: 305/712 litres
Own an Audi? Tell us about your experience here.
SERIOUS ABOUT BUYING?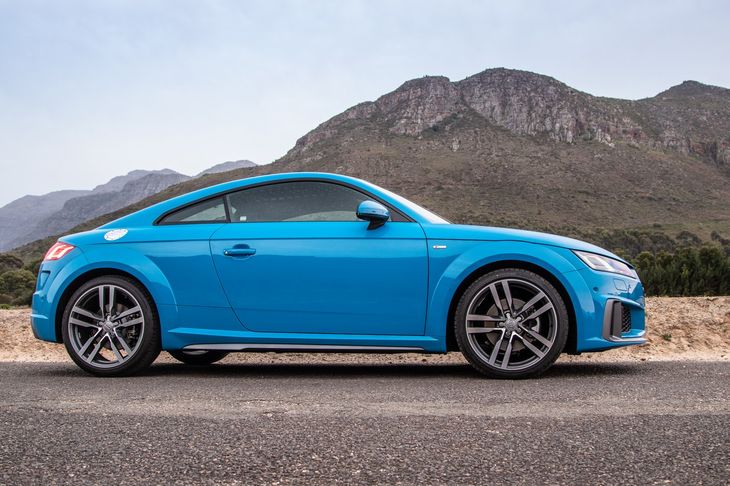 In Turbo Blue, the Audi TT is a sharp-looking and attractive coupe.
Where does it fit in?
The revised Audi TT range, which was mildly updated for 2019, comprises just 2 derivatives: the TT 45 TFSI S tronic you see here, as well as the more potent TTS. The entry-level derivative makes do with a front-wheel-drive setup, while the TTS has (quattro) all-wheel drive. It's likely that an updated TT RS, powered by a near-300 kW 2.5-litre 5-cylinder motor, which we rate as one of the finest-sounding engines, will follow later on.
How it fares in terms of…
Kerb appeal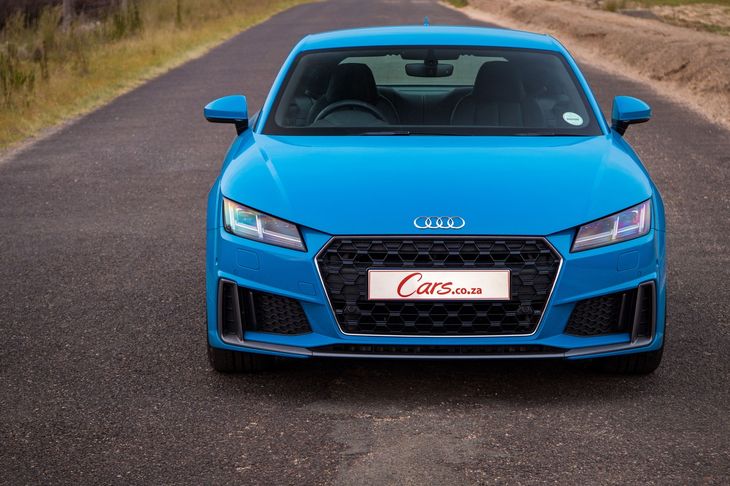 You'd be hard-pressed to spot any of the updates. Our test unit came with the optional S Line upgrade.
At first glance, it doesn't look like the TT's appearance has changed all that much by virtue of the facelift, but Audi has endowed the coupe's front-end with a 3D grille and large air intakes to "emphasise the vehicle's width". Our test unit came specified with the optional S line exterior package (R24 896*), which enhances the 45 TFSI S tronic's road presence through the addition of aerodynamic addenda and a slight reduction in ride height. The package comprises a front splitter, more elaborate intakes at the front with a wider diffuser at the rear – we wouldn't suggest it's a "must-have option" for a vehicle already as striking as the TT, but it sure adds to the 3rd-gen coupe's desirability. Another change for this version of the TT is an updated standard features list (we'll address that later). By the way, we really like the new colour palette – our unit was finished in Turbo Blue.
The TT always been an interesting car to look at; every generation of the car has sported great lines. The first "Bauhaus-inspired" TT is likely to be remembered as an iconic design, while this 3rd-gen model incorporates the best elements from the 1st and 2nd iterations. Those angular, strobe-like DRLs and the Audi's haunched, wide-set body are imposing in a rear-view mirror. The directional indicators are standard fare and add a classy touch to the package. The test unit came with the highly-advanced Matrix LED headlights which, at R14 234*, are a tad pricey, but once you use them, most other headlights' efforts seem pitiful by comparison. They're smart and totally automated, so you're unlikely to dazzle other road users.
Performance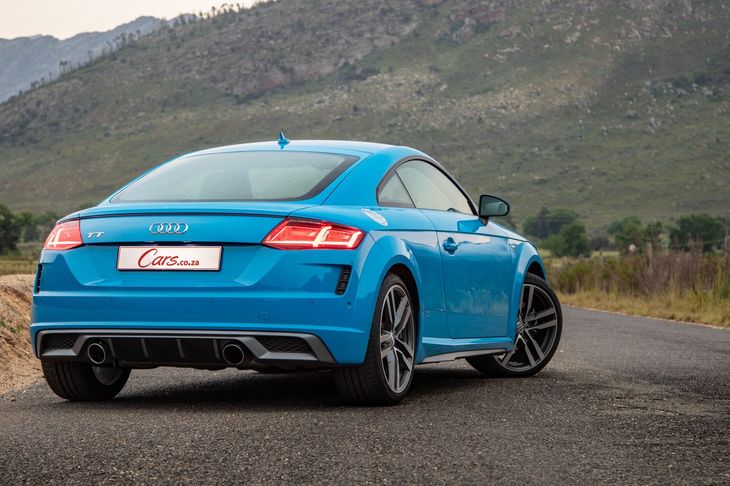 While this is the entry-level TT with just 169 kW, it delivers enough shove to be interesting
Under the bonnet is the tried-and-tested EA888 2.0-litre turbocharged 4-cylinder motor. With peak outputs of 169 kW and 370 Nm, it promises brisk performance, which we were eager to exploit! While Audi's performance models are known for their prodigious grip (courtesy of the aforementioned quattro drivetrain), the 45 TFSI S tronic is one of the few entirely front-wheel-driven sporty offerings in the brand's line-up. Our test data indicated a 6.5-second 0-to-100 kph sprint time ( with launch control dialled in) and the TT completed the 1/4 mile in 14.42 seconds, which demonstrates that while the entry-level version can battle for traction off the line (as its front wheels scrabble for grip), there's no lack of in-gear acceleration. In Dynamic mode, the car emits lovely gearshift pops and bangs, which add some much-needed theatre to the otherwise generic engine note.
Even in entry-level guise, the TT has always been enjoyable to drive and when this 3rd-gen model was launched, it saw off more powerful rivals to win the Fun Car category of the 2015/16 #CarsAwards. It goes to show that power isn't everything – a sorted chassis, balanced suspension setup and well-tuned progressive steering make a great recipe for a driver's car. The 45 TFSI S tronic is not a scalpel-like sportscar, but feels it perennially poised and corners beautifully. Despite the front-wheel-drive setup, the little Audi only understeers appreciably after sanity- and bravery limits have been exceeded. You can press on easily and while there will certainly be faster hot hatches, it's hard to fault the forgiving handling traits of the TT.
Ride and comfort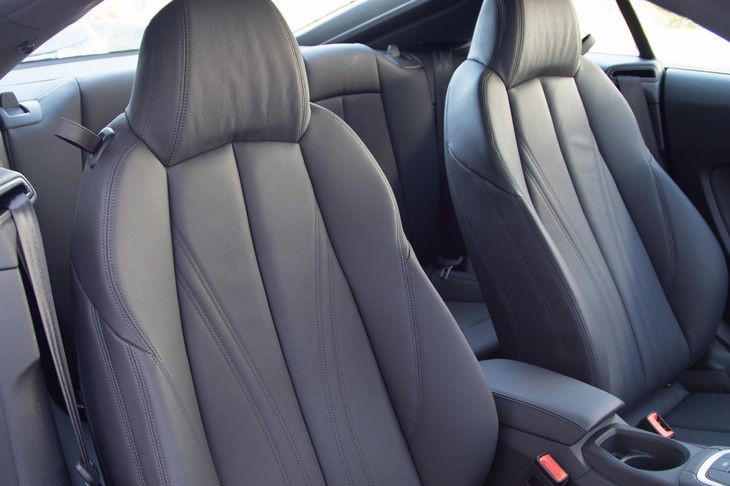 The sporty seats of the Audi TT look and feel luxurious, and do a damn fine job of hugging you. Rear seats have almost no legroom sadly
The TT's dual nature is undoubtedly its strongest trait. Although the Ingolstadt-based brand's coupe is required to involve and delight its driver while performing spirited blasts along the coastline or on a deserted mountain pass on the odd occasions, it also, perhaps more importantly, needs to be a forgiving car to drive every day... Well, if you have zero aspirations to develop and indulge your "inner racing driver", you'll be delighted to read that the TT offers a sophisticated and refined ride quality. When you're plodding in traffic on a dreary morning on the way to work, the 45 TFSI S tronic offers a comfortable and cosy cabin; the seats cushion you nicely. Our test unit came with heated seats (a R5 800* option), which did a sterling job of negating the last of winter's clutches. Cleverly, the heating controls are integrated into the side vents – yet another excellent piece of design.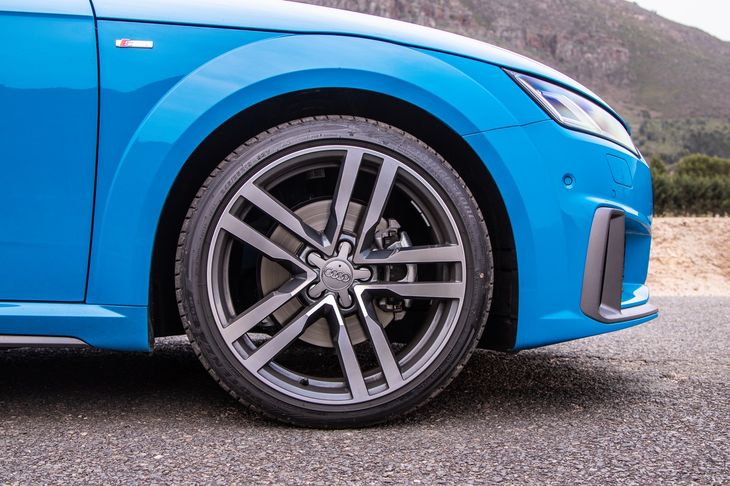 These 19-inch alloys are attractive and offer a good blend of performance and ride quality.
There are 3 alloy wheel designs to choose from, all of which are 19-inch in size. Our test unit's alloys were wrapped in 245/35 Bridgestone tyres, which offered fair grip and reasonably little road noise. When you task the TT to travel longer distances, you get the impression that Audi focused on the coupe's comfort and refinement. Indeed, the 45 TFSI S tronic can cover large swathes of tarmac over extended periods in an untiring fashion.
Interior design and practicality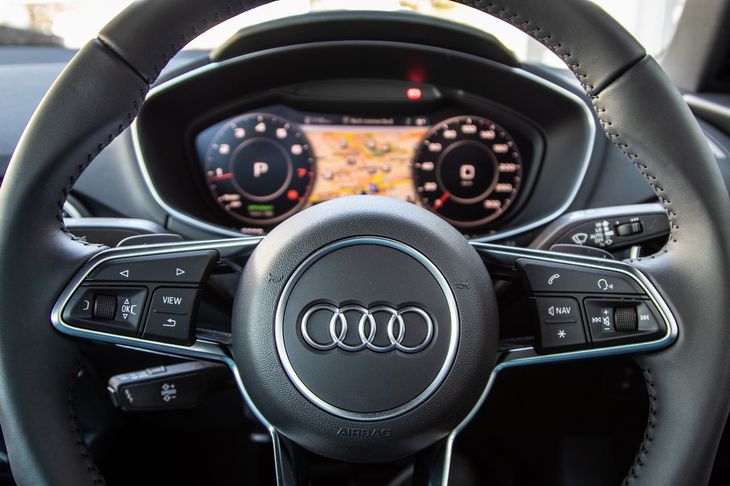 Audi's Virtual Cockpit has been out for some time but it's still winning fans thanks to its slick interface and ease of use
Upon the introduction of the 3rd-gen TT, its cabin set a benchmark by doing away with the traditional central infotainment screen and utilising the digital instrument cluster (Audi's Virtual Cockpit) to display all the information a driver needs right in front of them (that may annoy the passenger, but it's not about them, it's about you and your car). What's more, the gorgeous turbine-style vents allow you to set the interior temperature and blower speeds. As for the rest of the cabin, it's a stunning example of minimalism and the optional aluminium cabin trim finish is well worth considering.
Despite its 2-door coupe body style, the 45 TFSI S tronic comes equipped with a pair of rear seats with belts, but we can't see anyone other than a toddler in a child seat being able to make use of them. They make for excellent additional storage compartments, but the boot is reasonably sized for a compact coupe, anyway. There's enough room for 2 nights' luggage (for you and your partner), which we confirmed during a weekend away.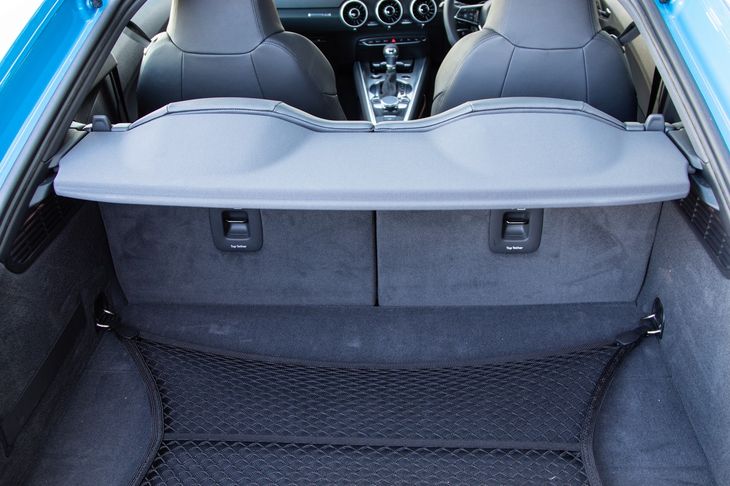 The boot is a fair size – you may be pleasantly surprised by how much it can accommodate. Need more space? Put stuff on the rear seats.
The 45 TFSI S tronic's standard features list is reasonable, which is not always the case with German premium marques' wares, but you can spec yourself a really nice TT if you can afford it... Our test unit came optionally specified with the uprated Bang & Olufsen audio system, which produced a glorious sound (a must-have for audiophiles). Audi Drive Select (with its distinct driving modes) is now standard, as is the smartphone interface, which includes nice-to-haves such as Apple CarPlay/Android Auto compatibility and 2 illuminated USB ports. Audi navigation, parking aid plus and electrically-adjustable front seats are standard too. Strangely, a reverse-view camera is not stock, but our vehicle had one (an extra R6 971*).
Price and warranty
The Audi TT Coupé 45 TFSI S tronic retails for R670 000 (*October 2019), which includes a 5-year/100 000 km Audi Freeway (maintenance) plan.
Verdict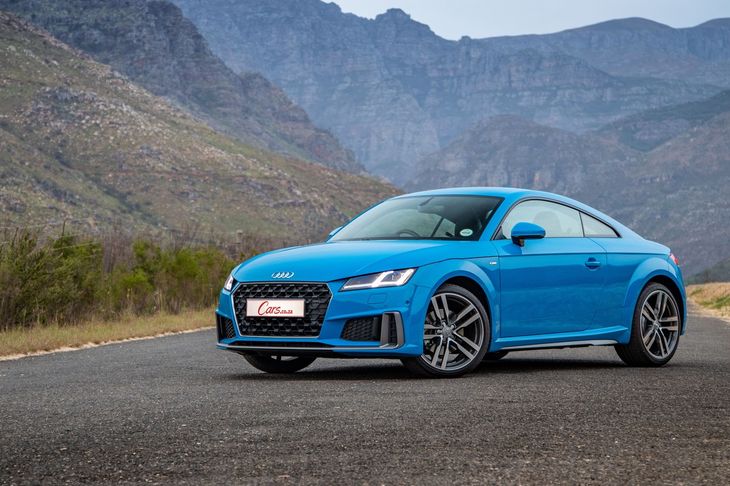 For around R600k, it'd be easy to opt for a similarly-powered hatchback, but the Audi TT trumps them all when it comes to style and luxury.
Compact sportscars appear to be on the endangered-species list, but in the case of the Audi TT, unfairly so. While it's not the fastest small coupe, the 45 TFSI S tronic offers plenty of accessible performance, style, refinement and build quality... Why would you need to stretch your budget to the TTS? While so many people splurge on big-wheeled SUVs to make a statement, there is something distinguished, yet ever-playful, about the TT.
Should you buy one? It's hard to argue against the Volkswagen Golf GTI, which shares its underpinnings and powertrain with the 45 TFSI S tronic. It has the advantage of being a practical 5-door hatchback, but it doesn't quite have the marquee value/snob appeal of the Audi. Whereas the GTI is mainstream, the TT will appeal to those who value individualism and understatement – it could serve as a tasteful testament to their success...
You'll love the Audi's timeless looks, its advanced digital user interface and the gorgeous, minimalist cabin that exudes quality. Given its tight-fitting packaging, the TT is not a chore to drive daily, plus it offers the convenience of a self-shifting transmission and reasonable fuel economy. However, when the mood takes you (and road conditions permit), you can select Dynamic mode, make the transmission bang down a cog or 2, and enjoy a sufficiently wieldy and energising driving experience. If ever a model range has made a strong case for its entry-level derivative, the TT is it.