The latest Audi RS7 Sportback is a blisteringly fast car that doesn't leave you wanting more, because it comes laden with tech and hardware that make the driving experience even more exciting than its predecessor did. Almost a full year before it's due to land in South Africa, Dave Humphreys put the Ingolstadt thunder wagon through its paces.
What's new?
When the current generation of the Audi A7 made its debut, it was revealed that its all-new platform enabled it to utilise mild-hybrid electrification, and the RS7 Sportback is no different. Quite how the performance-car purists will view engine-off coasting and cylinder deactivation remains to be seen. Unlike the previous RS7 Sportback, this latest version gets the same kind of swollen bodywork that we're more used to seeing on the RS6 sedan. Only the bonnet, front doors, roof and the fastback tailgate are carried over from the standard A7; every other piece of bodywork is new and bespoke to the RS7 Sportback. Flared arches add a total of 40 mm to the overall width and buyers can specify up to 22-inch wheels.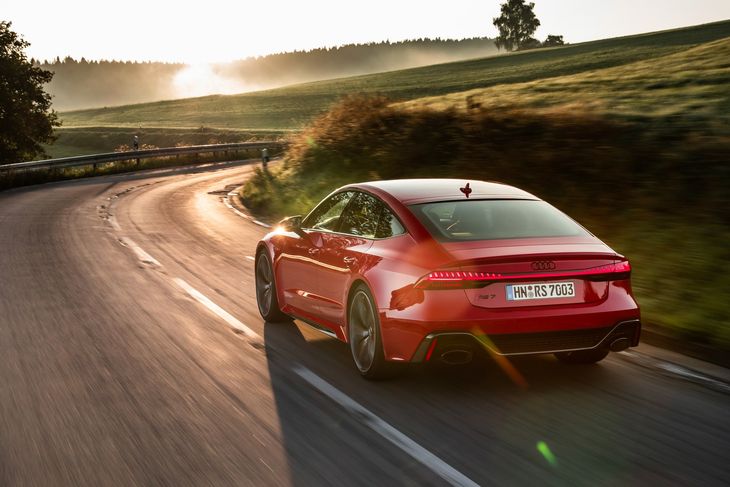 The RS 7 Sportback packs a 4.0 twin-turbo V8 with quattro all-wheel-drive keeping it stuck to the ground.
Those in the premium seats up front get to enjoy the figure-hugging and RS-embossed leather sports seats, which do a decent job of holding you in place. Whereas the first RS7 Sportback made its debut as a 2+2, this time around Audi is offering a 3-seat rear bench from the off, with the pair of outer seats aping the design of the fronts. The rest of the cabin is almost a button-free zone, following the trend of other top tier Audi models like the A6, A8 and Q8. Sections of Alcantara and red contrast stitching remind you of the sporty intent. The steering wheel also gets RS1 and RS2 buttons for shortcuts to your favourite chassis and drivetrain settings. Speaking of powertrains, the RS7 Sportback gets the twin-turbocharged 4.0-litre V8 mated with a quattro all-wheel-drive system replete with a sport differential and an 8-speed Tiptronic transmission.
The good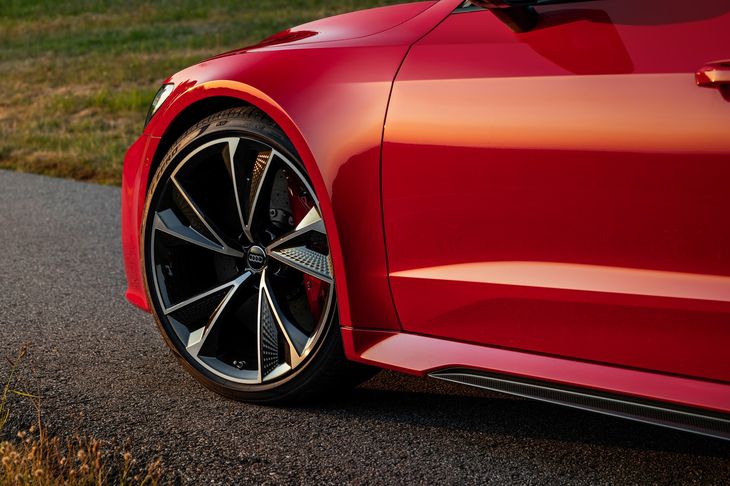 Optional 22-inch wheels just about fit inside the flared arches.
The star of the "RS7 Sportback Show" is the Audi's thumping powertrain. Its turbocharged V8 pumps out a healthy 447 kW and a locomotive-like 800 Nm of torque. But it's the way that the quattro system relays that to the tarmac that sets this car apart. On paper, the 3.6-second time to sprint from 0 to 100 kph from rest seems fast; in reality, it feels even quicker. Dialled-in electric car quick, almost. Performance aside, you can have your RS7 Sportback dripping in tech... From Matrix LED headlights with laser light elements and a trio of digital displays in the cockpit, not to mention a myriad of driver assistance systems and the latest LTE connectivity, you could spend hours just playing with the gadgets before selecting Drive.
Ride and drive
As a driver's car, the RS7 Sportback can play 2 very different roles. If you drive it in a normal, everyday fashion, you'd barely realise that you're piloting an executive saloon that can embarrass any supercar more than a few years old. The mild-hybrid system does its best work here by using its 48V belt alternator starter to enable the engine to shut down earlier as you slow to a stop. It can do so from 21 kph and below, while the restart is much smoother than traditional stop-start systems. It can even shut off the engine while cruising at speeds of up to 160 kph for short periods.

The dual personality of this RS 7 makes it easy to live with and brutally fast when you need it to be.
The task of navigating city traffic is far from laborious thanks to light steering and a dynamic all-wheel-steering system that can turn the rear wheels up to 5 degrees in the opposite direction to the fronts at low speeds, which reduces the turning circle by up to a metre. On the highway, the rear wheels can turn in phase with the fronts by 2 degrees to add stability when changing lane, for example. As you cruise along, the V8 engine can shut off combustion in half of its cylinders when on part-throttle, temporarily turning the RS7 Sportback's unit into a V4. Factor in the muted exhaust note in some of the driving modes and the comfort of its adaptive air suspension and you'll find Audi's newcomer can be every bit the luxury car.
However, the real reason you'll likely to want one is to be able to unleash that phenomenal performance. Fully press the throttle pedal and the transmission wastes no time in skipping down a few ratios, while increased turbo boost pressure helps maintain your skull's contact with the leather upholstered headrest – the hard acceleration doesn't seem to ease off until you're waaaaay past the South African national speed limit. Despite already riding 20 mm lower than an A7, when the speed exceeds 120 kph, the air suspension reduces the car's ride height by another 10 mm to aid aerodynamic efficiency. A neat spoiler also deploys automatically from the end of the tailgate to add some more downforce to the rear of the car.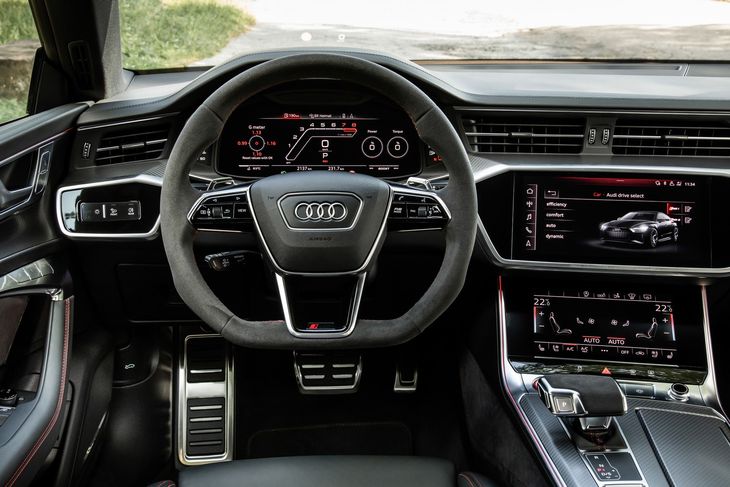 Updates have been made to the Virtual Cockpit layout with new graphics and crisper screens available.
The RS7 Sportback isn't merely a plush Autobahn-stormer; in the bends and twisty stuff, it hangs on very well considering its 2 065 kg kerb weight. That quattro transmission and rear-wheel steering give you lots of confidence through fast-flowing sweepers or when blasting out of hairpins. Even though up to 85 per cent of power can go to the rear axle, it doesn't feel very rear-wheel drive unless you're pushing very hard.
For the majority of the time there's a 40:60 front-to-rear split, and frankly, with 447 kW on tap, having all 4 wheels in play at all times is reassuring and will flatter many drivers. The standard brakes are excellent, but if you want to beef them up, enormous 440 mm carbon-ceramic options are available, which you'll need if you want to fully derestrict it (to enable a 304-kph maximum speed, as astonishing as that number sounds).
The not-so-good
We're not saying the mild-hybrid system is a bad thing as such, but applying this technology to a performance-oriented car like the RS7 Sportback is kind of like offering someone a Band-Aid when they've just had their arm torn off. In its optimum scenario it can switch the engine off for a maximum of 40 seconds, but replenishing the 10Ah battery sufficiently for another burst can take up 20 minutes, which means that you'll spend a lot more time just lugging around a system that saves, at best, 0.8 L/100 km from the car's average fuel consumption, which is a claimed 11.4- to 11.6 L/100 km.
Verdict

The raft of performance 4-door coupes has meant that the RS 7 has a lot of competition.
Now that Audi is giving the RS Sportback suitably aggressive styling to match its impressive performance, it's even more desirable. However, with some equally potent rivals, some of which make better use of electrification through plug-in systems, this car doesn't have the segment all to itself.
Pricing & Warranty
Pricing for the Audi RS 7 Sportback will be confirmed closer to the car's planned introduction in Q4 of 2020. Currently, all Audi models are sold with the Freeway Plan, consisting of a 5-year/100 000 km cover. This includes servicing and maintenance costs excluding fluid top-ups, cracked of broken glass and tyres wear. There is an option to extend it by up to 10 years or 300 000 kilometres.
Fast facts:
Price: TBC
Engine: 4.0-litre V8 turbocharged petrol mild hybrid
Gearbox: 8-speed automatic
Fuel economy: 11.4L/100 km (claimed)
Power/Torque: 447 kW/800 Nm
Related content:
BMW M8 Competition Coupe (2019) International Launch Review
Kia Stinger GT (2019) Quick Review [w/Video]