With this, the 2nd-generation Q3, Audi is keen to distance its family car from its predecessor (in just about every way possible). An all-new platform, all-new looks and all-new interior have been carefully combined to create a compelling offering – one that's ostensibly tailor-made for tapping into SA's love affair with the SUV. Ciro De Siena drove the Q3 in Italy at the newcomer's international launch.
FAST FACTS
Arrives in SA: 2nd quarter 2019 (est)
Likely line-up: Audi SA is looking at introducing the 1.4 TFSI (110 kW) as the entry-level powerplant, with 2.0TFSI (132 kW) and 2.0 TDI (110 kW) possible later.
Key rivals: BMW X1
The new Q3 is all-new...
Well, except for the engines and the transmissions, which are largely unchanged and borrowed from elsewhere in the expansive VW Group. Audi is banking on the fact that buyers are far more interested in premium build quality, high-tech interiors, and sporty, bold SUV looks. And in those respective departments, the new Q3 delivers.
The car's exterior and interior designs feature much sharper lines than the soft-shouldered, generically laid-out 1st-generation model; the newcomer's outer shell, in particular, draws heavily on Audi's quattro history to beef up visual appeal. As a result, the new Q3 works particularly well in the metal – it is certainly eye-catching!
Exterior design cues and tech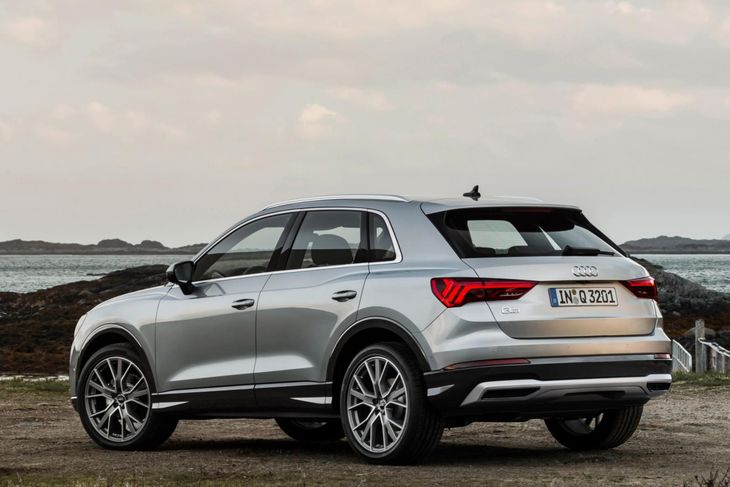 Sharper looks all round for the 2nd-generation Q3 – it's a real head-turner in the metal.
The Q3 features Audi's new single-frame grille design, which is flanked by LED headlights as standard (there are 3 types of LED headlights available, as a matter of fact, with the top-of-the-range Matrix LED system featuring an active high beam assist function). The tail lights are also LED units, which feature those pulsating indicator lights that have become a bit of a trademark for the brand. Overall, the newcomer appears sportier and larger, and given that it is now based on the Tiguan chassis, it is longer by 10 cm. However, the extra width is a bit of an illusion... by virtue of clever design cues that fool the eye, the new Q3 is only 1.8 cm wider than its predecessor.
Interior is a highlight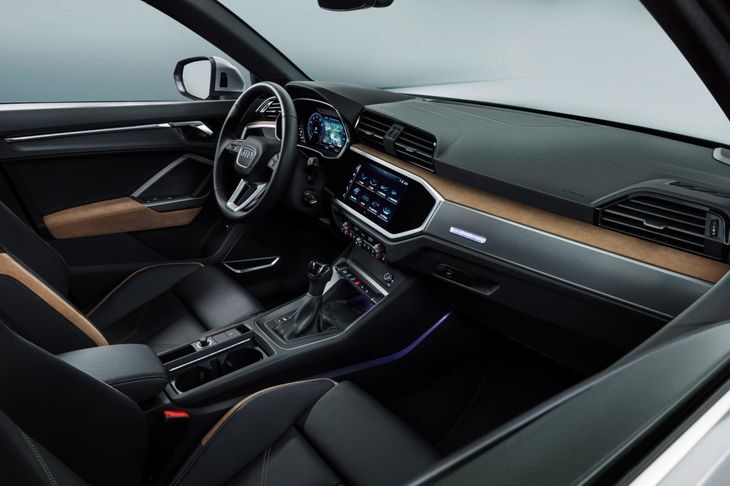 Interior is up to Audi's usual high standard, and the focus is very much on the latest connectivity solutions.
Audi is certainly not "first to market" with much of the technology available in the Q3. However, the technology is smartly executed and masterfully integrated. Customers want connectivity, and as much integration (with the tech they use every day), as possible. To this end, every Q3 is fitted as standard with a wireless charging pad, which is neatly integrated into the base of the centre stack. And I'm happy to report that the charging area is huge – perfect to accommodate ever-growing smartphones.
Apple Carplay/Android Auto compatibility is also included, and all of the infotainment system's functions are accessed through a standard 10-inch centre mounted touchscreen, which itself represents a big change in Audi's approach to onboard technology.

The stylish 10-inch touchscreen system is standard equipment.
Since inception, Audi's infotainment has featured a jog wheel, 4 hotkeys and a volume knob, all of which made it easy to skip radio stations and music tracks. Happily, the volume knob remains, but the jog wheel and hotkeys are gone. This is now a touchscreen-only interface, and it's undoubtedly one of the best in the business.
Driver-oriented fascia design
To facilitate ease of use, the Audi cabin designers have arched the cockpit around the driver. Again, this is not a new innovation, but the design is successful in that it looks good and functions well, bringing the touchscreen much closer to the driver (making it easy and comfortable for them to interact with the large touchscreen).
The user experience is all-new, beautifully simple, and features some neat tricks. Here's an example: the user can scribble an entire word with their finger, which makes entering an address in the satnav as pain-free as possible (see video below).
And, in recognition that when motorists buy down, they still want all the big-car toys, Audi has ensured the new Q3 can be specced to the brim with high-end features. A 12-inch virtual cockpit is available (but even so, base-spec A3s still receive a 10-inch digital instrument display), as well as a 15-speaker Bang & Olufsen audio system.
The new Q3 is further integrated with the myAudi app... The owner can transfer navigation routes and the smartphone calendar to the MMI and locate where the Q3 is parked. Both the app and the infotainment system feature Google Earth and Google Search integration, which makes finding the perfect Italian eatery that much easier.
Comprehensive safety systems
Again, while none of the technology in the Q3 is new-to-market, in some cases the availability of the safety systems is a first for the Q3, and for its market segment.
Adaptive radar-guided cruise control, which integrates traffic jam assist and active-lane assist to help keep the Audi in its lane, is optional; adaptive dampers can be fitted for a more comfortable (or sportier) ride at the touch of a button; rear cross traffic alert helps enormously with exiting difficult parking spaces; Audi pre-sense, which is standard, will automatically brake for pedestrians, cyclists and cars; park assist will automatically park the car in both parallel and alley-docking situations (with the driver only required to brake/accelerate) and a 360-degree camera system, which gives the driver a birds-eye view of the car while parking the Q3, can also be ordered.
Watch the video below to see all the safety systems in action...

Engines, drivetrain and ride quality
The Q3 is available with either front- or permanent all-wheel drive, and while Audi South Africa has not confirmed the engine line-up for our market, we have been told that local buyers can expect an entry-level derivative with a 1.4 TFSI 110 kW engine, with 2.0TFSI (132 kW) and 2.0 TDI (110 kW) engines possibly available too.
Power is transferred through either a 6-speed manual or 7- or 8-speed auto, however I suspect we won't see the manual locally. Unfortunately, I was only able to sample the 1.5-litre petrol-engined Q3, which probably won't be making its way to our market, during the launch event. However, on the extremely twisty mountain roads around Bolzano, the Q3 proved to be quite fun to drive, as well as comfortably-sprung on rougher surfaces.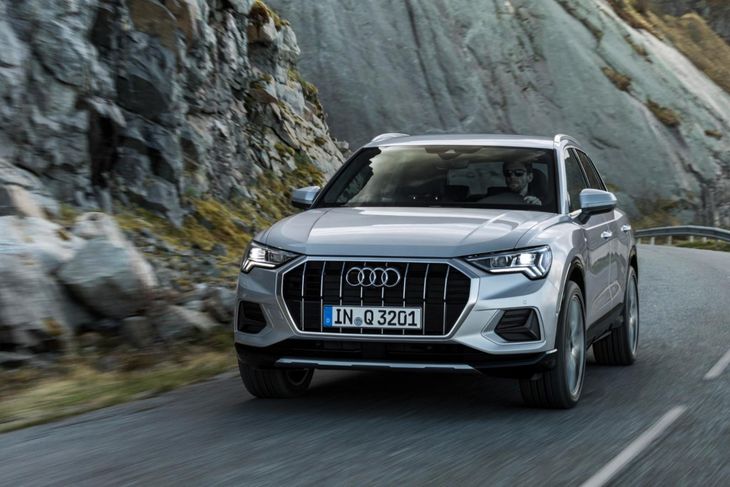 New Q3 strikes a fine balance between delivering dynamism and passenger comfort.
If comfort is your top priority, its best to opt for the smaller wheels and tyres with a taller sidewall; even though the 18-inch wheels look good, the ride quality they produce feels a bit more brittle. The steering system is progressive, feeling lighter and lower speeds (great for parking) and weights up nicely the faster you progress. When rain fell along the launch route, I did appreciate the competence of the Q3's all-wheel-drive system, which makes the car feel particularly planted in slippery conditions.
Practicality: a much larger luggage bay, sliding rear seats
With its claimed capacity of 460 litres, the 1st-generation Q3's luggage bay was a little on the tight side. Audi has addressed this shortcoming in 2 ways: the larger dimensions of the car simply result in more interior space and with a deeper floor, load space has increased to 530 litres. However, the rear seats can now also be slid forward, which increases the capacity to over 700 litres at maximum. Plus, the rear bench folds in a 40:20:40 split, which makes the space very versatile indeed.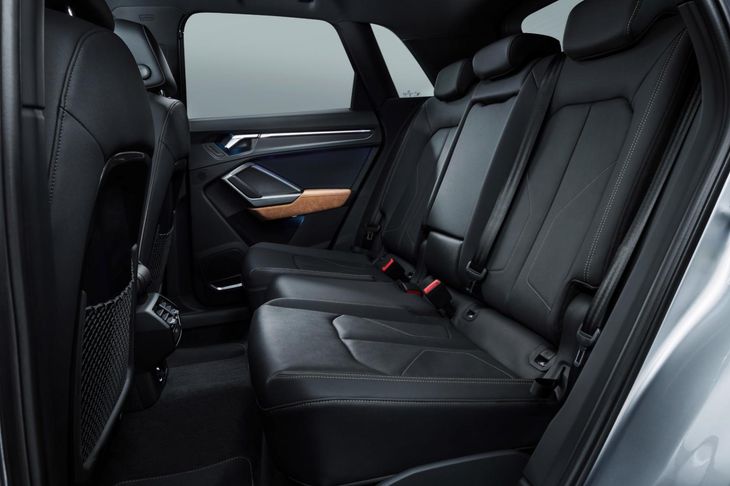 Rear seats can slide, allowing passengers to tailor legroom and luggage space as required.
The parcel shelf has been designed to fit under the bay's floor (when not required) and an electrically powered tailgate is available as an optional extra. The aforementioned "power tailgate" can be operated by swinging a foot under the rear of the car (it is recommended that you use your own foot, however).
Summary
Simply put, the Q3 makes a strong first impression and should appeal to customers who are looking to buy down, or those buyers who were considering an upmarket hatchback, but are looking for the additional ride height, elevated seating position and perceived elevated status that come part and parcel with SUV ownership.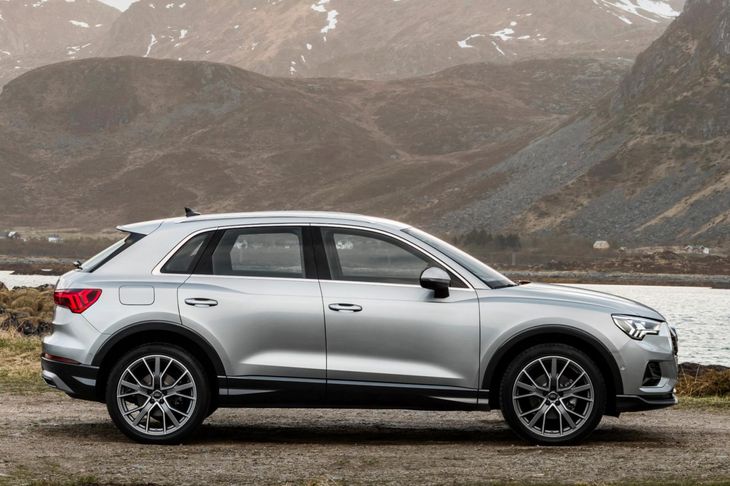 The new Q3 seems a perfect fit for modern-day motoring requirements. It could become Audi's best seller.
In our market, buyers increasingly favour SUVs (which explains why we introduced the Premium Compact category for the 2018/19 #CarsAwards), and I'm confident that the new Q3 will cannibalise sales of the brand's own A3 hatchback and Q2 SUV, as well as potentially poach sales from the Mercedes A-Class and BMW 1 Series.
The Q3 just feels ideally sized. The Q2 feels a bit too compact, the Q5 is now quite a large car and I'm not actually sure who really needs a Q7 in the contemporary market. But, if I had to choose a size of car to live with every day, the Q3 is just about perfect. Combined with bold new looks, a superb interior, up-to-date connectivity options, a relative tech-fest inside and out, and an impressive array of safety features as standard, the 2nd-generation Q3 is likely going to be catnip to local motorists.
Unfortunately, local pricing and the range's exact line-up were unavailable at time of writing. We'll publish those details for you as soon as they become available.
Looking for a new / used Audi Q3 to buy?
Find one on Cars.co.za today by clicking here