The Audi A5 portfolio is diverse and while we've done a thorough evaluation of the S5 and had a quick drive in the RS5, it's good to get back to basics with a "humble" 2.0-litre TDI derivative. What's it like to live with for a week?
We like: Styling, refinement, technology, punchy engine, spacious luggage bay
We don't like: Cramped rear passage area, options list hampers value-for-money potential
Alternatives:
German Rival No1: BMW 420d M Sport coupe. Recently refreshed, the popular BMW 4-Series coupe is a good match for the Audi in some departments, such as driving enthusiasm. However, it's let down by a cabin that is ageing quickly and it desperately needs something high-tech like the digital display from the 5- and 7-Series. Still, it's a lovely car and that diesel engine can deliver a surprisingly sporty turn of speed.
German Rival No2: Mercedes-Benz C220d AMG Line. The new Mercedes-Benz C-Class coupe is the best-looking car in its segment, but it's handicapped by poor build quality, an ancient diesel engine and lifeless steering. The looks and technology help it save face and restore some credibility.
Something different: Lexus RC200t. It's not a diesel and its by far the most expensive vehicle in this lineup, however, the Lexus offers the most specification and top-notch build quality. So its got that going for it, which is nice. It won't appeal to all tastes, but it's better than you expect.
Click here to compare the Audi A5 to the BMW 4 Series and Mercedes-Benz C-Class coupe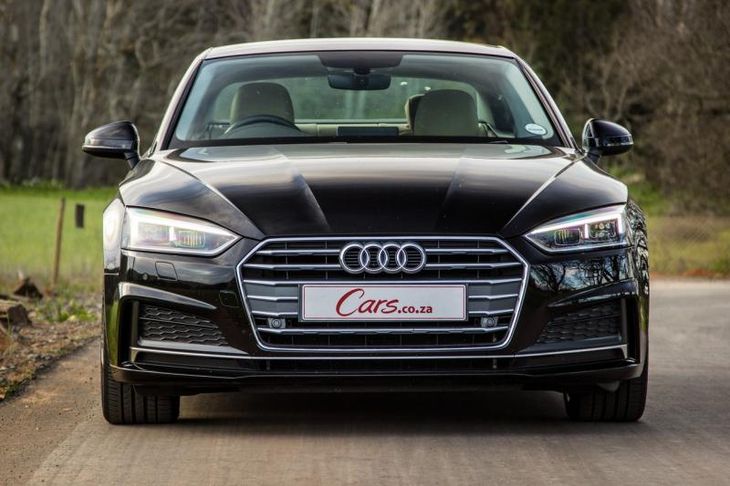 The Audi A5 coupe boasts a smart new face. Note the new daytime running lights.
Facts & Figures
Price: R675 500 (November 2017)
Engine: 2.0-litre turbodiesel four-cylinder engine
Transmission: 7-speed dual clutch
Power: 140 kW
Torque: 400 Nm
Fuel consumption: 4.2 L/100 km (claimed)
0-100 kph: 7.7 secs
Top speed: 238 kph
What is it?
After a stellar effort with the first generation of Audi A5 coupe, the new model has arrived in South Africa with a comprehensive range; a mix of petrol and diesel motors are bolted into coupe, Sportback and cabriolet models. While we'd happily wax lyrical about the sublime S5 and fiery RS5 derivatives (which had just been launched at the time of writing), the lesser models might well be worth extra consideration. Tested here is the Audi A5 2.0 TDI, which we think strikes an excellent balance between performance, efficiency, style and luxury.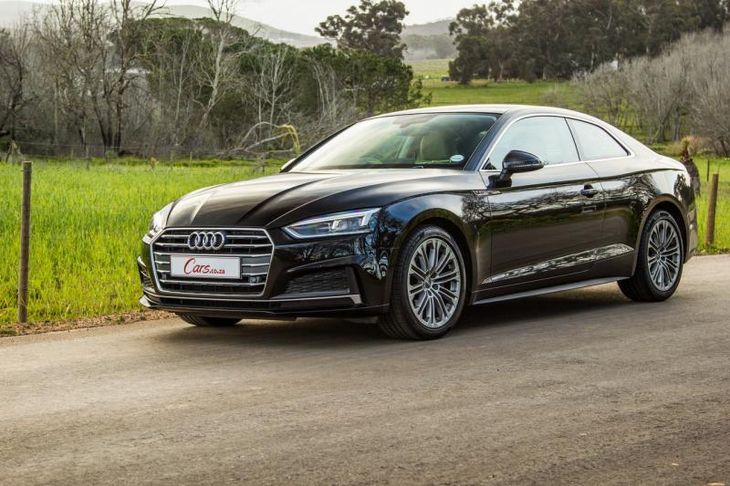 The Audi A5 range is available in coupe, Sportback and cabriolet
The Good
Punchy turbodiesel engine
A turbodiesel motor in a smart-looking sporty coupe? Wait, what? Despite it being "that engine" from the Volkswagen Group, it's still a commendable piece of kit and in A5 application, has been tuned to deliver 140 kW and 400 Nm from 2.0 litres and 4 cylinders. There's just the slightest hint of lag, only evident in the most relaxed of driving modes and then it gives it's all from around 2 000 rpm and only runs out of shove just before the red line. It also happens to sound very unlike a diesel motor, unless you happen to be standing with your ear right next to the engine bay.
In terms of performance, Audi claims a time of 7.7 seconds for the 0-100 kph sprint, which feels about right. What's more impressive is the prodigious in-gear performance, thanks to the excellent combination of torquey diesel engine and quick-shifting dual-clutch transmission. Audi's fast S tronic 'box does a damn fine job of keeping the engine in the sweet spot when you're wanting to get a move on, but can also be mapped to deliver excessively smooth gearshifts when you're in comfort mode. The big benefit of this diesel engine is the fuel economy and while Audi's claim of 4.2 L/100 km is a tad farfetched, we are happy to report that after a week's driving in mixed scenarios, we ended off with a trip average of 6.2 L/100 km.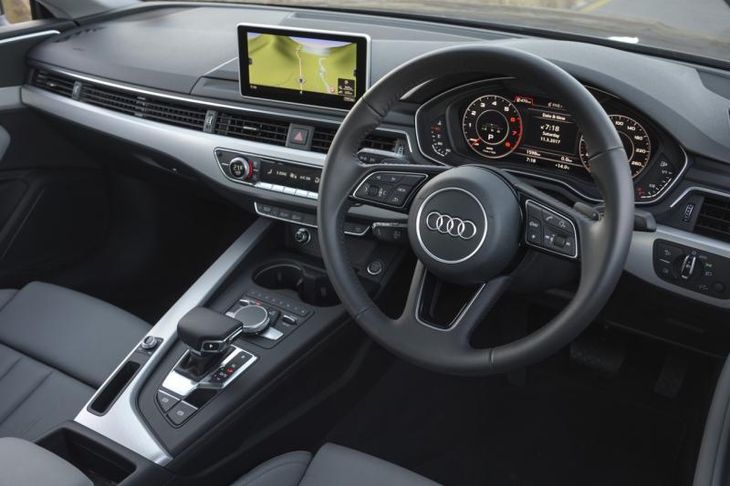 The beautiful and well-assembled cabin is classy and well thought out.
Luxury cabin
Audi has a stellar reputation when it comes to cabin design and perceived quality, and with the A5 coupe, both boxes have been ticked comfortably. From the driver's point of view, the headline act is Audi's Virtual Cockpit which is a fully digital display. Not only does it look good, but it's also effortless to use. If you're clever, you'll be able to negate the use of the middle screen altogether as everything you need is right in front of you.
The key focus may be on luxury, but there has been careful consideration for those wanting a healthy dose of practicality. While the rear legroom falls under the Not So Good category, you'll love just how spacious the boot is at 465 litres, while the front portion of the cabin boasts plenty of storage solutions such as two cupholders, a central armrest as well as deep pockets in the doors.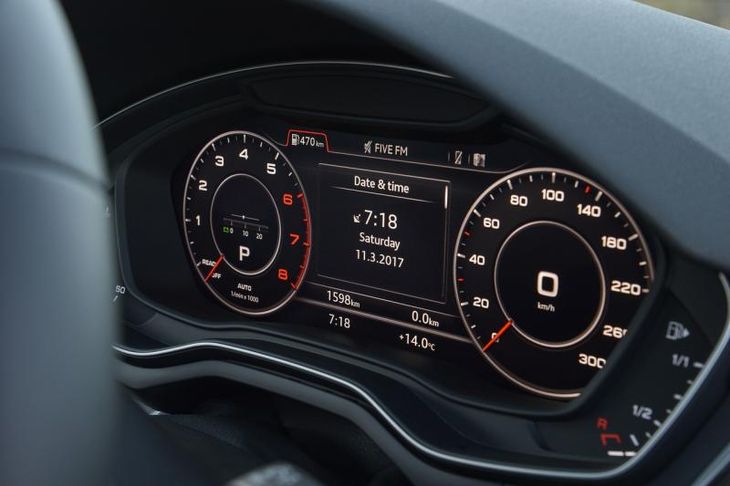 Audi Virtual Cockpit. Looks fantastic and is well worth forking out the extra money for
The Not So Good
Pricey when you add options
The standard spec at this price point is generous, but of course, you'll want some of the really nice options to go with it. As it stands, our test unit price tag comfortably breached the R700 000 barrier.
Some of the standard features that the Audi A5 Sport comes with are: automatic boot opening, dynamic suspension, space-saving spare wheel, leather steering wheel, folding rear seats, tyre pressure monitoring system, xenon headlights and LED rear lights, cruise control, automatic air conditioning, Audi sound system, Bluetooth, leather upholstery, USB and aux inputs. The Sport models get bigger wheels, sportier front seats and some chrome detailing. Our test unit came with optional 19-inch alloy wheels, which looked really good.
Cramped rear
How can Audi claim the 2-door A5 can seat 4 adults in comfort? The rear legroom is meagre at best and is compromised even further if the front occupants are tall. These seats are only suitable for small children. There are ISOfix mounts on the outer ends of the rear bench, though.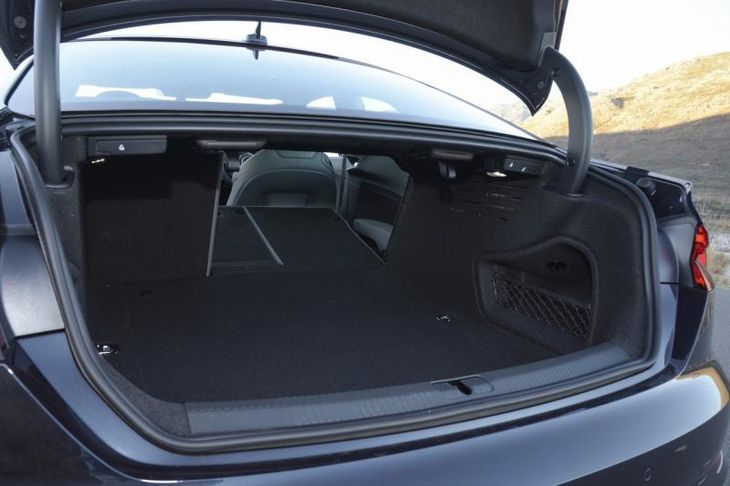 Lots of bags and suitcases can go in here. Folding the seats down increases the luggage space even further.
Price and after-sales support
The Audi A5 range starts from R620 000 with this A5 2.0 TDI S tronic sport retails for R675 500. In terms of after-sales backup, a 5-year/unlimited km maintenance plan and a 1-year/unlimited km warranty are included.
Verdict
Audi's critics say that the Ingolstadt-based marque's styling has become very formulaic, especially in terms of contemporary models' front-end designs. With the new Audi A5 however, things have taken a radical new direction and while most testers' initial opinions of the coupe were indifferent, the newcomer's styling has grown on us and represents a modern and fresh interpretation of Audi's design language. Things go from good to great when you step inside the cabin. Not only is it exquisitely finished, there's a sense of occasion and the latest technology is within reach.
On-the-road refinement is exceptional and you'll love just how comfortable the Audi A5 is, be it an open road journey for a weekend away or stuck in the 9-5 daily traffic grind. Despite it being a diesel, performance is brisk and there'll be no hesitation when it comes to overtaking slower traffic. It's brisk off the line and we were satisfied by the way it drove. While it is best to leave the car in fully automatic mode and let it do its thing, you can take over and have a pleasant hands-on driving experience. It's not going to set your pants on fire, nor was it intended to do so and Audi has products for that already in this lineup, but it'll deliver what is expected of it and a bit more.
We like the space and comfort of the new Audi A5, especially if you're not planning on having children. The boot is generous and when you fold the seats down, you can squeeze in a mountain bike. Just. We tried! Think of it this way, if you wanting something with a bit more style and personality than an A4, then get an A5 coupe. However if you wanting the best of both worlds, then best you look at the A5 Sportback, which blends both practicality and style with ease, which is why it is a #CarsAwards finalist.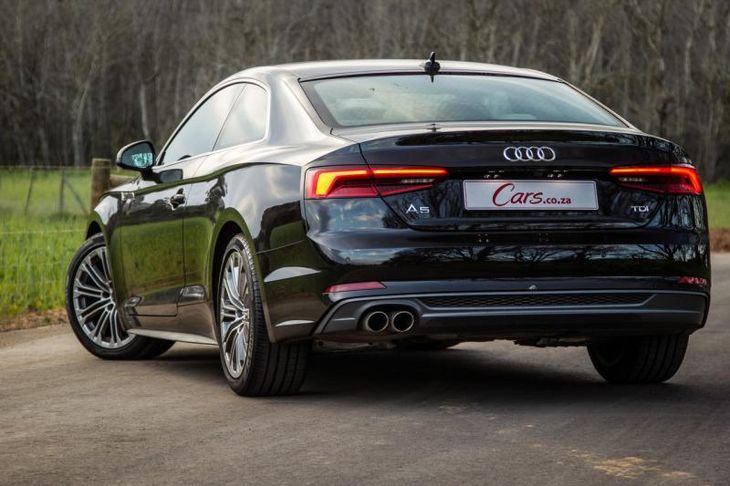 The Audi A5 2.0 TDI coupe. Refined, punchy and good if you don't plan on having children
Related Content
Meet the Audi RS5!

Find a new Audi A5 coupe here

Find a used Audi A5 coupe here

Search for a new Audi S5 coupe on Cars.co.za

Search for a used Audi S5 on Cars.co.za
Interested in buying an Audi A5?