The 3 Series is regarded as the definitive compact executive sedan thanks to its balance of sportiness, style and luxury, but the BMW's rivalry with the Mercedes-Benz C-Class and Audi A4, of which an all-new version was recently launched, is fierce. Does the Audi A4 2.0T have the right set of attributes to trump one of the 3 Series' best-selling derivatives? Read on.
In terms of sales figures, the South African-made BMW 3 Series' biggest rival is the (also locally made) Mercedes-Benz C-Class – a formidable product that won the Business Class title in the inaugural Cars.co.za Consumer Awards courtesy of the C250 AMG Sports.
Read more about the Cars Awards here.
Meanwhile, the F30-generation 3 Series underwent a mild facelift during the third quarter of 2015 and Audi launched its eagerly anticipated new A4 in the first quarter of 2016. Our initial impressions of the A4 suggested the newcomer could be better than the 3 Series, but the only way we would find out for certain was by doing a side-by-side comparison.
Read a first drive impression of the Audi A4 here
Read a first drive impression of the facelifted BMW 3-Series here.
What are we comparing?
In this comparison, we pitch the 320i M Sport sports auto against the A4 2.0T FSI Sport line. Both vehicles came equipped with numerous options that push their prices up substantially, but essentially these are the "bread-and-butter derivatives" of their respective model ranges.
These vehicles have a fair bit in common (such as a 2.0-litre turbocharged four-cylinder motor), but their executions (and driving experiences) couldn't be more different.


Showdown! Newcomer Audi A4 faces off to archrival BMW 3 Series.
Alternatives
This segment is diverse and while we feature two out of the three most popular models in this review, there are a number of contenders to choose from (depending on your taste).
For more premium feel: The Jaguar XE offers a distinctly different take on the compact executive segment and Mercedes-Benz C-Class continues to arguably represent the most desirable car in this segment.
For more specification as standard: The Lexus IS has always been underrated and is more impressive than ever before, especially with its new turbocharged engine.
Value for money choice: If brand prestige is not a major factor, then consider the excellent new Volkswagen Passat.
How do they fare in terms of…

...performance and economy?
Although both cars feature 2.0-litre turbopetrol motors the BMW is rear-, as opposed to front-wheel driven, while the Audi offers notably higher peak torque and somewhat more impressive claimed fuel consumption figures.
| | | |
| --- | --- | --- |
| | BMW 320i | Audi A4 |
| Engine type | 2.0-litre turbo four cylinder | 2.0-litre turbo four cylinder |
| Gearbox | 8-speed automatic | 7-speed dual clutch |
| Drive wheels | Rear | Front |
| Power | 135 kW | 140 kW |
| Torque | 270 Nm | 320 Nm |
| 0-100 | 7.3 sec (claimed) | 7.3 sec (claimed) |
| Top speed | 235 kph | 210 kph |
| Fuel consumption | 5.3 L/100km (claimed) | 4.9 L/100km (claimed) |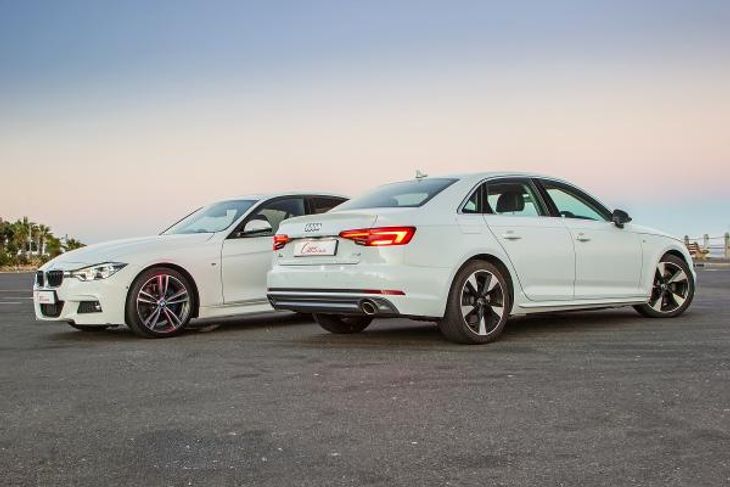 Sport accessories boost the kerb-side appeal of these "humble" derivatives.
The numbers tell only half the story, however. As you'll find in the next section of this comparison, the 3 Series feels sportier to drive than the A4 and emits a pleasingly sporty exhaust note as well. Whereas the BMW's performance feels lively and urgent, the Audi delivers a brisk, but calmly restrained, driving experience.
The claimed fuel consumption figures from both manufacturers are optimistic and you'll battle to achieve within 10% of these numbers. As you'll see in the video below, we managed to achieve 9.1 L/100 km in the BMW 320i while the Audi A4 was indicating 9.3 L/100km on the trip computer. We drove both vehicles in a combination of traffic conditions such as the open road/freeway, grid-locked traffic as well as some twisty roads.
Ride and drive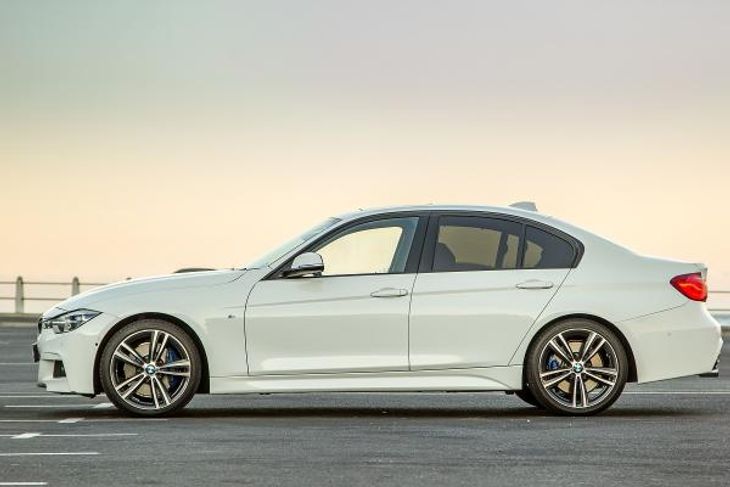 M Sport kit on a BMW 3 Series adds some visual appeal, and includes blue brake callipers.
The 3 Series is renowned as the driving enthusiast's choice and the 320i doesn't disappoint. The thick-rimmed steering wheel takes some time to get used to, but its action is weighty and reassuring. While much has been written about the added driver involvement offered by a rear-wheel-drive configuration, the BMW does have a sense of dynamism about it. It feels at home both on morning trudges to the office and while you're driving briskly through a series of corners. You can thank a well-tuned suspension and 50:50 weight distribution for that.
The differences in feel between the driving modes (Sport, Eco and Comfort) are substantial. The inherent dynamism of the vehicle is particularly apparent when you're pressing on in the BMW – it's responsive to the slightest of inputs and eager to please the enthusiast.
While sportiness plays second fiddle to refinement in the Audi, the A4 delivers a turn of pace effortlessly. It too has modes that can be activated via the drive select button. Eco will set the engine and air conditioning to a low-power bias, while dynamic mode enhances the responsiveness of the powertrain. But, in cut-and-thrust driving conditions it feels somewhat out of its comfort zone relative to the BMW.
That said, the A4 is significantly improved in this regard compared with its predecessor. You can now take it by the proverbial scruff of the neck and make it hustle through the bends. The steering feel is a little inert though; suffice to say we'd prefer a setup that communicated more feedback. It's predictable and safe, however: something that Audi A4 owners have come to expect.
In terms of overall ride quality and refinement then, the 3 Series loses a bit of ground to the A4, but makes up for it in terms of hands-on driving involvement. For driving enthusiasts the greater engagement and weightier controls of the BMW still give the 3 Series the edge, whereas the Audi offers a muted and restrained experience from behind the wheel. On side note, be mindful that when you configure your car, larger alloy wheels wrapped in low-profile rubber will result in more road noise and firm up the ride.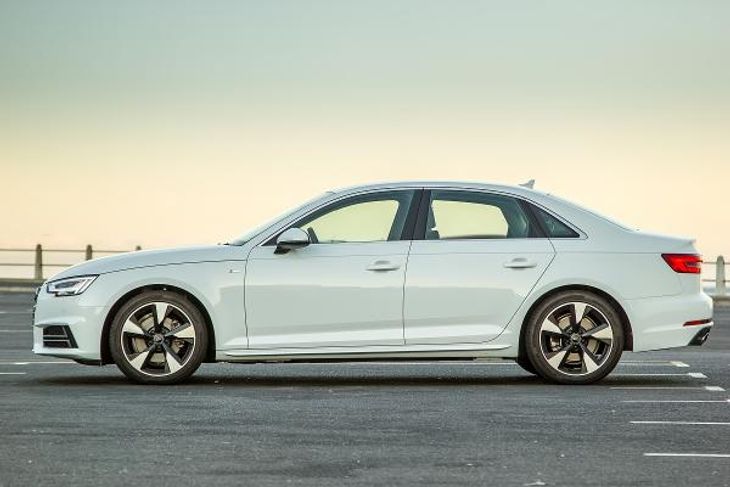 Audi A4 came with the eye-catching S-Line kit. Big wheels and big pipes round off the styling.
... interior and practicality?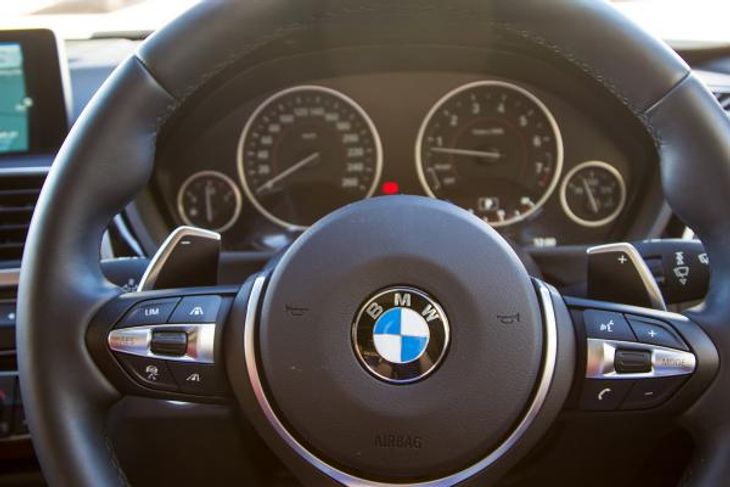 The 3 Series's analogue instrumentation works well but looks outdated compared with the Audi's digital setup.
The Audi's cabin is well-designed, user-friendly... quite exceptional, in fact – it makes the BMW's interior feel somewhat dated by comparison. Buttons and switches have an undeniably premium feel and the entire centre console is a nod to minimalistic, yet functional design. This test unit was optionally specified with the Virtual Cockpit all-digital dashboard, which lends the cabin a high-tech ambience. As sharp, crisp and modern as the Virtual Cockpit is, we can't help feel that it's a tad redundant as the centre screen displays virtually the same information, though.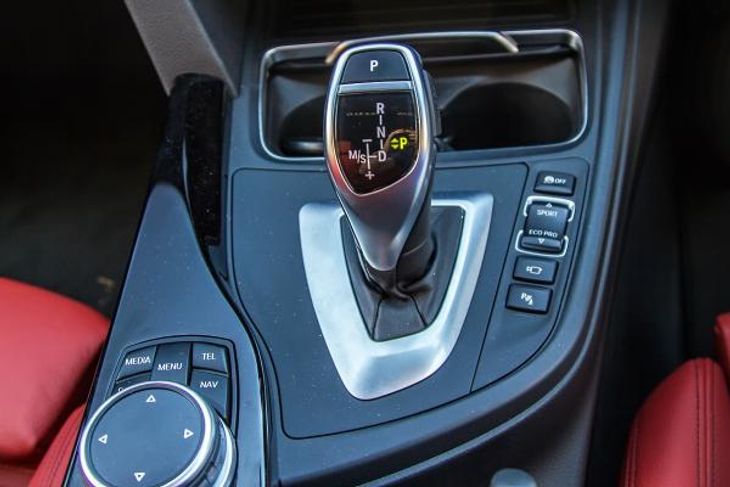 2016 iDrive is sharp and responsive. Sport buttons are orientated towards the driver. Note: manual handbrake!
It's hard to fault the Audi's exquisite cabin refinement and build quality, but the BMW is not completely outclassed in this regard... its wide infotainment screen offers better graphics and resolution, plus its analogue dials are complemented by neat digital readouts.
The cabins of both cars are comfortable places to be whether you're in the driver's seat or relegated to the rear bench. In terms of interior space, the Audi boasts a wheelbase that's 93 mm longer than the BMW's (4 726 mm). It'd be nitpicking to say that the Audi offers a bit more space, but when you're doing a comprehensive assessment of both cars, if 93 mm is what separates the two, then so be it!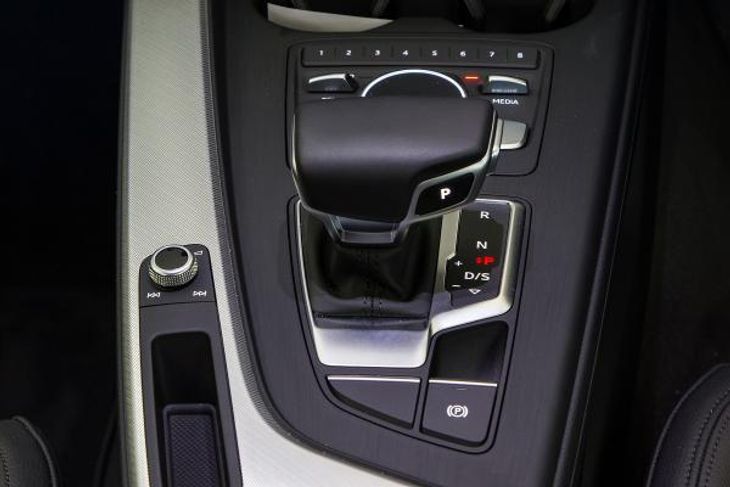 Gear selector serves as a resting place for the driver's wrist when using the MMI controller.
Both vehicles offer folding rear benches as an option, but on the BMW it's cheaper to specify (R3 250, compared with the Audi's R5 300). Both vehicles claim a boot loading capacity of 480 litres, which is enough for two sets of golf clubs or a pair of big suitcases.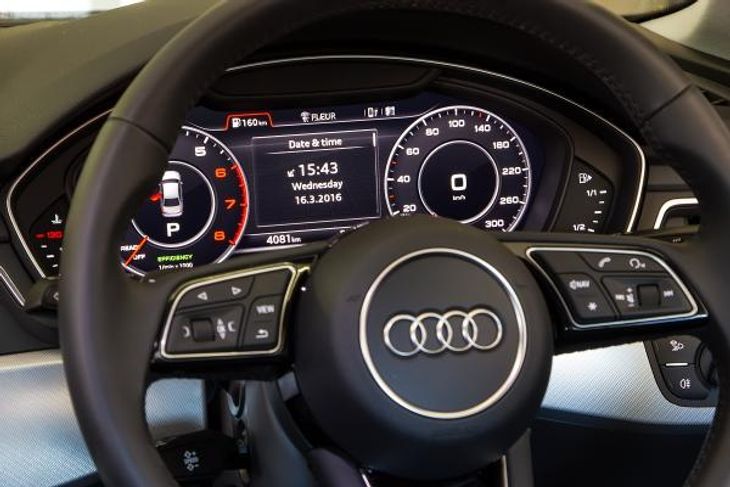 Audi Virtual Cockpit blasts all analogue offerings. Clear, concise and intuitive to use.
... 21st-century technology?
Both Audi and BMW offer extensive options lists that can hike their products' asking prices considerably, but the technology available is quite extraordinary. The game has moved on significantly. To think features such as Bluetooth and climate control have become everyday items!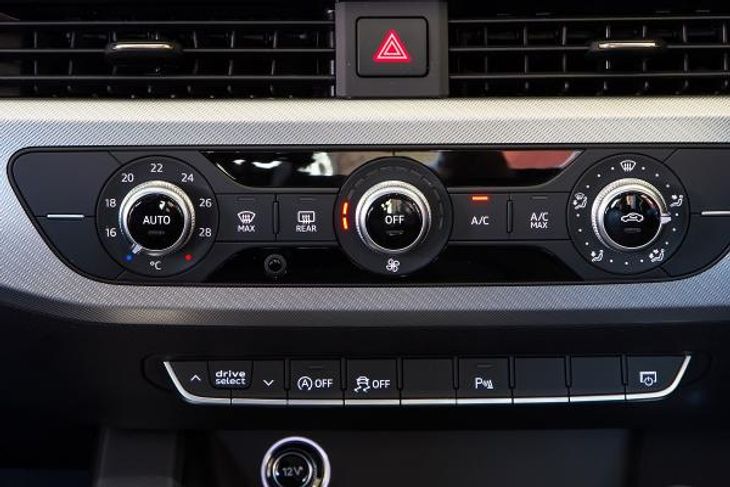 Well crafted buttons and switches in the Audi A4. Note: Audi drive select button to choose engine modes.
You can opt for adaptive suspension in the BMW that firms up or softens the ride depending on your mood. You can also select heated seats that will take the frostiness out of winter. There's auto parking, radar-guided cruise control, satellite navigation, full 360-degree cameras, and BMW ConnectedDrive services. This system constitutes a range of services and apps such as a concierge, internet browsing, and real-time traffic. You can even wirelessly connect your GoPro to your car. In summary, the 3 Series has become a vehicle that can make restaurant bookings for you, tell you which congested roads to avoid and it'll automatically brake for vehicles in front of it when the dynamic cruise control is activated.
The Audi A4 is also laced with technology. You can choose the outstanding Matrix LED headlights, heated and cooled seats, adaptive suspension, which can switch from sporty to soft at the touch of a button, auto parking, Virtual cockpit, satellite navigation, tablets for the rear seat entertainment, additional USB ports for the rear occupants, to name but a few.
Both vehicles can be specified with head-up displays, but the BMW unit is better than its rival's system. Both vehicles offer upgraded sound systems, with BMW going the Harmon/kardon route while Audi has chosen Bang & Olufsen.
The Audi and BMW come with an array of standard safety features, including front-, side and curtain airbags as well as stability/traction control systems. An assortment of additional safety features are available, such as blind spot indicators and lane keeping assist. Also worth considering are tyre pressure monitoring and heads-up display (HUD).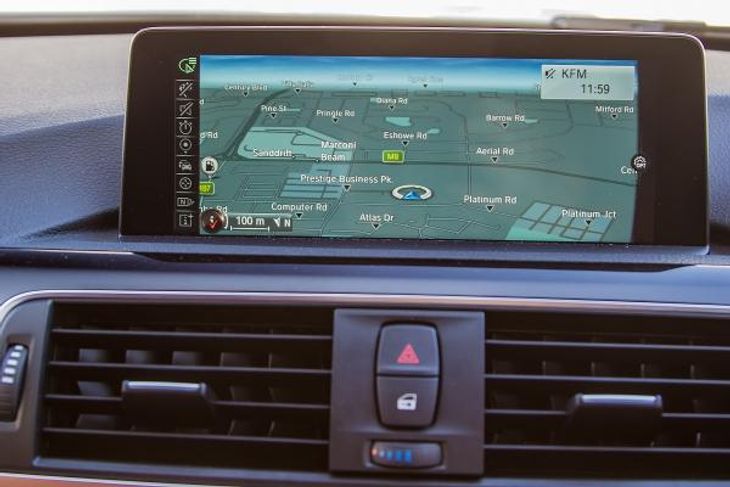 BMW's widescreen infotainment screen offers crisp visuals and is easily explored using iDrive controller.
Verdict
It is just about impossible to convince a buyer loyal to a particular German premium marque to switch from their beloved brand. Audi A4 customers will be quietly satisfied with their purchases, while BMW fanatics will continue to clamour for the latest 3 Series. While there's little to separate them in terms of features, it's even closer when it comes to the ownership and servicing experience. According to our Ownership Satisfaction Survey, after-sales service, dealer footprint, sales experience and ownership experience, are all very similar, with the two brands trading blows but never quite landing a knock-out punch.
It was almost too close to call as both the 320i and 2.0T are worthy of the praise heaped on them. Ultimately, it boils down to what you desire from your premium sedan. But let's leave brand bias out of it for the moment... If you're a driving enthusiast, then perhaps the BMW 320i is the better option. The Audi A4 doesn't disgrace itself when it comes to spirited driving, it's just the BMW feels a more involving, willing participant. In that regard, nothing has changed, but the gap is narrower.
The new A4 represents a signficant step forward for the brand in the premium compact sedan market. We liked how the Mercedes-Benz C-Class introduced many things from its bigger brothers when it was introduced and now Audi has done much the same. The cabin layout, dashboard design and build quality are easily on par with larger luxury sedans from just a few years ago. It's a superb vehicle. How it didn't become the 2016 World Car of the Year 2016 remains a mystery.
Ultimately, the A4 2.0T just edges the BMW 320i because it offers superior levels of refinement. While the BMW 3 Series is dynamically ahead of the Audi, we have to measure this victory in dynamics against a win for the Audi in a department that's arguably of greater importance for more consumers. We think this market requires a car that's happy playing both the routine 9-to-5 traffic game as well as excelling during a weekend leisure trip through the hills. With the new A4, Audi has moved its offering close enough to the 3 Series in the fun-to-drive stakes to make sure victories in particular the areas of cabin design and refinement are enough to score it the overall win.

It's close. Audi A4 brings more refinement and prestige to the segment and ultimately clinches this shootout.
Pricing
The BMW 3-Series range starts from R427 500, with this 320i M Sport Sports Auto without extras costing R520 056.
The Audi A4 range starts from R459 000, with this A4 2.0T FSI Sport line without extras costing R517 000.
Watch an interior and specification comparison video between these two cars
Interested in buying a new/used Audi A4? Search for one on Cars.co.za
Interested in buying a new/used BMW 3 Series? Search for one on Cars.co.za