Aston Martin has finally taken the wraps off the Roadster variant of its Vantage sportscar. Not only is this AMG-powered newcomer capable of dashing from 0 to 100 kph in 3.7 seconds – its automatic soft-top is said to be able to retract fully in a "record-setting" 6.7 seconds!
Last last year, Aston Martin released a handful of images of a pre-production Roadster bearing stickers that read "Vantage – Opening Spring 2020". South Africa may be heading into the autumnal months, but the Gaydon-based firm was clearly referring to the Northern Hemisphere when it teased the new model...
It seems an eternity since we first sampled the arrestingly-styled Vantage (with its 375 kW/685 Nm 4.0-litre twin-turbo V8 engine mated with an 8-speed ZF automatic transmission) in April 2018. Since then we've experienced the audacious DBS Superleggera both in Germany and last month, here on home soil.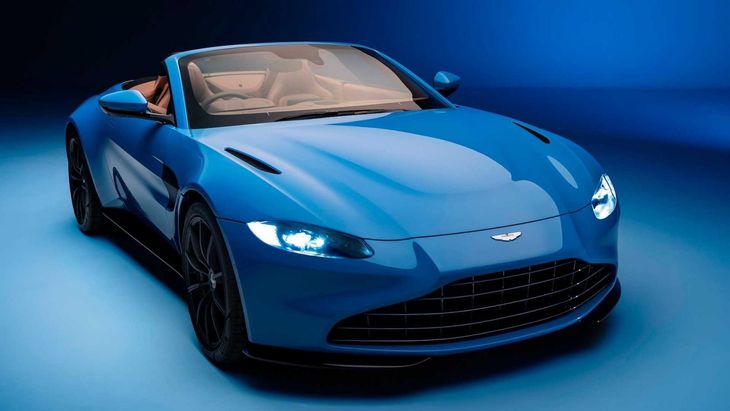 The Vantage Roadster shows off the more traditional "vane grille", which is now optional throughout the model range.
Aston Martin was recently taken over by a consortium headed by Canadian fashion mogul and Racing Point F1 team owner Lawrence Stroll, who hopes to restore the embattled British supercar marque back to profitability. Much is expected of the brand's DBX first-class SUV, which is expected to go on sale in South Africa soon (with a reported starting price of R3.6 million), but in the case of the Vantage Roadster, Aston Martin is clearly sticking to its core strength: building fast, beautiful, exotic machinery.
Apart from its sub-4.0-second 0 to 100 kph time and a top speed of just over 300 kph "with the roof raised" (obviously!), the Roadster weighs only 60 kg more compared with its Coupe sibling by virtue of a new, lighter Z-shaped folding roof mechanism and optimised exterior and chassis revisions, the firm says.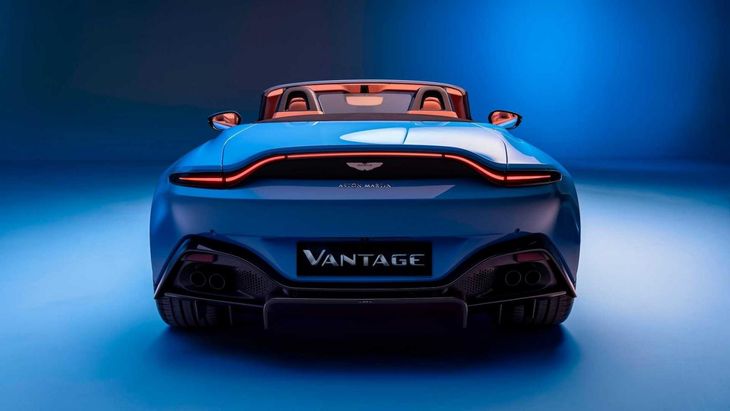 The compact roof mechanism has enabled Aston Martin to keep the Vantage's pert rear-end virtually unaltered in Roadster guise.

Roadster-specific structural shear panels, chassis components, rear-damper tuning, adaptive-damping software and ESP calibration are said to ensure the Vantage Roadster retains the coupe's "strong dynamic ability and sporting character… with no compromise to feel or refinement." It shares its dynamic stability control- and dynamic torque vectoring system, as well as electronic rear differential with the hard-top.
Drivers are offered a choice of Sport, Sport + and Track chassis and powertrain modes – also tuned specifically for the Roadster variant – to progressively increase the car's overall responsiveness, which "mean(s) the Roadster has "a tremendous breadth of ability and feels equally at home on road or race track."

Make of the "radioactive putty" leather trim what you will, the Roadster retains its hard-topped sibling's engaging driving position.

The tautly-tailored fabric roof features a compact electrically-operated Z-fold mechanism that can be fully lowered in 6.7-, or raised in 6.8 seconds, at speeds of up to 50 kph. In fact, the roof of Vantage Roadster is claimed to have the fastest full-operating cycle of any folding-roof mechanism in the new vehicle market…

What's more, the low stack-height facilitates a sleek rear profile with minimal impact on the Roadster's luggage space. With a claimed capacity of 200 litres, the newcomer's boot can reportedly accommodate "a full-sized golf bag and accessories".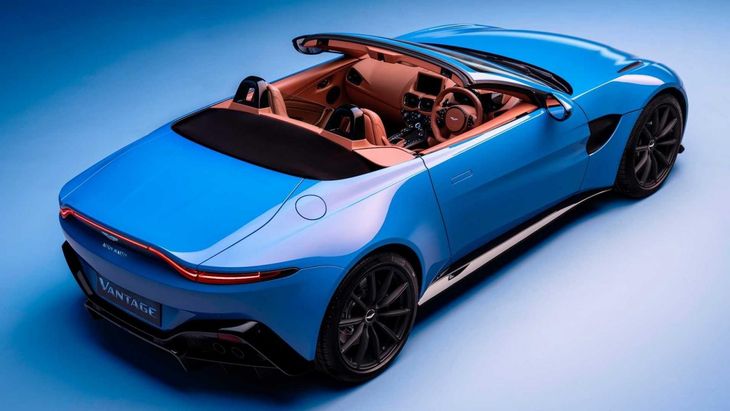 Now you don't see it, but soon you will... The roof can be raised fully from the retracted position in 6.8 seconds.
Meanwhile, Aston Martin has introduced the company's iconic "vane grille" as an option for both the Coupe and Roadster (an alternative to the "hunter grille" featured on the Coupe). Apart from a new range of optional alloy wheel designs and optional finishes, the manual 7-speed transmission is now also available on the Coupe, having initially only been available in the limited-edition Vantage AMR.
Deliveries of the Aston Martin Vantage Roadster will begin in the latter half of 2020 across the globe, the firm says.
Related content:
Aston Martin DBS Superleggera (2020) Quick Review
Aston Martin Announces DBS Superleggera Volante
Aston Martin DBS Superleggera - First Drive