This is it! The all-new Audi RS6 is here. Here's all you need to know about the popular powerhouse wagon.
The cult following of Audi's performance wagons will be pleased. This is the all-new Audi RS6 Avant. Visually it's a massive step from the current Audi S6 Avant. There's a lot going on and just look at the aggressive touches! The bold front end, massive alloy wheels and Audi RS exhaust pipes mean business. The big news will please American fans. "Throughout our 25-year RS history, the Audi RS 6 Avant is one of our absolute icons with a large global fan base," says Oliver Hoffmann, Managing Director of Audi Sport GmbH. "We will also be offering the RS 6 Avant in North America for the very first time. As such, we will be tapping into a new market with huge potential and generating further growth."
Powered by a 4.0-litre twin-turbocharged petrol V8 with 441 kW and 800 Nm, it'll be capable of some serious performance. Audi's RS division claims its new performance wagon will do 0-100 kph in a claimed 3.6 seconds and will run to a limited top speed of 250 kph. It will do 0-200 kph in 12 seconds, which is seriously quick. The vehicle features an 8-speed Tiptronic setup with launch control functionality. Power goes to all 4 wheels in a 40:60 split with the all-mechanical centre differential doing all the work. Up to 70% can go to the front wheels while 85% can go to the rears.
This engine is also fitted with 48-volt hybrid technology. It works with a belt alternator starter which can recover up to 12 kW of power during light deceleration and store it in a lithium-ion battery. The result is a vehicle which can coast at up to 40 seconds with the engine off and it'll activate the start/stop at speeds of up to 21 kph. Audi claims a fuel saving of 0.8 L/100 km using this tech.
Inside, expect the latest Audi infotainment system as well as the enhanced version of the Audi Virtual Cockpit. It'll also feature the same new touchpad/climate control setup as the one we've seen in the Audi Q8.
At this stage, there's no word on South African availability, but European customers will be getting their cars as early as January 2020.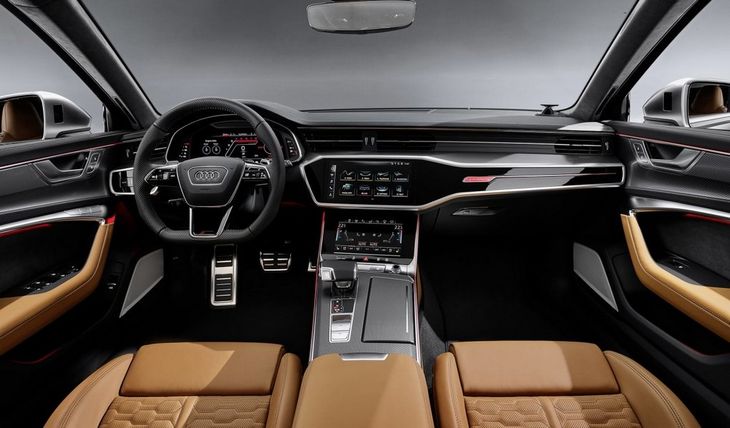 Further Reading
Spy Shots: 2020 Audi RS6 Avant
Audi RS6 Avant vs Jaguar F-Type Coupe AWD R - The Final Showdown
Audi Teases RS Family for 2019
Drag Race: Audi RS6 Avant vs Jaguar F-Type V8 AWD