Compact, simple and hugely entertaining topless sportscars are a rarity these days, with Mazda owning the small segment through its highly acclaimed MX-5. So that's exactly where Fiat headed for help when it decided to revive its iconic 124 moniker for a stylish new sports machine. With the MX-5 as its base, the Abarth 124 Spider was always going to be a blast to drive, but the excellence does come at a cost...
Facts & Figures
Price: R649 900 (February 2017)
Engine: 1.4-litre 4-cylinder turbopetrol
Transmission: 6-speed manual
Power: 125 kW
Torque: 240 Nm
Fuel Consumption: 6.4 L/100 km (claimed)
Top speed: 232 kph
0-100 kph: 6.8 sec
We like: Solid build, entertaining dynamics, looks
We don't like: Overpriced
Summary in a Tweet: "Undeniably entertaining, good looking and solidly built, but R200k price premium is impossible to justify."
What is it?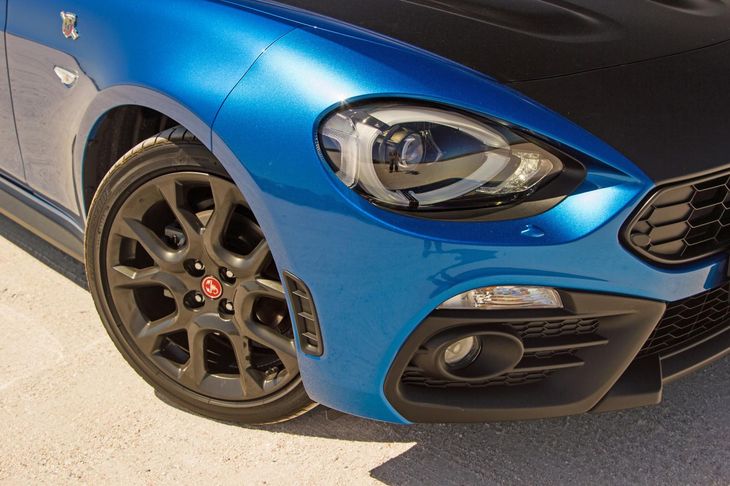 Front-end styling harks back to the iconic and long-serving Fiat 124 model of '60s, '70s and early '80s.
The Abarth 124 Spider is the "hot" version of the recently introduced (in Europe) Fiat 124 Spider. At present, it is the only "124" derivative that Fiat will sell in South Africa and comes fully loaded with features, being positioned as a halo model for the Abarth performance sub-brand. Underneath its unique exterior execution sits the acclaimed underpinnings of the Mazda MX-5, and, in reality, the Abarth 124 Spider is actually built by Mazda at its Hiroshima plant in Japan – from a build quality point of view, this is a very good thing. What's different? Well... instead of the Mazda's naturally aspirated 2.0-litre engine, the Abarth gets a fiesty 1.4-litre turbo. And there's a near R200k price difference. Yikes!
Successful heart transplant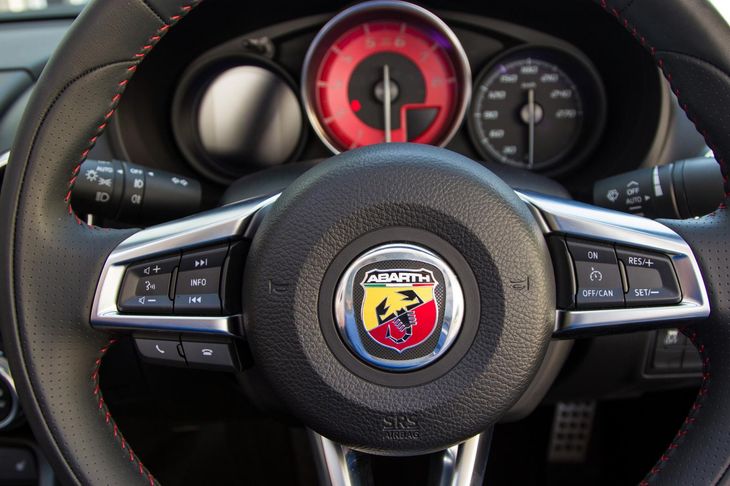 From behind the wheel, you'll notice different instrumentation graphics (to the MX-5) and, of course, the Scorpion badge.
The major difference between the 124 Spider and the MX-5 can be found underneath the bonnet. The Abarth is powered by a performance-optimized version of Fiat's 1.4-litre turbocharged Multi-Air engine, delivering a strong 125 kW and 250 Nm of torque. Both the power and torque figures are slightly up on those of the Mazda's 2.0-litre engine, and by using the same 6-speed manual transmission, albeit with slightly longer gearing, the Abarth is a faster sprinter.
It blasts to 100 kph in 6.8 seconds, as opposed to the MX-5's 7.3 sec, and tops out at 232 kph (compared to the Mazda's 214 kph). On the road, and in the absence of a MX-5 (to make direct comparisons), the Abarth feels ever so slightly more urgent than its Japanese sibling. We wish it had a bit more of a charismatic engine note, though.
Oh, and the turbocharged Abarth isn't only faster than the Mazda, it's also more economical, with a claimed combined cycle consumption figure of 6.4 L/100 km.
Thrill-a-second handling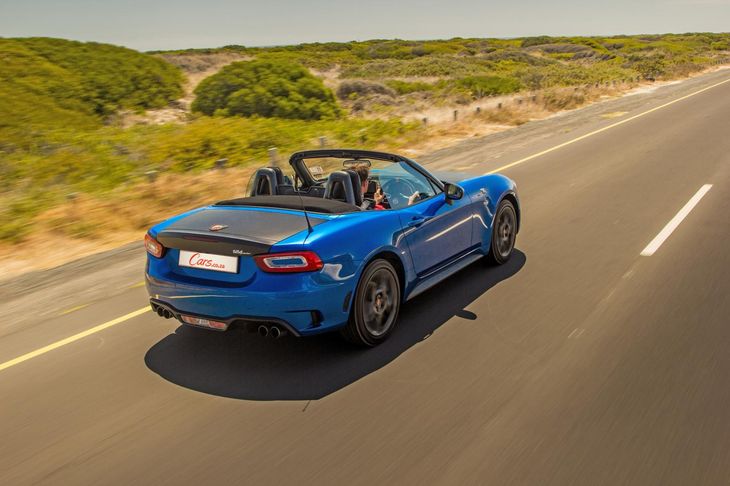 With its stiffer suspension set-up, excellent brakes and crisp steering, the Abarth 124 is a blast to drive.
With its current, and World-Car-of-the-Year-winning, MX-5, Mazda has redefined the modern-day compact sportscar, especially at its price level. In terms of the hardware, the folks at Abarth have wisely not fiddled too much, but the 124 Spider nevertheless gets a slightly stiffer overall set-up, making it marginally more roll-resistant in the corners. Combined with its near-perfect front-to-rear weight distribution and crisp steering, the 124 Spider is a blast to fling around some bends. It reminds strongly of what sportscars used to be like before they became overweight and over-complicated missiles with roadholding limits that mere mortals could never hope to exploit. The brakes, too, are impressive, offering consistent feel and quick retardation. Overall, the 124 Spider is one of only a handful of modern cars (at any price) that is able to entertain both experienced and novice driving enthusiasts.
Striking looks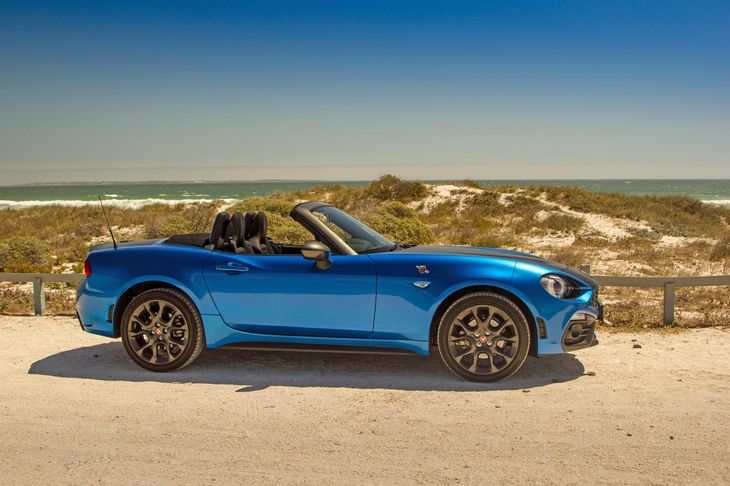 Every exterior panel is unique to the 124 Spider. Overall it is slightly longer than the MX-5.
Mechanically very little (if anything) has changed in the MX-5-to-124 Spider metamorphisis. The wheelbase is exactly the same and so is the roof mechanism and the interior space/layout. The unique body panels have, however, resulted in a slightly longer overall length (by 140 mm) and more boot space (still very limited). This is not a car that you buy for practical daily motoring... Not only is there very little packing space, the cabin itself is snug, too. Tall drivers might feel somewhat cramped, but everyone else will enjoy the driver-centric interior and the accessibility of the controls.
To be fair, while the cabin is much the same as the MX-5, the Abarth's cockpit does feel a bit more special courtesy of slight trim changes, more vibrant instrumentation and there is a mode selector switch behind the gear lever, which the Mazda doesn't have. It is very well made, indeed, as it should be given the price and Mazda-made underpinnings.
Standard features include leather upholstery, heated seats, climate control, an infotainment system incorporating navigation, Bluetooth and aux/USB support, park assist, auto wipers and lights, cruise control and four airbags.
Final thoughts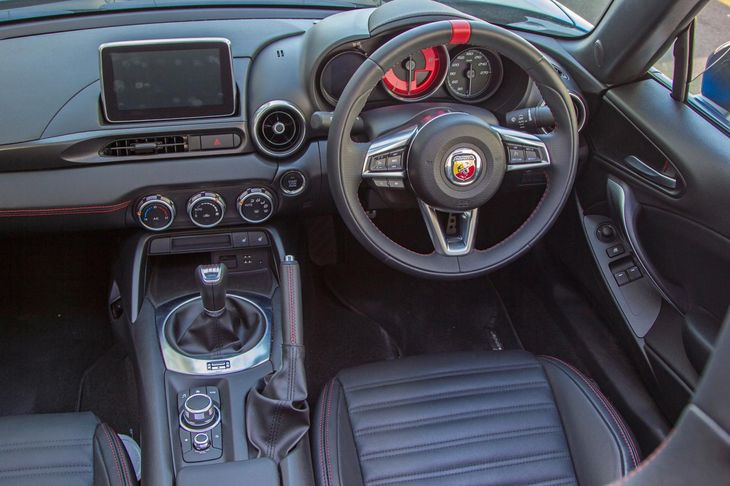 Cabin is largely identical to the MX-5's, but there are trim and detail tweaks.
We loved driving the Abarth 124 Spider. Like the Mazda MX-5, it offers the type of thrills that, frankly speaking, you just don't get in modern-day cars anymore. With the 124 Spider you don't have to be doing silly speeds to have fun. And even when you're just cruising, the good looks, neatly finished cabin and modern features provide more than enough joy, too. The problem, however, is the price. The Abarth 124 Spider is simply not R200 000 better than the MX-5 that it is based upon. So, who would buy it, then? Well, there are those people who are willing to pay extra for exclusivity and, in the 124 Spider's case, a hint of nostalgia. Those buyers may not be making a sensible choice by opting for the Abarth 124 Spider, but money issues aside, they'll undoubtedly enjoy what remains a superb sportscar, the equal (in terms of fun) of cars costing much more.
You may also be interested in:
Abarth 595 specs & pricing in SA (2017)
Cars.co.za Consumer Awards - Best Fun Cars under R600k
Extended Test: Mazda MX-5 (with video)
Looking for an Abarth to buy?