The Hyundai H1 is one of the popular entries in the people-moving minivan segment and now the range has been bolstered with a 12-seater version. Here's how much it costs.
The Hyundai H1 recently received an update in 2018 and now for 2019, the range receives a 12-seater derivative. For those wanting to carry large numbers of people, the 3-3-3-3 setup is available, but customers can fold the final row of seats down to increase the luggage capacity.
"The H-1 has been a top-seller since we launched it in 2009, and last year's make-over combined with the addition of an extra row of seats have really added features that will attract many more buyers in this segment," says Stanley Anderson, sales and operations director of Hyundai Automotive South Africa.
The Hyundai H1 features a 2.5-litre turbocharged diesel engine, which delivers 125 kW and 441 Nm which drives the rear wheels via a 5-speed automatic gearbox.
Hyundai H1 12-Seater Features
Convenience and safety features that make the H-1 12-Seater 2.5 turbodiesel a comfortable and ideal people-carrier include:
An infotainment centre with a large touch-screen;
Bluetooth connectivity for the infotainment sound system with multifunction controls on the steering wheel;
Cruise control with buttons on the steering wheel;
A steering wheel that can be adjusted for reach as well as height;
A rear camera for parking assistance, with a display in the rear-view mirror;
A fully automatic air conditioner with climate control;
Glove box cooling;
Front and side airbags for the driver and front passenger;
Electric folding mirrors;
Projection-style headlights that illuminate the road more effectively;
A 1 500 kg towing capacity; and
An Electronic Stability Programme (ESP)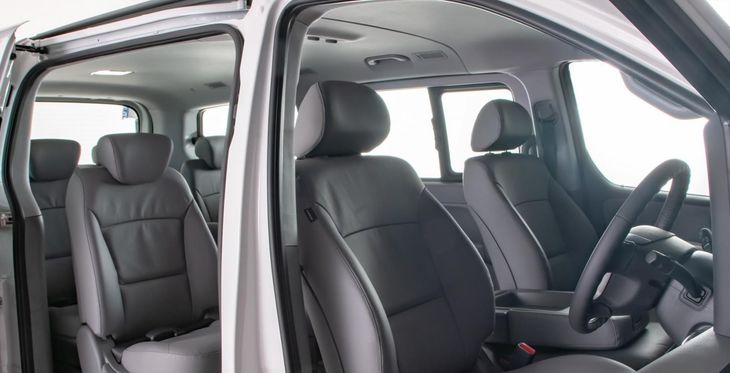 Hyundai H1 Price in South Africa (June 2019)
Pricing includes Hyundai's 7-year/200 000 km warranty, as well as a 5-year/150 000 km roadside assistance plan and 5-year/90 000 km service plan.
H-1 2. 5 Elite 12-Seater Bus (turbodiesel, auto) R664 900
H-1 2.4 Executive 9-Seater Bus (petrol, manual) R527 900
H-1 2.5 Elite 9-Seater Bus (turbodiesel, auto) R654 900
H-1 2.5 Turbodiesel 3-seater Panel Van (turbodiesel, auto) R476 900
H-1 2.5 Turbodiesel 6-seater Multicab (turbodiesel, auto) R553 900
Further Reading