Legendary South African-born F1 designer and father of the McLaren F1, Gordon Murray, is preparing to fully unveil his company's T.50 "analogue hypercar", endowed with a free-breathing 4.0-litre V12 engine, a 6-speed manual gearbox and F1 fan-car-inspired active aerodynamics…
1. Gordon Murray, CBE
Professor Gordon Murray was born in Durban, moved to the UK in the late Sixties and designed the Bernie Ecclestone-owned Brabham F1 team's cars from 1972 to 1986 (two of which won drivers' world championships for Nelson Piquet in 1981 and 1983) and assisted Steve Nichols and Neil Oatley at McLaren to design the Honda-powered cars that dominated grand prix racing for 4 years (1988-1991) in the hands of Alain Prost and Ayrton Senna.
Murray then founded the road-car division of the Woking-based F1 team and designed the definitive, genre-redefining McLaren F1 supercar; he was also involved with the Mercedes-Benz SLR McLaren, but thereafter he founded Gordon Murray Design Ltd (a design and engineering consultancy) and focused on a number of projects, including a 1-seater track car, city cars, a light commercial vehicle and the new TVR Griffith.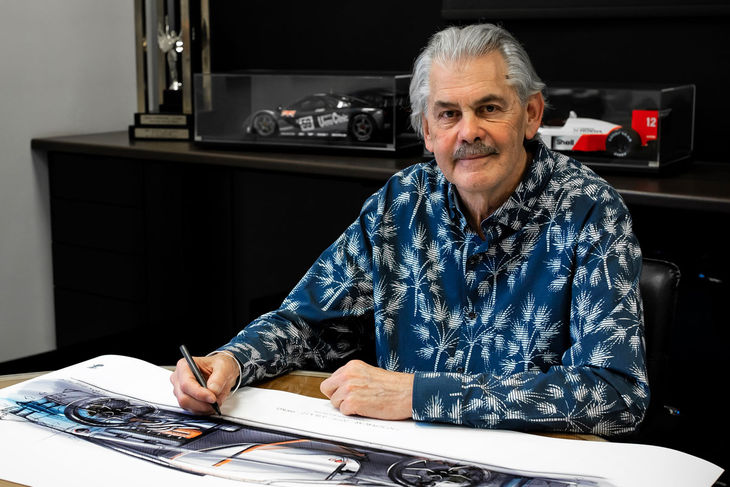 Prof Gordon Murray, CBE.
Murray spearheaded the iStream manufacturing process and his group, Gordon Murray Automotive (GMA) will be producing the new T.50 at a new factory based in Dunsfold. In 2019, he was made a Commander of the British Empire by Prince William in recognition of his contributions to the motorsport and automotive sectors over the past 50 years.
2. Sub-tonne kerb weight
Murray wants the T.50 to be regarded as the spiritual successor to the F1 by virtue of its lightness, compactness and space-efficiency. The entire supercar will weigh less than 980 kg – its all-new carbon-fibre monocoque weighs only 150 kg, while GMA's engineers even modelled the diameter and length of the T.50's fixings, "to ensure they're only as strong as they need to be", AutoExpress reports. On the completed product, these 900 nuts, bolts and washers around the T.50's chassis will be finished in titanium.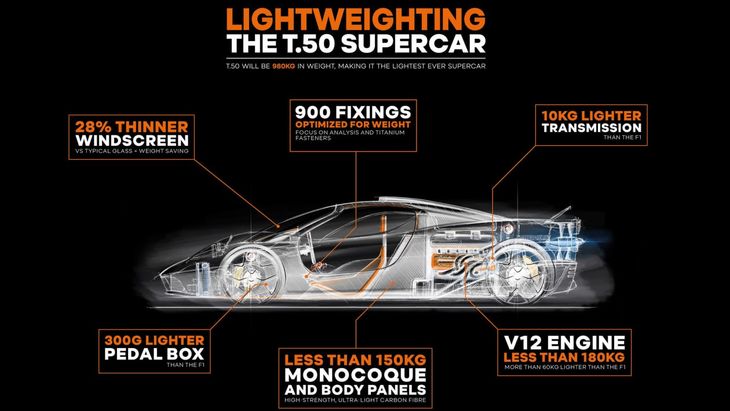 Here's further proof of the intense weight-saving programme: the T.50's pedal box is 300g lighter than the McLaren F1's, while its transmission is 10 kg lighter. Its windscreen is made from ultra-thin glass, which is 28% thinner than that of a typical road car. The driver's seat weighs 7 kg – and the passenger seats weigh less than 3 kg apiece.
3. 'Same size as a Golf', unfussy styling
Although virtually all road cars are now substantially larger than their equivalents from 30 years ago, the T.50 is just 30 mm wider and 60 mm longer than the McLaren F1; it will apparently have about the same road footprint as a Volkswagen Golf.
The car features very little in the way of upper-body aerodynamic addenda, which should facilitate a cleaner, unfussy front-end shape. Although the car's frontal styling has yet to be revealed, Murray says the T.50 familial resemblance with the F1 will be obvious. From the rear, the T.50 is distinguished by the integral ground-effect fan, but its complex aerodynamic systems also incorporate active under-body elements and rear aerofoils.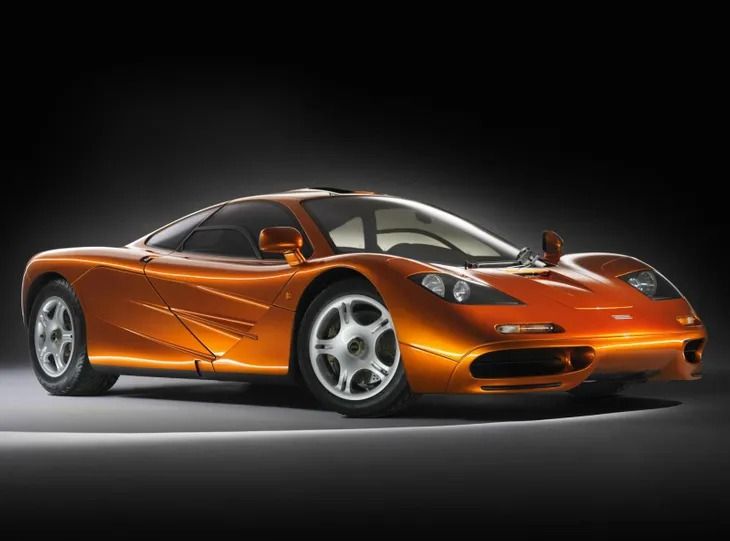 The iconic (and BMW-powered) McLaren F1 supercar was named #1 in our Top 100 Coolest Cars of all time.
4. References McLaren F1, 1978 'F1 fan car'
A three-seater with a central driving position, the car combines the unique qualities of Murray's two most iconic creations in a stellar 50-year, 50-car career: the seminal, ultra-light McLaren F1 3-seat supercar of 1992 and the Brabham BT46B grand prix "fan car" of 1978, whose extraordinary levels of downforce briefly rocked F1; it took one race win (by Niki Lauda) before the team withdrew the car in the face of opposition from rivals.
Since the first details of the T.50 emerged last year, it was clear it would use much of the packaging and technology of the F1, simply because, in Murray's view, there's no better way of doing it. "No one else makes supercars our way," he says. "I'm happy about that."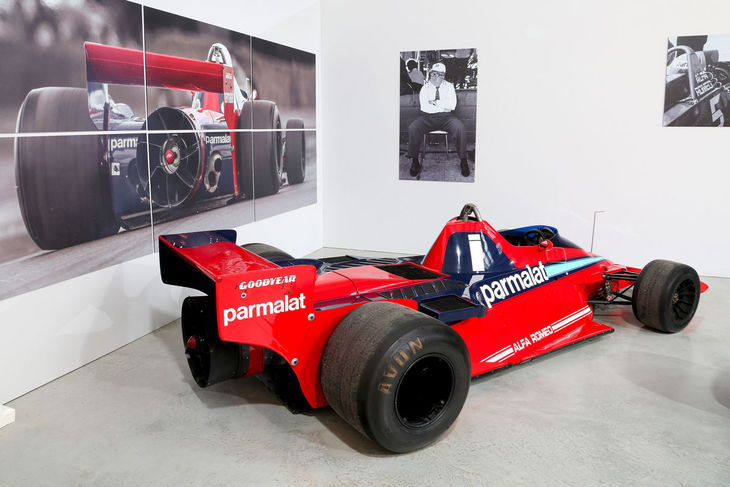 The T.50's ground-effect fan clearly takes its cue from the controversial Brabham BT46B "F1 fan car" of 1978.
5. That 400-mm ground-effect fan
The 400-mm rear-mounted electric fan is designed to extract air from beneath the car to radically increase downforce and grip. Downforce is generated either by an active rear spoiler or via a large venturi beneath the body that channels airflow into the fan. The feed of underbody airflow can be varied by the opening or closing of slots ahead of it.
Aerodynamic downforce is a great thing to have when you need it, says Murray, and that's principally between 100 and 160 kph, the point at which your car benefits most from greatly enhanced cornering adhesion. It would be nice to have downforce that works at lower speeds too, but passive aero gadgetry doesn't provide it, he adds.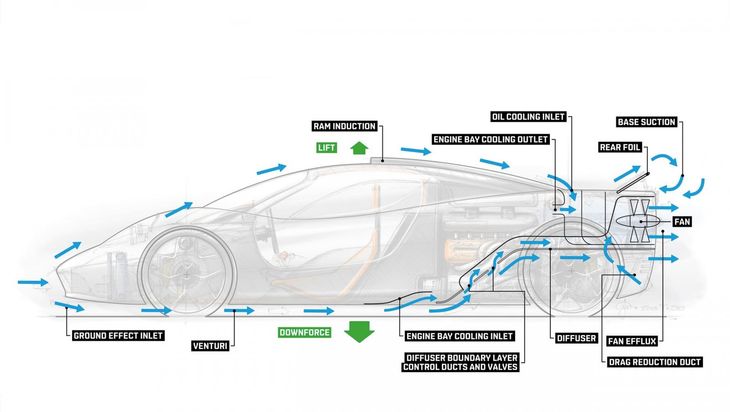 As it turns out, when going faster, less aero-effect is required. "Aerodynamic load rises as the square of speed," Murray says, "and so does drag. Which means many cars with serious performance use up their suspension travel at high speed. You can reduce it with expensive, bulky variable-rate (suspension) complexity, but who wants that?"
The T50's system of variable, fan-based downforce is tuneable and delivers exactly what is required; it greatly improves the hypercar's handling at lower speeds and boosts its ability to stop in a hurry, but, at the same time, when the T.50 is cruising at high speed, the system can be tuned to facilitate decent stability and reasonable ride quality.
6. Six different aero modes
The T.50's aero set-up can be configured in 6 different modes, 2 of which are automatic, the rest of which are driver-selectable… The 2 automatic aero modes are Auto (which optimises the use of the fan, the rear spoiler and the underbody diffusers) and Brake (which opens the spoilers and runs the fan at high speed, pushing the car down and increasing stability and rolling resistance).
The driver-select aero modes are High Downforce and Streamline, which cuts drag by about 10% by closing underbody vents and speeding up the fan. There's also a Vmax mode, which that adds approximately 22 kW for up to 3 minutes by virtue of the "ram effect" of a roof-mounted induction air scoop. The final aero mode is Test, which allows an owner to demonstrate how the aero system functions when the car is standing still.
Listen to the engine's 3-cylinder mule being fired up and revved to 12 000 rpm:


7. Highest-revving road car engine
Murray insisted that, like the McLaren F1, the T.50 had to be normally aspirated and feature no hybrid assistance apart from a 48V integrated starter/generator which is connected directly with the crankshaft. It acts as a starter motor, but then converts to a generator to produce power to spin the ground-effect fan at speeds of up to 8 000 rpm.
Developed by renowned British engineering firm Cosworth, the T.50's 65-degree 3 993-cm3 V12 produces around 485 kW and 450 Nm. The engine weighs under 180 kg, which is about 60 kg less than the McLaren F1's 6.1-litre V12. The engine's rev limit is 12 100 rpm, which makes it the highest-revving road-car engine ever built. By comparison, the Aston Martin Valkyrie's V12 (also developed by Cosworth) tops out at 10 500 rpm.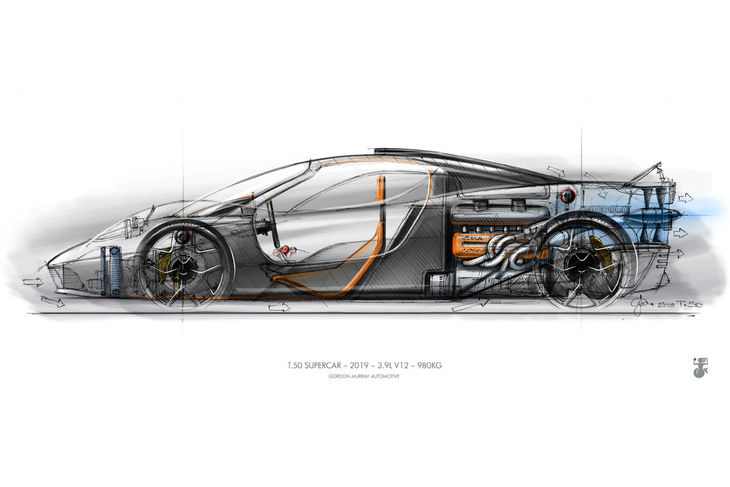 The T.50 features a double-wishbone suspension fore and aft.
8. A 6-speed manual 'box
The V12 is mounted very low in the T.50's all-carbon-fibre tub and drives the rear wheels through a 6-speed H-pattern manual gearbox built by Xtrac. Driving purists rejoice!
9. Help from Racing Point
The mid-engined T.50's all-important aerodynamics package is being developed with the assistance of the Silverstone-based Racing Point Formula 1 team. Access to the team's moving-floor wind tunnel, plus the expertise of its F1-trained technicians, allows GMA to utilise large-scale models to refine the T.50's revolutionary active aero package.

10. First deliveries in 2022
The T.50 – GMA's "analogue hypercar" – was scheduled to be unveiled at the cancelled Monaco Grand Prix last month, but it is understood that a road-going prototype will be ready by September. The company will produce 125 cars – 100 road cars and 25 track units – at the company's production facility in Dunsfold Park, Surrey, with the first delivery scheduled for the beginning of 2022. Production will last for about a year.
Most T.50s are pre-sold, although there are still "a few" opportunities for buyers who are willing to fork out an approximate R43 million (or more) for the privilege of owning one.
"People tell us the McLaren F1 was their poster car when they were growing up," says Murray. "Now that they've built successful businesses, T50 has become their F1."
Related content:
Aston Martin Valkyrie hits the road
Koenigsegg Jesko Absolut is Crazy Fast
Bugatti Chiron Pur Sport Focuses On Driving
Aston Martin V12 Speedster Goes Official
Hot Pininfarina Battista Anniversario Revealed [w/video]
Boulogne is an 820 kW Spanish Supercar