The Competition Commission believes you, the consumer, should have the right to have your in-warranty car serviced or repaired at a workshop – other than one approved by the vehicle's manufacturer – without the fear that your warranty will be invalidated as a consequence.
The Commission has gazetted draft guidelines that seek to put an end to motorists being forced to have their in-warranty cars serviced or repaired only at the manufacturer's approved service dealerships – and allow for the fitting of non-original parts where a specific part's warranty has expired – without risking the cancellation/voiding of their warranties.
The guidelines also state that at the time of a vehicle's sale, dealers and financiers must provide the consumer with details of all inclusions and exclusions in the service and maintenance plans.
Prepared in terms of the Competition Act, the guidelines provide practical guidance to firms in the automotive sector on conduct that may be anti-competitive, and encourage competition through greater participation of small businesses and historically disadvantaged groups.
A finalised set of guidelines will be implemented as part of the Competition Act and will give authorities the power to "pursue anti-competitive behaviour through enforcement".
Currently, owners of new cars in South Africa are unique in the world in being "locked into" using a vehicle manufacturer's service centres, repair shops and parts with "embedded" maintenance- and service plans (included in the purchase prices of vehicles from new). If they decide to use an independent service or repair provider of their choice, vehicle manufacturers void their warranties.
New guidelines are set to make this practice illegal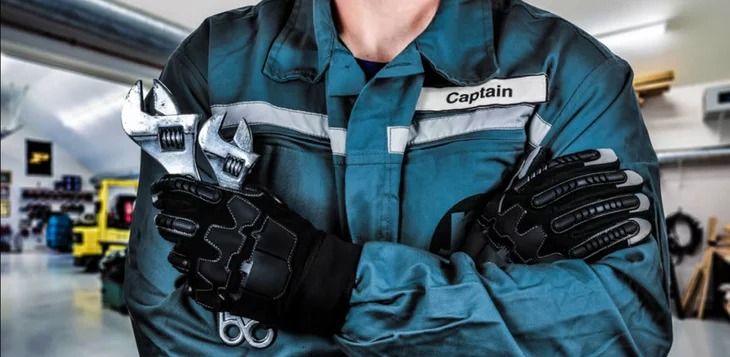 The Competition Commission seeks to remove barriers to entry for unaccredited service centres.
Many are hailing the move as a major win for consumers, most notably the Right to Repair South Africa (R2RSA), a Section-21, not-for-profit organisation which has been advocating for freedom of repair choice for vehicle owners for several years. R2RSA has welcomed the Commission's publication of draft guidelines for the automotive aftermarket sector, describing it as a positive move for the industry and a big win for consumers.
"Now that we have the guidelines, fair competition can be implemented speedily,' said R2RSA chairman Gunther Schmitz. "It's an opportunity for market players to report uncompetitive behaviour. It is encouraging to see such a strong focus on increased consumer choice, fair competition and competitive pricing."
In the past, lack of access to technical information had constrained the independent aftermarket, he said, but the Commission was removing that obstacle by directing Original Equipment Manufacturers (OEMs) to share key technical information with independent service providers (ISPs) for both in-warranty and out-of-warranty motor vehicles.
"Our hope is the OEMs remove the barriers for consumers and do not try to make access to technical information unaffordable," he added.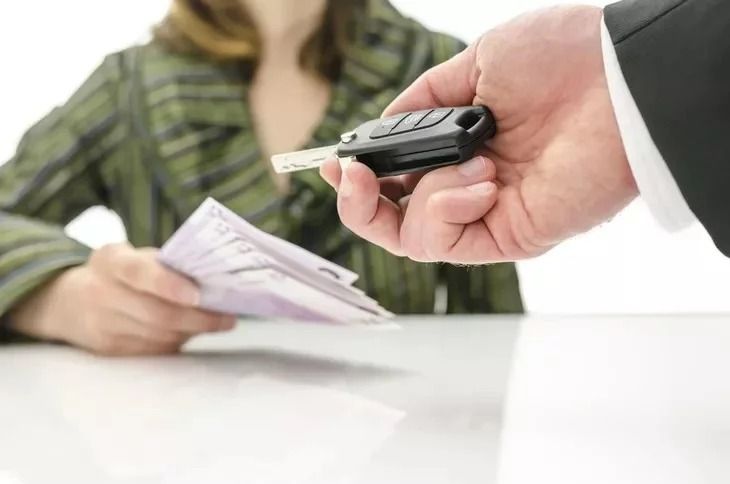 Naamsa believes that systems were already in place to reform the industry and this order will have a negative affect.
Predictably, the National Association of Automobile Manufacturers of South Africa (Naamsa) was not impressed by the Commission's publishing of the draft guidelines, saying while it was "not substantively opposed to the proposed reforms", it objected to the way the Commission was going about it.
"Introducing these enforceable guidelines is extremely punitive and a dangerous retrogressive step that is counterproductive and which will harm the economy," said Naamsa chief executive Michael Mabasa. "I admire the courage of the Competition Commission in many other areas of their work, but it is our considered view that on this occasion, they sort to unjustifiably impose a blunt instrument on an industry that has already agreed to self-regulate and reform."
'Industry already developing inclusive market access'
The motor industry had already developed an ambitious automotive masterplan, including developing inclusive market access to ensure greater participation of previously disadvantaged firms in the components manufacturing, vehicle maintenance, mechanical and motor-vehicle body repairs, Mabasa said.
All the reforms in the proposed Commission guidelines were covered in the work that its technical workstreams would cover, all monitored directly by the Minister of Trade and Industry, he added.
"We believe the industry is gradually creating a fertile environment upon which these reforms can be implemented without harming the economy. We urge the Competition Commission to reconsider its punitive approach and rather use any guidelines it formulates as an industrial policy tool to stimulate economic growth and inspire business confidence.
"The trajectory chosen by the Commission at this time... is likely to achieve the opposite outcomes," he concluded.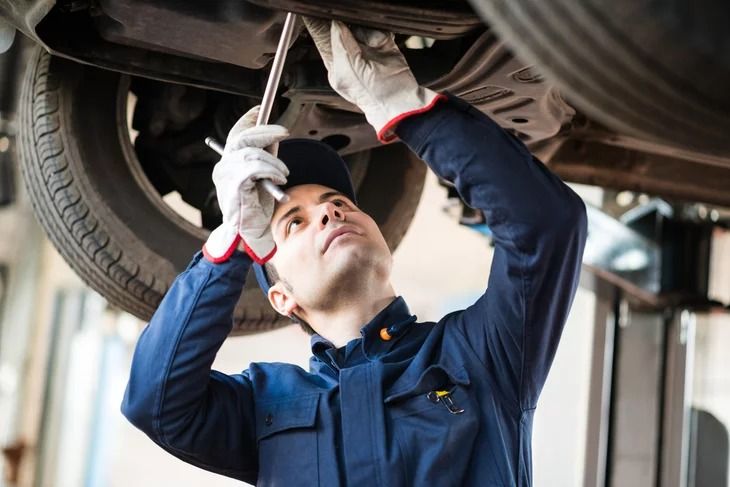 It seems there are mixed reactions from the public with cases for both points of view.
Social media reaction to the news of the draft guidelines was mixed. Freelance writer Dianne Bayley was firmly in the pro camp: "I was quoted R7 000 to fix the automatic, but not-functioning roof of my BMW Z3 some years ago by the dealership," she tweeted.
"I stopped at a local service station to ask for a price. The mechanic looked, clicked a few things, got it working perfectly, no charge. (I've) taken all my vehicles there since."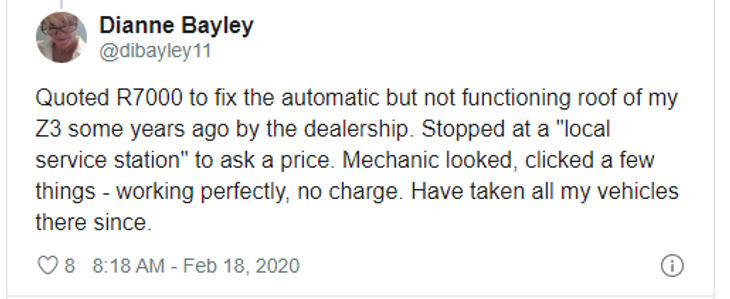 But Edwards Vernon took an opposite view: "This will drastically lower the used car prices as nobody wants a car repaired with sub-standard parts of back yard mechanics."

And Eben van Zyl added: "I will still pay more for a second-hand vehicle serviced by a dealer than an "unknown".
"I am in the tooling business, and sadly we see the state of many of these unknowns. I see major problems with poor workmanship."

Carmakers will need to approve independent workshops
But the Commission envisages the current constraints to effective entry and participation by independent workshops being remedied by manufacturers approving those which meet their standards and specifications to undertake services during the warranty period.
"In this regard, the manufacturers must disclose and make public the quality criteria in their appointment of service providers," the Commission says.
Myen Govender of Durban's recent experience is typical of the kind of scenario the guidelines seek to outlaw: "My entire warranty is now null and void."
A KZN Renault dealership refused to repair his in-warranty Stepway's air conditioner under warranty because he had the car serviced at a "non-approved" dealer, albeit one with a workshop that was RMI (Retail Motor Industry Organisation)-approved.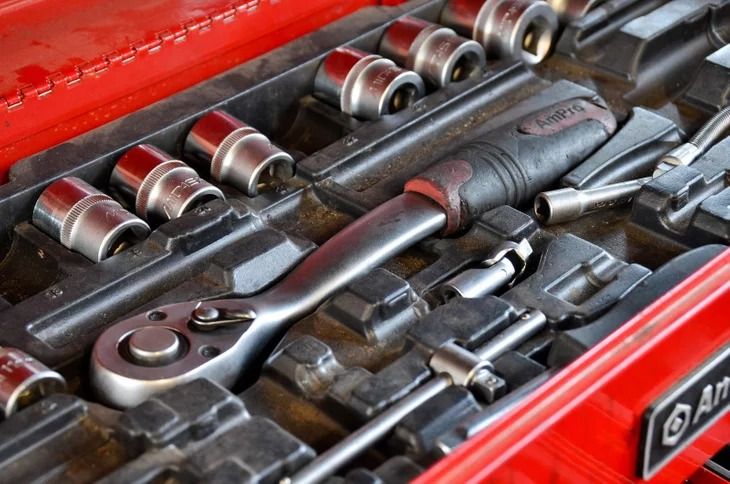 The big issue appears to be the quality of the service centre used can no longer be determined if it's not accredited.
The Commission states in the guidelines that the process was triggered by multiple complaints the Commission received from various independent players in the automotive aftermarket, as well as members of the public: "They raised concerns about alleged anti-competitive practices, such as pricing behaviour in the automotive aftermarket, and agreements that foreclose independent players at all levels of the automotive value chain."
Motor manufacturers have in the past warned that if they lose the ability to stipulate that their vehicles be serviced at dealerships quality assured and monitored by them, consumers won't have the assurance that staff at independent workshops have the training and skills of those in the manufacturer-linked workshops, or that top quality parts will be used.
The draft guidelines are open for comment.
Interested parties can email their submissions to advocacy@compcom.co.za until the close of business on March 16 2020.
Related content:
Bought a 'problem car'? Here are your options
Explained: Warranty vs Service Plan vs Maintenance Plan
3 Must-ask Questions for a Used-Car Salesman
The Motor Industry Ombudsman Of South Africa - In-Depth Q&A