Earlier this year we had the opportunity to travel to Latvia to experience an European round of the FIA World RallyCross series. Very soon (24/25 November 2018, in fact), this fast-growing form of motorsport will make its 2nd visit to Killarney in Cape Town for the season finale. Here are 5 reasons why you should do your best to be there.
1. The action is relentless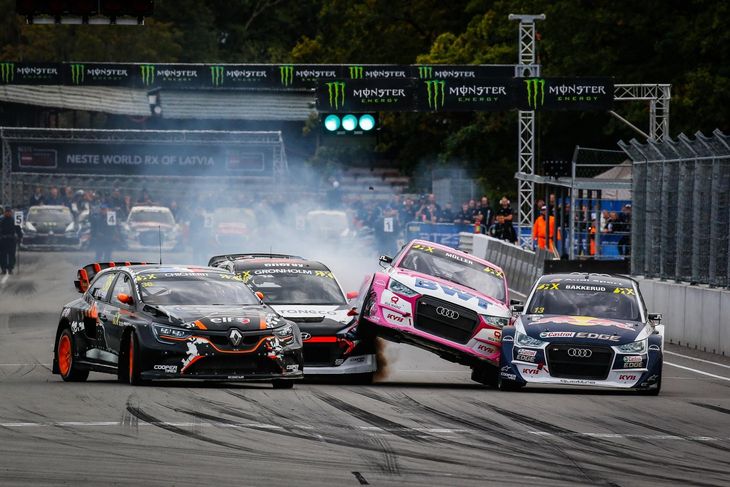 The first corner of every heat is almost guaranteed to lead to some "touching"... frowned upon in other series, but not FIA WorldRX.
It was interesting to note the reaction of Capetonians to WRX racing last year. From young kids to general motorsport fanatics, and a few obvious 1st-timers in between (my mom included), the general consensus was that motorsport as thrilling as this had not been seen on local soil for quite some time. And, best of all, the fiercest action was not restricted to the main (Supercar) events, but included the lower classes. In fact, the action was simply relentless and most of the time all 6 competing cars would pretty much be fighting for the same piece of dirt (or tarmac).
DID YOU KNOW? 18 top-class drivers will battle it out in the Supercar category in Cape Town this year. See the Hyundai i20 and Renault Megane WRX cars in action for the first time on local soil.
Notwithstanding the general camaraderie that exists behind the scenes between the drivers and teams, not an inch is given on the track; bits of bodywork are frequently left floundering. Last year, Ford's Ken Block finished his last race with most of his car actually strewn all around the circuit. , For years, motorsport fans have been begging for this type of cut-throat racing!
2. The cars are insanely fast

The championship-winning VW Polo R Supercar.
Before we get to the technical specifications, it's worth pointing out that the cars that compete in RallyCross are all recognisable. In the mix are Volkswagen Polos, Ford Fiestas, Peugeot 208s, Hyundai i20s and Renault Meganes. Of course, they're far from standard, but the fact that the spectators can identify with them makes it so much easier for them to become emotionally involved in the on-track rivalries.
DID YOU KNOW? A WRX car blasts from 0 to 100 kph faster than an F1 car. It takes only 1.9 sec!
But what makes a car competing in the top Supercar category so special? Well, the Polo R that has won the championship for the past 2 years is powered by a 419 kW turbocharged 2.0-litre engine and features four-wheel drive. It has stunning grip off the line, and can rocket to 100 kph faster than a modern F1 car (around 1.9 sec). It also makes a spectacular sound while doing so. Now, imagine 6 such machines storming into the first tight corner at the typical WorldRX track and you have some idea of the carnage that usually ensues.
3. The fans matter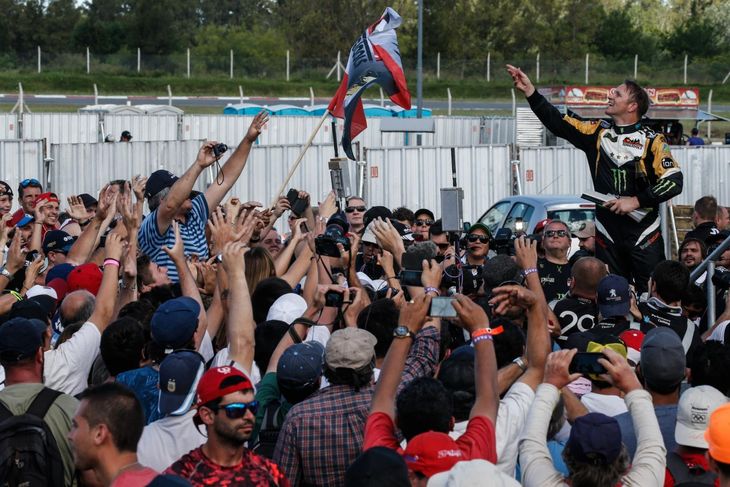 It's not often fans can get this close to their heroes, but FIA WorldRX does make this possible.
In many ways, World RallyCross appears to be a throwback to the glory days of motorsport, when fans could get really close to the drivers, peer into the pits and celebrate with them afterwards. Compared with, let's say F1, for example, the lack of airs and graces from the RallyCross's biggest stars (and some of them are pretty huge, see number 5 below) is startling. During the round in Latvia fans could walk between the pit garages, only being alerted of incoming or outgoing cars by marshalls with whistles. They could then see the cars being put onto the jacks and being worked on, while their superstar drivers mingle with guests in their team tents.
DID YOU KNOW? Live attendance of World RallyCross events has skyrocketed by 225% in the past 5 years.
I was a guest of the PSRX VW RallyCross team, which is owned by driver and WRC icon Petter Solberg and managed by his wife, Pernilla, who was also an ace rally driver. Throughout the weekend I was struck by how accessible these extremely busy people were to their supporters.
Petter's son, Oliver (16), who is an up-and-coming rally driver himself, was due for driving lessons from none other than 9-time WRC champ Sebastian Loeb in the following weeks, even though the Frenchman, who races for the Peugeot team, is one of the Solberg's fiercest rivals. There's a real sense of camaraderie in World RallyCross that I've not seen in any other form of modern motorsport, and most definitely not at this level.
Further to the main Supercar heats, there are supporting races that are equally thrilling, as well as numerous other displays, stunt events, stalls etc.
4. The rules make the racing better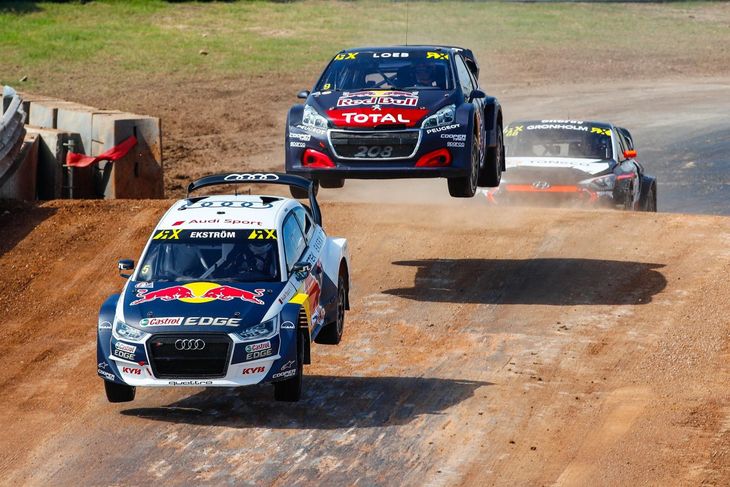 Every World RallyCross track features a jump or 2 because, you know, such things are fun.
Whereas other motorsport series frequently get bogged down in politics, rules and regulations, the FIA World RallyCross championship seems to put fun first. That's why every track has a jump, purely for the sake of the spectators' enjoyment. That's also why the races are shorter (6 laps) to ensure that the action remains intense right up to the final flag. Included in those 6 laps is the so-called "Joker lap": a slightly longer route that each contender has to take at some point – it adds a tactical element to the event that further boosts the action.
5. There are some very big names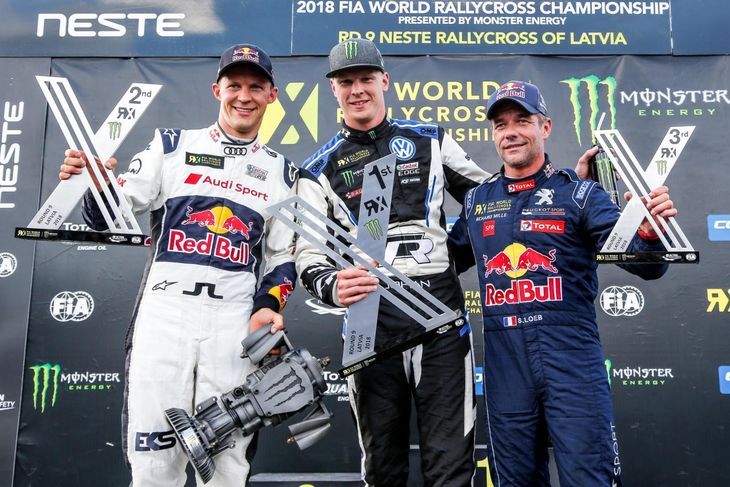 Three of the sport's biggest stars on the podium: Mattias Ekstrom (Audi), Johan Kristofferson (VW) and Sebastian Loeb (Peugeot).
Johan Kristofferson, who races for the Petter Solberg/VW team, has dominated proceedings during the 2017 and 2018 seasons (he's already been crowned this year's champion), which says a lot of his talent, given the closeness of the racing at all circuits.
Now factor in who the Swede is up against in the series and I don't think the world has really quite yet grasped what a talent the young Swede is. Besides his legendary team-mate (and boss) Petter Solberg, there is also Sebastian Loeb (the greatest rally driver of all time, in my opinion) to contend with. Audi's Mattias Ekstrom, the 2016 champion, is another strong contender.
DID YOU KNOW? Since the series started in 2014, Petter Solberg has twice won the championship (in a Citroen), Mattias Ekstrom once, and Johan Kristofferson the past 2 years.
You can purchase tickets to the Cape Town round of the FIA World RallyCross here.
Have a look at what went down in Cape Town last year in the video below, courtesy of the PSRX Volkswagen team:

You may also be interested in:
World RallyCross comes to Cape Town
World RallyCross in Cape Town - Everything you should know (2017)