The top 3 finalists in the prestigious World Car of the Year awards programme have been announced, and it serves to highlight the rise of the electric car. Have a look at those in line to drive away with the world's most coveted motoring awards below.
Selected by a high-profile jury consisting of 86 of the world's motoring journalists, including Cars.co.za's Hannes Oosthuizen, one of only 2 South Africans on the panel, the final 3 vehicles in contention for the overall title are the Audi e-tron, Jaguar I-PACE and Volvo S60/V60.
The Geneva International Motor Show this week served as the venue for the announcement, and it's an apt one, given the vast number of electric vehicles on display. In the past few days the Jaguar I-PACE was also announced the European Car of the Year, and is arguably at this point the frontrunner for World Car glory, believes Oosthuizen, who drove it late last year for WCA evaluation purposes.
The judges are only allowed to score vehicles they have driven, and award points in sections labelled Value, Safety, Environment, Emotional Appeal, Market Significance etc. The final winners will be announced on April 17 at the New York International Autoshow.
Other categories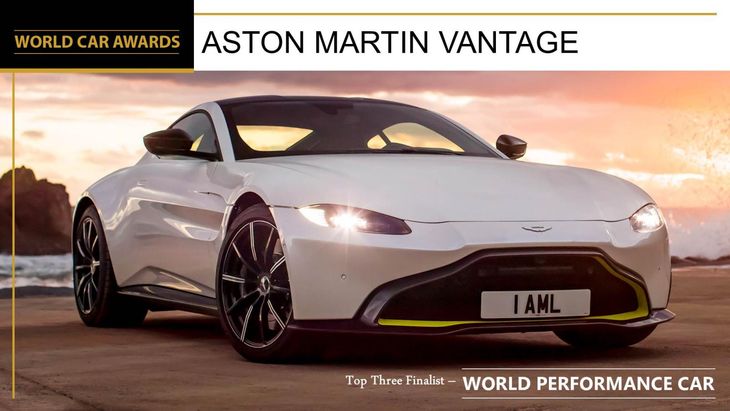 Judge Hannes Oosthuizen tips the Aston Martin Vantage for World Performance Car.
The World Car of the Year programme has several other categories, too, including for Performance Car of the Year, where the 3 finalists are; the Aston Martin Vantage, McLaren 720S and the Mercedes-AMG GT 4-door. In the World Luxury Car category the BMW 8 Series will be joined by 2 Audis, the new A7 and Q8, in the title fight. The World Urban Car title will be hotly contested by the new Hyundai Santro, Kia Soul and Suzuki Jimny.
The World Car Design of the Year title will go to one of the following; Jaguar I-PACE, Suzuki Jimny and Volvo XC40. And, finally, the World Green Car battle will be between the Audi e-tron, Hyundai Nexo and Jaguar I-PACE.
You may also be interested in;
Winners in the 2018/2019 Cars.co.za Consumer Awards - Powered by WesBank announced