The torque train Touareg is back. With big V8 TDI power, the Volkswagen Touareg gets a healthy performance boost.
If you pine for the V10 Touaregs of old and find the current V6-powered version a touch underwhelming, VW has a perfect compromise in the making.
Due for its public debut at the Geneva Motor Show in early March, is a V8-powered Touareg. For fans of VW's large luxury SUV, which blends stealth style with an immense ability and engineering refinement, the news of a V8-powered Touareg will certainly please fans.
The engine specification for this V8 TDI Touareg will be vaguely familiar to those who follow the VAG brands closely. It is in effect a rerolled Audi SQ7's 4-litre V8 diesel, with two sequential turbochargers and a lag-mitigating electrically charged compressor. Peak power is rated at 309kW and with 900Nm of torque surging to all four wheels, it is plenty quick.
VW is understandably careful to ensure some separation of purpose between the similarly engined Touareg V8 and Audi SQ7, hence a small power advantage ceding to the Ingolstadt performance SUV, which is also a tenth quicker from 0-100kph. That said, this latest Touareg V8 diesel is hardly slow, capable of running the 0-100kph performance benchmark in 4.9 seconds.
To ensure that its large and very powerful luxury SUV remains an enjoyable vehicle to pilot, VW's V8 Touareg will feature factory fitted air-suspension with the option of active anti-roll bars. The latter would be an adaption of technology seen on the Bentley Bentayga, which share a similar platform and 48v electrical structure.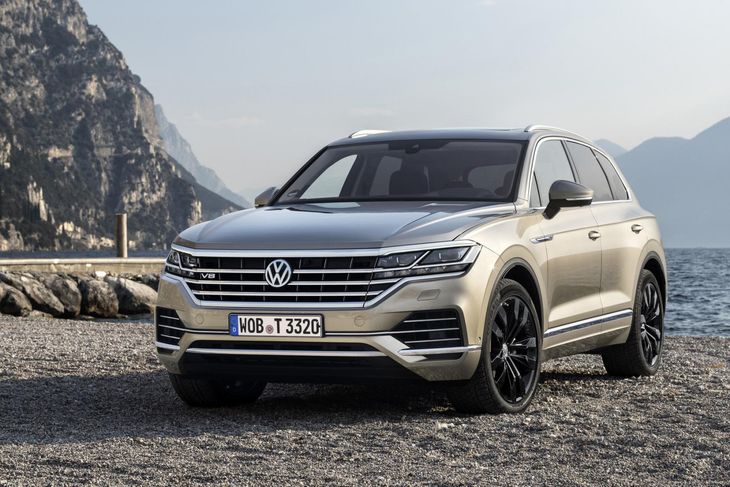 The new Volkswagen Touareg V8 has 309 kW and 900 Nm from a 4-litre V8 turbodiesel
Further Reading