This new California Ocean could be nicer than your beach house for a weekend away.
VW has updated its California range of T6 MPVs, possibly making them even more comfortable and nice inside than your actual home.
This latest product update is based on the existing T6 Transporter platform, adding minimal mechanical refinements. The design has been refreshed with VW's latest LED daytime running lights and additional chrome detailing for the grille and front bumper.
Read our review of the 2019 Mercedes-Benz V-Class here
As with any large van, the California's most impressive features are inside. There's a new overhead control console, which manages the MPV's cabin lighting and pop-up roof functions. Cleverly, VW has also added a digital pitch and roll indicator, which isn't meant to help you guide the California through rough terrain, but rather park it level, to ensure all peripheral camping gear and functions are easily attached. And that you sleep on level ground.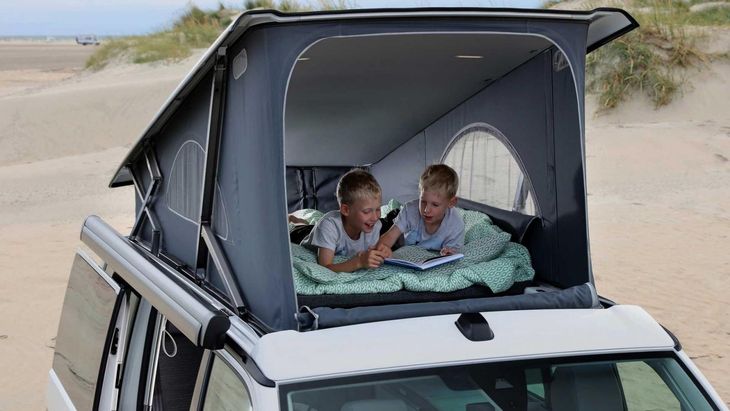 VW's California offers Airbnb quality sleeping arrangements.
The refreshed California range features a range-topping Ocean derivative, which has push-button convenience for its kitchen accessories (sink, cooker and fridge). VW's interior architects also decided to replace the rear cupboard shutters with sliding doors, which are less prone to develop a rattling issue on gravel roads over time.
5 Reasons we love the VW Kombi
Sleeping comfort has been enhanced too, with the cabin bed having gained a sprung base – to allow easy height adjustment. There are also additional USB points and LEDs inside the cabin, to make finding things at night easier and charging multiple devices possible.
Beyond the configurable cabin and host of ergonomic improvements, the sole mechanical change to California is its steering system, which now features electrical assistance – instead of hydraulic. This running change allows VW to add an array of driver assistance functions, such as lane assist, park assist, trailer assist and (crucially for a large side-surface MPV), crosswind assist.
Powertrains for the revised California will be VW's familiar fare of 2-litre turbodiesels, driving either the front- or all four wheels, depending on customers preference. And yes, you still get an integrated camping table, mounted within the California's sliding door, with camping chairs stowed in its tailgate.