This is the updated XC90 and we had a chance to spend some quality time with the Premium SUV, which famously raked in a trio of #CarsAwards category wins (from 2016 to 2018) in pre-facelift guise. While the updates are not immediately apparent, does the Swede still have enough going for it in an increasingly competitive segment?
We like: Safety, styling, build quality, refinement, strong engine
We don't like: Engine could be more refined, options can get pricey.
Fast Facts
Price: R1 131 600 (Price as tested R1 269 400)
Engine: 2.0-litre turbodiesel
Power/Torque: 173 kW / 480 Nm
Transmission: 8-speed automatic
Fuel economy: 5.7 L/100 km (claimed)
Load space: 314-692-1947 litres
Where does it fit in?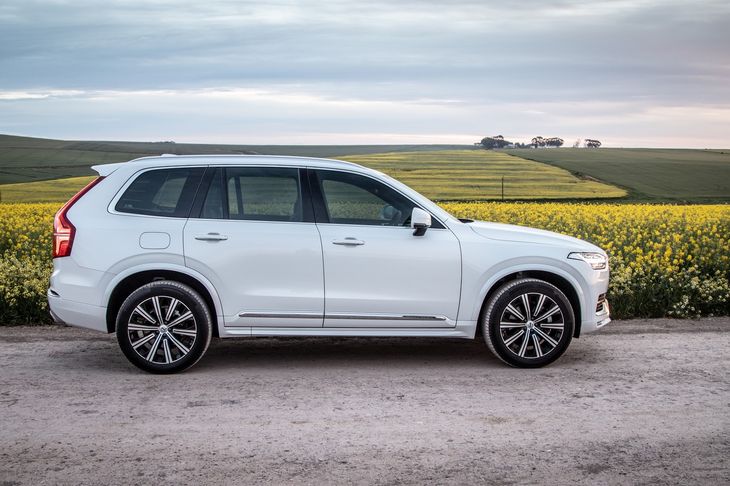 The Volvo XC90 is the brand's flagship offering and is available in petrol, diesel and plug-in hybrid.
The XC90 sits at the summit of Volvo's SUV line-up. This generation of the car has been around since 2015 and it has won numerous awards, including 3 consecutive Best Premium SUV trophies in the #CarsAwards - powered by WesBank. It also marked a turning point in the Swedish brand's recent history, because the XC90 was completely designed and engineered by Volvo (it didn't share parts with Ford, Land Rover or Jaguar products). Thanks to Geely's massive investment, Volvo could ensure its new XC90 was as good as possible and when we sampled it, we were duly impressed by its style, refinement and build quality. All of a sudden, the Volvo was a genuine threat to the established SUV players in the segment.
Now the XC90 has received a mild facelift mid-way through its lifecycle. There are minimal changes (so they're hard to spot), but if you look closely, there are revised wheel designs, some new colours to choose from as well as a neatly updated grille. Inside, a 6-seater configuration is available and Volvo's On-Call service has been introduced. On paper at least, the 2019-spec XC90 looks competitive, but the segment has moved on since 2015 and the Swedish offering faces stiffer competition from BMW, Audi and Mercedes-Benz. Can the updates give Volvo the necessary edge?
How it performs in terms of…
Performance and economy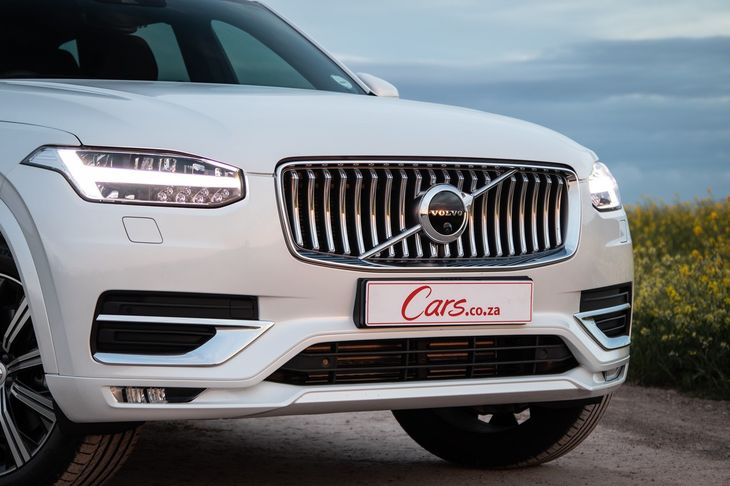 One of the easier-to-spot updates is this new-look grille.
Tested here is the D5 Geartronic AWD Inscription derivative, which is powered by a 2.0-litre turbodiesel 4-cylinder motor. Don't let the motor's compact size fool you, however: it offers 173 kW and a solid 480 Nm, the latter of which is sent to all 4 wheels via an 8-speed automatic transmission. With a claimed 0-100 kph time of 7.8 seconds, the XC90 produces more than adequate performance for a capacious family SUV. The D5 powertrain further offers varying levels of responsiveness, depending on which driving mode you have engaged. Economy dials the throttle pedal's responsiveness way back and prioritises low fuel consumption, whereas Sport will sharpen things up a tad and delay upshifts as well.
The engine note itself is quiet and refined for a turbodiesel, but as the engine revolutions increase, so does the noise and, while you're not very likely to spend a vast amount of time near the redline, be mindful of the 4-pot motor's less-than-pleasant soundtrack at higher revs. Thankfully Comfort mode is where you should be spending the majority of your time and there's a great blend of performance and economy.
Speaking of economy, the Volvo XC90's fuel consumption can be quite frugal, especially on the open road, when it's cruising in its highest gear. Volvo claims an optimistic average of 5.7 L/100 km, but we saw indicated returns of around 9 L/100 km (although we drove mostly in the city during this test). We did take the updated Swede on a longer road trip up the West Coast; during that sojourn, it returned a commendable 7.9 L/100 km.
In terms of ride quality and comfort, the D5 Inscription 6-Seater delivers a refined and luxurious ride quality, which is to be assumed at this price point, especially seeing as the evaluation unit came equipped with the optional air suspension, which unobtrusively dials out many of the road's imperfections. Our test unit rode on 20-inch alloy wheels, which we think offer the best blend of style and on-road comfort.
Off-road capability?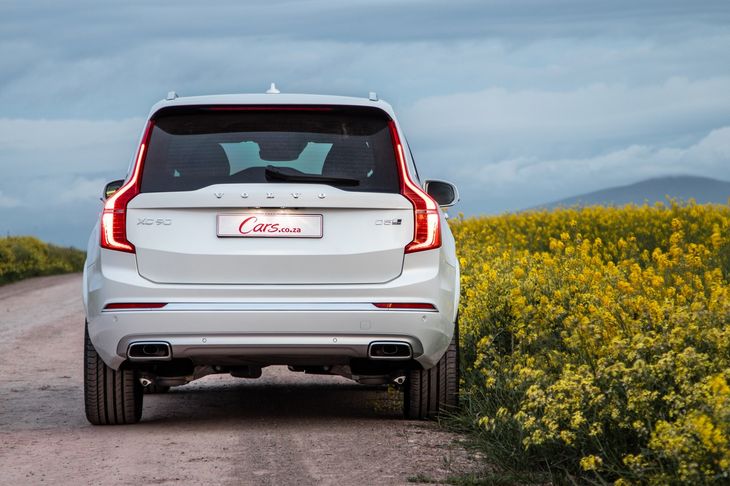 The all-wheel drive and strong diesel engine make light work of gravel roads
While the overwhelming majority of XC90 owners are unlikely to be bothered to drive their luxurious million-Rand SUVs off the beaten track, it's reassuring to know that the Swedish offering is quite adept when the tarmac ends and you find yourself on a sandy road. The XC90 comes with all-wheel drive and hill-descent control as well as an offroad driving mode which adjusts engine and transmission settings. The all-wheel drive's biggest boon is the abundant grip, something you'll need if you're in a hurry on a gravel road. We made judicious use of the all-wheel-drive and potent engine in a race against the sunset to bring you these photos. We wouldn't advocate taking the Volvo XC90 too far off-road as the risk of damaging those gorgeous wheels is high, but you can take comfort in the fact that your Volvo is not just a pretty face; it's more capable than you think.
Interior quality and features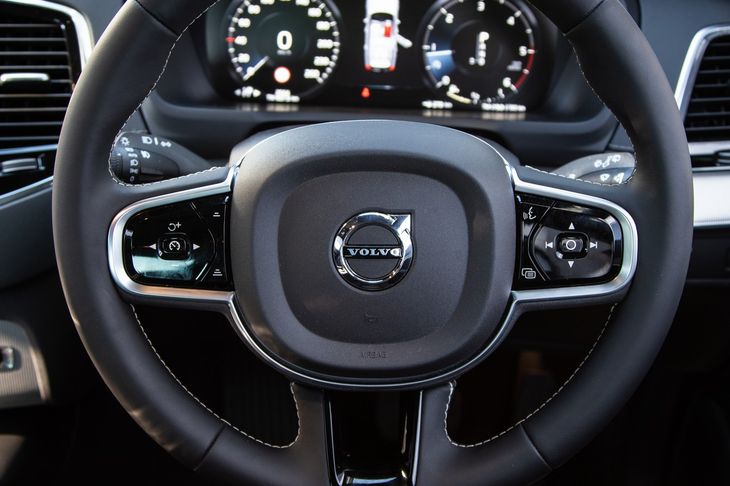 The Volvo XC90 cabin is a textbook exercise in workmanship and refinement.
The build quality and design of the cabin continues to impress, and that pertains to both the old and new parts of the updated Volvo's plush interior. The materials used are exceptional and the XC90's cabin quality is still easily among the finest in the Premium SUV segment. Looking much like an Ikea showroom, the XC90's interior is stylishly minimalistic, with the Sensus central touchscreen managing nearly all in-car functions. It's a quick-to-learn interface and it adopts a smartphone-like user experience. Standard spec at this end of the market (let alone price point) is expected to be high and it is. However, there are some options that came with our test unit that are certainly worth looking into for additional safety and convenience.
First up is the Premium Pack (R66 500*), which introduces niceties such as a head-up display, 360-degree surround camera system, uprated Bowers and Wilkins audio setup, a heated steering wheel, Apple CarPlay/Android Auto, keyless entry as well as a Blind Spot Information System. The 360-degree camera function alone is exceptional – there's really no excuse for self-inflicted parking incidents when you have such a detailed view of the car's surroundings. If you're an audiophile, the Bowers and Wilkins setup is arguably one of the finest in the world and with Gothenberg Concert Hall mode engaged, it'll feel like you're at a concert. The Luxury Pack (R10 500*) adds massage functionality for the front seats, which is a no-brainer for those who want maximum comfort. Volvo also specced a panoramic sunroof (R20 750*) and air suspension (R26 750*), inter alia.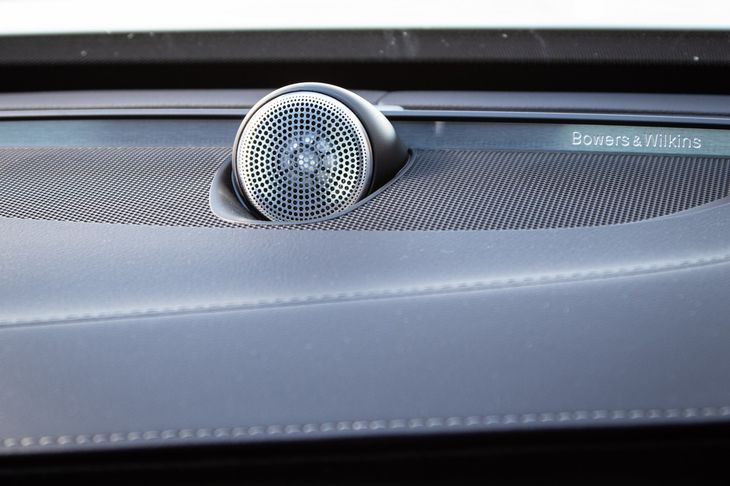 The uprated Bang & Olufsen sound system is well worth looking into if you're a fan of quality car audio
Standard safety features abound: Intellisafe will automatically apply the brakes if it detects the risk of colliding with pedestrians, cyclists or other vehicles; road sign recognition, full LED headlights (with active high beam), park assist (front and rear), as well as adaptive cruise control with Pilot Assist are also fitted. The latter is a form of semi-autonomous driving that takes care of the steering, accelerating and braking up to a certain speed, but it doesn't give you licence to take your hands off the wheel and "zone out"! Instead, we see it as an in-car assistant with a supervisory role.
Other noteworthy standard features are the heated front seats, power-operated tailgate and, making its debut in the 2019 XC90 (and all Volvo products from now on), is Volvo On Call. This is a free service and app (for 5 years) that offers features such as the ability to find your car in a parking lot, unlocking your vehicle using your mobile phone, switch on the heated seats before they get in, and so forth. The highlight for us is that in the event that you're in an accident, Volvo On Call will automatically dial the emergency services.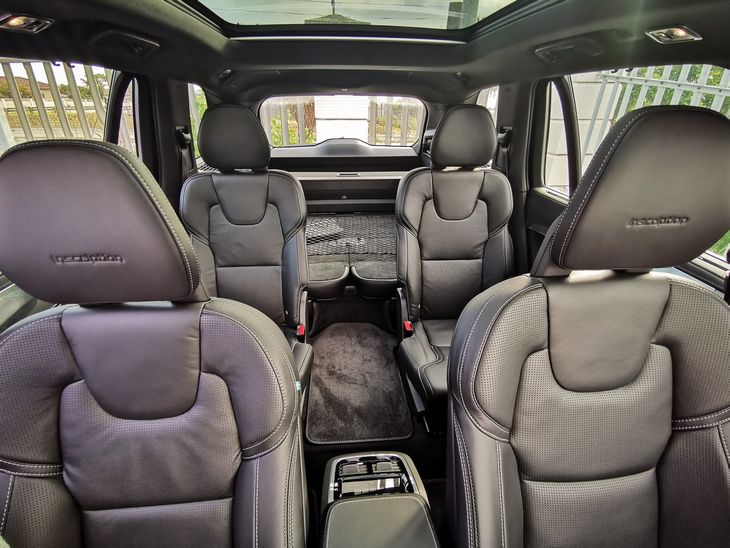 This view shows the difference between the standard 7- and optional 6-seater configurations. The 3rd row was stowed to increase luggage space.
Practicality
Our D5 Inscription evaluation unit came in 6-seater configuration, which means that there is a pair of single seats in the middle row. Not only do they offer more side support than what 2nd-row occupants would usually be afforded, but they have a neat storage area between them. The 3rd row of seats is still standard, but we kept it stowed to create the optimal luggage space. The 6-seater configuration will work especially well if you're transporting longer items; we can imagine this setup would be popular in the colder climates, where owners may wish to accommodate skis.
Volvo has evidently put a lot of thought in the carrying-capability of the XC90 and if you're a large family, you'll battle to fill the vehicle for a vacation, and yes, that is a challenge. The central armrest is deep and perfect for keys and mobile phones, while the door pockets will easily hold a large bottle and sunglasses. Rear passengers get their own cupholders too and can make use of the pockets in the front occupants' seatbacks.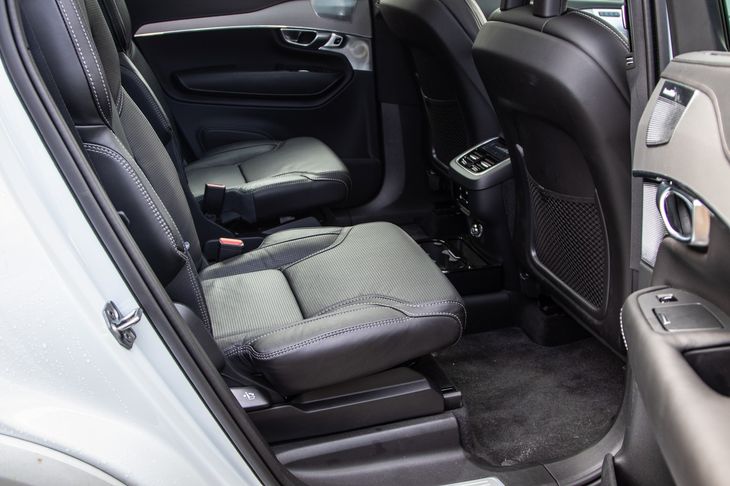 The 2nd row of seats complete with climate controls and cup holders.
Price and warranty
The Volvo XC90 is sold in South Africa with a 5-year/100 000 km warranty and maintenance plan (Volvo Plan), with 5 years'/unlimited-mileage roadside assistance, as well as DataDot application.
Volvo XC90 D5 Inscription 6-Seater R1 131 600 (Price as tested R1 269 400)
Buy a new or used Volvo XC90 on Cars.co.za
Verdict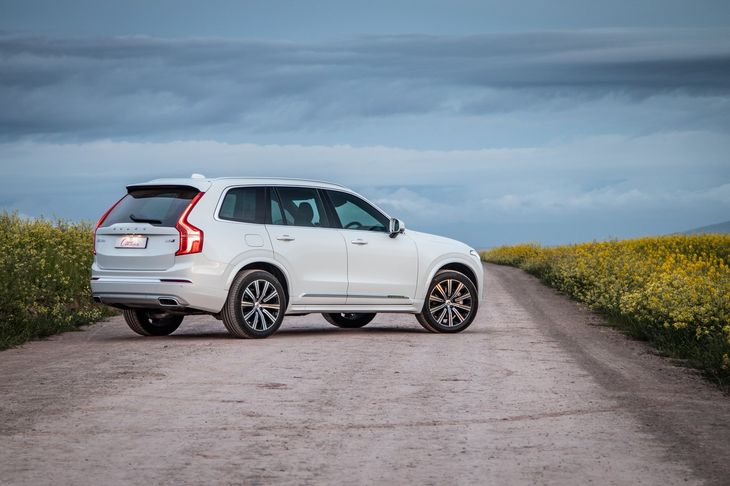 The game has moved on a touch, but the XC90 is still an accomplished and polished product from Volvo
Suffice to say the Volvo XC90 is still an accomplished and polished premium SUV. Those who take the plunge and buy an XC90 (irrespective of which powertrain they choose) will not be disappointed with its luxury finishes, refined ride and exceptional technology. Not only does it look good inside and out, but it's laced with highly-advanced technology. We especially appreciated the Pilot Assist system (on long as well as short trips).
Should you buy one? Well, when the XC90 burst onto the global scene back in 2015, it was largely peerless as its rivals were headed towards the end of their lifecycles and at the top of writing this review, all of the XC90's competitors have either been substantially facelifted and updated, while some brands have launched all-new versions of their premium SUV models. These newcomers have brought a lot to the table and shifted the goalposts forward, meaning the Volvo XC90 isn't as invincible as before. There are now similarly priced competitors with (arguably) stronger brand names on the noses. That being said, if you look past the mainstream German brands and opt for the Volvo, you're unlikely to regret the decision.
Related content:
Volvo XC90 (2019) Launch Review
Volvo XC90 (2019) Specs and Price
Best Executive SUVs in SA - #CarsAwards Finalists
Volvo XC90 D5 Inscription (2015) Review
Volvo XC90 T6 Momentum (2015) Review