Volvo's Executive SUV has raked in a plethora of awards – including the 2018 World Car of the Year title – and famously won its category of the Cars.co.za Consumer Awards – powered by WesBank – earlier this year. We get behind the wheel of a D4 R-Design derivative, which we believe may be the sweet spot in the range...
We Like: Exterior design and interior execution. Practicality, decent performance.
We Don't Like: Big wheels compromise the ride quality. Fuel consumption could be better.
Fast facts
Price: R735 100 (June 2019)
Price as tested: R890 000
Engine: 2.0-litre turbodiesel
Power: 140 kW
Torque: 400 Nm
Transmission: 8-speed automatic
Fuel consumption: 5.2 L/100 km
Own a Volvo? Tell us about your experience here.
SERIOUS ABOUT BUYING?
Check out full specification details and finance estimates here
Some Opel dealers regularly offer specials. Have a look here.
Where does it fit in?

The XC60 is one classy looking Executive SUV.
The XC60 debuted in SA in mid-2018, and the brand has gradually introduced more derivatives to the lineup. We have already tested the D5 version, of which you can watch a video, but what of this D4? Well, it's essentially a detuned version of the D5, but with (slightly) better fuel consumption. It also costs R70k less than the D5, making it an intriguing proposition for those less concerned with outright torque delivery.
In a segment where every premium brand has at least one player, the Volvo has no shortage of rivals: the Audi Q5, BMW X3, Jaguar e-Pace, Range Rover Evoque and Mercedes-Benz GLC are just a handful of them. There are more fringe rivals, but the point is clear: it's a crowded segment.
How it fares in terms of…
Performance and efficiency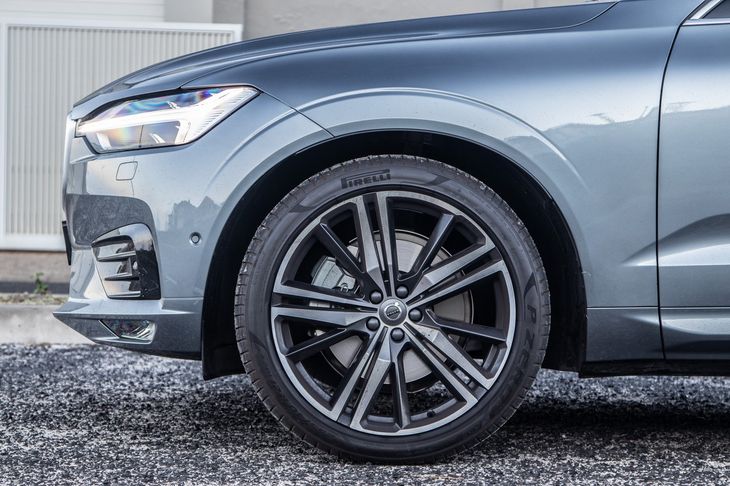 The D4 offers enough power and low-down torque to propel Volvo's Executive SUV briskly.
Volvo's entire XC60 range is powered by 2.0-litre 4-cylinder engines (the D4 utilises a turbodiesel). Peak outputs are decent (140 kW and 400 Nm), which are eerily similar to those of the X3 xDrive20d and Q5 40TDI. That aside, the motor performs more than adequately; it ushers the SUV along with verve, even when it is fully loaded with occupants and their luggage. Most of the premium manufacturers still favour turbodiesel motors in this segment and that stands to reason: the shove of low-down torque gets the SUV up to speed quickly without draining the fuel tank in traffic.
As for that consumption, Volvo's claim is 5.2 L/100 km, which we found to be optimistic. City driving returned closer to 9.0 L/100 km, while a long freeway stint on the West Coast heralded an indicated figure of 7.2 L/100 km. We've achieved better results from both the equivalent Q5 and X3.
The standard transmission in an XC60 is an 8-speed automatic, which is frankly a match for anything its competitors have to offer. Shifts are smooth and well positioned to keep the engine's revs to a minimum and facilitate a tranquil cabin ambience; the motor merely whispers in the background.
Practicality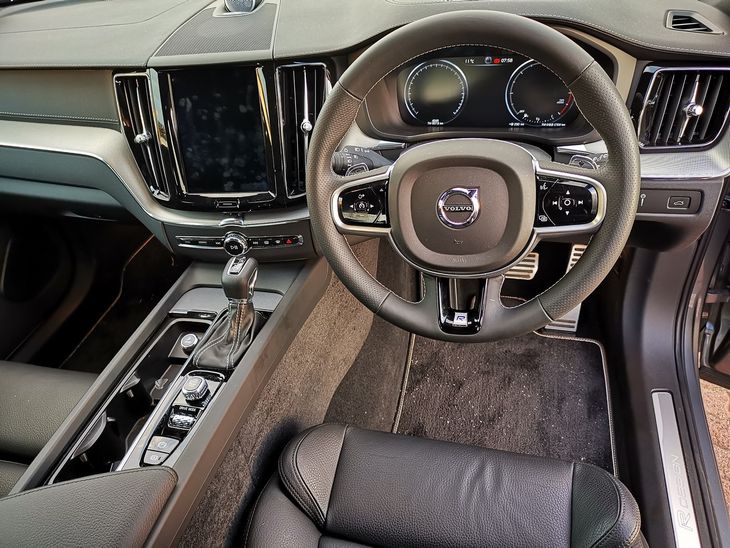 There are plenty of storage spaces for small items and plush surfaces abound.
One of the reasons the XC60 has received so much critical acclaim is its user-friendliness – Volvo has put much thought into what users want from their cars' cabins and it shows. Apart from the fact that the cossetting cabin is tastefully trimmed in lavish perforated leather, the centre console has space for cups, keys and a phone, the door pockets are large (you can pop 2-litre bottles in them), while rear passenger space is acceptable.
The load bay aperture is square at the bottom, making it easy to judge what will go in and what won't. The opening is admittedly a bit thinner towards the top, but that's expected with those fancy tail lights that curve in towards the hinges of the tailgate. If the D4 is specified with the optional air suspension setup (at a cost of an additional R26 750) you can lower the ride height at the touch of a button (in the load bay) to make it easier to load things into the back. It also automatically lowers when you turn off the car (the act is accompanied by an electronic humming sound).
The luggage capacity is (a claimed) 505 litres, which is on par with the rest of the Executive SUV brigade. With the seats folded down, 1 432 litres of utility is available and there are straps, hooks and hidey holes to hold and store all sorts of things that you don't want rolling around in the boot.
Ride quality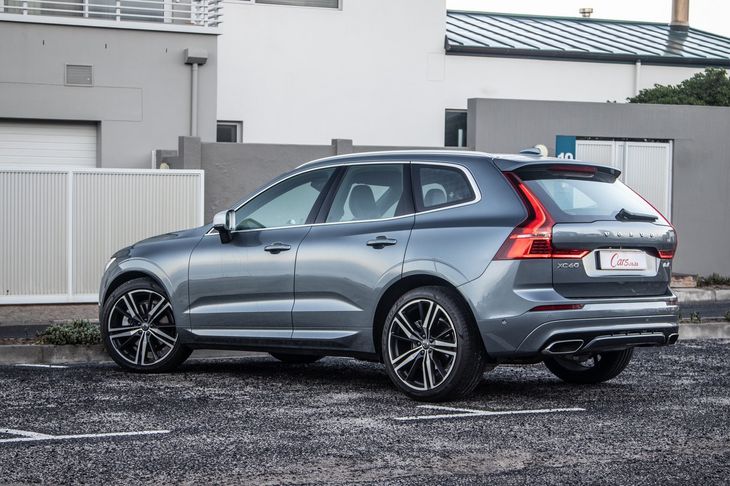 Steer clear of the 21-inch wheels but do go for the optional air suspension.
The R-Design pack adds some visually pleasing equipment in the form of a set of 19-inch wheels. We wouldn't suggest going much larger than this as our test car was shod with 21-inch wheels that even Volvo's competent air suspension couldn't cope with. The ride quality is fine on the smooth-tarred freeway, but in the suburbs where the tar tends to be patchy and rutted, the suspension jolts more than you'd like from a comfy SUV like this.
Aside from the rumble created by those (oversized) 21-inch tyres, it's very quiet inside the D4 R-Design. At cruising speeds, wind noise is negligible and the diesel thrum is only noticeable at idle from cold starts. Volvo's product pitch is abundantly clear: comfort over speed. It's not a dynamic SUV by any means, and that's quite refreshing in a segment where manufacturers seem determined to turn practical family cars into pseudo-sportscars.
Interior features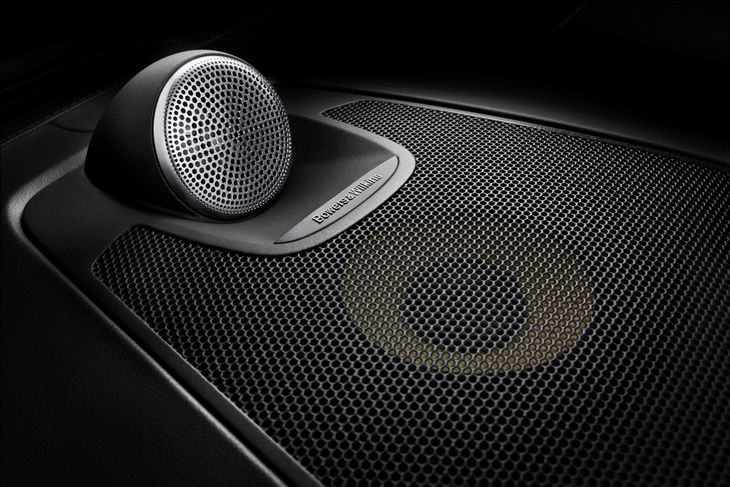 The Bowers & Wilkins sound system is right up there at the top of in-car entertainment systems.
This XC60 doesn't have one of Volvo's most exciting interiors (check out the D5 review for one that did), but it's very comfortable. The R-Design pack includes the aforementioned perforated leather with extra padding, while both the driver and front passenger seats are electrically adjustable. It's eminently plush in there, replete with a carpet-lined transmission tunnel and soft-touch materials in more areas than just the key touch points.
The R-Design pack offers a number aesthetically pleasing standard features, such as the 3-spoke steering wheel and perforated leather-trimmed transmission lever. It covers all the necessities you expect from a modern R700k car, but if you look at what's available on the options list, you may be sorely tempted to stretch your budget just a little bit further. This XC60 was specced with the R-Design Premium Plus pack (R72 750), which adds heated front seats, a 360-degree camera, parking assistance, the 21-inch wheels, blind-spot monitoring and a superb Bowers & Wilkins audio system – which is undoubtedly one of the very best in-car audio setups currently available on the market.
By utilising the XC60's onboard Android Auto and Apple Carplay compatibility, you can seamlessly integrate your smartphone with the infotainment system which, of course, we have rated very highly since we first experienced it in the XC90 back in 2015.
Verdict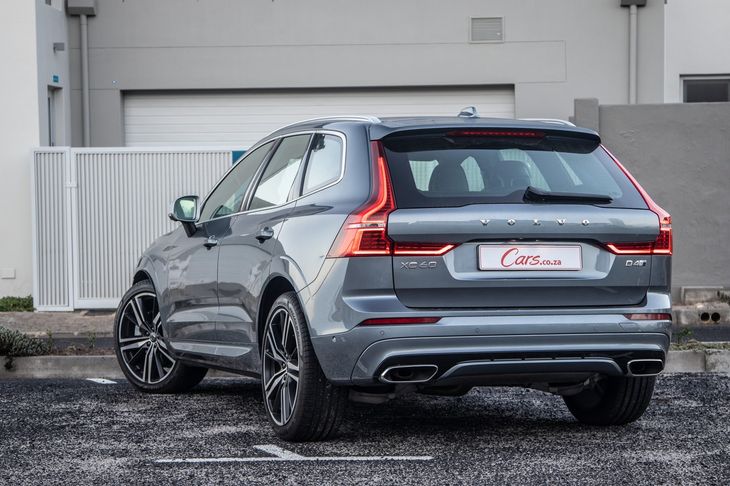 Volvo's now look and feel more premium than the German competitors.
The XC60 D4 may be the entry-level derivative in the range, but, to its credit, the car doesn't feel like the neglected stepchild of Volvo's executive SUV family. In fact, it's the over-achiever. It's no slouch; in fact, it provides ample performance to shuttle a family and their equipment around.
The air suspension option is the way to go if you prioritise comfort above all else, just don't specify the 21-inch wheels if you want to keep it that way, we believe the 19s or 20s items will do just fine. The cabin, which is well insulated from cabin and wind noise, is pleasingly refined and, in terms of practicality, the XC60 hits the required marks in terms of load space, rear passenger comfort and clever storage locations.
But that ultimately promotes the Volvo ahead of its (predominantly German and British) competitors? There is little doubt that the Volvo sports slick and sophisticated design with broad, almost universal, appeal... but its cabin really trumps those of the opposition. The materials used comprise less plastic and more quality leather and the plush carpeting exudes luxury and style. It feels like a much more expensive space to spend your time.
Pricing and Warranty
The D4 AWD Inscription retails for R735 100 (July 2019) and comes with a maintenance plan and warranty, both spanning 5 years/100 000 km. Services are every 12 months, or 20 000 km.