Station wagon fans rejoice! Volvo has confirmed that the Cross Country version of its new V90 will be made available in South Africa.
According to Volvo, the importance of the Cross Country versions in its model range has been growing for some time. Of course, in Europe station wagons remain popular, but even there the success of SUVs and crossovers have dented the market. It makes only sense that endowing the traditional station wagon with some crossover appeal would be met with at least a degree of success.
Read our recent extended test review of the company's V60 Cross Country
"The new V90 Cross Country takes the elegance of the V90 and transforms it into an all-road car that delivers safety, comfort and performance in a capable and adventurous package," says Håkan Samuelsson, President & CEO, Volvo Car Group.
"Our cars are well known for their safety, strength and durability. With all-wheel drive, increased ride height, and a chassis optimised for comfort and control in all weather and road conditions, the new V90 Cross Country takes our versatile V90 estate and adds the heart of an explorer," says Dr Peter Mertens, Senior Vice President Research & Development at Volvo Cars.
Rugged Design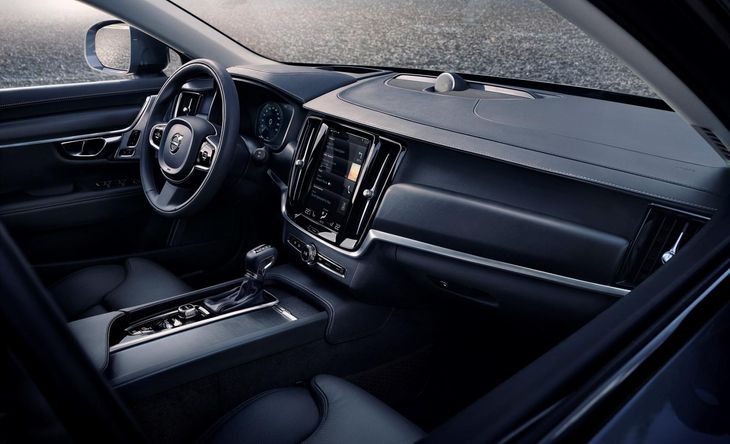 Like the XC90, the new V90 Cross Country has a beautifully designed, uniquely Volvo fascia with the company's stylish and user-friendly Sensus touch-screen infotainment system.
The recently launched S90/V90 model range has garnered widespread praise, particularly for the uniquely Swedish approach to design. Transforming the model into a Cross Country has not merely been the case of lifting the ride height and adding some black body cladding, says Volvo. "Designing a Volvo Cross Country is not a styling exercise, a plastic job. It is based on honest capability. The Volvo V90 Cross Country brings a surprising and intriguing combination of a strong, powerful exterior and a luxurious, Scandinavian interior. It will continue the genuine tradition of the Volvo Cross Country with a new recipe: the blend of powerful off-road capability in a most elegant, sophisticated, tailored wagon suit," says Thomas Ingenlath, Senior Vice President Design at Volvo Cars.
Look at the photographs and judge for yourself! We believe the V90 Cross Country will cut a very distinctive figure in a sea of SUVs...
Inside, and in terms of powertrains (only 2.0-litre engines, in petrol and diesel), we expect the newcomer to mirror largely what is on offer in the S90/V90, which will launch in South Africa soon. The D5 version (which offers 173 kW and 480 Nm of torque in the S90) seems particularly well-suited to the local market. Volvo has not confirmed a date for the local introduction of the V90 Cross Country, but we expect it in the first quarter of 2017.
You may also be interested in
Volvo reveals SA pricing of the S90
5 Reasons why the Volvo S90 matters