These days, South African car buyers favour SUVs above just about any other type of vehicle even though in most instances a traditional station wagon would do fine. So, what about a station wagon with a raised ground clearance and some macho SUV bits? If this sounds like an appealing recipe, then Volvo's V60 Cross Country could be the car for you.
We like: Solidity, good looks, comfortable cabin, good performance

We don't like: Overly firm low-speed ride, grumbly engine sound, not that efficient
Alternatives:
Similar execution, but petrol: Consider the Subaru Outback, another excellent product that doesn't sell in big enough numbers. Unfortunately, the Subaru is no longer available with a diesel engine, so the relatively thirsty 2.5-litre petrol may have to do. Similarly specified and priced, the Subaru offers more space inside and a bulletproof reputation. However, it can't match the Volvo's maintenance plan and warranty. Read our review of the turbodiesel model here.
A popular SUV: The Toyota RAV4 is one of the country's favourite SUVs and can be had with the refined and punchy 2.2-litre turbodiesel as well as all-wheel drive and an automatic transmission. Spacious inside and loaded with features, the only area where the wagon possibly trounces the RAV4 is in style, on-road refinement and "exclusivity".
A "normal" station wagon: There are very few station wagons on the market these days, but Mercedes-Benz persists with a variety of wagon models in its C-Class range. The C220d Avantgarde Auto is similarly priced and powerful.
Compare the Volvo V60 Cross Country D4 Inscription with the Subaru Outback 2.5i-S Premium and Toyota RAV4 2.2D-4D AWD VX
How does it fare in terms of...
Practicality and Design?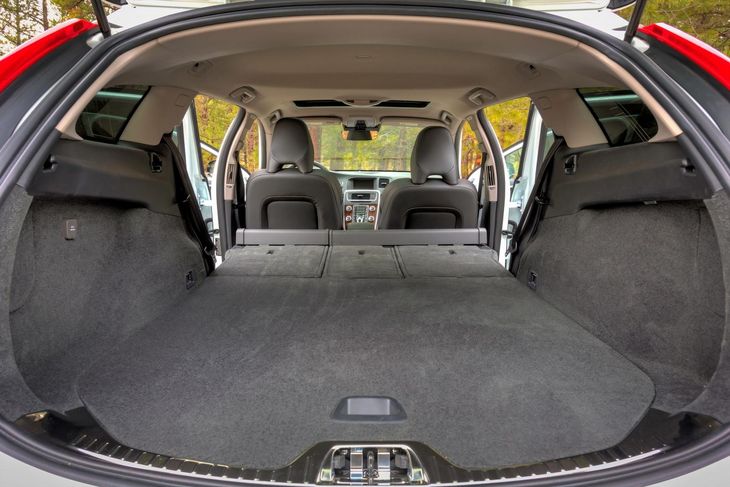 The V60 offers very usable space once the seats are dropped.
The era of boxy Volvo station wagons is long gone and so is a degree of ultimate practicality. This is only to be expected, as the V60 attempts to please with regards to style as much as usability. Nevertheless, underneath the V60's swoopy lines is a cabin that offers commendable space. The boot is claimed to hold 430 L, which is unlikely to give most SUVs of similar pricing sleepless nights, but we found it well shaped to accept bulky items. Certainly, it proved more than spacious enough for a family of five's weekend getaway luggage (and toys). Fold down those rear seats, however, and the V60 is transformed into quite a load lugger that would please antique furniture salesmen (a group who used to favour Volvos in the '80s). The floor is flat and the load area is long. Ultimately, however, the V60 Cross Country is not quite as practical as the Subaru Outback, for example. The Subaru isn't only bigger inside but also offers clever swivelling roof rails that boosts its overall versatility immensely.
In terms of rear legroom, too, the Volvo can't compete with the Outback, and the cabin does feel rather narrow, so three adults in the back might be a squeeze.
Design-wise the V60 has aged remarkably well and the addition of the Cross Country bits have made it even more appealing. As standard, it rides on smart 18-inch wheels, but our test unit had very attractive optional (R15 600) 19-inch Bor wheels, while the metallic Twilight Bronze metallic was a further option (R2 350). Compared with a standard V60, the Cross Country rides 65 mm higher and also features skid plates at the front and rear, fender extensions and a rear valance that has integrated exhaust tailpipes.
Ultimately, however, it is the standard fitment of all-wheel drive (in addition to the raised ground clearance) that gives the V60 Cross Country the edge over traditional station wagons.
Performance and Efficiency?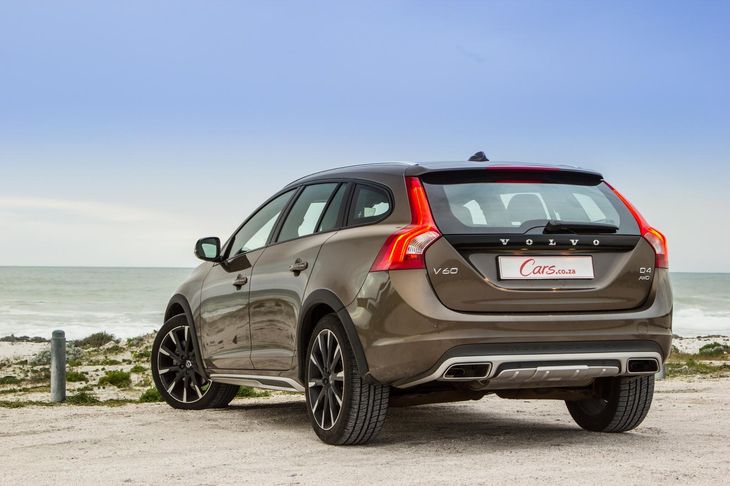 Though the D4 variant is considerably more economical than the T5, it's not exactly miserly.
Giving the V60's age away somewhat is its engine. Under the bonnet isn't one of the new 2.0-litre, 4-cylinder turbocharged marvels that do duty so impressively in the XC90 and S90, but the 2.4-litre, 5-cylinder turbodiesel that has served in a variety of Volvo models in the past decade. It is not short on power, delivering 140 kW at 4 000 rpm and a meaty 420 Nm of torque from 1 500 to 3 000 rpm. Drive goes to all four wheels via a six-speed automatic Geartronic transmission. Our test unit featured the optional Sport Pack (R11 500) which adds a host of niceties, including gearshift paddles. Most testers, however, felt that these are somewhat superfluous in a diesel vehicle that offers manual shifting on the lever anyway.
Push down on the throttle and the V60 D4 responds eagerly, as evidenced by a 0-100 kph time of 8.9 seconds. The engine is a beauty out on the open road, too, where it lends a heavily loaded (with people and luggage) V60 the character of a long-legged cross-country tourer that still has power in reserve to execute swift overtaking manoeuvres.
So what's the problem? Well, in its more likely daily usage scenario (traffic, highway, town), the engine is not only rather gruff, but also not terribly economical. The best we could achieve was around 7.9 L/100 km, and that took some very careful driving. Volvo claims an average of 5.7 L/100 km but we could get nowhere near that, and our test average worked out to 9.1 L/100 km for the duration of the test.
Comfort and Features?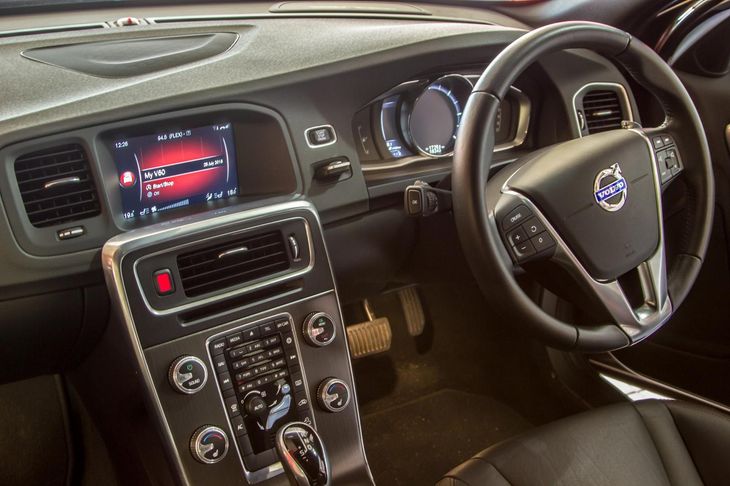 Well-made facia is showing its relative age in terms of a cluttered control interface.
The current-generation Volvo S60/V60 has always impressed with generally high levels of cabin comfort, especially for those seated in the front. We found the generously padded driver's seat particularly comfy, and our test unit also featured heated front seats (as part of the optional Sport pack), in addition to standard electric adjustability and memory functions. This Inscription derivative features a leather-wrapped steering wheel that offers generous rake and reach adjustment, so a very comfortable driver's position is likely to be one of your favourite traits of this car.
Other standard features of this model are; leather upholstery, automatic dual-zone climate control with rear ventilation outlets, cruise control and a very good sound system that offers Bluetooth/USB/aux support and eight speakers. Navigation, sadly, is not offered as standard, which is a bit cheeky at this price level but not unique to Volvo. A navigation system with voice control will set you back a whopping R22 000! If you'd like an even better sound system than what is offered as standard, there is a Harman Kardon option for R15 600.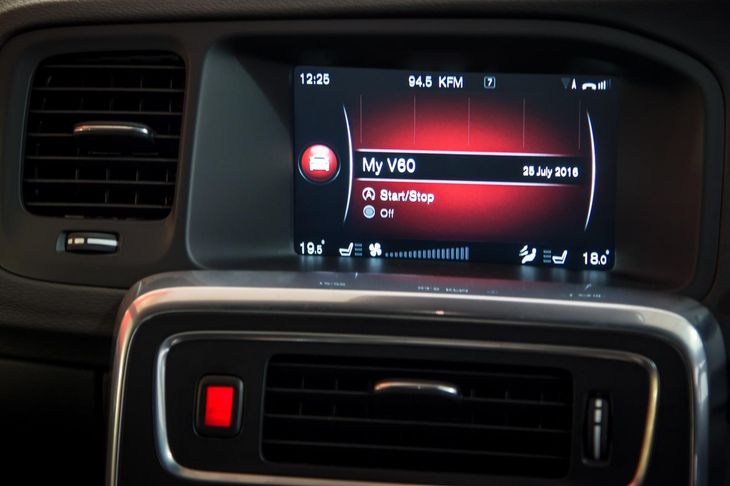 The Start/Stop system can be over-eager and intrusive, but can be switched off.
That said, the standard kit is sufficient and contributes significantly to the overall levels of comfort. NVH (noise, vibration, harshness) control is also impressive, lending the V60's cabin an almost vault-like feel of solidity. In terms of safety features this model is also generously equipped, though some items (such as a Driver Alert system for R9 750) are options. As standard you get the usual six airbags, stability control and ABS/EBD, but also hill-start assist, hill-descent control, IntelliSafe (incorporating City Safety) with automated emergency braking, tyre pressure monitoring, active-bending Xenon headlamps with cleaning system, and rear park sensors. This model carries a 5-star EuroNCAP crash safety rating and Isofix child seat anchors are provided in the rear.
Besides features and a pleasing sense of security, passenger comfort is usually underpinned by a car's ride quality. In this regard the V60 Cross Country was interesting, because the initial impression (around town on mixed-quality surfaces) was not entirely convincing. Perhaps the larger wheels and low-profile tyres are to blame, but the V60 proved quite firm in these conditions, almost too sporty. However, out on the open road and at speed the ride is transformed and the V60 Cross Country assumes a loping, supple ride character that further boosts its grand touring talents. It is in these touring conditions where the V60 Cross Country shines most brightly.
Pricing and Warranty
The Volvo V60 Cross Country D4 Inscription sells for R545 006 and comes backed with a 5-years/100 000 km warranty and maintenance plan. Service intervals are set for every 20 000 km or 12 months – keep an eye out for the on-board service notification.
Verdict
Packed with standard active and passive safety systems, as well as a long list of comfort-boosting items, the Volvo V60 Cross Country is, in reality, a luxury vehicle that doesn't mind working hard for the family. The standard all-wheel drive system gives it great surefootedness in poor conditions and on gravel, and while the boot is by no means cavernous, the shape of the load area makes it possible to pack more items than you may initially anticipate. Flaws are few and far between and mostly concern the now ageing turbodiesel engine, which is mostly too loud around town, and not as efficient as we had hoped. Overall, however, if you don't like following the pack yet still need a practical but luxurious all-rounder, this V60 Cross Country is well worth closer investigation.
Watch out for an in-depth long-term review and video wrap-up on this vehicle, coming soon.