The V40 is the baby of the Volvo range and it has received a midlife facelift to keep it fresh and modern. We attended the launch of the refreshed V40 in Cape Town to see and experience the changes in the metal.
The Volvo V40 is the Swedish attempt to take on the likes of the Audi A3, BMW 1 Series and Mercedes-Benz A-Class. In true Volvo tradition, it has been regarded as the next best thing, after the segment leader. Volvo products (unless you count the wonderful XC90) are not generally perceived to be the popular choice, which is a shame because its recent products are exemplary.
The V40 Cross Country has returned too and it features chunky bodywork, raised ground clearance and roof rails. If there was a vehicle that looked the part for the active go-getter, this would be it! It's certainly eye-catching.
What's new?
Enter this new-look Volvo V40. Right away you can spot those trademark Volvo "Thor's Hammer" headlights which are new on this model. Upon closer inspection, you can see the grille has been changed too. There's a host of new colours as well, with delightful names such as Bursting Blue, Luminous Sand and Mussel Blue (which have been borrowed from the S90). The interior has received some tweaks in the form of new materials and colour schemes. Making its debut is City Weave – a unique and charming texture trim on the seats.
The important change is in the powertrain. While we have fond memories of the ultra-frugal 1.6-litre diesel D2 and awe-inspiring five-cylinder T5, the reality of environmental concerns, economy and downsizing have hit home. Instead, the modular Drive-E engines will be powering this generation of Volvo V40. All motors are 2.0-litre in size, with the exception of the 1.5-litre in the T3. There are petrol and diesel options available with the petrol variants carrying the 'T' designation, while diesels have 'D'. Both manual and automatic transmissions are available.
| | | | |
| --- | --- | --- | --- |
| Model | Power / Torque | 0-100 kph | Claimed economy |
| Volvo V40 T3 | 112 kW / 250 Nm | 8.3 seconds | 5.5 L/100 km |
| Volvo V40 D2 | 88 kW / 280 Nm | 10.5 seconds | 3.4 L/100 km |
| Volvo V40 T4 | 140 kW / 300 Nm | 6.9 seconds | 5.5 L/100 km |
| Volvo V40 D3 | 110 kW / 320 Nm | 8.4 seconds | 3.8 L/100 km |
| Volvo V40 D4 | 140 kW / 400 Nm | 7.2 seconds | 4.2 L/100 km |
| Volvo V40 T5 | 180 kW / 350 Nm | 6.3 seconds | 5.9 L/100 km |
Specification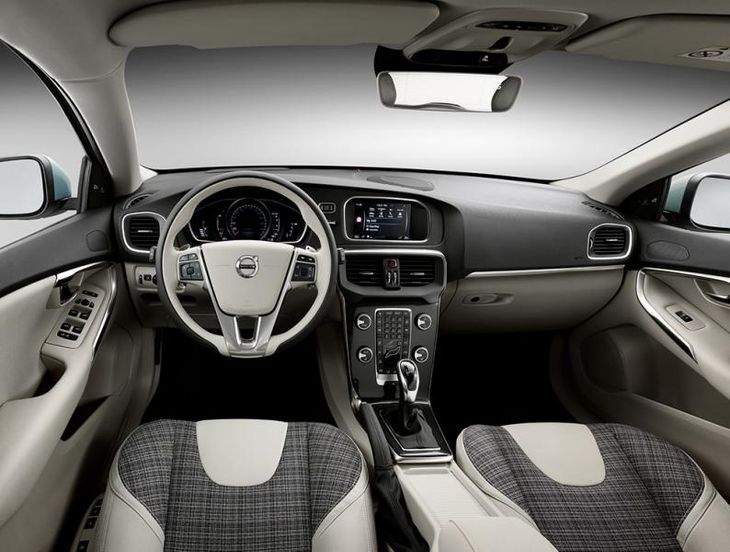 The interior of the V40 features new colour schemes and a charming City Weave pattern on the seats.
Volvo's products are well specified as standard, but you can tick a few boxes to add some glamorous and technological options. There are four levels of spec; Kinetic, Momentum, Inscription and R-Design, and there are three option packs called; Sport, Techno and Premium. If you have a base-model Kinetic, you can opt for a Base Pack which ups the offering substantially with cruise control, digital instrument cluster, rain sensor, front and rear parking sensors and the high-performance sound system.
Kinetic includes six speakers, an aux jack, dual-zone automatic climate control, automatic electric windows all-round, a leather steering wheel, handbrake and gear lever surround, eight cup holders, two 12-volt power outlets, remote central locking, alloy wheels, a frameless auto-dimming rear-view mirror, daytime running lights, a roof spoiler and a tyre pressure monitor.
Momentum offers 17- or 18-inch wheels, heated and electrically-adjustable side mirrors with puddle lighting, rear parking sensors, leather upholstery, a powered driver seat with memory, cruise control and a rain sensor.
Inscription features full-LED headlights with Thor's Hammer signature daytime running lights, a chrome-accented grille, a digital instrument cluster, an electric passenger seat, a high-level interior lighting package, an eight-speaker high-performance sound system with DVD compatibility, Bluetooth and USB functionality, and Connected Service Booking.
Top of the range R-Design trim includes R-Design badging, perforated leather upholstery on sports seats, unique interior décor elements, a sports steering wheel, sports pedals and exterior body styling upgrade.
The Volvo V40 is one of the safest vehicles in its class and it features seven airbags, ABD, EBD and ESC. The world's only pedestrian airbag is available as an optional extra. City Safety is standard on all variants, which uses autonomous emergency braking to avoid collisions with vehicles travelling ahead. You can up the safety features by ticking the boxes marked Blind Spot Information System (BLIS) with Cross Traffic Alert (CTA), Driver Alert System, Lane Keeping Aid, collision warning with full auto brake and pedestrian and cyclist detection, and Adaptive Cruise Control (ACC).
What's it like to drive?
The intense wet and rainy weather in Cape Town made driving difficult. As a result, we resorted to two quick urban trips. We sampled two engines, the flagship T5 and the D3, both in Cross Country bodies. The Volvo V40 T5 features all-wheel drive, which is useful on soaked roads. It was reassuring to know that you can drive normally without loss of traction and when there's space, you can put the hammer down. What's lost is the trademark five-cylinder sound, but the sheer grunt and urge more than makes up for it.
Despite being a sporty crossover, the V40 Cross Country doesn't sacrifice on ride comfort. The road up to Signal Hill in Cape Town is not in the best of states and in the treacherous conditions, the all-wheel drive T5 hurtled up without any difficulty or hesitation. The steering is a bit on the heavy side, but you'll appreciate that reassuring solidity.
After the fire-breathing T5, we switched into a D3 – again in Cross Country guise. This is arguably the pick of the bunch and it offers a decent blend of frugality and outright performance. There's no shortage of power and the eight-speed automatic 'box is a treat. This specific model also had gearshift paddles located behind the steering wheel. You can't fault how it drives either, it's silky smooth and refined.
Quick Summary

You'll see the pricing of the new-look Volvo V40 below. While it may appear quite pricey, the level of specification, technology and refinement is quite high, so we feel it's justified. The rivals don't feature as much standard equipment and to match the V40, you'll have to go to town with options.
The new engines are great in this smaller application, something we were concerned about with the bigger Volvo products. Can a small 2.0-litre move a big SUV? Just. Is it good for this compact hatchback? Definitely! The interior hasn't changed dramatically, but the trim/colour combinations add some personality to the offering. For those who are tactile fans, the City Weave trim will make you very happy. Some criticisms are directed at the centre console which still feels a tad dated and the fuel consumption figures are a little hopeful. Still, it's a commendable effort from Volvo who are currently on the product offensive.
We look forward to getting under its skin for a road test soon, so stay tuned!
Volvo V40 Price in South Africa
All V40 and V40 Cross Country models in South Africa are sold with a 5-year/ 100 000 km warranty, a 5-year/ 100 000 km Volvo Plan (full maintenance plan), Tracker Connect and tinted Llumar smash-and-grab-protected glass.
V40 D2 6-speed manual - R351 100
V40 D3 6-speed Geartronic - R432 400
V40 D4 8-speed Geartronic - R442 400
V40 T3 6-speed manual - R337 700
V40 T3 6-speed Geartronic - R396 500
V40 T4 6-speed manual - R400 200
V40 T4 6-speed Geartronic - R420 300
V40 T5 8-speed Geartronic - R459 700
V40 Cross Country D3 6-speed Geartronic - R452 700
V40 Cross Country D4 8-speed Geartronic - R469 300
V40 Cross Country T4 6-speed manual - R412 500
V40 Cross Country T4 6-speed Geartronic - R432 600
V40 Cross Country T5 AWD 8-speed Geartronic - R504 400