Volvo is on a roll in terms of its repositioning as a force in the premium segments of the market. But this shift is about much more than just product, and also extends to delivering a premium dealership experience. Meet Volvo VRE, now being rolled out in South Africa.
The experience of buying an premium item of clothing wouldn't be the same if the shop selling the clothing looked like a budget retailer. The same goes for motor vehicles – buyers want a memorable experience when parting with their money. Consequently, many premium brands have turned their dealerships into lifestyle destinations for prospective buyers and current owners. Volvo Cars has officially joined the ranks with its new VRE (Volvo Retail Experience) dealership model. The name denotes exactly what Volvo is aiming to achieve by creating these spaces, namely unique Swedish experiences.
Naturally when one thinks of anything Swedish, you imagine structure, finesse and sophistication. Well, you'll be pleased to know that is exactly what you get at the new flagship VRE dealership in Bedfordview, Johannesburg. I recently had the opportunity to inspect the new premises and I was surprised I didn't walk away having signed an Offer To Purchase!
The essence of VRE mirrors the core of the design language found in new Volvo vehicles. Take for instance the XC90 – this is a large car that features a contemporary design that is minimalistic and stylish. The same goes for a VRE dealership. Uses of natural light, glass and modern furniture make for the perfect place to display new age Volvos.
Why invest millions in a market that is booming online?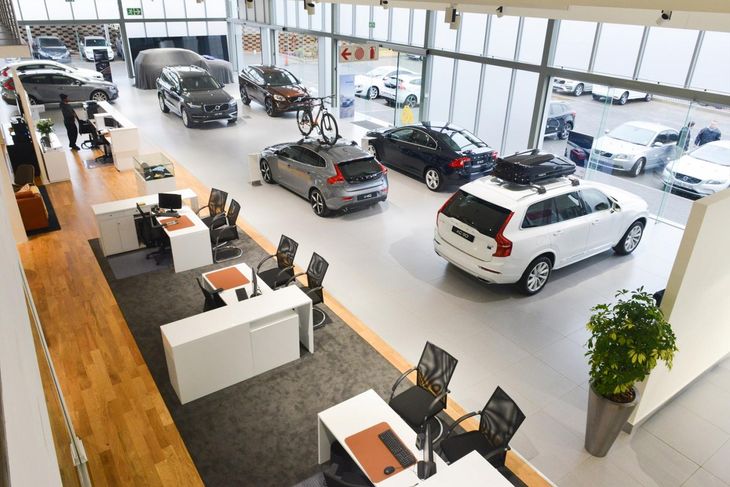 The physical presence of cars in a beautiful, comfortable environment is key to the Volvo VRE experience.
This is the burning question on the minds of many. The answer is simple though, since Volvo operates in the premium segment. Going back to our clothing example, it's easy to buy an inexpensive item online as there is less thought that goes into the process. Buying a simple T-Shirt and having it delivered to your doorstep is a normal and convenient way of shopping. On the other hand buying a tailor-made suit online is near impossible to get right because nothing beats having someone measure you personally. That is what a premium buying experience is all about. Being able to choose the exact colour, the wheels and even being able to specify your Volvo to have a tweed interior is something that requires a personal touch. For this reason, Volvo sees a space for luxury retail and online car shopping to coexist, because there is only so much you can do behind your laptop.
What makes VRE stand out from other luxury dealers?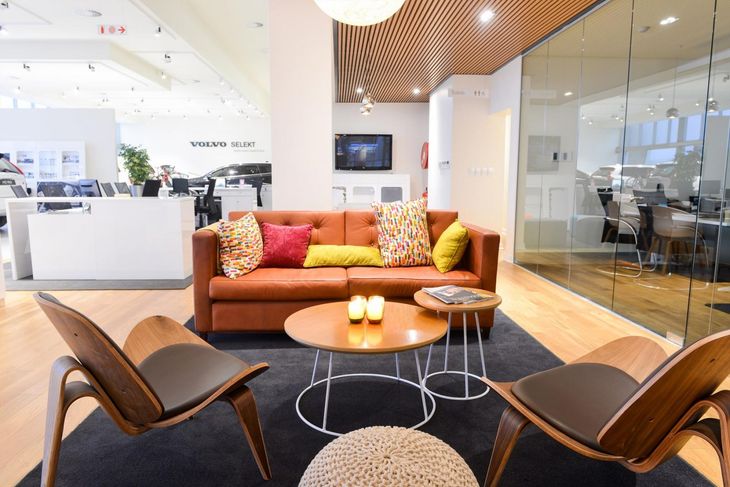 Enjoy a coffee and pastry while you relax in the Volvo "Fika" area.
Being a niche brand, Volvo has something unique to offer to the market, a different culture. The Germans have their own and so do other nations. That is why you can enjoy a "Fika" area at a VRE dealership. Not to be confused with FICA, rather the Swedish term refers to the act of enjoying someone's company through coffee and a pastry – a tradition we welcome. At the Bedfordview dealership, this space is tucked away to create a private area for customers to conduct business, conclude deals or wait for services to be completed.
Whilst you enjoy your Fika, you have a well-spaced display area to view new Volvos. Doors can be opened up as wide as possible as volumes of space has been purposely included to allow for customers to interact freely with the cars.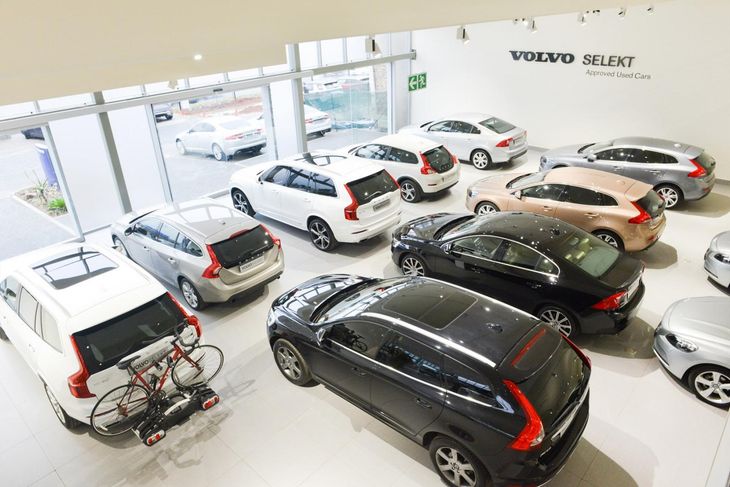 The Selekt pre-owned cars are housed indoors in a similarly premium environment.
On the other side of the Bedfordview dealership awaits an indoor pre-owned section. It's difficult to differentiate between the new and pre-owned section as they both share a similar layout. The reason for this is because Volvo does not want to create a situation where buying a used Volvo doesn't carry the same level of class as buying a new one does, which is often the case at some dealerships. The dress and grooming of the sales team keeps to the same standard, so the fear of a handle-barred mustachioed man in a short sleeve shirt can be forgotten. Thankfully.
Time is of the essence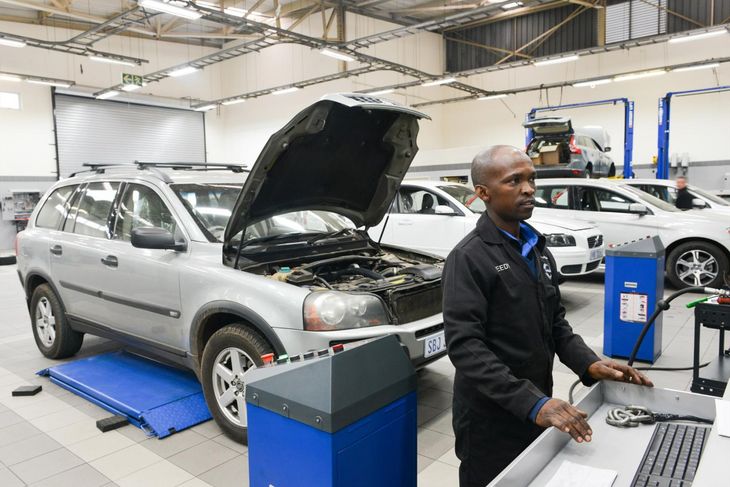 Large glass windows give customers visual access to the workshop.
In the fast-paced environment we live in, efficiency is key. That is why the most important feature of VRE in our eyes is the Volvo Personal Service programme. The aim is to allow the customer to enjoy fast service whilst they wait for the car at the dealership. This will be especially useful for customers whose cars are in for minor checks, services or repairs. Although not completely new to the market, this programme will be welcomed by busy customers that cannot afford to take half-day leave in order to get their car serviced. A large glass window allows customers visual access to the workshop, should they feel the need to watch the repairs being done on their vehicle. If they are not that way inclined, the service lounge as well as the Fika area will allow the customer to quietly complete any work task at the dealership.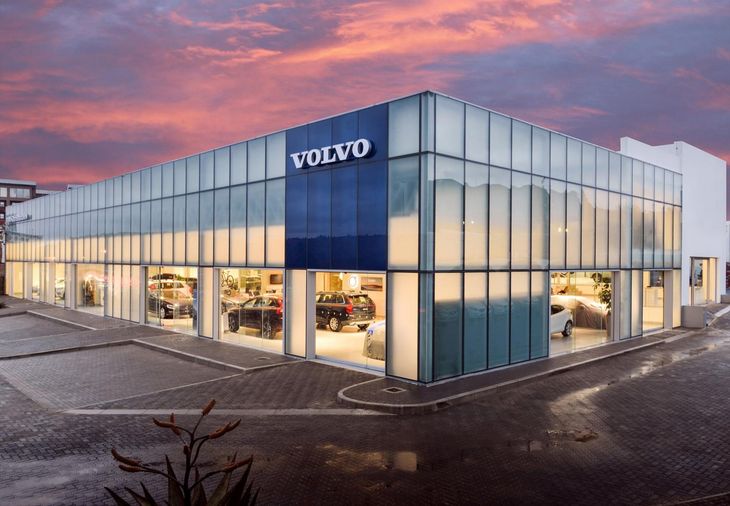 The new Bedfordview dealership is the first VRE facility in South Africa.
Despite not being completely finished, the Bedfordview VRE dealership is ready to accept new Volvo customers as well as service the needs of existing ones. The visual appeal and experience of walking through a clean and contemporary space is rather pleasing. The personality of Volvo's new brand identity shines through this new VRE retail space. With their cars looking more attractive with each new model announcement and more technologically sophisticated, it only makes sense for the dealerships to follow suit. It's pleasing to know that if you're in the market for a new or pre-owned Volvo, you can experience a little bit of Sweden, in South Africa.
Check out this video below to get a "feel" for Volvo VRE.
You may also be interested in: