For South African consumers, the phrase: "Another impressive new Volvo" has as much surprise value as that old chestnut: "buyers will probably choose one of its German-made competitors instead..." However, the S90 sedan is a product that has more going for it than just its talents.
With the introduction of the new S90, the Gothenburg-based manufacturer throws down the gauntlet, not only in terms of the products it offers, but its overall sales proposition as well. In a depressed new vehicle market for premium cars, the move is not only gutsy, but wholly justified, especially for a brand that would like to achieve the same share in Mzansi as it holds in other mature markets.
The S90, which we first experienced at its international launch in Spain last year (see links to related content, including a First Drive write-up, a video review by Ciro de Siena, as well as SA prices and specifications detail at the end of the article), made its local debut in picturesque Franschhoek recently – a fittingly swanky locale for an eminently stylish Swedish sedan that presents its take on luxury motoring in a very refreshing way. Alas, its S80 predecessor seemed to embody everything that was staid and unimaginative about Volvo's direction before Geely took over, opened its chequebook and gave the Swedes carte blanche to produce cars that would make Volvo "cool, trendy and progressive" again.
A new aesthetic benchmark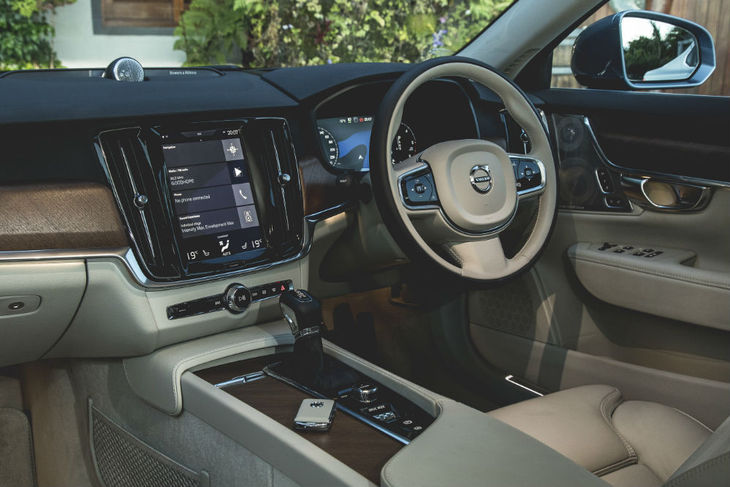 The S90's interior is a symphony of wood grain, plush leather and metallic trim, the embodiment of luxury motoring.
Compared to the S80, the S90 represents nothing short of a watershed for Volvo sedans. What's more, the newcomer – based on the underpinnings of its award-winning XC90 – constitutes a new aesthetic benchmark for the premium sedan segment. Any critique of exterior/interior styling (and even execution) is entirely subjective, but the S90's single biggest achievement is, as an objet d'art, it appeals to the senses first, offers surfeit comfort and refinement second, and rams home its technological sophistication at the end.
Judging by our initial impressions of the new BMW 5 Series and Mercedes-Benz E-Class, the aforementioned Teutons seem to have taken a cue from their first class stablemates and inverted the S90's product pitch: they're technological wonders first and foremost, pleasurable to drive/be driven (as one would duly expect) … but what of emotional appeal? Well, that's almost an afterthought. Considering the XC90's double haul of Cars.co.za Consumer Award Premium SUV trophies, on both occasions at the cost of popular German and British rivals, there is a case to be made for "overtly design-driven" packaging.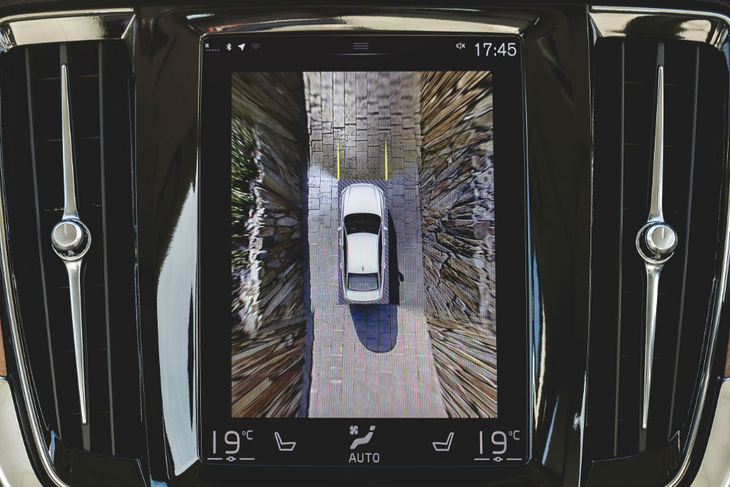 If specified, the 9-inch Sensus Connect touchscreen can incorporate a 360-degree surround view in HD.
The current Cars.co.za Consumer Awards champion in the Executive Sedan category, the Jaguar XF 25t Portfolio is an engaging driver's car that incorporates incremental improvements over its predecessor, which arrived in South Africa as long ago as 2008. Yet, the current XF cannot claim to offer the same sense of occasion that its predecessor did upon its arrival almost a decade ago; neither its interior nor exterior cues push the executive sedan aesthetic into another league.
Judging by my initial impression, the S90 certainly does manage to pull off a bit of an "XF". Whether it is ultimately better, on balance, than its much-vaunted opposition will be the subject of inevitable comparative reviews by motoring titles (ourselves included), but suffice to say, even though Volvo Car South Africa does not see its newcomer selling in impressive numbers, S90 needs all the help it can get.
Not a burgeoning segment...
For a start, the Volvo does not have much of legacy to build upon (the S80 was discontinued a while ago and never sold well anyway) and products in the D/E-segment fall into the category that a Wesbank analyst recently described as thus: "the majority… of (these) models are imported and have been heavily impacted by the poor performance of the rand. Their customers are either downgrading and buying more affordable models from mainstream brands, or moving to the used market."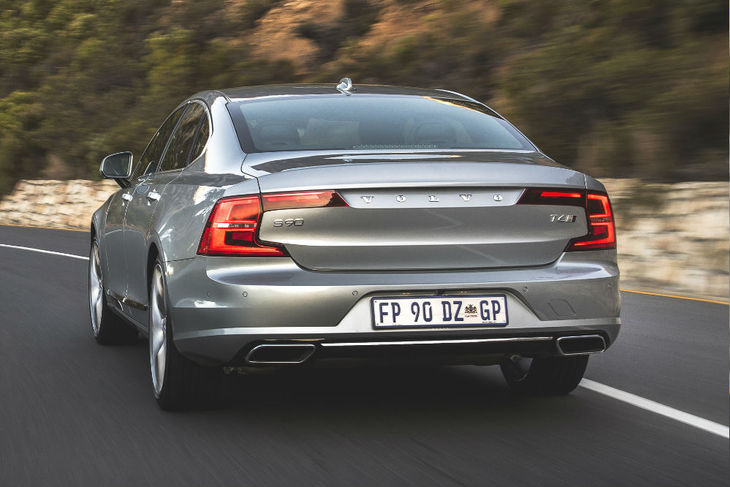 The sculptural effect of the S90's rear aspect view might not be to everyone's taste, but it's certainly distinctive.

It is particularly illuminating that ahead of the introduction of the seventh generation BMW 5 Series (to reiterate, an S90 rival) BMW sent out a special offer to their "preferred customers" that stated that should (they) pre-order any new 5 Series derivative before 13 March 2017, they "will receive the M Sport package and Professional Navigation at no additional cost". This move, which effectively mimics the effect of the well-known "trade-in assistance" incentives, is usually offered on run-out models, not "pre-launch" products. Hmm.
And in a similarly significant development, Volvo Car South Africa introduced a pair of complementary add-on products in the same week that the local motoring media corps descended on the S90 new vehicle launch location…
The allure of guaranteed future value
The first is Versatility Finance – a new guaranteed future value (GFV) finance product available through Volvo Car Financial Services, which is applicable to ANY new Volvo car purchase. Most new vehicle purchases are financed and this offer guarantees buyback at a predetermined value and within limited mileage after 3 years of ownership.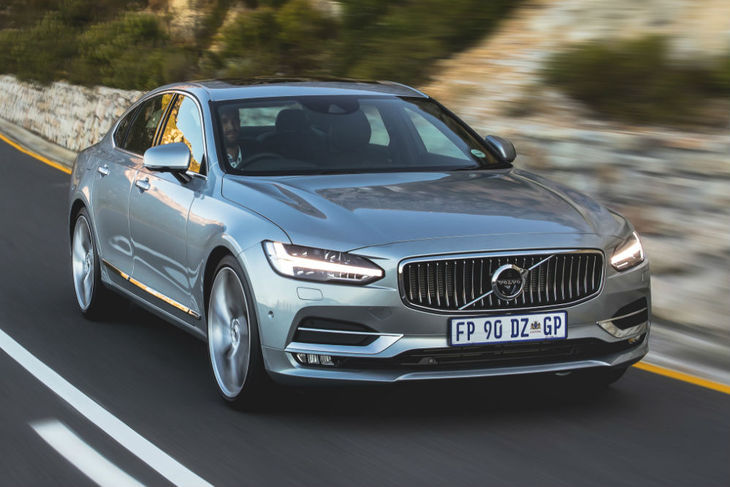 The S90 delivers superb ride refinement and NVH suppression; two areas in which an executive sedan must excel.
After the 3 years, provided all stipulations have been met, a buyer would have the option to buy their GFV Volvo outright or simply return it, which not only augers well for ownership customer satisfaction, it also increases the likelihood that that customer will be retained when they replace their vehicle. This is a smart move, because many buyers prefer to replace their vehicles before their maintenance plans run out and GFV counteracts the crippling effect of devaluation, which has caused many owners to refinance existing debt on trade-in vehicles in order to move on to a new car.
In addition, regardless of whether a new Volvo is purchased in cash, via Volvo Versatility Finance or an instalment agreement with an external company, the vehicle will be available with a new Volvo-personalised insurance scheme, underwritten by Guardrisk Insurance Company (Pty) Ltd and administered by Insurance Underwriting Managers (Pty) Ltd. According to Volvo Car SA managing director Greg Maruszewski, the risk profile of traditional Volvo clients have allowed the Swedish marque's local subsidiary to offer "very competitive" insurance premiums for new buyers.
Typical Volvo owners present 'lower insurance risks'
Volvo now offers comprehensive insurance on Volvo's 90-range (XC90 and S90) at a fixed R999 per month for the first 12 months, for example.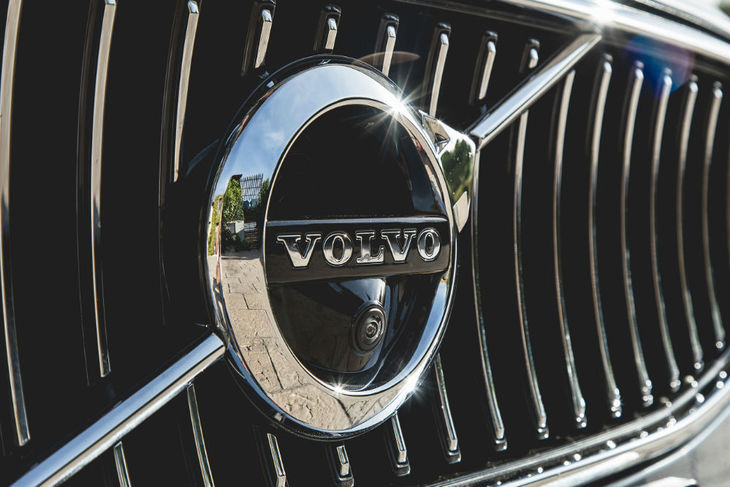 The evocative chrome grille treatment is integral to the Inscription specification of the S90 range.
Whereas guaranteed future value deals are not new to the industry, the introduction of this Versatility Finance option underlines the fact that in terms of value retention, Volvo's products are well above average and compare favourably to the performance of rival products. The stipulations of the GFV deal, such as being locked into a Volvo ownership cycle, may seem a limitation, but in the case of premium-end products such as the S90, which is likely to be more susceptible to severe devaluation compared with the brand's more affordable, compact products, it's quite a sweetener.
In conclusion, the design-driven and comprehensively-equipped S90 stands a better chance at new market success than it would if it was simply an above average executive sedan, because Volvo has beefed up the newcomer's purchasing proposition appreciably… loaded the dice, as it were. Perhaps the particular segment's heyday is well and truly in the past and the impressive new Volvo won't be as common a sight on South African streets and roads as it deserves to be, anyway.
Be that as it may, in a tough new vehicle market for premium products, consumers are looking for as much value and peace of mind as they can get. In that sense, the S90 has a more than even chance.
Related articles
Read full specs and prices for the Volvo S90 range in South Africa
Volvo S90 (2017) First Drive [Video]
5 reasons why the Volvo S90 matters
Read: First Drive of the Volvo S90
New BMW 5 Series (2017) First Drive
Comparative Review: BMW 520d vs Mercedes-Benz E220d (2016)
Interested in buying a Volvo?