With its widely acclaimed XC90 Swedish brand Volvo reinvented itself, and should now be taken very seriously in the Premium SUV segment. Can the marque's new S90 executive sedan do the same and crack open a market category that seems entirely stitched up by the German brands? It's a tall order...
We Like: Design (inside and out), quality build, strong performance, spaciousness
We Don't Like: Nit picking... ride refinement on poor surfaces lags class best
Alternatives
For greater refinement: While the Volvo S90 is by no means unrefined, the latest E-Class remains a class leader in this regard. The Mercedes-Benz E400 4Matic is a relative newcomer to the local line-up, and in Avantgarde specification starts at just over R1 million.
For more dynamism: The new BMW 5 Series has just arrived and while its startling 7-Series derived technology is grabbing the headlines, this has not come at the cost of the Five's legendary dynamism and focus on driving enjoyment. The BMW 540i starts at just below the R1 million mark.
Something more extroverted: The Cars.co.za Consumer Awards-winning Jaguar XF 25t Portfolio is a dynamic, stylish and luxurious alternative, but doesn't have the engine power to compete with the vehicles listed here. In 35t and S guises it is simply too expensive.

Compare the Volvo S90 T6 Inscription with the Mercedes-Benz E400 Avantgarde and BMW 540i here
Where does it fit in?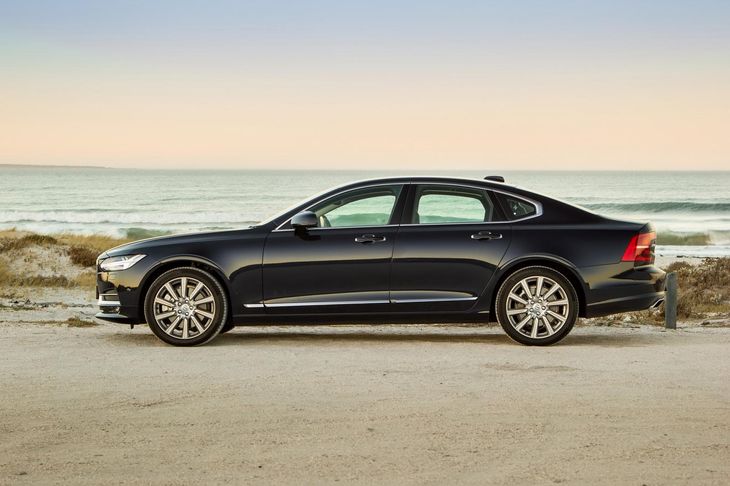 Longer than most of its rivals, the S90 is a big and imposing, yet elegant addition to the Executive Sedan segment.
Based on the same scalable architecture as the award-winning XC90 premium SUV, the S90 is Volvo's serious stab at the executive sedan segment, currently dominated by the Mercedes-Benz E-Class, BMW 5 Series and soon-to-be-replaced Audi A6. Of course, Jaguar's highly acclaimed XF and Lexus's GS also merit consideration, but based on what we've seen thus far, it looks like the stately Swede could be the one to upset the applecart... if only to a degree.
Tested here is the T6 Inscription AWD petrol model, the line-up's flagship until the T8 Twin Engine hybrid derivative arrives at a later date.
How does it fare in terms of...
Design appeal?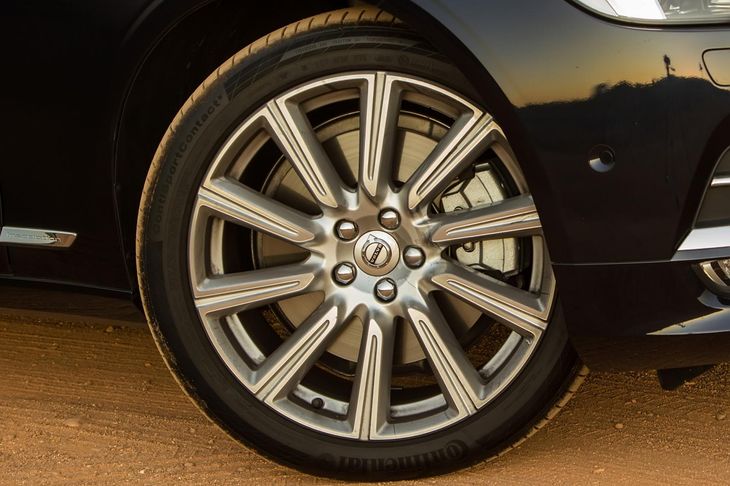 The handsome 10-spoke 19-inch wheels of the T6 AWD Inscription Geartronic add to the Volvo's kerb appeal.
The allure of driving an executive sedan has a great deal to do with perceived status and broadcasting a message of success and ambition. For that reason, an executive sedan needs to catch the eye and convey a sense of achievement but do so in a respectable way – a tall order indeed! As a team we feel that Volvo has hit the nail squarely on the head with the S90. Yes, that rear end is an acquired taste (and is far more appealing in the metal), but overall the S90 doesn't only further define the Volvo design language, it also brings a breath of fresh air into a segment that has become very predictable, particularly when it comes to the German sedans.
The success of the design is largely the result of the size of the canvas. The S90 looks like a bigger car than its rivals because it is, though not by as much as you may think. This optical illusion adds to the vehicle's presence. And with enough space to play, the Volvo designers have added just enough chrome, a beautiful and imposing concave grille and, of course, those Thor's Hammer's LED headlamps. It is, in the metal at least, a particularly handsome, elegant and individualistic choice.
One area in which Volvo has indeed mirrored the Germans is in the approach to optional extras. Yes, the S90's base price is low by comparison, but if you really want to get the eye-catching features, you'll have to fork out some extra cash.
Interior and features?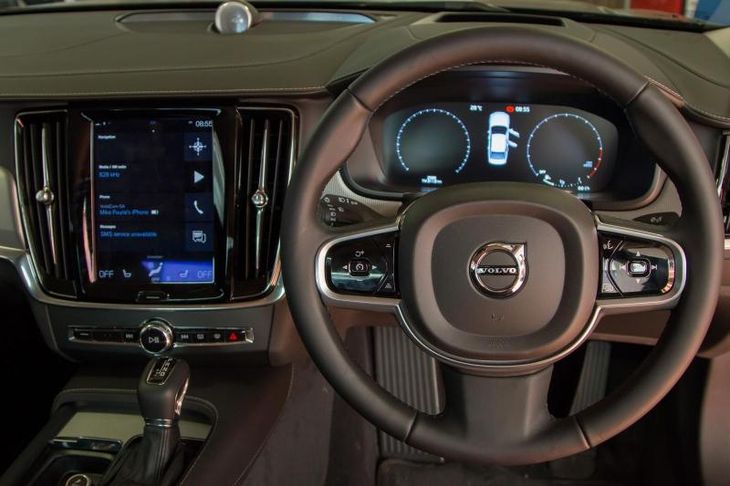 Beautiful finishes and high-tech control interfaces endow the S90 cabin with a sense of theatre.
As is the case with the exterior, Volvo has steered its own course in the cabin. What we have as a result is a striking combination of old-school craftsmanship with traditional materials and modern-day technology. With its supple (and standard) Nappa leather upholstery, matte wood trim and convincingly solid shiny bits, the S90's cabin reeks of style and substance. Now add the tablet-like Sensus infotainment system with its easy swipe/pinch functionality, the 12.3-inch digital instrumentation screen and you have a cabin that, as one tester put it, exudes more of a sense of "theatre" than any other car in this segment.
But... while the standard equipment list is reasonable and includes the likes of electrically adjustable front seats (with memory), 2-zone automatic climate control and navigation, you have to pay extra for tasty things such as a leather-wrapped dashboard and door panels (R15 500), smartphone integration (R4 000), head-up display (R14 500) and rear door sunblinds (R2 850). You may also want to consider the Premium Pack (R65 000) fitted to this test unit as it includes; heated front seats with adjustable side supports, powered bootlid, power-fold rear seats, virtual park assistant with 360-degree surround view, a 19-speaker Bower&Wilkins sound system, keyless entry and starting (including boot opening/closing), and Park Assist Pilot, among other items.
All in, our test unit's price came to R1 002 875, which very much brings it into contention with the Germans, although the latter would then still need their option boxes ticked.
Regardless of the length of its specifications list, the S90's cabin is a marvellous place to be. It has a very long wheelbase, so rear legroom is superb and further enhances the Volvo's limo-like persona. The boot, too, is big at 500 litres.
Then, with regards to a traditional Volvo strength (safety), the S90 T6 features a comprehensive IntelliSafe package that incorporates City Safety. So, the S90 can spot cyclists, pedestrians or even animals. It also offers an autobraking function at intersections, forward collision warning (with full braking), run-off-road mitigation, lane keep assistant and warning as well as road signal reading. Volvo's advanced Pilot Assist (see video above), which allows for semi-autonomous cruising at speeds of up to 130 kph, is also standard fitment and functioned impressively during our test period.
Performance and efficiency?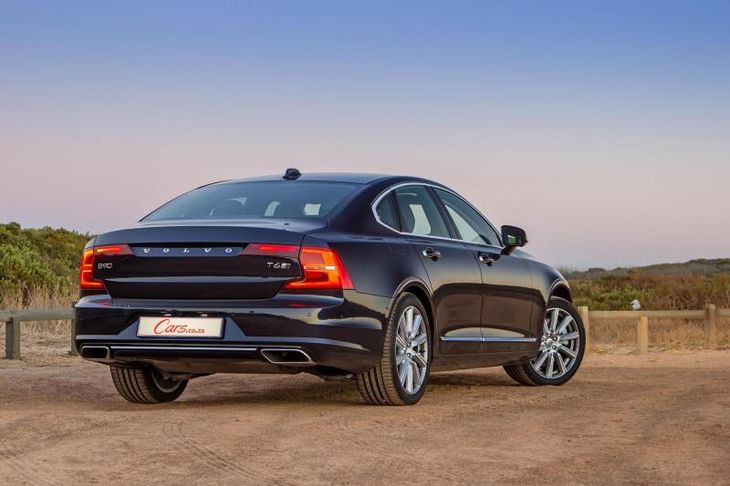 The T6 derivative's 2.0-litre engine punches above its weight, delivering strong performance and reasonable efficiency.
Until the arrival of the T8 Twin Engine hybrid derivative, this T6 is the model line-up's flagship. It is powered by a 2.0-litre engine that is both super- and turbocharged to develop 235 kW and 400 Nm of torque – figures not too far off from what is developed by the German brands' 6-cylinder powerplants.
The S90 is a big, bulky vehicle, but courtesy of a far greater use of high-strength steels and aluminium in its architecture (as well as a smaller engine), it is not as heavy as you'd think. On the road, the S90 T6 responds keenly to throttle inputs and punches hard throughout the rev range. The maximum torque figure is available from 2 200 to 5 400 rpm, so the slick 8-speed automatic 'box has no problem with staying in the power band. Volvo claims a 0-100 kph time of 5.9 seconds, which is plenty fast enough, but bested by (the costlier) Mercedes-Benz and BMW rivals.
In terms of efficiency, we were somewhat surprised by the T6 powertrain... in a good way. In the XC90 T6 we struggled to achieve a fuel consumption figure of below 12 L/100 km, but in the S90 this proved to be easy. Nevertheless, though Volvo claims a combined cycle figure of 7.2 L/100 km for this vehicle, you'll be doing good to average 9.5 L/100 km. Given its real-world fuel consumption, combined with its long-distance cruising capabilities, the fitment of a relatively small 60-L tank is a disappointment.
Ride and handling?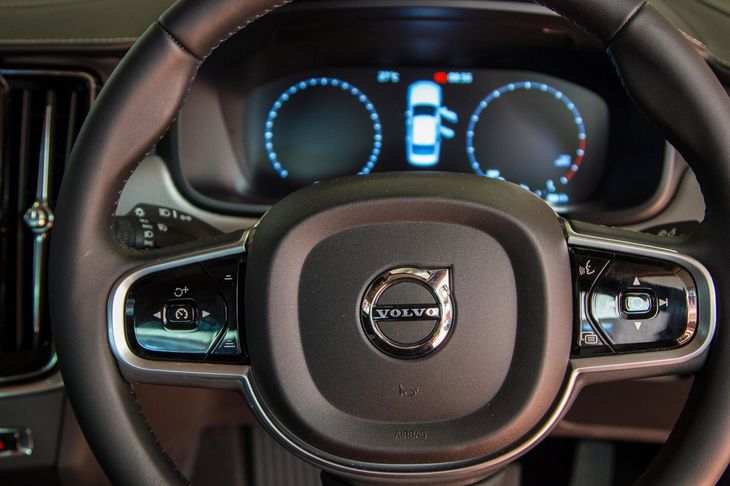 The S90's steering feel is set up for comfort, not sportiness.
Based on the same underpinnings as the XC90, the S90 is fitted as standard with a unique composite rear leaf spring setup. However, our test unit featured the optional Air Suspension and Active Chassis (R17 500). Given the relatively low cost of this upgrade, as well as the inherent performance potential of the drivetrain, this is an option box we'd recommend ticking.
At lower speeds, the S90 is a very refined machine, ironing out major road imperfections and bumps while transmitting precious little of the goings-on-underneath into the vault-like, quiet and refined cabin. The steering is light, too, so around town the S90 is as good as executive sedans get. Out on the open road, too, the Swede's talents continue to shine. With the standard Adaptive Cruise Control activated, it's a mile-muncher that will please both driver (due to the little input required) and passenger (because of the high comfort levels).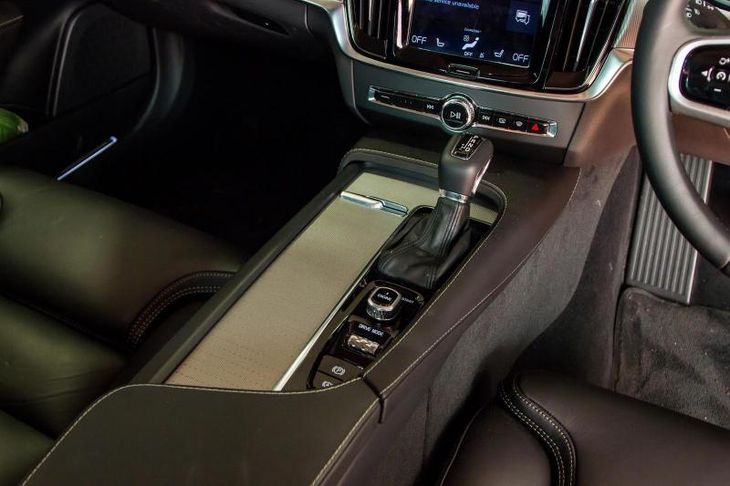 Fitment of the Sensus infotainment system has left the S90's centre console free of clutter.
The S90 T6 comes with a Drive Mode Selector as standard, and while the enhanced responsiveness in the sportier mode is appreciated, this setting also accentuates an area in which the S90 is bested by its German and British rivals. The steering is simply too "woolly" and the underpinnings too inherently geared for comfort for the S90 to feel "dynamic". That doesn't mean it rolls around sloppily in the corners and understeers aggressively, it just portrays a set-up preference for comfort, which will be admired by many consumers.
A slightly more disappointing characteristic is for the ride quality to be sensitive to a deterioration in road surface condition. The current Mercedes-Benz E-Class, to name one, is more adept at maintaining its composure than the S90. Given the overall emphasis on comfort and refinement, this may be an area in which Volvo should sharpen up.
Pricing and warranty
The Volvo S90 T6 Inscription AWD is priced (at the time of testing, February 2017) at R877 030. It is backed with a comprehensive 5-years/100 000 km maintenance plan as well as a 5-years/100 000 km warranty. Volvo has also come up with some attractive financing and insurance options – read more about those here.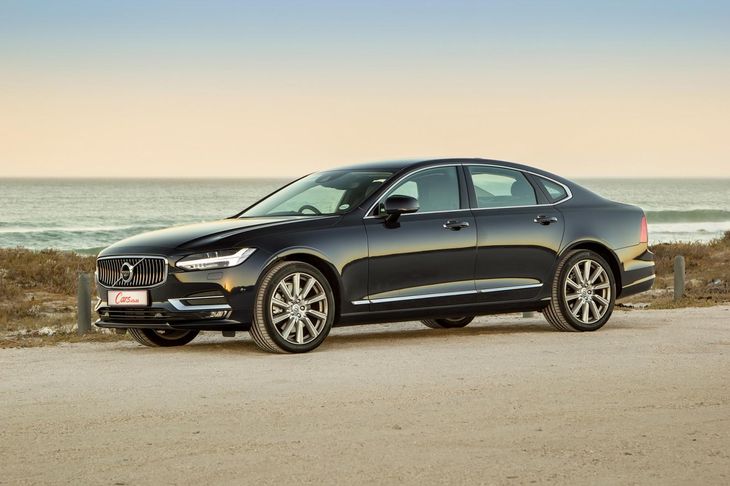 Handsome, technologically advanced, comfortable and well-priced, the S90 deserves success.
Verdict
Given the S90's price advantage compared with its direct (on engine power) rivals, the argument is particularly strong in the Swede's favour. It possesses a very strong blend of luxury, style, technology, comfort, performance/efficiency and safety. In fact, the only real criticism we have is that, on certain roads, and in certain conditions, the suspension is not quite as refined as you'd find in an E-Class or 5 Series. And, ultimately, it can match neither the Germans, nor the Brit (Jaguar), in terms of dynamism. But one senses that erring on the side of comfort was a decision Volvo made early in the development of this vehicle. The S90 doesn't want to be a German copycat. And, it doesn't, like the Jaguar, wish to counter ruthless German efficiency and quality with sportiness and dynamism, either. It wants to be a Volvo, and increasingly that means safe, comfortable, thoroughly modern, fast enough, efficient and beautifully crafted.
For this test team, at least, that combination of brand pillars is increasingly alluring.
You may also be interested in;
Volvo S90 (2016) First Drive video
Volvo S90 (2017) Specs & Pricing in SA
5 Reasons why the Volvo S90 matters
Winners of the Cars.co.za Consumer Awards - Powered by WesBank
With 5 Series, the Germans pull ahead again
Looking for a new/used Volvo S90 to buy?