A 7-seat variant of the award-winning Volkswagen Tiguan is now available in South Africa. We call it a variant – as opposed to a derivative – of the Wolfsburg-based brand's family car, because the Allspace's packaging is notably different from that of its standard sibling. However, given how good the well-known 5-seater Tiguan is, can the newcomer really justify its price premium?
We like: Comfortable cabin (additional room is welcome), overall refinement and driving enjoyment
We don't like: Third row of seats offers minimal legroom, new engine not as punchy as hoped, best features are optional
Alternatives:
The original supersized family car: The Nissan X-trail 2.5 4x4 Acenta + offers a reasonable amount of space, it quite practical and, thanks to its 4x4 capability, can match the Tiguan Allspace when venturing off the beaten track. However, it's not as nice to drive and its engine is (now) long in the tooth.
A former #CarsAwards Lifestyle SUV semi-finalist: Kia's Sorento 2.2 CRDi AWD EX is well-made and generously specced. Like the VW and Nissan, it offers 7 seats and all-wheel-drive capability, but, critically, it's expensive. At over R700 000, it makes the Tiguan Allspace look like great value for money.
Compare the Volkswagen Allspace to the Nissan X-Trail and Kia Sorento here
Facts & Figures
Price: R543 673 (June 2018)
Engine: 2.0-litre, four-cylinder turbo petrol
Transmission: 7-speed dual-clutch gearbox
Power: 132 kW
Torque: 320 Nm
Fuel consumption: 7.7 litres/100 km (claimed)
0-100 kph: 8.2 seconds
Top speed: 208 kph (claimed)
What's new?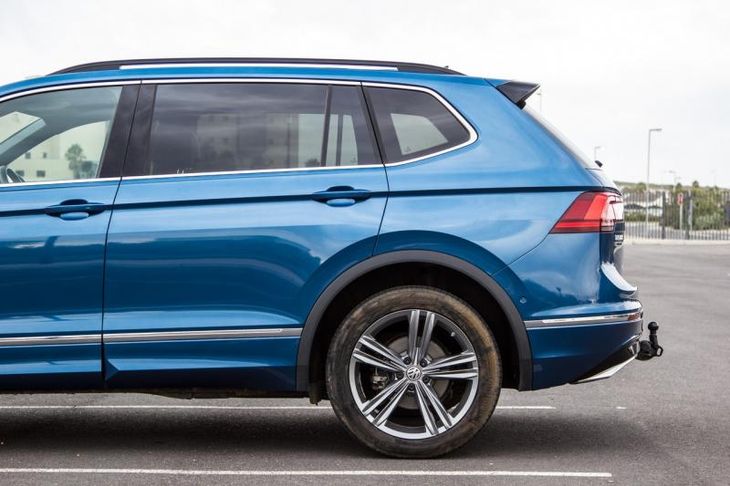 The extended rear is one of the tell-tale signs that this is not a run-of-the-mill Tiguan. Note the optional big wheels and tow bar.
At first glance, you'd be forgiven for thinking this is a standard Volkswagen Tiguan specified with the attractive R-Line kit. However, upon closer inspection, you'll notice a slightly different nose, a fractionally longer body, differently-shaped aft side windows and an Allspace badge on the rear. The focus point is the addition of a 3rd row of seats: the standard Tiguan can seat 5 occupants, whereas the Allspace makes provision for 7. The bonus of the Allspace setup is that you can lower the 3rd row of seats to free up a larger-than-usual amount of luggage space. The newcomer also sports a new engine specific to the Allspace range, but we'll discuss that a bit later.
The Good
Improved practicality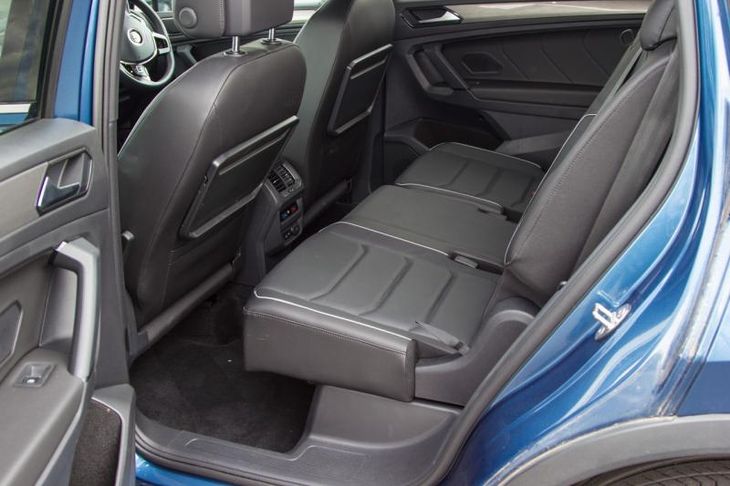 The 2nd row of seats slides on rails, however, when the 3rd row of seats is in play, legroom is quite tight
The improved spaciousness certainly sweetens the purchasing proposition, but whereas the 7-seat configuration is a plus, the added benefit of an enlarged luggage bay really sets this family car apart. To be fair, the only way to free up reasonable 3rd-row legroom is to slide the 2nd row forward, which, of course, lessens legroom for those sitting on it. So, it's a matter of finding a compromise; effectively the rearmost seats are suited to children or short adults (headroom is tight). Fortunately, the seats and middle row are easy to operate – a lever in the luggage bay controls which seats go down and the tailgate is electrically-operated (opens/closes at the touch of a button).
Just how did Volkswagen manage to wedge a third row of seats into the Tiguan? Well, thanks to the clever MQB platform, Volkswagen could stretch out the Tiguan's wheelbase by 110 mm. This resulted in an extra 115 litres of cargo space. With all the seats folded flat, a generous 1 775 litres of loading capacity becomes available. When you fold that 3rd row down and increase the luggage space, the Tiguan Allspace really comes into its own. We put this to the test by loading up a mountain bike and all the essentials for a weekend getaway. The mountain bike went in without any difficulty, but we opted to take the wheel off to avoid complications.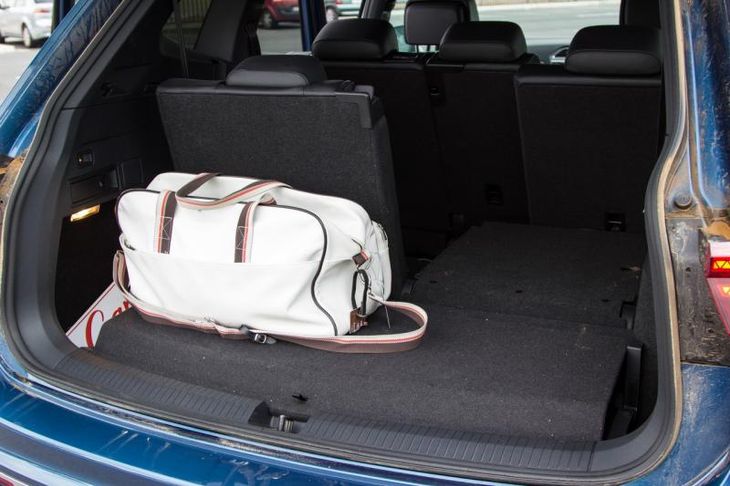 We folded down one of the 3rd-row seats to show how much luggage space is available. Even with the 3rd row up, it's still useful.
Driving refinement
Despite the vehicle being fitted with sporty-looking 19-inch alloy wheels, as well as the sports suspension, which forms part of the R-Line package, the Tiguan Allspace's ride quality isn't too compromised: it is firm, yes, but doesn't jar over cracks in the tarmac. What's more, open road cruising is one of the newcomer's strongest traits... the steering is well weighted, yet light enough to make short work of inner-city parking manoeuvres.
We also drove the Tiguan Allspace on a variety of gravel and dirt roads. This particular version is equipped with Volkswagen's 4Motion all-wheel-drive system, which means the family car can tackle some slippery terrain when required. It can climb sandy roads with ease, and thanks to Hill Descent Control, can come back down without any fuss. Ground clearance is rated at 201 mm, giving the AllSpacesome off-road credibility, should owners wish to tackle the rougher stuff.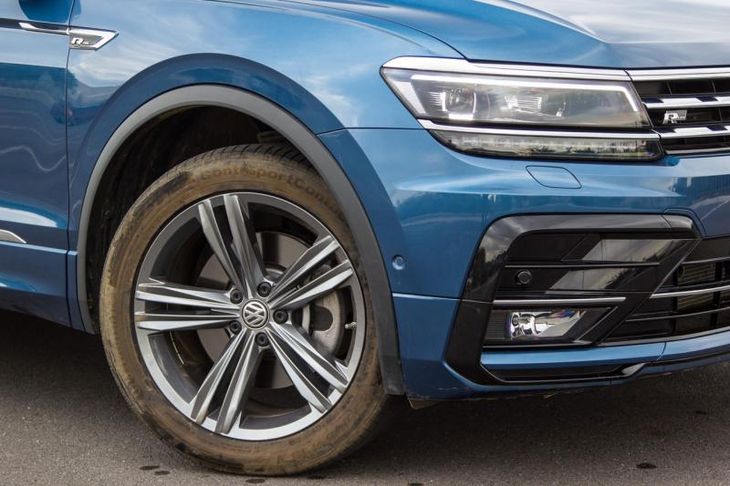 Despite the big 19-inch alloy wheels, the ride quality is good both on and off road.
The (not-so) good
Average engine
We've come to expect some decent powertrains from the Volkswagen Group and our ears pricked up when we heard there was a new engine for the Tiguan Allspace. It all sounds good on paper too, with a 2.0-litre turbocharged 4-cylinder petrol motor producing peak outputs of 132 kW and 320 Nm. In reality, it was a different story and we were left perplexed... While the Volkswagen lugging a quartet of adults around both in urban and open-road scenarios with ease, it just lacked in-gear punch. We put this down to the throttle mapping/gearbox software, which prioritises fuel economy. You'd accelerate to overtake a slower vehicle and the vehicle would respond slowly.
Increase the pedal travel a bit more forcibly and suddenly the Tiguan Allspace's transmission would kick down two gears at a time, which of course ushers the turbopetrol motor straight into the sweet spot of its power delivery, and off you'd go. This was rectified by taking the reins ourselves and making use of the steering-wheel-mounted paddles. For this reason, we'd suggest forking out a bit more cash and opting for the torquier turbodiesel powerplants, which should prove thriftier at the pumps.
The best toys aren't free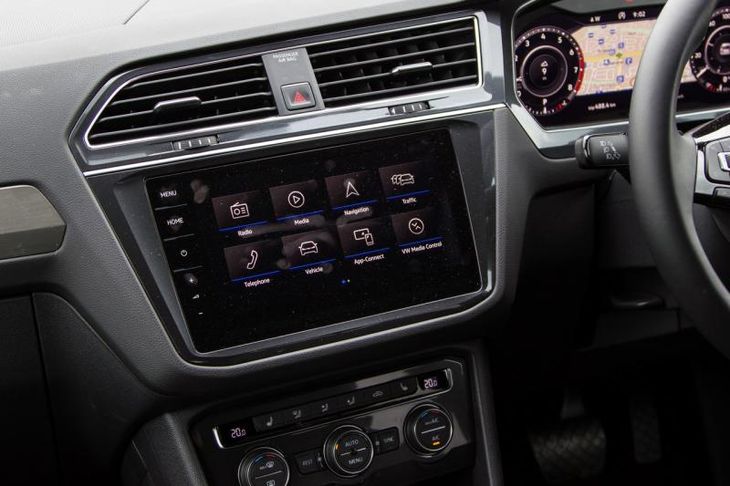 The Android Auto and Apple Carplay compatibility make the Tiguan Allspace appeal to the digitally-connected generation.
While the mid-spec Comfortline isn't short on comfort features and gadgets, you have to dive into the optional extras list to spec the comprehensive Tiguan Allspace experience. Some are worth forking out for, such as the Discover Pro infotainment system (R12 000), digital dashboard (R8 600) and the towbar (R7 800).
As far as safety features go, the Volkswagen Tiguan Allspace comes with 6 airbags, cruise control with limiter, ESP with countersteer support and multicollision brake system. An extra R5 000 specs adaptive cruise control, which includes forward collision warning, where the vehicle will automatically brake if its driver doesn't timeously.
Pricing and warranty
The new Tiguan Allspace comes standard with a 5-year/90 000 km service plan, 3-year/120 000 km warranty, 12-year anti-corrosion warranty and space saver spare wheel. The service intervals are every 15 000km.
Volkswagen Tiguan 2.0 TSI 132 kW Comfortline 4Motion DSG R-Line – R543 673 (June 2018).
Verdict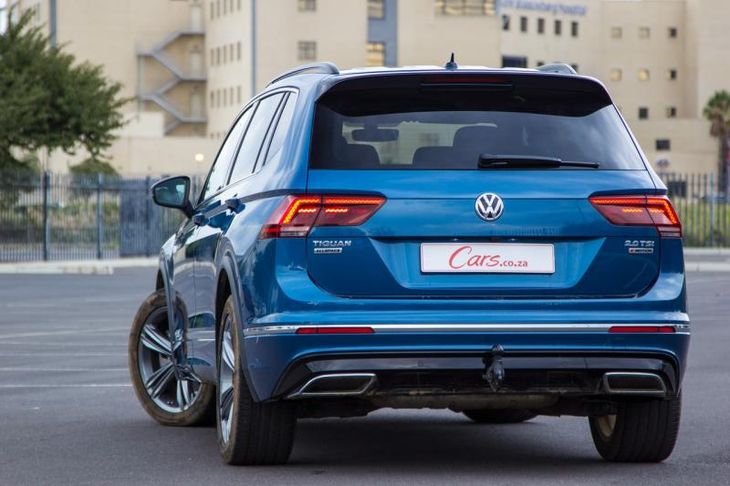 With its 7 seats, 4Motion all-wheel-drive capability and a price tag of under R600k, the Tiguan Allspace has carved out a niche for itself.
The Volkswagen Tiguan Allspace finds itself in an excellent position. It comfortably offers more space than its 5-seater sibling, yet undercuts many of the bigger 7-seater Adventure SUVs, such as the Toyota Fortuner and Ford Everest (for its price, you get a decent number of standard features). While we'd happily recommend the Tiguan, there will always be times when you need additional space... and this is where the Tiguan Allspace comes in. The majority of Tiguan Allspace models are 4Motion, giving them a decent amount of offroad cred too. However, if you're doing a lot of towing and/or carrying large amounts of cargo, we'd advise opting for the 2.0-litre TDI motor.
You may also be interested in:
Volkswagen Touareg (2018) International Launch Review
3 Reasons Why Volkswagen Tiguan is #CarsAwards Finalist
Volkswagen Tiguan (2016) First Drive
Is Volkswagen building a Tiguan R? [with Video]
Next-Generation VW Products Undergo Tests In SA [Video]
Looking for a new / used Volkswagen Tiguan to buy?