The second-generation Volkswagen Tiguan will arrive in South Africa around the fourth quarter of 2016 to battle the likes of the Toyota RAV4, Hyundai Tucson and Nissan X-Trail. Cars.co.za's UK correspondent has driven the newcomer and reports that even if the Tiguan represents an "uber-strong evolution" (of its predecessor) rather than a revolutionary, all-new design, it's a very fine one nonetheless. Read on...
By Wayne Gorrett
The original Tiguan, which was launched on the local market in 2008, was Volkswagen's first foray into a growing compact SUV/crossover market and the Wolfsburg-based brand sold 2.8 million units of the first-generation version worldwide, of which a not-insignificant number of examples (more than 19 000 units) were delivered in South Africa!
Therefore, much is expected of its successor, which was revealed at the 2015 Frankfurt Show. Sporting more chiselled styling, enhanced performance and improved efficiency, the new Tiguam rides on the Volkswagen Auto Group's new and all-conquering MQB platform, which you'll also find under the Golf, Passat and Audi A3.
To cut it in a plethora of mid-sized SUVs and crossovers, you have to offer something pretty special. VW has responded by trying to chart a steady course between simply refining what's there and producing something new. With that aforementioned (2.8-million) sales figure in mind, Volkswagen has erred on the side of caution and the new car is all the better for it.
Unmistakable presence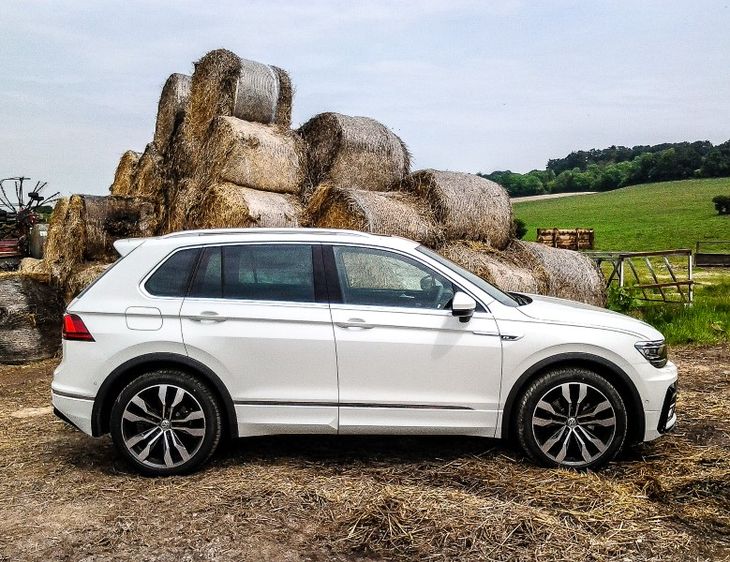 The new Tiguan is larger, lighter and more handsome when compared to the outgoing model. ​
Compared with its predecessor, the new Tiguan is a lot more stylish, with clean lines and a powerful dynamic stance that rewards with generous kerb appeal. The front end, in particular, is more dramatic, with a lower and wider radiator grille and new slim headlamp clusters, air inlets, as well as rounder wheel arches, banish the previous model's "blockish" visage.
The vehicle's dimensions have predictably increased, yet overall weight has come down a little. The former development leads to more space inside – right where it matters, but significantly, without a weight penalty. The new model is 60 mm longer and 30 mm wider than before, which doesn't sound like much, but you can now comfortably fit three adults in the back.
Inside, it's Germanic to the core: ergonomically slick, exceptionally well put together and entirely functional. The extra room over the old Tiguan is good news, particularly in the rear where it's now more family-friendly.
More family-friendly interior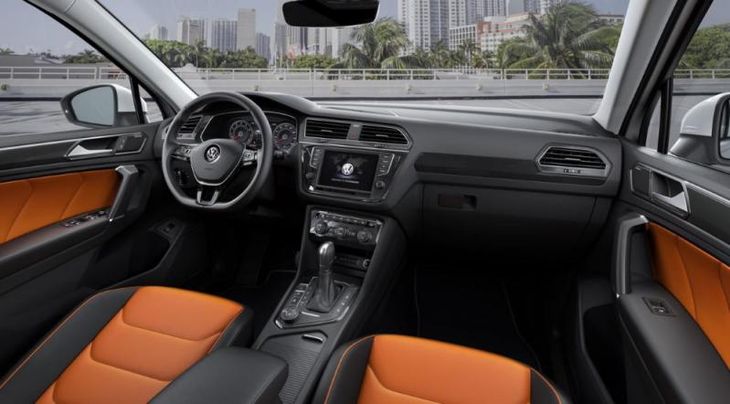 The interior of the new Tiguan is more refined and offers increased space for passengers and goods.
There can be no doubt that the interior of the new Tiguan is a sizeable step up. Front and rear seating is very comfortable while being surrounded by classier and better quality materials than before. Headroom and leg room are generous throughout.
The luggage bay measures a capacious 520 litres, but, with the rear seats able to slide forward by 170 mm, that space increases to 615 litres if you need to carry more luggage. With the rear seats folded forward, a cavernous 1 655 litres becomes available.
Active info display
If you've driven a Passat or Golf recently, the Tiguan's dashboard and infotainment system will be very familiar. The design offers more sense than style, but everything is very logically laid out and simple to get along with.
One of the biggest changes inside the Tiguan is the availability of a new 31 cm "active info display" which replaces the conventional instrument cluster behind the steering wheel. First seen on the new Audi TT, it uses digital dials and the screen can be configured to show navigation updates, on- and off-road vehicle settings and media information, but we believe it will probably offered as an optional extra on the local market.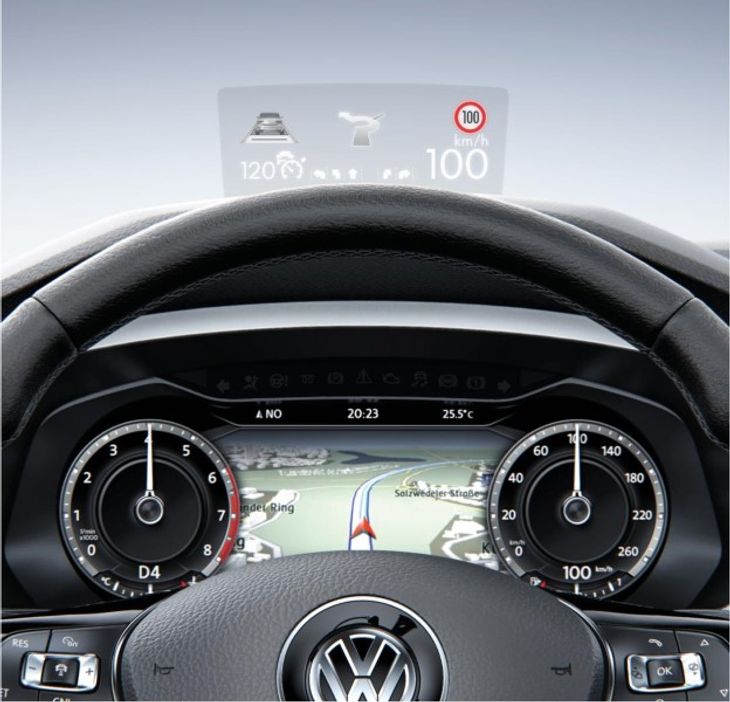 Smart "active info display" is offered in new Tiguan.
Apple CarPlay also allows owners to have the interface of their smartphone mirrored on the central touchscreen, which can show music, messages and navigation info. It will also display live signal from an on-board 'GoPro'-like camera; perfect for the horsey set to monitor their charges in the horse-box throughout the journey.
When contacted, Volkswagen SA was non-committal on the engine line-up for the new Tiguan, but did add that the new range "might retain two of the TSI petrol engines, the 1.4-litre unit (in 92 kW and 110 kW guises) from the current line-up. There is no info at this early stage on diesel engines", but added "there will be 4Motion (all-wheel-drive) TDIs".
Fortunately then, as the TSI petrol models hadn't arrived from Wolfsburg in time for the UK media launch last week, I drove the 110 kW 2.0-litre SCR turbodiesel, in six-speed manual and seven-speed DSG configurations, both of which were in top-end R-Line trim and fitted with VW's 4Motion all-wheel-drive system.
As their model name suggests, all new diesel powered Tiguan models come fitted with a so-called selective catalytic reduction (SCR) filter to help rein in nitrous oxide emissions. It necessitates the inclusion of a 12-litre tank housing the AdBlue solution used in the exhaust gas filtration system mounted at the rear underneath the boot.
My first extended spell in the new Tiguan was in the manual. Fire it up and the TDI settles to a pleasantly refined hum, but this doesn't last for long as, out on the road, the unit needs to be revved surprisingly hard to make progress.
The six-speed manual 'box is fairly long-geared, which is nice for a peaceful motorway cruise with the engine ticking over at a leisurely 2,000 rpm. However, when you have to engage with variable traffic, you often find yourself having to change down for a burst of acceleration, which means progress isn't as smooth as it could be.
But, elicit most of that 110 kW motor's performance and the Tiguan delivers a decent turn of speed. This derivative will sprint from zero to 100 kph in a respectable 9.3 seconds and the claimed fuel economy figure of 5.4 L/100 km is good. The other diesel model we drove was fitted with Volkswagen's seven-speed DSG automatic gearbox, which is smooth and responsive with good anticipation for up and down changes in most situations.
Quiet, unflustered progress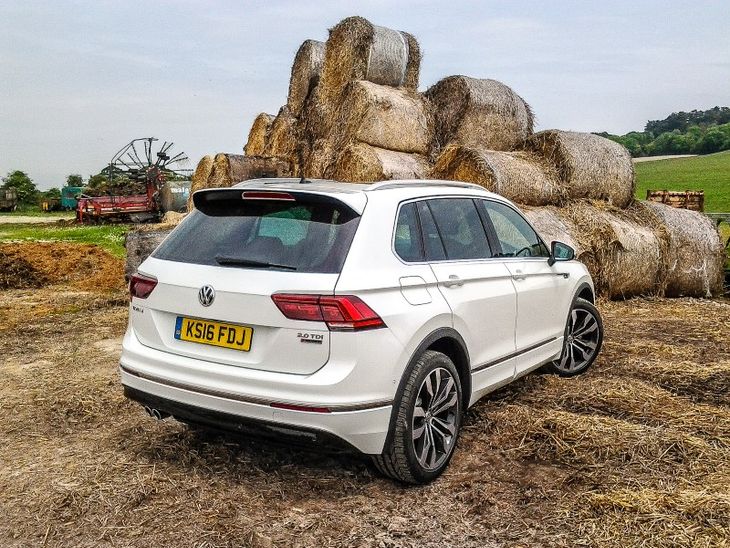 The new Tiguan delivers a smoother, more refined drive, even on poor surfaces.
On the road, The Tiguan is unlikely to set pulses racing, but it's very quiet and smooth, especially when fitted with the optional adaptive dampers that allow you to control how soft the suspension is. When in Comfort mode, the adaptive dampers make the Tiguan very comfortable, even over poor road surfaces and with the larger 20-inch wheels fitted.
The handling is definitely more resolved than what it used to be, so there's not much roll in the corners, which is helped by some noticeably well-weighted steering. The car is easy to place accurately and with confidence. In general terms, the Tiguan does a good job of isolating you from wind and road noise and feels very car-like and easy to handle.
4Motion offers multiple driving modes
If you plan to take the Tiguan off-road – or live in a hilly, rural location – one of the 4Motion all-wheel driven versions should fit the bill. 4Motion derivates offer selectable driving modes that will tailor the traction and stability control systems to cope with everything from icy roads to muddy tracks and ride 200 mm above the road (the 2WD versions are 10 mm lower).
There's no doubt that the Tiguan incorporates improvements in plenty of areas, but in a sector where style counts double, it's maybe a little safe in design terms. Having said that, a high-quality interior, acceptable performance and VW's classless image will ensure that this compact SUV can climb to the top of the sales charts and repeat the success of its predecessor.
Related content:
New Volkswagen Tiguan (2016) Heading to SA
Rugged VW Tiguan GTE Active Concept Revealed
Interested in buying a used Volkswagen Tiguan?