Volkswagen has unveiled the Tarok Concept at the 2018 São Paulo International Motor Show, in Brazil. Does this concept preview a smaller-than-Amarok bakkie?
This Volkswagen Tarok concept is built on the MQB platform, which underpins the likes of the Audi A3, Volkswagen Polo and Golf, as well as the Tiguan. Volkswagen claims that it will be building a production version of this, "with barely any changes", which gives us a great look at the next generation of Volkswagen design language.
In terms of powertrain, the Volkswagen Tarok Concept is powered by a 1.4-litre TSI motor with 110 kW. Unique to the South American market is the variety of fuels and the Tarok can run on pure ethanol (E100) as well as a blend of petrol and ethanol (E22). This engine is mated to a permanent 4Motion all-wheel drive via a 6-speed automatic gearbox. Also on the cards is a 2.0-litre turbo diesel direct injection TDI motor which has 110 kW on tap.
Klaus Bischoff, Head Designer at the Volkswagen brand, explains: "With its striking Targa-inspired roof bar, charismatic front end, three-dimensional LED lighting strip in the rear, and powerful yet stylish side panels, the Tarok Concept's expressive design makes it the first pick-up to combine the stylistic elements of an urban SUV with an authentic off-road design." Bischoff continues: "The Tarok's DNA adds an exhilarating dynamic to the segment."
One interesting design feature in the five-seater Volkswagen Tarok Concept is its variable loading area. The floor space can be extended by opening the tailgate or using the brand new mechanism that allows the bottom of the passenger cab rear panel to be folded down. As a result, drivers can also use the back of the cab to transport extra-long items. The maximum load capacity sits around the one-ton mark.
Brazil is a pivotal pickup truck market for Volkswagen which already has both ends of the market covered with the Polo-based Saveiro and the Amarok. This new model slots neatly between the two. With the German company's other recent pickup concept, the Tanoak, also a dead-cert for production, Volkswagen really is making a bid for global bakkie glory.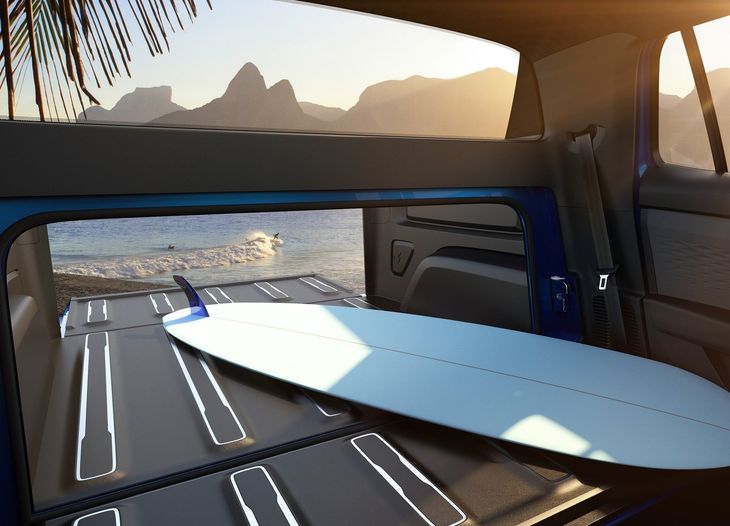 The clever load-through bay of the Volkswagen Tarok Concept
What is the likelihood of the newcomer being made available in South Africa in future, however?
When asked for comment, Andile Dlamini (Head of Group Communications at Volkswagen SA) told Cars.co.za the bakkie would, in all likelihood, be produced for left-hand-drive South American markets, if not exclusively for Brazil. Once the vehicle is unveiled in production form, feasibility studies will be conducted to determine the viability of producing it for export to right-hand-drive markets. It goes without saying that should the production version of this concept be available in RHD, and VWSA could make a business case for its introduction, its arrival cannot be ruled out.
Related content:
Renault Duster Oroch Double Cab (2017) First Drive
Audi Is Pressing Ahead With Its Future Plans
Isuzu Concept X Revealed (w/video)