The Volkswagen T-Series, or Kombi as it is affectionately known on the street, has been replaced with an all-new model and we travelled to the Eastern Cape to drive it.
Highlights
- 6th generation of Caravelle, Kombi, Transporter and commercial vehicles now here
- Generous specification across the board
- Option of seven-speed DSG or manual gearboxes
- Bi-tone Heritage colours arrive in 2016
The Volkswagen van is something of a cult classic and the last generation alone racked up two million global sales. As it stands 23 400 of the previous generation T5s found homes in South Africa. The original came out 65 years ago and it was manufactured at Volkswagen's plant in Uitenhage. Production ceased in 2002 but the vehicle has remained close to South African hearts. Remember the advertising campaign with David Kramer?
The Volkswagen T6 range is comprehensive – there's a vehicle for every need. On the commercial side of things, there's the Transporter pickup, Transporter crewbus and panel van. Private users can go for the Kombi or Caravelle which offer enhanced family practicality and premium features. You can really mix it up with the Transporter Crew Bus as it has the most options; take your pick from various gearboxes, engines and even short- or long-wheelbase versions.
What's New for T6?
Starting off, the new T6 looks a lot sharper and modern at the front. On the higher spec models, there are very fresh-looking daytime running lights. The overall shape has not changed that much however, which is understandable as the key focus of this vehicle is practicality.

The interior has been on the receiving end of significant upgrades and the big news is the all-new touchscreen infotainment system which is smartphone compatible. The dashboard receives a more premium look and feel too, while practicality increases with redesigned storage bins. There's also a new range of steering wheels.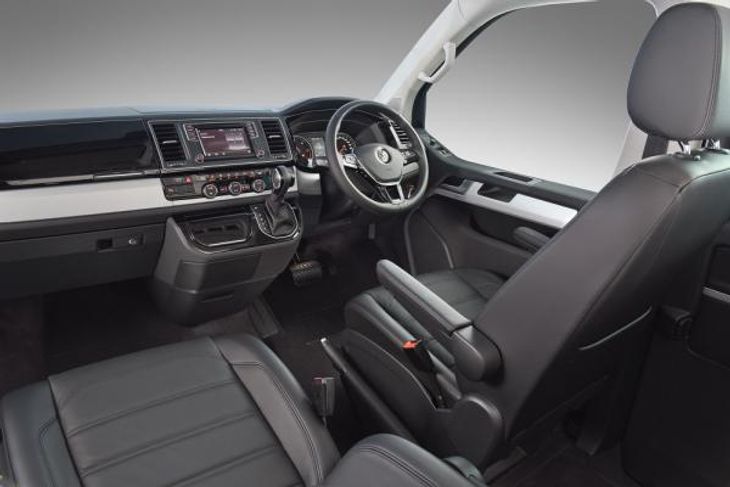 The Engines
The engine line-up for the 2015 Volkswagen Transporter range has not changed and the brand continues to offer diesel engines in various states of output. Bottom of the pile is a 2.0-litre TDI motor with 75 kW / 250 Nm, while the top-spec engine is a 2.0-litre biturbo diesel with 132 kW and 400 Nm. Arguably, the best engine of the range is the 103 kW and 340 Nm which sits between the two.

In terms of transmissions, the low-spec 75 kW comes with a five-speed manual gearbox, while the 103 kW engine has the option of either a 6-speed manual or a 7-speed DSG. Finally, the Caravelle range comes only with a 7-speed DSG. 4Motion four-wheel drive is available as an option.
Fuel consumption is rated at 7.3L/100km, 8.0L/100km and 8.8L/100km for the 75 kW, 103 kW and 132 kW engines respectively.
Safety Upgrades
The Volkswagen T6 range has always been a well-equipped model in terms of safety with ESC, driver and passenger front airbags and electric seatbelt tensioners being fitted. Other features include SC (Electronic Stability Control), ABS (Anti-lock Braking System), ASR (Anti-slip Regulation), EDL (Electronic Differential Lock), TCS (Traction Control System), and Hill hold control. Most Volkswagen Transporters have six airbags and ISOFIX seat mounts. The 6th generation now receives multi-collision braking system and some Kombi/Caravelle models come with fatigue detection.
The Launch
Our launch took us out to the Eastern Cape and, cleverly, Volkswagen South Africa made it a partner event to highlight the practicality and spaciousness of the new vehicle. The Volkswagen Kombi with six people onboard is a comfortable ride, and we found the 103 kW / 340 Nm engine adequate when on the open road. The DSG transmission is as smooth as ever and it does a fine job of keeping the engine in the sweet spot for overtaking. The ride is quite refined too, but passengers in the third row will feel vibrations and bumps on uneven roads due to sitting on the rear axle.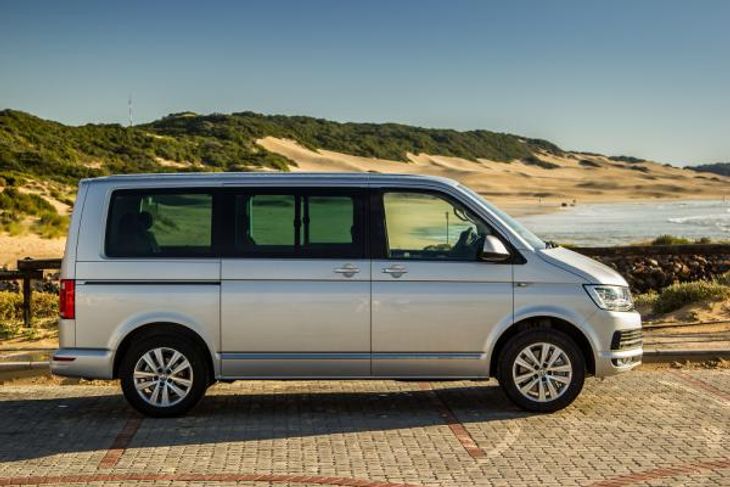 We turned onto a dirt road which, thanks to some heavy rain, had become rather muddy. Our front-wheel drive Kombi initially battled and despite some minor eyebrow-raising low-speed sideways movements, we made it through. The ESP worked overtime to keep the vehicle in a straight line and at times we were kicking ourselves for not selecting a 4Motion vehicle, which had no traction issues whatsoever, of course.
The vehicle itself is a great exercise in practicality and comfort, with all six passengers reporting that they had plenty of space and room to stretch their legs. The boot swallowed everyone's luggage with ease too.

The following day we got behind the wheel of the premium Caravelle which you see pictured at the top of this article. It offers a lot more in terms of premium features and all seats are wrapped in Alcantara leather, with the driver gaining a 12-way adjustable seat with memory function. A very cool touch is the fold-out table in the middle of the vehicle which interestingly doesn't get in anyone's way. On the outside are LED head- and taillights which make the vehicle really stand out. For 2016, you'll be able to specify bi-tone paint jobs which give the vehicle a retro look. It'll set you back R30k, however.
In summary, the Volkswagen T6 continues to do what it's always done. It's practical, comfortable and offers generous specification no matter what you need. The ride and the cruising ability are good, with comfort and refinement levels being right up there. To rival the Caravelle, you need to fork out considerably more for a Mercedes-Benz V-Class. If you're looking to run an airport shuttle business, or do the school run with your children and their mates, the Volkswagen Transporter series offers a solution for you. Volkswagen SA is pitching its latest T6 series against the Mercedes-Benz V-Class, Kia Grand Sedona, Hyundai H-1 and the Chrysler Grand Voyager.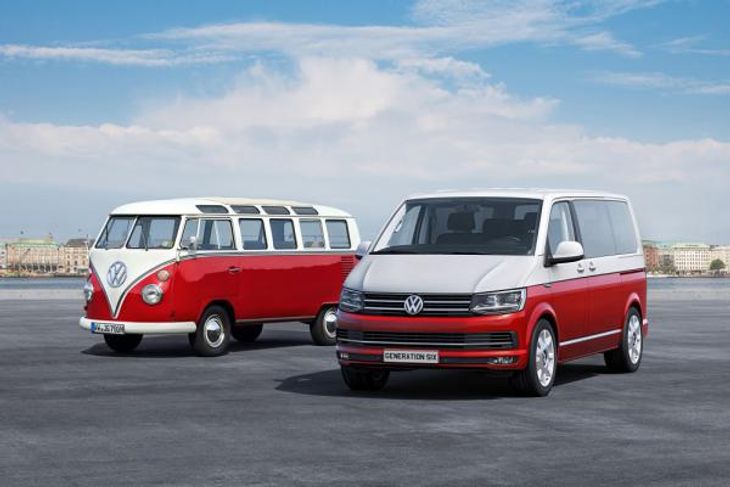 Volkswagen Transporter (6th Generation) Price in South Africa
Retail Prices (VAT and emissions tax included – only on passenger derivatives)
Kombi and Caravelle models come standard with a 3 year/120 000 km manufacturer warranty and 5 year/60 000 km Automotion Maintenance Plan. Transporter models are offered with a standard 2 year/unlimited km manufacturer warranty and 3 year/60 000 km Automotion Maintenance Plan. All models have a 12 year anti-corrosion warranty and 15 000 km service intervals.
Transporter Pick-Up
2.0 TDI Single Cab Pick Up LWB 75kW R293 900
2.0 TDI Double Cab Pick Up LWB 75kW R332 800
2.0 BiTDI Double Cab Pick Up LWB 132kW R409 800
Transporter Panel Van
2.0 TDI Panel Van SWB 75kW R362 600
2.0 TDI Panel Van LWB 75kW R370 600
2.0 TDI Sport Van SWB DSG 103kW R432 600
Transporter Crew Bus
2.0 TDI Crew Bus SWB 75kW R421 100
2.0 TDI Crew Bus LWB 75kW R429 100
2.0 TDI Crew Bus LWB DSG 103kW R464 400
2.0 BiTDI Crew Bus SWB DSG 132kW R489 400
2.0 BiTDI Crew Bus SWB 4MOTION DSG 132kW R519 900
2.0 BiTDI Crew Bus LWB 4MOTION DSG 132kW R527 900
Kombi
2.0 TDI Kombi Trendline 75kW R481 800
2.0 TDI Kombi Trendline DSG 103kW R513 300
2.0 TDI Kombi Comfortline 103kW R566 400
2.0 TDI Kombi Comfortline DSG 103kW R583 900
2.0 TDI Kombi Comfortline LWB DSG 103kW R591 900
Caravelle
2.0 BiTDI Caravelle Comfortline DSG 132kW R738 300
2.0 BiTDI Caravelle Comfortline 4MOTION DSG 132kW R770 800
2.0 BiTDI Caravelle Highline DSG 132kW R816 300
2.0 BiTDI Caravelle Highline 4MOTION DSG 132kW R848 800