The Volkswagen T-Cross is now available in South Africa and we've driven it. Should you consider the Wolfsburg-based brand's first foray into the compact family-car segment or opt for one of its more established rivals instead?
As the dust settles after Dieselgate, Volkswagen is keen to start a new chapter. Electrification is a hot topic at present and the recently-unveiled ID3 represents the brand's first attempt at an all-electric mainstream vehicle. It's such a momentous occasion that Volkswagen suggests the ID3 is as significant as the Beetle and Golf in the brand's history. However, electric vehicles are still on the horizon for South Africa as our country does not have extensive charging infrastructure (but that's progressing rapidly), nor incentives (such as tax rebates) to bring them in at a cost-effective price.
Therefore, despite the motoring world's surge towards electrification, Mzansi looks set to remain a market focused on vehicles powered by internal combustion engines for the foreseeable future. Therefore, Volkswagen's focus in South Africa is to introduce models in segments of the market in which the brand doesn't compete. The compact family car segment, contested by cars such as the Ford EcoSport, Hyundai Creta, Suzuki Vitara and Renault Duster, has grown tremendously over the past few years. In fact, Volkswagen's been conspicuous by its absence. Well, not anymore...
What's on offer?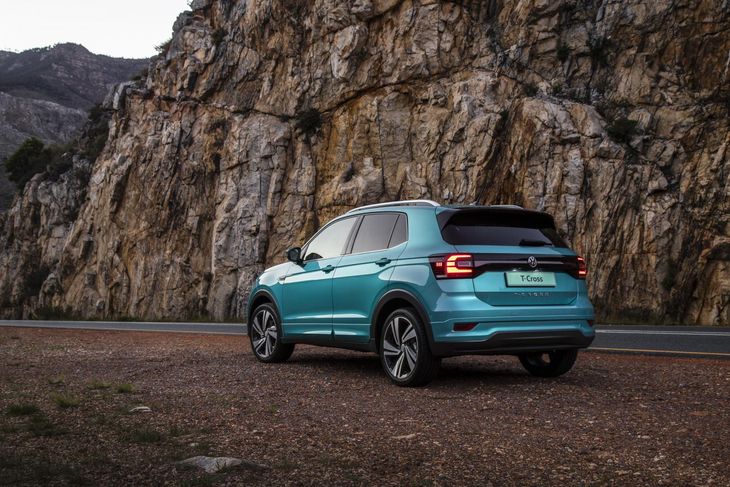 The turquoise colour featured on the Volkswagen T-Cross really gives it some youthful appeal
The T-Cross is a Polo-based SUV, with similar dimensions and equipment to the derivatives in the top-selling compact hatchback. The launch line-up comprises 2 versions powered by a 1.0-litre 3-cylinder turbopetrol (85 kW/200 Nm) driving the front wheels via a 7-speed dual-clutch (automatic) transmission. Volkswagen claims a 0-100-kph sprint time of 10.2 seconds, a top speed of 193 kph and an average fuel consumption figure of 4.9 L/100 km. Later on, there'll be a manually-equipped derivative with a bit less power and spec, as well as a 110 kW 1.5-litre 4-cylinder version.
Based on Volkswagen's MQB platform, the Spanish-built T-Cross is 4.2 metres long (182 mm longer than a Polo) and boasts a wheelbase of 2 551 mm, which should give you some idea of its practicality. A novel feature is that you can slide the rear bench fore/aft to either increase luggage space or rear legroom, depending on your requirements. The range of adjustment is 140 mm, which means the load bay's capacity varies between 377 and 455 litres. If you fold that rear seatback down, 1 281 litres of utility space is available – which is more than any of its competitors can offer!
There are 9 exterior colours and 3 alloy-wheel sizes to choose from. A number of nice-to-have features are optional, but the standard spec is quite competitive, so there is no need to nearly double the asking price of the car, which can happen if you spec up some premium manufacturers' wares.
Features?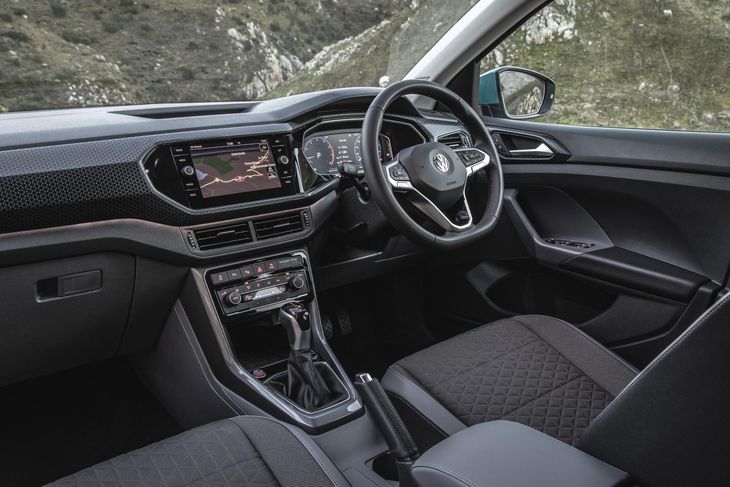 The cabin of the Volkswagen T-Cross is on-trend and thoroughly well-designed.
There are 2 levels of trim available from launch, while the aforementioned entry-level (Trendline) derivative is scheduled to be introduced in 2020. The Comfortline kicks off the range and its exterior features LED daytime running lights and tail-lights, 16-inch Belmont alloy wheels, black roof rails and front fog lights. Inside, Volkswagen has fitted a leather-trimmed multifunction steering wheel, a multi-function display, height- and lumbar-adjustable driver and front passenger's seats, electrically adjustable (and heated) side mirrors, electric windows, split-folding rear seatback, a tyre pressure monitoring system, dual front- and side airbags, park-distance control (front and rear), cruise control, and the Light and Sight package.
Highline specification adds sports front seats, an inductive wireless charging pad, driving modes, climate control (automatic aircon), LED headlights, a Composition Media infotainment system (with App-Connect) and 18-inch Cologne alloy wheels. Options range from the R-Line exterior kit, which includes 17-inch alloy wheels, a higher-grade infotainment screen, some trim upgrades (such as Energetic Orange Design Package), as well as additional safety features like adaptive cruise control and blind-spot monitoring. You can, of course, add some features from the Highline spec to your Comfortline derivative and we'd heartily suggest considering the excellent Beats sound system, as well as the wireless charging pad.
Impressively, the vehicle comes with 4 USB ports (2 at the front and 2 at the rear), which will perfectly suit young couples or small families and their myriad electronic devices. In terms of safety, the T-Cross boasts a 5-star Euro NCAP rating. You can increase the standard safety offering by adding on features such as the front-assist monitoring system, the lane-keeping assistant (lane assist), hill-start assist, the proactive occupant protection system, automatic adaptive cruise control, park assist and the blind-spot detection/lane change assist system with the integrated rear-traffic alert.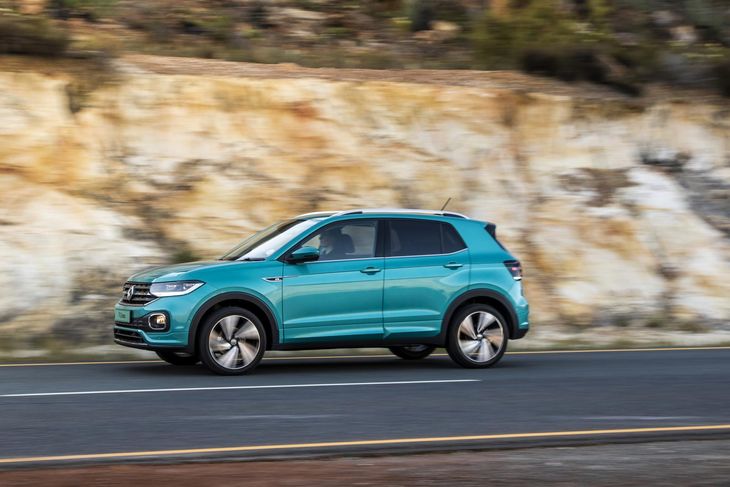 Ride quality is firm, but not uncomfortable. Light steering makes the T-Cross nimble.
What's it like to drive?
Our launch route through the Garden Route featured a combination of road surfaces. Given the freedom to take any route, my co-driver and I opted to leave the highway and explore some of the gorgeous ribbons of tarmac in the "back and beyond" parts of the Eastern Cape. Our initial concerns that the engine's outputs would be a bit meagre for a compact family car proved unfounded... The responsive dual-clutch 'box kept the engine in its sweet spot when it needed to be (such as when brisk overtaking acceleration was required). All 200 Nm was used judiciously and at no point did the powertrain baulk. Yes, the engine is tractable, but we are curious to see how it'll fare with 2 more adults on board and a bit more cargo in the back.
When we tackled some uneven sections of tarmac, we noticed the T-Cross' ride quality was a tad harder than what we'd deem "excellent" in a small crossover/compact family car. It's not a dealbreaker – and only really apparent on exceptionally poor roads – but for those who prioritise occupant comfort, we'd suggest thinking twice before fitting larger alloys, which also add some degree of road noise on the coarser tarmac. Alternatively, you could simply drown out thunks with the excellent Beats audio system. On the plus side, when the worst ruts had passed and the tarmac smoothed out, the T-Cross delivered quite a sporty ride. Given its MQB hardware, it gets the balance between refinement and sportiness almost spot-on.
Meanwhile, the Volkswagen T-Cross' steering setup is decently direct and light, which makes the newcomer quite maneuvrable in and around the city (where it will probably spend most of its days); it could benefit from a bit more heft and feel for the open road, which would negate the need to make constant micro-adjustments to keep the vehicle tracking straight. Some might say the T-Cross is a bit bland (even boring) to drive, but then again, customers in this segment want comfort, stability and predictability from the cars that whisk them from home to work (and back) every day.
Despite the harder-than-expected ride, which we'd attribute mostly to the additionally-specced larger alloy wheels, the T-Cross should prove quite comfortable on longer journeys. I'm almost 1.9 metres in height and the Volkswagen passed the sit-behind-myself test. With the rear bench set back as far as it'd go, the legroom is acceptable for adults. Headroom and the driving position are commendable too. The bonus? After 4 hours of driving, the fuel consumption was a healthy 7.4 L/100 km, which we think is fair given that we were hustling the T-Cross along at a brisker-than-usual pace.
Foibles? Compared with its bigger brother (the Tiguan), the T-Cross competes in a particularly price-sensitive space of the market and we duly expected its cabin materials to reflect that. Even though we could not justifiably expect it to be as well-made as the former, but we did notice a few worrying interior quality issues. Perhaps it was unique to our car after a particularly brisk session on some gravel, but numerous rattles and squeaks emanated from the dashboard and transmission tunnel. Considering Volkswagen's solid and impressive build quality, it's not something we're used to. There are also marginal finishes along the top of the doors, which is odd considering the Polo (which the T-Cross is based upon) shows few signs of that. Speaking of which, the T-Cross is the Polo-based SUV and for those who want a bit more, the Golf-based T-Roc is coming in 2020.
Summary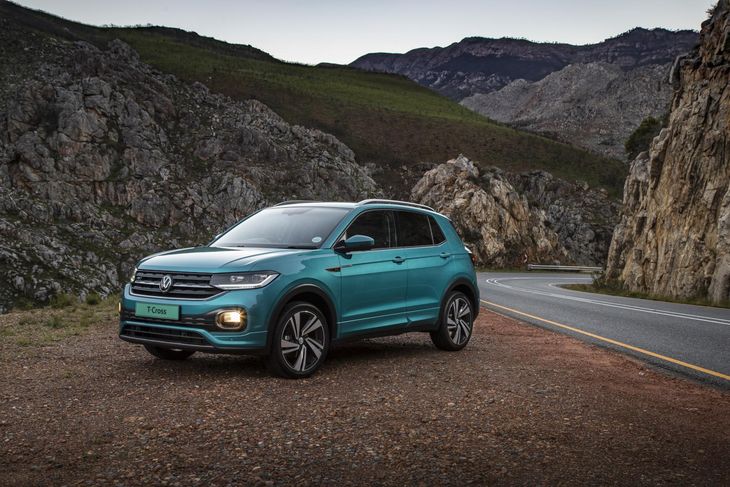 While the Volkswagen T-Cross will compete in the A0 segment, the Golf-based T-Roc will arrive in South Africa in 2020.
We thought Volkswagen would deliver a knockout blow when the T-Cross arrived in this segment. It hasn't quite done that, but the punch it's landed will certainly stun the opposition. As such a potent force in the budget- and compact hatchback markets, Volkswagen's absence from the "small crossover/SUV" segment has been glaring, which allowed its rivals to entrench themselves. With excellent specification, punchy engines and the strong reputation (not to mention sheer desirability) of the Volkswagen brand, the T-Cross is likely to garner a few hundred sales every month (at the very least) and it's no surprise that the 1.0 TSI Highline R-Line is in the running to win its category in the 2019/20 Cars.co.za Consumer Awards powered by WesBank. Now, what does Ford, Hyundai, Mahindra, Opel, Renault, Suzuki, Toyota and others have in store to counter the T-Cross? We cannot wait to find out. Expect a comparative review featuring the T-Cross and its rival compact family cars on Cars.co.za in the near future!
Volkswagen T-Cross Price in South Africa (September 2019)
The Volkswagen T-Cross comes standard with a 3 year/120 000km warranty, a 3 year/ 45 000km Volkswagen Service Plan and a 12-year anti-corrosion warranty. Service intervals are every 15 000 km.
1.0 TSI 85kW Comfortline DSG R334 600
1.0 TSI 85kW Highline DSG R365 000
Related content:
Volkswagen T-Cross (2019) Specs & Price
Suzuki Vitara (2019) Spec & Price
New Hyundai Creta Range Topper for SA