The ever-popular Volkswagen Polo Vivo, one of the best-selling passenger cars in South Africa, has been replaced with a new version following the recent introduction of the all-new Polo. Does the mid-spec Polo Vivo 1.4 Comfortline represent the sweet spot in the Polo Vivo range? Let's find out...
We like: Everyday usability, performance, ride and handling, spacious load bay
We don't like: Rear passenger space could be better, a split rear bench would improve practicality
Alternatives
Good value: Consider the Renault Sandero Stepway 66 kW Dynamique priced at R199 000. It comes packed with useful standard features such as rear PDC, cruise control and a touchscreen infotainment system with navigation. Safety specification is better than the Vivo too... It's sold with a 2-year/30 000 km service plan and a 5-year/150 000 km warranty. It's also a bit more spacious than the Polo Vivo…

Reliable City Runner: Consider the Toyota Etios 1.5 Sprint priced at R174 300. It's more affordable than the Polo Vivo Comfortline and offers similar specification. However, the Etios can't match the Polo Vivo for build quality and badge appeal.

Underrated Star: Consider the Suzuki Swift 1.2 GL priced at R172 900. It's not as spacious as the Polo Vivo, but it offers good ride and handling while returning excellent fuel consumption figures. It comes reasonably well-specced too… There is a new Suzuki Swift due in South Africa soon and based on our impressions, it will be an attractive product to consider in the budget segment.​​​​​​​​​​

Compare the VW Polo Vivo 1.4 Comfortline with the Renault Sandero Stepway 66 kW Dynamique and the Toyota Etios 1.5 Sprint
What is it?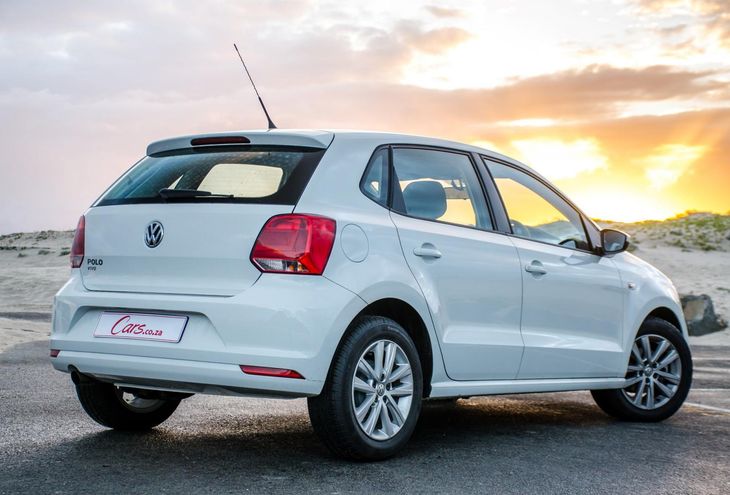 The new Polo Vivo inherits many positive traits from the previous Polo which will play a role in its ongoing success locally.
The first South African-built Polo Vivo, which was based on the Mk4 Polo, was first introduced back in 2010 as a replacement for the much-loved Citi Golf. Since inception, the Polo Vivo has experienced staggering success in the local market with over 193 000 units sold, making it one of the best-selling cars in all the land, alongside its big brother, the Polo, which together have dominated passenger car sales in SA for many years.

With the recent introduction of the new Polo, Volkswagen introduced a new Polo Vivo to market which is now based on the outgoing 5th-generation Polo, albeit with minor exterior design tweaks and its own interior trim. Think of the new Polo Vivo as a re-packaged previous-generation Polo...
The exterior changes are subtle and some of the visual differentiators seen on this latest Polo Vivo include new headlights and taillights, a revised upper and lower grille and new alloy wheels. You will also notice that the indicators are no longer housed in the side mirrors, but have been moved behind the wheel arches.
Click here to look at the differences between the new Polo Vivo and previous Polo
Does this new Polo Vivo 1.4 Comfortline make a strong enough case for itself to warrant a purchase? Let's take a closer look…
How does it fare in terms of…
Engine performance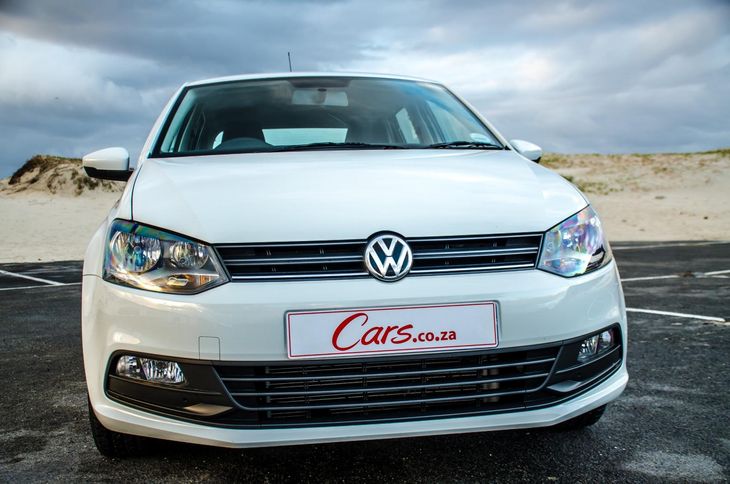 A willing 1.4-litre petrol engine does a fine job of hustling around the city and this Comfortline derivative should find favour with many buyers.
Reliability, everyday usability and efficiency are key factors driving the success of the Polo Vivo and Volkswagen has aimed to preserve these facets in the new Polo Vivo. Sitting in the middle of the range is this Polo Vivo 1.4 Comfortline derivative which employs a naturally-aspirated 1.4-litre petrol engine that offers respectable outputs of 63 kW and 132 Nm of torque.
Combined with a 5-speed manual transmission, this engine delivers performance best-suited for the daily commute in the city but it also copes well out on the highway. It has enough shove for nippy robot-to-robot driving, but with maximum power arriving at a heady 5 000 rpm, you will have to drive this 1.4 harder to extract the most from the engine.
Out on the highway, the Polo Vivo arrives at the national speed limit with relative ease and tractability is good, which means you won't have to gear down too often to execute overtaking manoeuvres. This engine performs well and most buyers should find its performance to be adequate for the daily school and work run. The engine does become noticeably noisier as the revs climb but it's not overly intrusive.
In terms of fuel consumption, Volkswagen claims a fuel consumption figure of 5.9 L/100 km and our test consistently returned figures in the region of 7.5 L/100km which is fair, but it's not as frugal as we had hoped it would be.
Ride and handling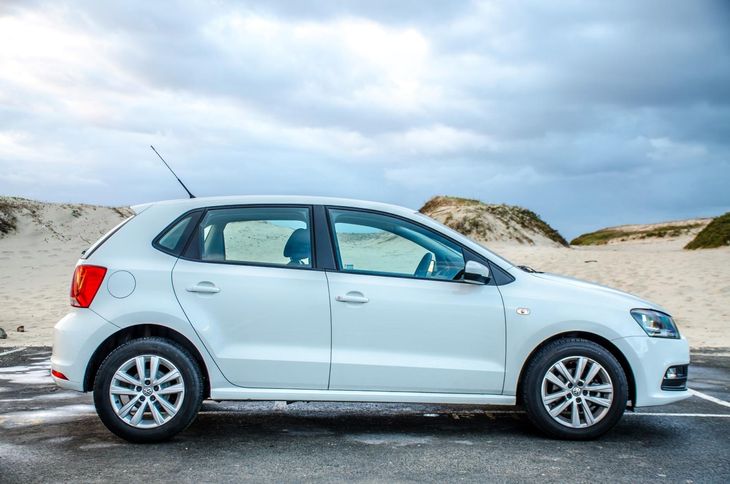 Nimble, forgiving and comfortable are words that best describe the drive this Polo Vivo 1.4 Comfortline.
A major highlight of this new Polo Vivo is indeed its ride and handling, something which it has inherited from the outgoing Polo. It rides much like the outgoing Polo which is to say it rides nicely and has a solid, planted feel to it and remains well-composed when whipping it through corners where it largely resists excessive body roll. Its ride feels more refined than many of its rivals...
Bumps and ruts are ironed out well and the Polo Vivo is both forgiving and comfortable which strengthens its urban appeal considerably. The steering has a positive feel and responds well to driver inputs too, making it a pleasure to drive on a daily basis.
In terms of ride and handling, the Polo Vivo is difficult to beat in this segment and it's arguably best-in-class, so it gets a big thumbs up for delivering a refined ride.
Interior comfort and features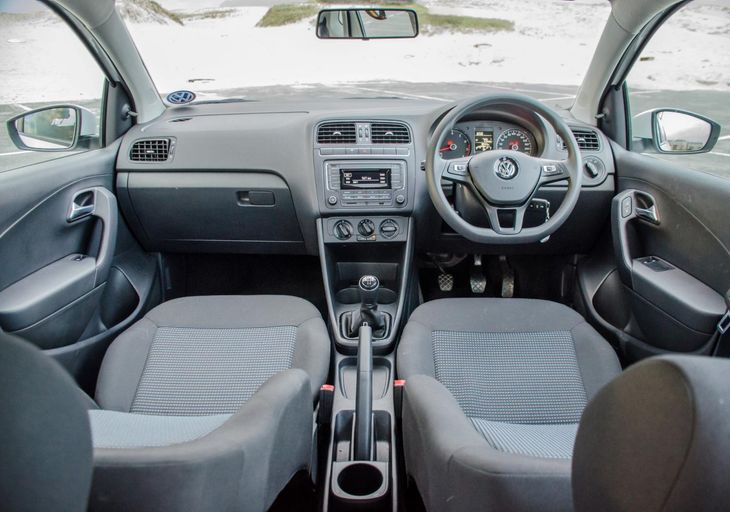 The new Polo Vivo is more upmarket than its rivals and is hard to beat in terms of perceived interior quality.
The interior design is typically Volkswagen with a distinct premium look and feel. Buyers will appreciate the Vivo's robust interior build quality, which arguably sets the benchmark in the budget segment and it makes the Vivo feel like a more substantial product. It feels and looks far better than the old Vivo. The new Polo Vivo exudes a sense of quality that its rivals can't match and although the cabin is mostly dark with little contrast, there are other improvements worth taking noting of.
Much of the upper dashboard is made of a soft-touch, rubberised plastic (also inherited from the outgoing Polo) which is far better than the hard plastic seen in the old Vivo and this alone boosts perceived interior quality significantly. The door panels and lower sections of the fascia are harder to the touch but the surfaces are easy to maintain/clean and should withstand a fair amount of daily abuse, which is a good thing.
Cloth seats are standard (leather is optional) but the seat cushions are a bit too flat in design and they could do with a bit of extra shape and support.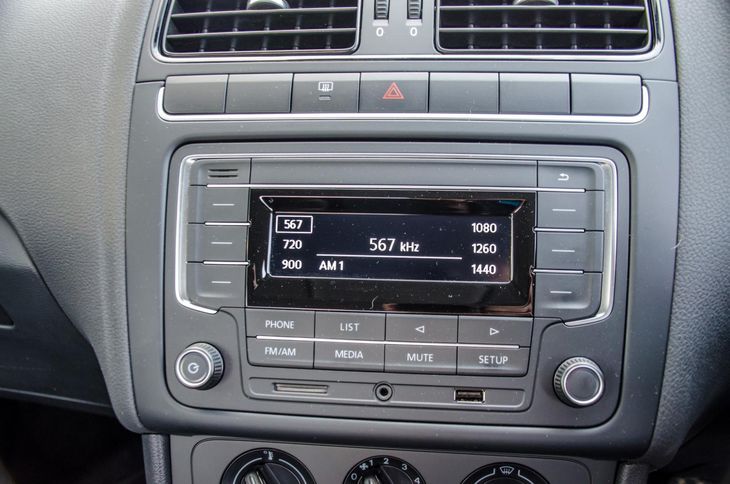 A basic sound system is fitted as standard but it provides excellent sound quality which is rare in the budget segment.
This derivative is fitted with a basic infotainment system as standard and it offers Bluetooth connectivity, USB/Aux input and SD card slot. The standard 4-speaker sound system produces excellent sound quality which is refreshing, especially for a budget car. We did struggle to pair an Android smartphone device using Bluetooth but we had more success pairing an iPhone device, which was a bit odd...
Other highlights include the new-look instrument cluster and 3-spoke multifunction steering wheel which further lift the interior's appeal. The steering wheel is adjustable for rake and reach and the audio, Bluetooth and multi-information display controls are conveniently close at hand.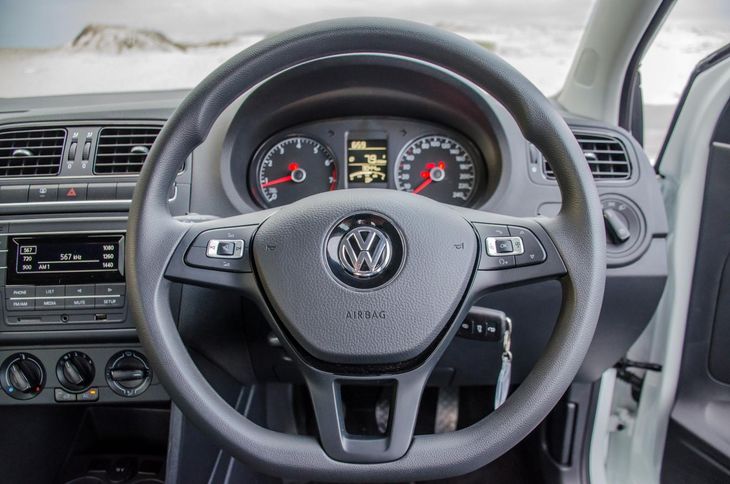 A multifunction steering wheel and new instrument cluster are welcome additions to the new Polo Vivo.
Furthermore, this Comfortline derivative benefits from a height-adjustable driver's seat as standard which means it's far easier to find the perfect driving position. Optional cruise control was also fitted to this test unit which makes for relaxing driving on those longer, out-of-town excursions and is well worth the additional R1 800.
It's also worth knowing that only the front windows are electric and the side mirrors are manually adjustable. There are a host of optional features on offer if you wish to upgrade your Polo Vivo further and the most useful optional features include a 340G Radio with App Connect (R2 800), Safety Package which adds Stability Control and Tyre Pressure Monitoring (R2 500) and a Vienna Leather Trim Package which includes leather sports seats, leather gear lever and leather steering wheel (R9 300). These options will, however, send the total cost of your Polo Vivo Comfortline north of 200k.
Practicality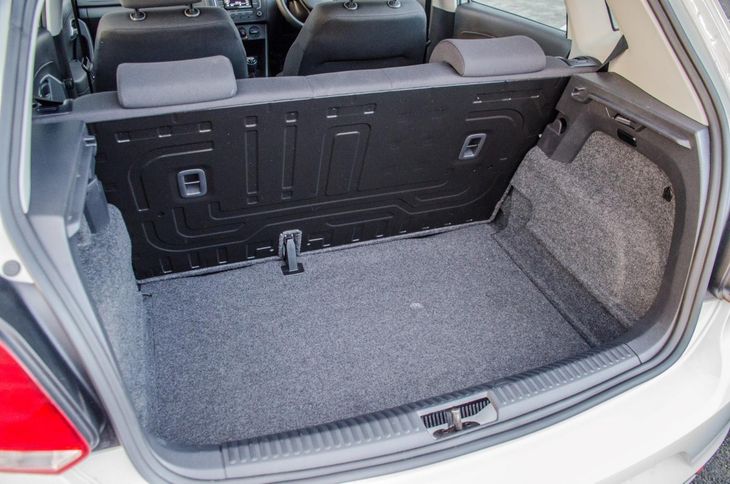 Boot space is generous but we don't like the exposed steel seat back as it looks unfinished and perhaps a bit tacky.

This new Polo Vivo comes with a load bay that's slightly bigger at 280 litres which is 10 litres more than the old Vivo. It's definately one of the bigger boots in this segment... However, sadly, the rear bench is not split, which means the whole seat back folds down where space increases further to 952 litres. Also, the rear seat doesn't fold completely flat and there is a pronounced, raised lip that might get in the way, depending on what you are loading.
We don't like the exposed steel seen on the rear seat back as it looks tacky and will become unsightly as is gets scratched and damaged over time. We think carpeted trim would have been better.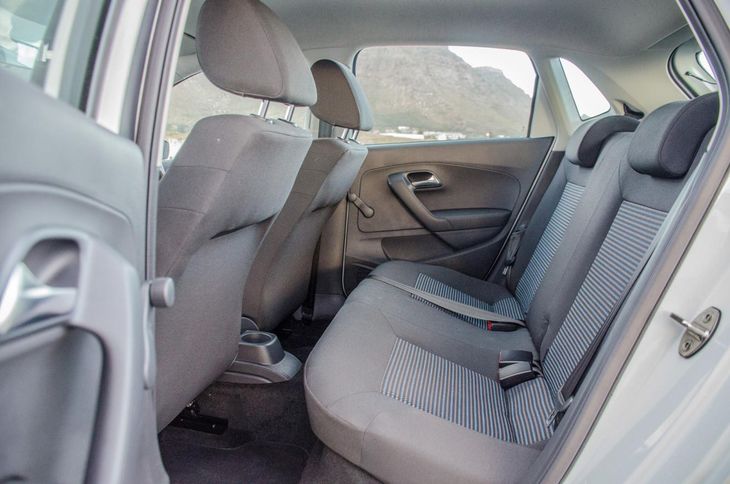 Taller passengers might struggle to find comfort when seated in the rear.
Space for rear passengers is average at best and legroom might be an issue for taller passengers who will struggle to get comfortable and will probably have to sit sideways to find comfort.
There is ample storage dotted around the cabin including bottle holders in all the door mouldings and 2 cupholders and additional storage space for oddments ahead of the gear lever. There's also an additional cupholder in the centre console for rear passengers. The glovebox can obviously be used to store valuables out of sight. If you need more storage, You can get the optional Storage Package fitted which includes a drawer under the driver's seat and a centre armrest for added comfort. This package will set you back a further R2 000 though.
In terms of safety, the Polo Vivo is equipped with 2 airbags (driver and passenger) and ABS with EBD. Electronic Stability Control is offered as an option on Comfortline derivative.
Pricing and warranty
The Volkswagen Polo Vivo 1.4 Comfortline manual is priced at R192 000 and is sold with a 3-year/120 000 km warranty. Maintenance and service plans are offered as options.
Buy a used Volkswagen Polo Vivo on Cars.co.za
Verdict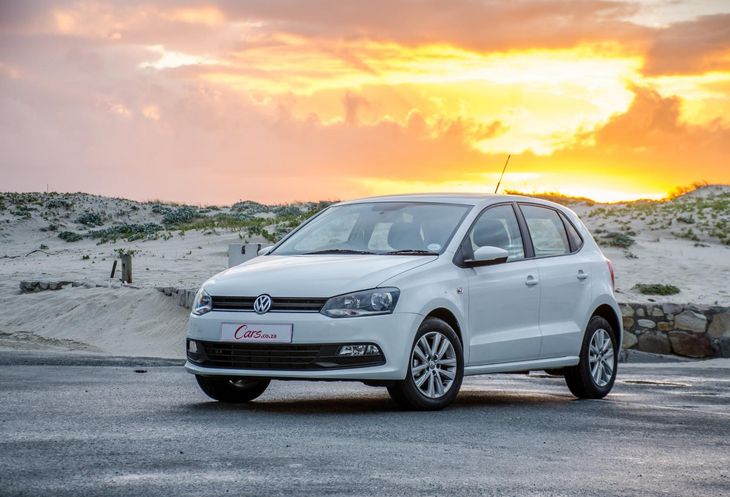 We think the Polo Vivo 1.4 Comfortline is currently the front-runner in terms of overall quality in the R200k price bracket.
With the majority of derivatives in the Polo Vivo range priced well over R200 000, this Polo Vivo 1.4 Comfortline manual will in all likelihood be favoured by many buyers due to its more affordable price. It offers good performance and its ride and handling is excellent. We think the 1.4 Comfortline is the derivative to consider if your budget is hovering around R200k and for that money, it's unbeatable in terms of quality.
Buyers must accept that Volkswagen isn't generous when it comes to standard features so you will have to pay extra for nice-to-haves, but thankfully the options are not cripplingly expensive. We suggest you purchase a 3-year/45 000 km service plan for R7 128 which will bring your total cost to about R200k. Furthermore, the optional 15-inch Estrada alloy wheels priced at R4 500 will round off the package nicely.
The new Polo Vivo's interior is more premium than before and buyers can find comfort in the fact that your money will buy you a quality product and there is inherent value in that, particularly when the time comes to sell your Polo Vivo on the used car market. Volkswagens are known to hold their value for longer which means you will be getting more for your used Polo Vivo when you sell it, if you look after it that is...
Is the Polo Vivo 1.4 Comfortline worth it? For sure, you can't go wrong with this new Polo Vivo...
However, if you are looking for a car packed with standard features and are not too concerned with the badge on the nose, then the Renault Sandero Stepway 66 kW Dynamique offers great value for the same money. Also, the new forthcoming Suzuki Swift holds significant promise and depending on local specification and pricing, it may be a strong alternative to the new Polo Vivo.
Related Content
Volkswagen Polo Vivo (2018) Launch Drive
Volkswagen Polo Vivo (2018) Specs & Pricing
5 Alternatives to the New VW Polo Vivo
Old Volkswagen Polo vs new Polo Vivo: How different are they?
Volkswagen Polo 1.0TSI Highline AT (2018) Video Review
Video Comparison: 2018 Volkswagen Polo & 2017 Volkswagen Polo