Earlier this year, a high-ranking Volkswagen executive claimed the new Polo GTI would be "better to drive than a Golf GTI". We sent our international correspondent Nick Cackett to see if the Polo GTI (due in South Africa in Q2 2018) sets a new benchmark for small hot hatches.
We didn't get on all that well with the previous Volkswagen Polo GTI. It was worthy enough in a modest kind of way, but whereas its rivals made a punching bag of your adrenal gland, the Polo merely prodded at your reasoning, forever reminding you how economical and easy to live with it was.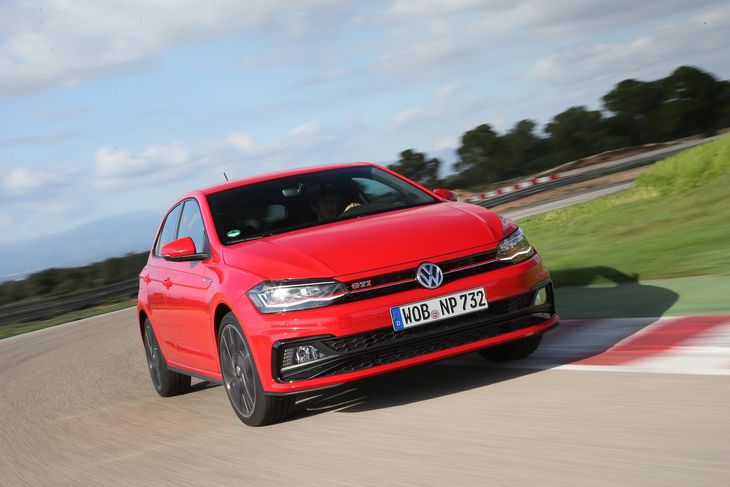 It's not shouty about being a GTI in the looks department, but there appears to be more drive lurking beneath the surface than before.
At the heart of its rationale was the GTI's predecessor's powertrain, a tedious combination of a DSG (dual-clutch automatic transmission) and a twin-charged 1.4-litre TSI that was its biggest fault, it being about as brawny and thrilling to tussle with as a tired budgie (the 1.8-litre turbocharged unit introduced with the facelift was better – ed). Consequently, the best thing about the new version is its wholesale replacement. You can still have a DSG as an option, but we urge you not to. Stick with the standard 6-speed manual, which is what we drive here.
Are the new bits any good?
Attached to the new 'box is an all-new turbocharged 4-cylinder petrol engine. Better still, the 2.0-litre unit is a variant of the EA888 engine lineup, which features in other performance Volkswagen models (it fills out the engine bay of the Mk6 Golf R, for example). In Polo GTI guise it cranks out 147 kW from 4 000 rpm, and 320 Nm of torque from just 1 500 rpm.

Bucking the trend - VW has upsized the engine from a 1.4-turbopetrol to a 1.8-turbopetrol. In this new version a 2.0-litre is on duty.
Volkswagen's reworked the chassis, too; stiffening up the anti-roll bars and tweaking the settings on a suspension that has the Polo's ride height dipping by 10 mm at the front and 15 mm at the back. Looks-wise, the morph into shrink-wrapped Golf GTI is almost complete. It's as chunky as a bar of hotel soap, with only the reduced track width really giving the game away.
The bar was admittedly low given the spiritlessness of its (particularly pre-facelift) predecessor, but the changes have delivered much in the way of the hoped-for effect. This is a more rambunctious and modestly involving (from a driver's point of view) Polo.
Much as fitting a larger capacity engine helped the Mini Cooper S' overall appeal, so the EA888 engine thoroughly enhances the Polo GTI package. There is a bigger presence and sweeter soundtrack for a start, and the get-up-and-go is satisfyingly brisk in a way that doesn't immediately need to be stoked up with supplementary throttle inputs to feel quick.
But briskness there is, should you want it. Where the 1.4-litre TSI was all forced induction fizz and then laboured at the top end, its ultimate replacement has a much bigger... performance envelope; still inevitably muscular in the mid-range and more linear at high revs than peaky, but there's now a decent payoff from the new 2.0-litre that makes it worth revving the GTI beyond 4 500 rpm.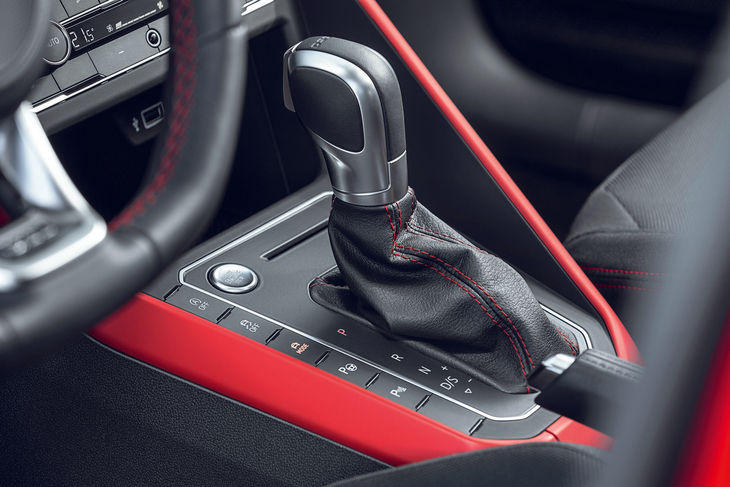 The manual version produces the most fun-to-drive feeling, but will Volkswagen South Africa launch a stick-shift Polo GTI?
Does it handle better?
The sensation of having a more powerful, let alone flexible, engine under the bonnet feeds well into the handling experience too, because the so-called stability bias (neutral handling characteristic) that Volkswagen prefers to engineer into its non-R hot hatches requires vociferous throttle and steering wheel inputs to keep the driving experience interesting.
Previously, there was little to entice a driver to push a Polo GTI to its limits; now, with a lively powertrain, there's more incentive to engage with the chassis's ceaselessly high levels of grip. Opt for the Sport performance pack and you'll get a switch that allows you to firm up the damping just a little; press it and, together with the new anti-roll bars, the Polo indeed passes off a pleasing impression of its big brother – meaning that your favourite stretch of twisty asphalt can pass underneath you in a blur of crisp handling and typical-of-VW overall refinement.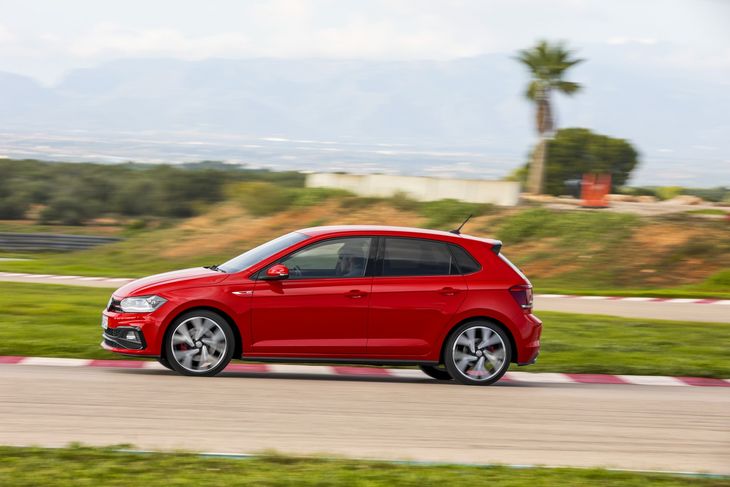 The engine change and small chassis tweaks make for a much better driving thrill.
As the range-topping Polo, the GTI's exterior gets a pretty comprehensive specification with 17-inch alloy wheels, rear spoiler, twin exhaust ends and GTI styling pack. Underneath there is a sports suspension, which is 15 mm lower than the standard car, while inside there are sports seats, 6.5-inch touchscreen infotainment, Bluetooth.... oh, and a radio/CD player.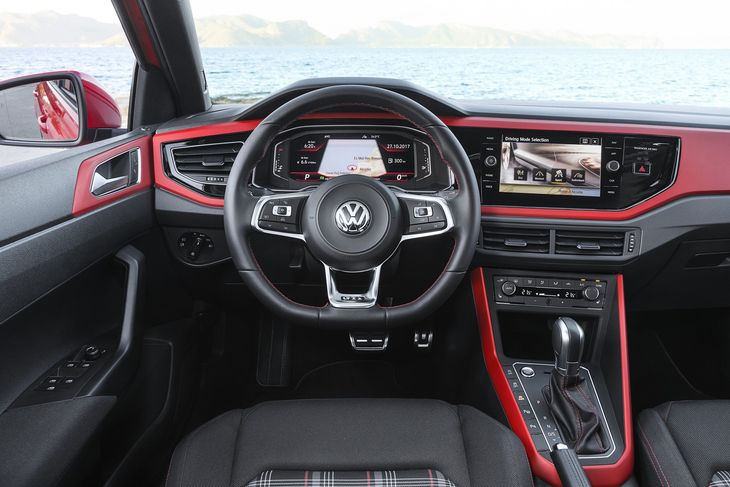 As with all VW products, the Polo feels like a well-put-together product, replete with quality finishes.
Summary
Overall, the driving experience is all very gratifying... Considering the inherent substance and practicality that come part and parcel of the new Polo package, it makes it easy to forgive the GTI derivative's typical inflexibility beyond the limit (you can't turn the stability control off, and it wouldn't matter if you could).
That ultimately, in our prejudiced book, leaves it still trailing the superheroes among the superminis. The Ford Fiesta ST 200 and 2017/18 #CarsAwards finalist Renault Clio RS220 Trophy both exciting in ways the Polo never begins to emulate – but we're more than willing to concede that they both exude a certain showiness that isn't everyone's cup of tea.
Considered from other angles, the appeal of the Polo's superb build quality, practicality and inviting interior all start to stack up, especially when if it manages to stay shy of R400k.
It's still an appeal-to-logic car, but all things considered, one could recommend the Polo GTI over either of those aforementioned rivals, because it is still the consummate all-rounder.
Related content
New VW Polo GTI: 5 things you need to know
Hillclimb Shootout: Ford Fiesta ST200 vs Renault Clio RS200 Lux [with Video]
Preview: 2018 VW Polo GTI vs 2018 Ford Fiesta ST
5 New Hatchbacks to Look Forward to in 2018
#CarsRaceDay – Hillclimb Shootout [Complete Video Series]
Searching for a used Polo GTI?