The new (6th-generation) Volkswagen Polo would be a disappointment to its throngs of fans if it didn't set a new benchmark for the compact hatchback segment. Underpinned by its Golf sibling's lauded platform, the newcomer surges upmarket, but can the top-of-the-range 1.0TSI Highline automatic (DSG) justify its price tag?
We like: Build quality, powertrain refinement, space, refinement
We don't like: Value for money, the best features are optional
Alternatives:
Desirable French flair: The Renault Clio 88 kW GT-Line is arguably the prettiest car in this segment. Exceptional specification and a punchy engine are overshadowed by average fit and finish.
On its way out, but worth a look: The Ford Fiesta 1.0 Titanium auto will soon be replaced, but is still great to drive. Good chassis and potent engine make for a bit of a fun drive.
Korean cousins: The Hyundai i20 1.4 Fluid auto and Kia Rio 1.4 Tec auto offer respectable warranties, but the lack of modern turbo engines is a drawback in some prospective buyers' eyes.
Yaris reimagined: The recently-launched Toyota Yaris 1.5 S features a high-revving naturally-aspirated engine. Spec is fair, and the car drives adequately, but it can't match the Polo's class.
Compare the Polo to the Renault Clio and Ford Fiesta here
Compare the Hyundai i20 to the Kia Rio and Toyota Yaris here
What is it?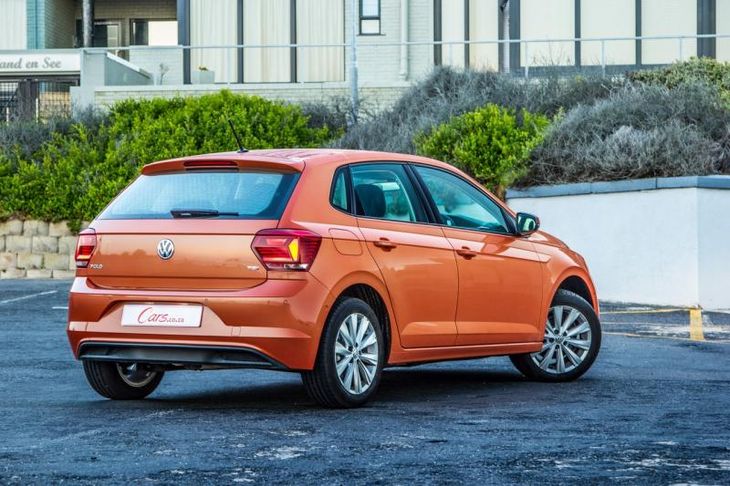 You can see the redesigned tail lights and the additional design creases in the sheet metal.
The Volkswagen Polo is one of the best selling passenger cars in SA and therefore it's critical that the all-new model is as successful as its predecessors. Since 2010, almost 200 000 Polos have found their way into South African hearts and homes, making it the second best-selling passenger car after its budget-oriented Vivo sibling. The Polo's success is global: more than 14 million units have been sold internationally.
In an ever-evolving market, it's critical that Polo VI is better than the outgoing car in every conceivable way. The newcomer is based on the MQB platform, much like the Golf, Touran and Tiguan, to name but a few examples. In terms of dimensions, the new Polo features a longer wheelbase, overall length is up by 81 mm and the car is 69 mm wider. It may not sound like massive increases, but these incremental gains contribute immensely to the interior packaging. Luggage capacity, for example, has benefited greatly from this new platform; its volume is now rated at 350 litres, compared with the outgoing model's 280 litres.
There are 3 spec levels on offer: Trendline, Comfortline and Highline, the latter of which is tested here. Expect the range-topping Polo GTI hot hatchback to make its way to SA in the second quarter of 2018.
How does it fare in terms of…
Kerb appeal?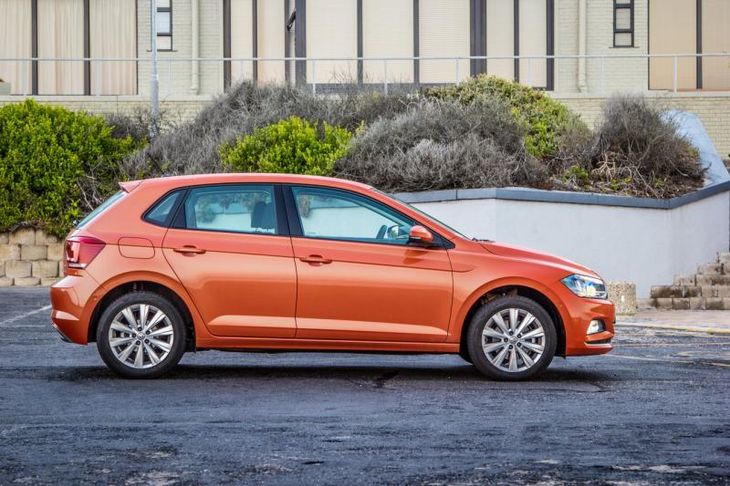 In the Energetic Orange finish, the new Polo really stands out. For those who don't want the attention, the other colours are a lot more subdued.
When the test unit arrived at our offices, it drew quite a crowd of curious onlookers. In vivid Energetic Orange, which is an optional metallic paint finish, the Polo looks undeniably striking, but, subjectively, the Polo needs a bold colour to car stand out from the crowd. Having seen several other new Polos on the roads, colours from the hatchback's standard palette tend to make the Volkswagen look a little too demure
Having said that, competitors in the mainstream compact hatchback market are typically conservative in terms of their exterior designs; something that's too outrageous or flamboyant could spook customers! Therefore, Volkswagen played it typically safe with the new Polo. That's not to say it's boring – it's quite the opposite, in fact. If you view the old one and this new Polo side by side, you'll see the newcomer is more angular and fresher in design. Of course, they're of a similar overall shape, but the devil lies in the detail and keen-eyed observers will note intricate creases and details in the Polo's sheet metal. The front daytime running lights contribute to a modern frontal stance and the car looks smart and upmarket. If you opt for the optional R-Line kit, the car gains more pronounced addenda and 17-inch Bonneville alloys.
Given the Polo's runaway popularity and sales success, our test unit was often surrounded by onlookers. Many were merely curious passers-by, but some appeared to be serious car shoppers. In fact, two people had pre-ordered their cars without having seen the finished product and came to us to take a much closer look (and, we assume, get affirmation that they had indeed made the right buying decision).
Packaging?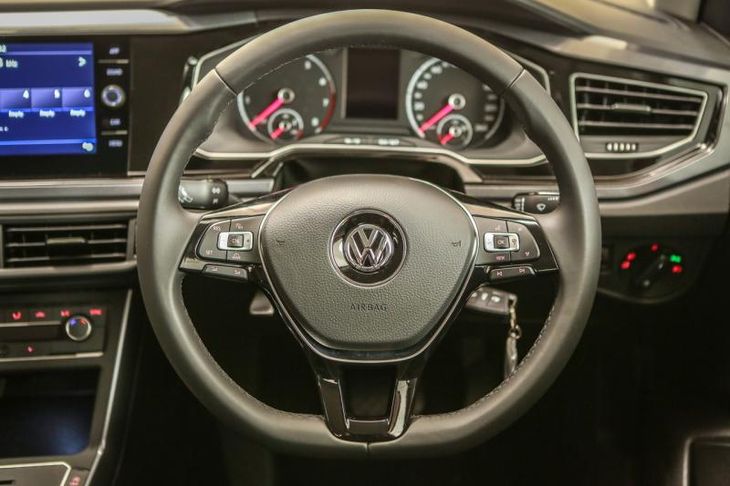 The new Polo's steering wheel, complete with easy-to-use remote functionality. Is there any need to touch the infotainment screen?
When you open the door to the new Polo, you're greeted by a cabin that feels and looks vastly more premium than the outgoing model's. Volkswagen has seemingly duplicated the fit and finish of its higher-rung models in this car... there are many premium grade materials, and, upon closer inspection, some cheaper materials too, but overall, the Polo's a huge leap forward for the segment and does feel like a baby Golf.
Highline specification is generous (as you'd expect from a top-of-the-range model). It's great to see features such as LED daytime running lights, Bluetooth/USB connectivity, and front, side and curtain airbags (standard even in the base-spec derivative). However, in the Highline model, you gain the Composition Media system complete with Apple CarPlay and Android Auto, voice control, sports seats, cruise control with speed limiter and tyre pressure monitoring. The pair of USB ports are located away from the fascia, so you don't have that inelegant 'phone-dangling-from-a-cable look. More on the features a little later...
The increased platform size has meant that the Polo's rear legroom is just about sufficient for a tall adult's legs, while the enlarged luggage capacity means the is more space available for loading up your cargo. In terms of utility space, the rear seats fold down in a 60/40 split.
Performance, ride and handling?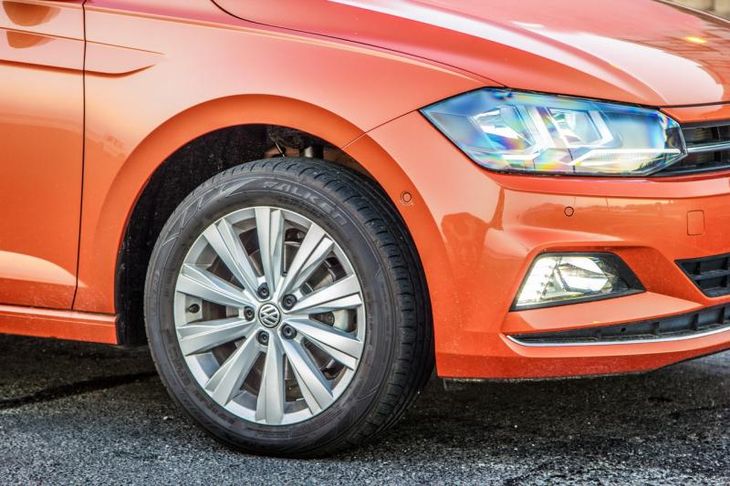 The standard wheels offer good ride quality, although testers noted that the car's suspension was a touch firm.
At this stage, Volkswagen South Africa offers just one engine (in 2 states of tune) in the Polo range. There's a choice of either a 6-speed manual transmission or a slick-shifting Direct Shift Gearbox (DSG), which is a 7-speed dual-clutch transmission that drives the front wheels. The engine is a 1.0-litre 3-cylinder turbocharged petrol unit, which delivers respectable outputs of 85 kW and 200 Nm of torque.
It's deeply impressive to see how far small-capacity forced-induction engines have progressed, not only in terms of their performance/efficiency, but their general drivability. Here we have a 1.0-litre 3-cylinder offering as much torque as a 2000s-era naturally-aspirated V6. Does the engine have enough to perform sufficiently? Without a doubt.
Thanks to the responsive 7-speed DSG, access to the full whack of 200 Nm of torque, which is produced from low down in the rev range, is readily available; in general driving conditions, you will cruise around town with the rev counter barely creeping past the 2 000 rpm mark. With the engine barely ticking over, the Polo's refreshingly quiet on the road.
The default engine-transmission calibration is for optimal efficiency – you could pull away from a standstill and by the time you reached 65 kph, you'd already be in 6th gear without any interruption to your forward motion. If you need to execute an overtaking manoeuvre, the quick-shifting, responsive DSG will quickly drop down gears and you'll be straight into that engine's sweet spot, where it's eager to deliver all it's got.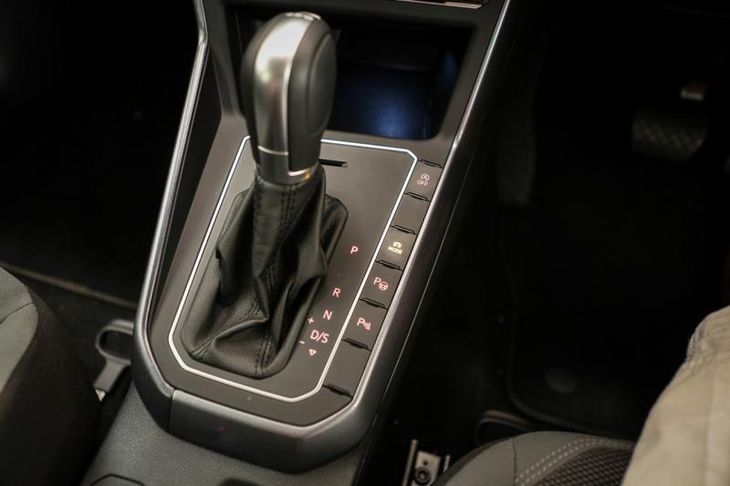 The 7-speed DSG 'box does a fine job of providing smooth and efficient gear changes.
If you engage Sport mode, the engine's responsiveness sharpens up somewhat and the gearbox will hold on to each of its ratios for a little longer. We would have liked the provision of steering-wheel-mounted shift paddles so that we could actuate gear changes ourselves (it would certainly spice up driver involvement), but it's not a dealbreaker. In terms of outright sprint performance, we were happy with the new Polo's acceleration prowess (Volkswagen SA quotes a sub-10 second zero-to-100 kph time), which feels about right. With 200 Nm just a stab of the right foot away, in-gear acceleration is commendable.
The MQB platform has a reputation for producing a pliant ride quality and, in the case of the new Polo, we believe its ride quality makes Volkswagen the class leader in terms of on-road refinement. However, the testing panel agreed that the new Polo felt more stiffly sprung than the outgoing model. The sportier predisposition becomes apparent on bumpier sections of tarmac, yes, but we wonder how well the car would ride when shod with the optional bigger wheels. Coarse tarmac aside, the general road manners of the Polo are exemplary; it doesn't matter if you're doing 45 kph or 120 kph – the ride is refined and relaxed.
In terms of steering, the Volkswagen Polo's electric power steering does a fine job of providing a solid feel with enough directness to make close quarter city manoeuvres effortless. It could do with a bit more feedback/engagement to make it entertaining, but we guess that Volkswagen has saved that for the fiery Polo GTI.
Technology and features?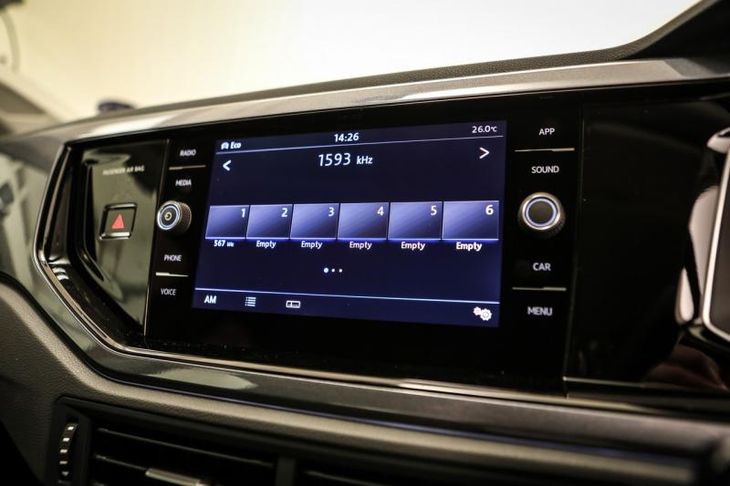 The Composition Media touchscreen is crisp and clear, although it tends to pick up a lot of fingerprints.
The 6th-generation of the Volkswagen Polo heralds a new chapter for the compact market in terms of technology. Autonomous safety technology has quietly filtered down to the compact hatchback segment and our test unit was equipped with quite a few innovative features (some of which are optional, so be mindful of the ascending asking price when you specify your prospective purchase). Blind spot monitor with rear traffic alert and semi-automated park assist are two nice-to-haves. In the event of a crash, the car is automatically able to stop itself, therefore, reducing the severity of the crash. There are 6 airbags in total.
An all-digital Active Info Display instrument panel costs an extra R8 600. While it has to be specified in conjunction with the light & vision package (R3 900), AID elevates the premium feel of the car. Our test car didn't have Active Info Display, but we've experienced it in other VW products. Satellite navigation is not worth ticking as Apple Carplay and Android Auto maps have built-in traffic and navigation functionality.

Two USB ports located below the dashboard mean you don't get cables sprawled across the car.
We spent a considerable amount of time familiarising ourselves with the modern-looking Composition Media infotainment system and despite experiencing initial setup hurdles, we found the system comprehensive, replete with a crisp resolution and intuitive navigation. One gripe was that the screen picked up tacky fingerprints rather easily (we found the unit became grubby with regular use).
Our test car had parallel parking assist, reverse-view camera and climatronic air-conditioning fitted as options. For those who want to splurge, a panoramic sunroof and LED lighting are optional too.
Volkswagen Polo Price in South Africa
The new Volkswagen Polo models come standard with a 3 year/45 000km service plan, 3 year/120 000km warranty and a 12-year anti-corrosion warranty. Service intervals are every 15 000 km.
1.0 TSI 70kW Trendline R 235 900
1.0 TSI 70kW Comfortline R 264 700
1.0 TSI 70kW Comfortline DSG R 280 700
1.0 TSI 85kW Highline R 286 200
1.0 TSI 85kW Highline DSG R 302 200
Verdict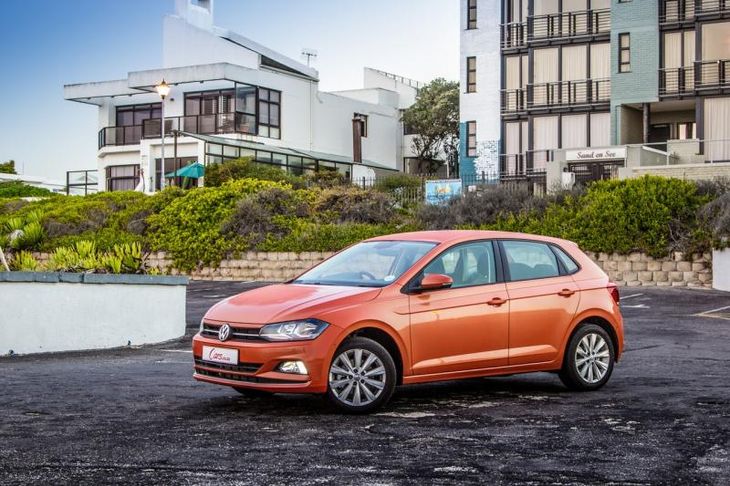 The new Volkswagen Polo is a very polished product, but it has also become expensive in comparison to the rest of the segment.
The Polo represents a leap forward for the entire segment. It brings new levels of technology, luxury, and quality to the market and we'd be hard-pressed to see why it wouldn't carry on its rampant sales success story. However, there's a price to pay, quite literally, for moving the goalposts forward. As it stands, our test unit before options broke the R300 000 barrier, which is a tough sell to the cash-strapped consumer.
Another cross on its scorecard comes from its rivals, all of which are substantially cheaper. Admittedly Ford's new Fiesta is about to be replaced and we don't know how much that'll cost upon its (imminent) release, but cars such as the top-spec Mazda2 1.5 Individual Auto and Renault Clio 88 kW Expression Auto have more features as standard and are cheaper. However, neither of the aforementioned rivals are a patch on the Polo when it comes to premium feel and top build quality. You'd be hard-pressed to beat a Fiesta when it comes to driving enjoyment either and we believe the new one will be fun to drive too.
It won't surprise many that the Highline derivative does not represent the best value for money in the range (flagship models hardly ever do!) and potential customers are advised to use our compare tool to find the sweet spot in the range. A DSG-equipped Comfortline is R20k more affordable, but you don't actually lose much in terms of luxury features.
Overall, the new Volkswagen Polo is a refined and polished product. It's meticulously well assembled and it's great to know that this product is produced in our own backyard in Uitenhage. It brings new levels of quality to the segment and the powertrain is particularly commendable. You get what you pay for though, and when it comes to the 6th-generation Volkswagen Polo, it's likely to be worth every cent.
Related content:
Volkswagen Polo (2018) Launch Review
Volkswagen Polo (2018) Specs & Pricing
Volkswagen Polo GTI (2018) International Launch Review
New VW Polo GTI: 5 things you need to know
New Volkswagen Polo Finally Revealed
6 Rivals 2018 Volkswagen Polo Needs to Beat
5 New Hatchbacks to Look Forward to in 2018
Interested in buying a Polo?