Launched in 2009 Volkswagen's Golf 6 brought new levels of refinement and safety to its class, and today remains a favourite in the used car market. But which is best, and what should you look out for?
A perennial top seller when it was new, even at a "premium" price compared with its main rivals, the youngest Golf 6 available today on dealership floors is already more than 6 years old. Even so, shoppers looking for a classy car that offers good safety, parts backup and resale value that will remain strong in years to come still favour this attractive hatchback over newer, smaller offerings from rival brands.
VW Golf 6 Model Line-Up
Golf 6 arrived in South Africa in the first half of 2009 and was initially offered in the following variants;
1.6 Trendline (75 kW/148 Nm) 5-speed manual

1.4 TSI (90 kW/200 Nm) 6-speed manual Trendline & Comfortline

1.4 TSI (118 kW/240 Nm) 6-speed manual Highline

2.0 TDI (103 kW/320 Nm) 6-speed manual Highline
Soon after the launch of the mainstream Golfs, the new 6 GTI (155 kW/280 Nm) arrived, offered in 6-speed manual and 6-speed DSG guises. A more frugal 1.6L TDI became available in manual and DSG variants, too. Volkswagen then later also added the very frugal Golf Bluemotion (1.6L turbodiesel) in December 2010 that was claimed to use only 3.8L/100 km. The very hot Golf R arrived in April 2011, powered by a turbocharged 4-pot delivering 188 kW/350 Nm and was also offered in manual or DSG form. The latter-equipped Golf R was faster than the manual, with a 0-100 kph time of 5.5 sec. 4Motion all-wheel drive was fitted.
> ALSO READ: VW Golf 6 1.4 TSI Trendline Driving Impression
> ALSO READ: VW Golf 6 GTI driving impression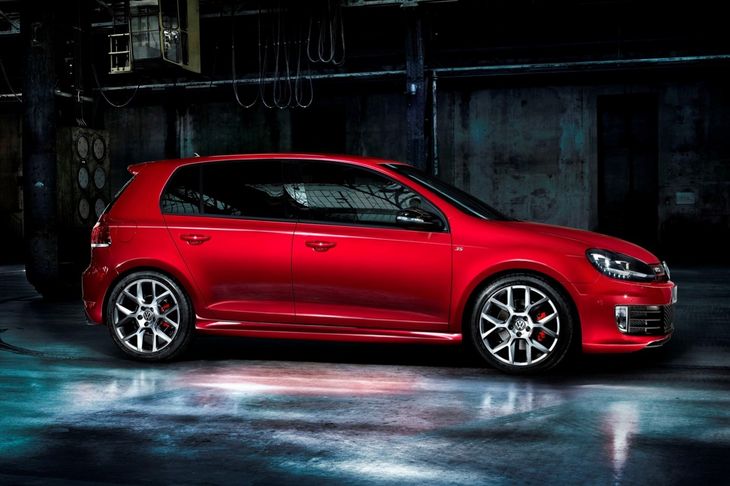 The Golf GTI Edition 35 offered an 18kW increase over the standard GTI, but Dynamic Chassis Control remained an option.
One of the rarer Golf 6 derivatives, the limited-edition Golf GTI Edition 35, arrived in February 2012 and offered 18 kW more than the standard GTI. With 173 kW of power and 300 Nm of torque, the Edition 35 was available with manual or DSG transmissions with the latter version sprinting to 100 kph in only 6.6 sec. It looked the part, too, riding on 18-inch Watkins Glen alloy wheels. According to Lightstone Auto 274 manual Edition 35s were sold locally, and a whopping 645 DSGs found homes in SA, so they shouldn't really be that difficult to find.
> ALSO READ: VW Golf GTI Edition 35 Driving Impression
At around the same time in 2012, the Golf 6-based Cabriolet arrived and was offered with 90 kW or 118 kW 1.4 TSI engines, mated with a 6-speed manual transmission or optional 7-speed DSG. A DSG-equipped 1.4 TSI Comfortline 5-dr variant was offered for a relatively short period of time towards the end of the Golf 6's lifecycle.
Product Strengths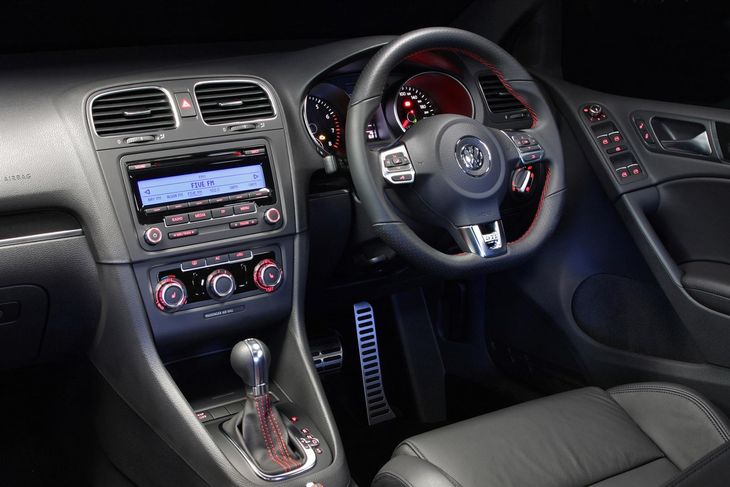 Golf 6 brought premium class materials and finishes to the family hatchback segment. This is the GTI cabin.
Styled under the watchful eye of the legendary Walter de Silva, the Golf 6 was in fact a careful evolution of the Golf 5, and only slightly shorter and wider than its predecessor. The focus with Golf 6 was to bring the levels of refinement and detailing from higher-end cars into the C-segment. Consequently, the Golf 6 boasted an easily class-leading cabin with superior ergonomics and excellent finishes. It was also very quiet, due to better (and more) sound insulation and even thicker glass.
It won the World Car of the Year award in 2009, and at the time recorded the best-ever score in EuroNCAP crash testing. All cars sold in South Africa featured 7 airbags (generous at the time) and also boasted ESP (electronic stability control). Advanced features such as partly automated parking, rear-view cameras and touch-screen infotainment systems were offered as optional extras.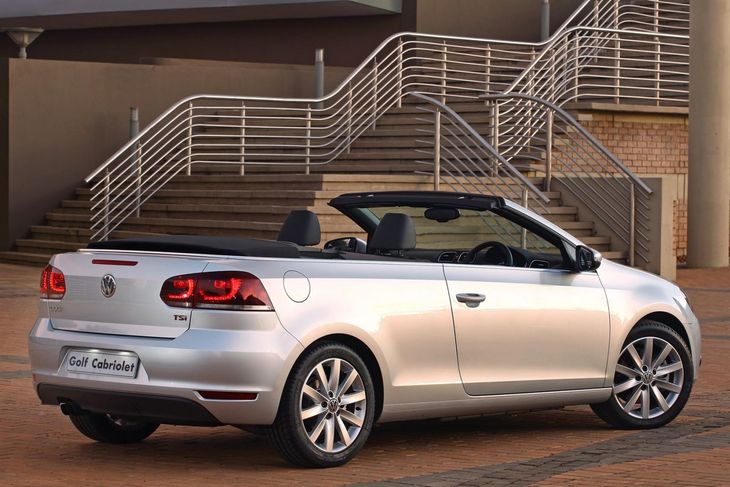 Golf 6 Cabriolet arrived near the end of the model's lifecycle and is a stylish used car buy these days.
The base 1.6-litre petrol engine is a reliable enough offering, but in terms of power/economy balance the 1.4 TSI powerplants can't be beaten. The 90 kW variant featured only turbocharging and is probably the engine to have, while the punchier 118kW derivative was the so-called "twin-charged" engine that also featured supercharging. This more complex arrangement can result in some reliability issues that may be difficult/expensive to fix. The 2.0L turbodiesel is a proven unit, but beware high-mileage cars.
Featuring a multi-link set-up at the rear and carefully honed suspension from the acclaimed Golf 5, the "six" was a refined car that struck a fine balance between agility and handling dynamics. The sixth-generation of GTI was a great one and still demand good prices in the used car market for its blend of near-timeless looks, performance and handling.
Of course, given Volkswagen's footprint in South Africa, parts availability should not be a problem and if you ever decide to sell your Golf 6 again, there will always be a ready market for it.
Product Weaknesses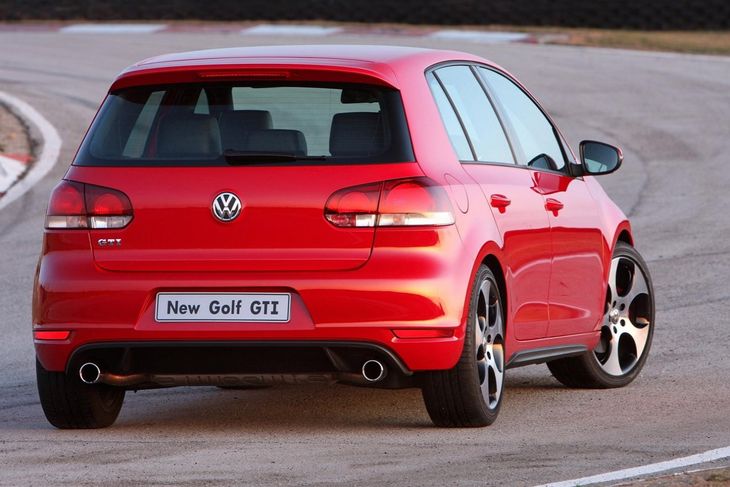 Beware high-mileage GTIs and also cars that show signs of gearbox/clutch trouble. GTIs have often been abused/modified.
The Golf 6 was a well-engineered product with few major flaws, but it is sensitive to poor maintenance and major failures are both difficult and expensive to fix. Those in the industry recommend being on the look-out for the following issues.
Oil consumption: Apparently a common issue with Golf 6, and one that you won't easily identify on the test drive because the problems causing the oil consumption don't generally advertise themselves through smoke out of the exhaust. Instead, you may have to keep a very watchful eye on the oil consumption during the first 500km of ownership, and if there appears to be an issue, head straight back to the dealership to sort it out (provided you have some sort of a warranty in place).
Worn clutches/DSG on GTI: We're told that the DSG is actually pretty robust, but that the drivers that the GTI attract often abuse the cars, so expensive clutch replacements are common. When test driving, make sure that there's no perceptible slip from the transmission when chasing the revs up.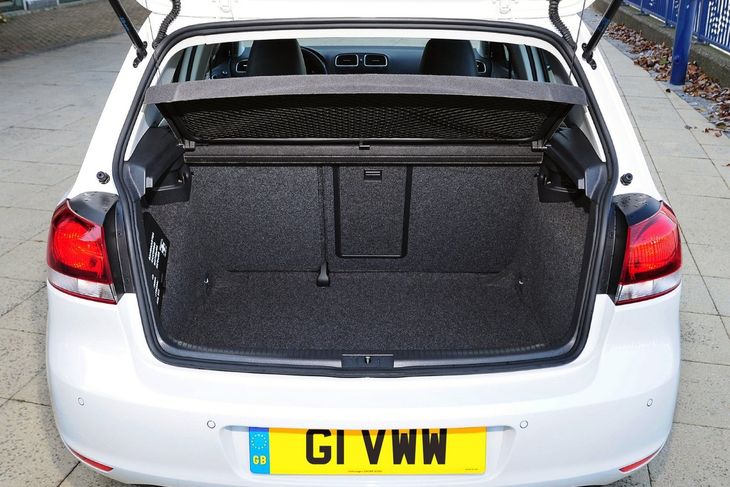 The Golf 6's boot is nicely shaped but its at best about average in size for this segment. A full-size spare wheel further hampers overall space.
Carbon build up: As is generally the case with higher mileage direct injection engines, the petrol units fitted to the VW Golf 6 can suffer from carbon build-up. You might be able to notice this during the test drive in a relative lack of performance or misfiring after a cold start. Of course, the engine light being on might be a warning of this issue, too.
Worn timing chains: The 1.4 TSI engines can suffer from worn timing chains after (or sometimes even before) 100 000 km. A warning may be the presence of a rattling sound after a cold start-up.
Turbo failure: Particularly on 1.4 TSI, and due to a number of potential causes (actuators/diverter valves etc.). Take note of an engine that feels underpowered or which exhibits a very short powerband.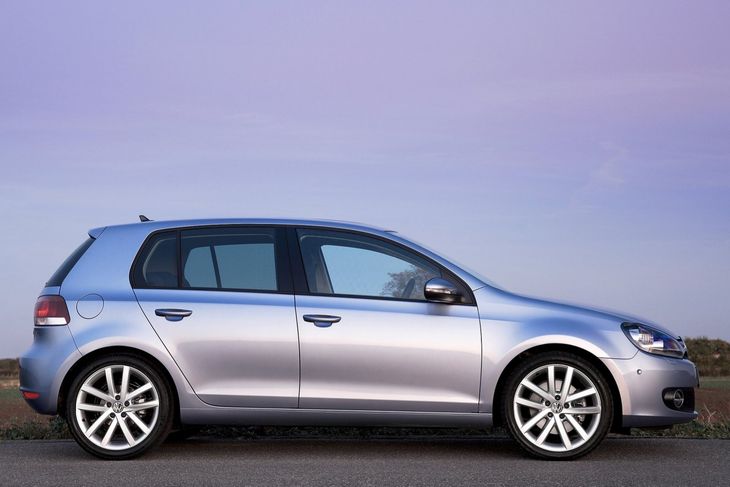 When test driving the Golf 6 pay attention to misfiring/rattly engines and any of the warning lights staying on during the drive.
EGR (Exhaust Gas Recirculation) valve failure: This appears to be quite common with the Golf 6 and when it happens can lead to a long list of other (expensive) issues, such as a failed turbocharger. Look out for black smoke from the exhaust, misfiring, illuminated EPC light, rough idling and stalling.
The need for careful maintenance: The majority of serious problems related to the Golf 6 can generally be attributed to its sensitivity to poor maintenance. It is advised that owners should not wait for the 15 000 km service intervals to change the oil, for example, but rather do this sooner (at 10 000 km). Also make sure that all the warning lights go off after starting, particularly the EPC light.
What to Pay?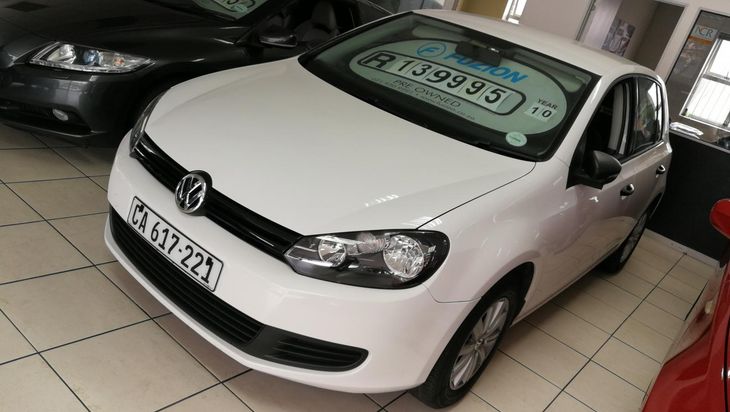 There's lots of choice in the used car market. This 1.6 Trendline at Fuzion Pre-Owned in Cape Town is a very clean example.
Browse the listings on Cars.co.za and you'll notice there's certainly choice, but a carefully maintained, low-mileage car should be your goal here.
Below R125 000: Prices start at just over R100 000 for high-mileage cars, but you can pick up a clean 1.6 Trendline or 1.4TSI (Trendline or Comfortline) for below R125 000 if you shop around and are patient. We spotted a few cars with mileage of below 100 000 km.

Between R125k and R150k: This appears to be the sweet spot when shopping for a Golf 6. Don't get too excited about GTIs at this price level, however, as they're most likely abused or extremely high mileage. Stick to original cars that don't show any sign of modification. We found some very clean-looking 1.4 TSI Comfortlines (as well as the more complicated 1.4 TSI Highline) for below this price cap, with mileages of below 100 000 km.

From R150 000 to R200 000: At just over R150 000 you can pick up a low-mileage, well-cared for Bluemotion 1.6 TDI, which given the recent fuel price increases should pay back handsomely at the pumps. Even at this price level a low-mileage, unmolested GTI is a rare thing, but they're out there, just be patient. Clean cabriolets can also be found at this price level.

R200 000 and up: We wouldn't recommend spending this much on a "mainstream" Golf 6, but if you're looking for a very low-mileage GTI and particularly the Edition 35, be prepared to fork out. Clean, low-mileage Edition 35s and Golf Rs start at over R250 000.
> CAN YOU AFFORD A GOLF 6? Find out here
Pick of the Range?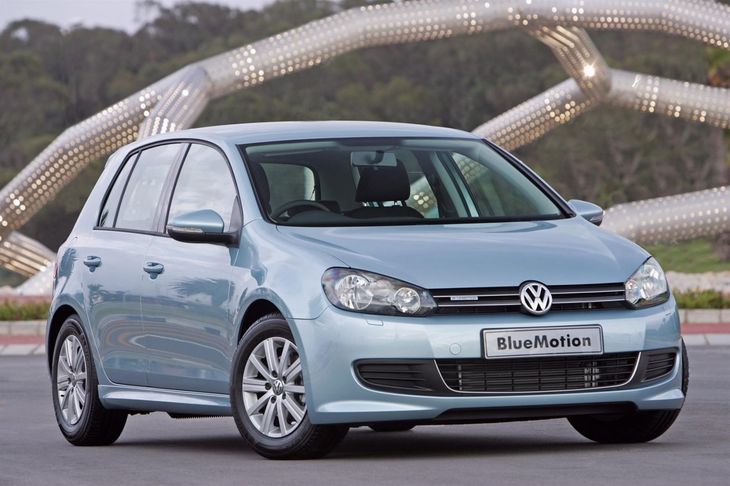 Though they demand a premium the Golf Bluemotion is so economical that it might just be the pick of the bunch.
All things considered, we think the 1.4 TSI Comfortline is the best-balanced offering in the range. It may lack the Highline's extra power, but you also don't have the added complexity of the more powerful car's engine. Besides, the 90 kW/200 Nm on offer from the Comfortline is more than good enough for most needs. Although the standard specification was pretty decent, a fair number of buyers added optional extras, and the more of those you can get on your car the better. Dual-zone climate control, park sensors and the touch-screen system with navigation are the most attractive features to look out for. Just take note of the problem areas highlighted above and make sure the service history is complete.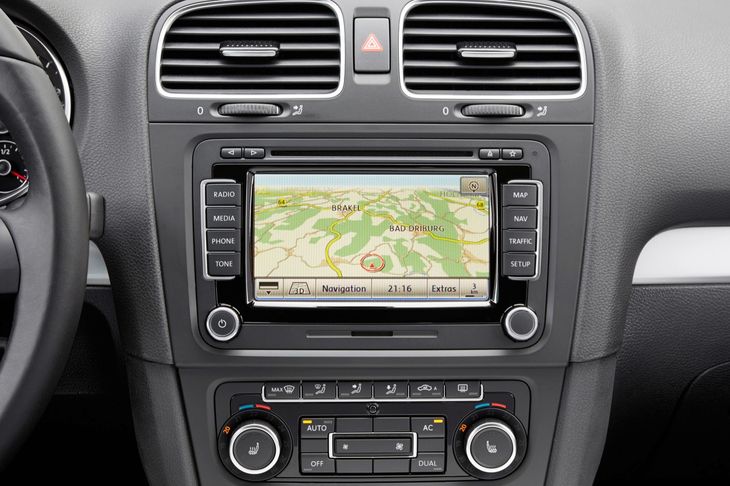 Find a car with the built-in touch-screen system and your Golf 6's cabin will still look remarkably contemporary.
You should also consider the Bluemotion turbodiesel variant. Given the price of fuel at the moment, the Bluemotion's very low consumption (claimed 3.8L/100 km) is attractive. Even if you can't match the claimed fuel consumption you should still be able to do about 1 000km on a single 55L tank. As is the case with mosth (relatively) high-tech turbodiesels, your goal should be to find the lowest-mileage car with a full service history.
Top choice for petrolheads... the GTI. The Golf 6 GTI was a good one, but like all GTIs they tend to attract the type of buyer that wants to make use of that performance. That means there are some very abused and/or modified cars out there. The GTI was one of the best sellers in the Golf 6 line-up so there are plenty around. Take your time and choose carefully. If you can get your hands on a clean Edition 35, even better.
Verdict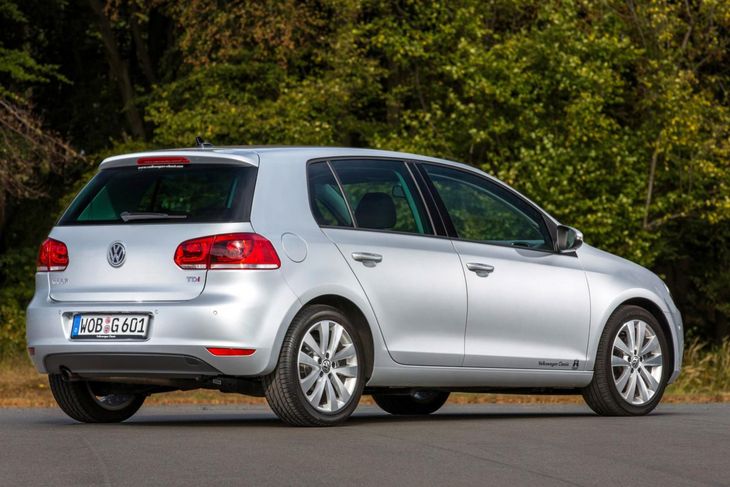 Golf 6 still looks fresh and if you can get your hands on a low-mileage, cared-for example, is a solid purchase.
Still classy, comfortable and, provided you get a good one, efficient and reliable, too, the Golf 6 can be a great used buy. It's important, however, to be extremely pedantic when shopping for one, as they're quite sensitive to poor treatment from their previous owners. An interesting alternative for roughly the same kind of money would be sibling brand Audi's A3 Sportback. On the other hand, if the Golf's upmarket image, "premium" cabin and turbo engines are not must-haves, you may want to consider less complicated, but similarly packaged cars such as the Mazda3, Toyota Auris and Honda Civic.
Other rivals include the facelifted second-generation Ford Focus or the Opel Astra but neither of these cars can match the Volkswagen's overall package though. As a performance alternative, the 2nd-generation Focus ST may, however, very well be worth a look.
Parts Pricing
We asked Volkswagen SA for the pricing of some of the major parts for the Golf 1.4 TSI Comfortline (manual) and Golf GTI DSG. These prices are exclusive of VAT.
| | | |
| --- | --- | --- |
| Part (item) | Golf 1.4 TSI Comfortline | Golf GTI DSG |
| Air Filter | R2 000.00 | R2 495.00 |
| Oil Filter | R333.00 | R315.00 |
| Pollen Filter | R193.00 | R193.00 |
| Spark Plug (each) | R183.00 | R153.00 |
| Wiper blades (set) | R330.00 | R330.00 |
| Front brake pads | R985.00 | R985.00 |
| Rear brake pads | R750.00 | R875.00 |
| Cambelt or Timing Chain | R900.00 | R1 105.00 |
| Tensioner | R895.00 | n/a |
| Front brake discs | R1 290.00 | R1 405.00 |
| Rear brake discs | R1 100.00 | R2 425.00 |
| Clutch plate | R1 985.00 | n/a |
| Pressure plate | R1 715.00 | n/a |
| Flywheel | R3 900.00 | R13 800.00 |
| Fanbelt (Polly V belt) | R740.00 | R505.00 |
| ECU | R17 800.00 | R15 500.00 |
| Bonnet | R5 530.00 | R5 530.00 |
| Front bumper skin | R5 310.00 | R5 320.00 |
| Grille | R1 575.00 | R1 575.00 |
| Left front fender | R2 775.00 | R2 775.00 |
| Wheel rim | R8 670.00 | R11 000.00 |
| Front left headlamp assembly | R4 595.00 | R4 395.00 |
| Front windscreen | R4 725.00 | R4 725.00 |
| Air-con condenser | R6 800.00 | R6 590.00 |
| Radiator | R3 890.00 | R5 450.00 |
| Right-hand front door | R1 205.00 | R1 205.00 |
| Right-hand rear door | R1 475.00 | R1 475.00 |
| Tailgate | R6 840.00 | R6 840.00 |
| Rear window glass | R3 265.00 | R3 265.00 |
| Left rear taillamp assembly | R1 170.00 | R1 375.00 |
Looking for a VW Golf to buy?
Find one today on Cars.co.za by clicking here