The Volkswagen's T-Series people movers have proved perennially popular in South Africa, but does the premium-priced Caravelle offer enough value over its competitors? We spent a week with the top-of-the-range Highline model to identify its strengths and weaknesses…
The Volkswagen Kombi/Caravelle is an indelible part of South African automotive history; Volkswagen's venerable bus inspires nostalgia in motorists, which explains why previous incarnations remain highly sought-after in the used car market. The new Caravelle pays homage to the rich heritage of its predecessors – it can even be had in a two-tone colour paint finish that tips a hat to the past. Yes, times have certainly changed and the latest, sixth-generation example is significantly modernised and equipped with a host of safety and convenience features.
The new Caravelle has much to offer buyers looking for a modern and versatile vehicle that can not only transport people in comfort and luxury, but also haul goods when the need arises. Although it would certainly appeal to wealthy private buyers, we believe the Highline model would also be very suitable for premium tour operators and owners of business class shuttle services.
Versatile Interior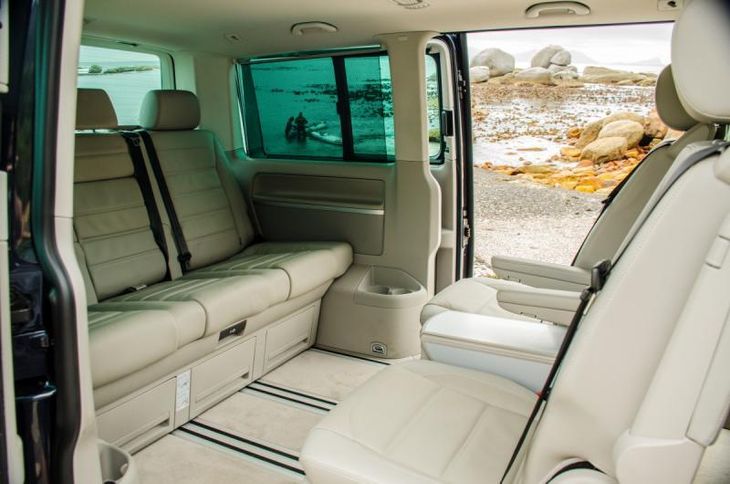 The Caravelle's major strength is its versatile interior. It's a 7-seater with two individual seats in the second row and a reclining 3-seater bench in the third row. Accessing the rear cabin is easy: there are two sliding electric doors on either side of the vehicle and both can be opened and closed by using the key fob. The tailgate is also electrically powered. Once inside, the second row's seats can swivel around to either face forwards or backwards and all of them can be shifted fore and aft as required. If you need more space for carrying goods, you can either slide the third-row bench forward to increase boot space or you can take all the seats out for maximum loading capacity. Bear in mind, however, that the seats are quite heavy; you will need help to remove/replace them.
For rear passengers there's more than enough space to stretch out and relax on those long family road trips. Nappa leather is standard on this Highline model, while Alcantara trim is offered as an option. ISOfix child seat anchors are provided on all the seats.
For added convenience, there are beverage holders for rear-seat passengers with storage drawers under all the rear seats (a removable rubbish bin is also included). A handy feature in this Caravelle is a collapsible table that sits between the second-row seats and can be shifted fore and aft with relative ease. Although it's a nice addition, we found the build quality of the table assembly marginal: some of its panels didn't fit securely. Nonetheless, it's a useful feature and kids will find it particularly handy for playing cards or board games, while adults can use the Caravelle as a mobile boardroom, for example… We hasten to add it appeared the test unit supplied to us had undergone vigorous testing before we took delivery of it, so we won't judge the trim niggles too harshly.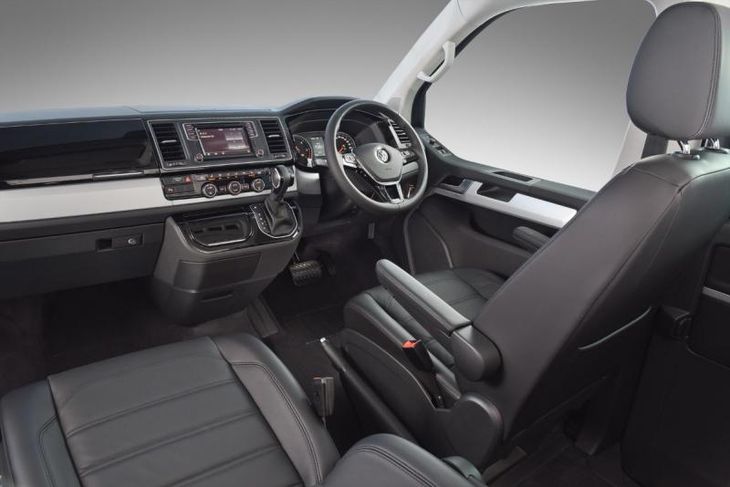 The driver and passenger are well catered for with 12-way electrically adjustable seats with armrests, lumbar support as well as heating. The three-spoke multifunction leather-trimmed steering wheel gives the driver easy access to the infotainment system, as well as vehicle-related information shown in the instrument cluster. The steering wheel is also adjustable for rake and reach. This top-of-the-range model is equipped with a Discover Media navigation touchscreen as well as USB and Aux ports for connecting your media devices. There is also plenty of storage space upfront, including handy pull-out cupholders for the driver and front passenger, while the three-zone climate control system ensures passengers can set the HVAC to their preferences.
The test unit's light-coloured interior proved a drawback, because it tended to get dirty very easily. We advise opting for a darker interior that will hide dirt and stains; it should be more practical for leisure applications. Optional features fitted to this test unit include a sunroof (R11 150) and metallic paint (R5 400).
How does the Caravelle drive?
All the derivatives in the Caravelle range are powered by a 2.0-litre bi-turbodiesel engine that produces 132 kW and 400 Nm of torque. A 7-speed DSG transmission powers all four wheels in this top-spec 4Motion model and it's the only transmission available for the Caravelle range.
As part of our test, we packed the Caravelle with gear and undertook a surfing adventure around the Cape Peninsula. The ride quality in the Caravelle is good, but the suspension's responses to undulations in the road can be quite exaggerated. With only a driver and front passenger on board, the Caravelle's ride can be a jittery on uneven road surfaces. Otherwise, the Caravelle is very comfortable to drive, its steering is light, which makes manoeuvring easier.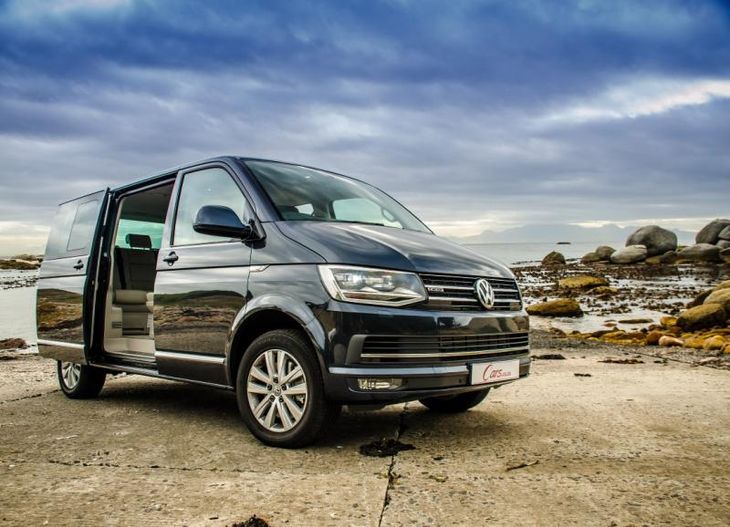 Overall, power delivery is sufficient, but the Caravelle laboured on uphill sections (a kerb weight of 2.1 tonnes did not help matters) and the shifts of the DSG transmission felt a bit sluggish. However, once the Caravelle gots up to speed, momentum helped with overtaking and the performance improved somewhat.
Volkswagen claims 8.8 L/100km for the Caravelle and the lowest figure we managed to achieve during our test period was 10.2 L/100km.
In terms of safety, the Caravelle comes well equipped with six airbags, ABS with EBS, an Electronic Stability Program, traction control and front- and rear park distance control. The Caravelle also features a Multi-Collision Braking System that automatically applies the brakes after an accident to minimise the risk of a secondary collision. A Driver Alert system is also fitted and this tells the driver when to take a break from driving by monitoring steering patterns and gives an audible and visual warning if the driver deviates from the normal pattern.
Volkswagen Caravelle price in South Africa
This Volkswagen Caravelle 2.0 BiTDI Highline 4Motion DSG is priced from R873 500 and is sold with a 3-year/120 000 km warranty and a 5-year/60 000 km maintenance plan. A 12-year anti-corrosion warranty is also included.
Verdict
The latest Caravelle has been vastly improved and it looks more distinguished than ever before. It comes packed with new features that take care of safety, entertainment and comfort for the driver and passengers and buyers will appreciate its interior versatility. Even so, the Caravelle faces stiff competition from the Mercedes-Benz V-Class, which is perceived to be more premium, both in terms of build quality and all-round refinement. We also recently tested the Kia Grand Sedona and we were hugely impressed by the versatility and value for money it offers, all for considerably lower price than the Caravelle.
The Caravelle finds itself in a difficult position. As it stands, this Caravelle is very expensive and unless you are a die-hard fan of the Volkswagen brand, the temptation of having a Benz badge on the nose of your bus (or the opportunity to save a large whack of cash with the Grand Sedona) cannot be ignored. Although the Caravelle offering has improved substantially, it's not the wisest buy, especially when the V-Class and Grand Sedona have so much more to offer in terms of perceived quality and value for money respectively. But if you must, never look back because this is a Caravelle and it's still awesome...
We Like: Modern styling, convenience features
We Don't Like: Overpriced, average build quality
Also Consider: Mercedes-Benz V-Class, Kia Grand Sedona
Compare the Volkswagen Caravelle with its competitors: VW Caravelle vs Mercedes-Benz V-Class vs Kia Grand Sedona
Test team opinion
"Unless there's a very good reason to have all-wheel drive, I'd rather go for the R30k cheaper two-wheel drive. Either way, this is a dream car for family men like me. I do, however, think that the V-Class offers better value, and the Grand Sedona is not to be ignored either." - Hannes Oosthuizen
Volkswagen Caravelle 2.0 BiTDI Highline 4Motion DSG – Quick Specs