The Volkswagen Beetle is an automotive icon, but premium-priced modern iterations have sold poorly in South Africa. Just before the Beetle disappeared from the new vehicle price list, Volkswagen SA introduced a limited edition R-Line derivative in late 2017 and we recently sampled it. Is it any good?
We like: Punchy engine, refinement, interior quality, luggage space
We don't like: Limited rear legroom, gloss black interior attracts fingerprints and dirt
Alternatives
The British automotive icon: Priced at R427 798, the Mini Cooper S 3-door auto is more powerful than the Beetle R-Line with 141 kW and 280 Nm of torque developed from its 2.0-litre turbocharged engine. It's a great option if you are looking for a car that exudes youthful character and you liberally spec the Mini up a wide range of optional equipment.

Underrated Korean sportscar: Priced at R444 900, the Hyundai Veloster Turbo Auto produces 150 kW and 265 Nm of torque from its turbocharged 1.6-litre petrol engine. We weren't too enamoured with the automatic transmission in this Veloster as it feels clunky and indecisive, so you might want to consider the manual derivative instead priced from R419 000.

The Italian hotshoe: Priced at R394 950, the Abarth 595 Turismo 1.4T offers 121 kW and 206 Nm from its turbocharged 1.4-litre engine. It's not as big as the Beetle, but it's a lot faster with a zero to 100 kph sprint time of 7.4 seconds.
Compare the Mini Cooper S 3-door auto with the Hyundai Veloster Turbo Elite auto and Abarth 595 Turismo 1.4T
The last Beetle?
The R-Line is the last derivative of the current generation Beetle to be offered in the new vehicle market; it's tantamount to a limited-edition sendoff. The Beetle is arguably Volkswagen's most iconic model but several reports suggest the Wolfsburg-based group will not replace this retro-flavoured offering with a new version due to flagging sales (the marque reserves the right to change its mind, of course). Only 50 units of the Beetle R-Line, each replete with spruced-up exterior and interior styling and a punchy 1.4-litre turbopetrol engine, were allocated to South Africa, so it's bound to remain quite a rare sight on our roads.
The Good
Kerb appeal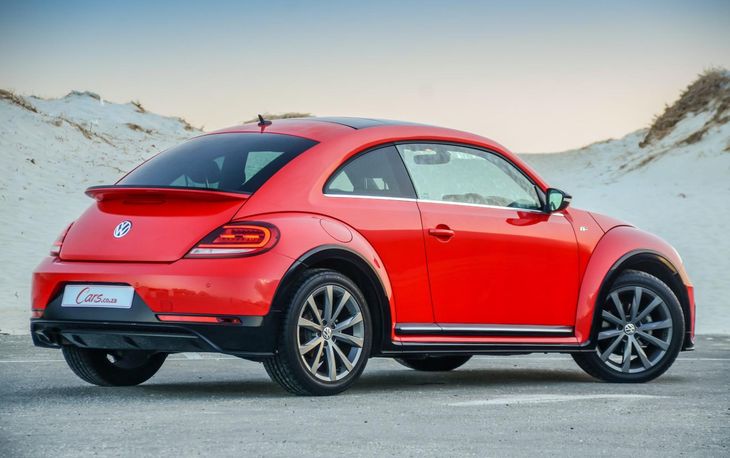 A Tornado Red paint job with chrome detailing and gloss black trim makes the Beetle R-Line noticeable on the road.
This R-Line derivative has some visual clout and many people commented on its good looks during our test period. The combination of its Tornado Red exterior colour and bright chrome detailing makes it pop and stand out on the road. The Beetle R-Line is further distinguished by a redesigned front bumper and gloss-black trim that runs around the car with the look finished off with stylish 18-inch Ravenna alloys.
If you never were a fan of the modern Beetle, then this R-Line derivative might leave you completely cold. But if you are a fan, it's arguably one of the better-looking New Beetles to come from Volkswagen.
Punchy performance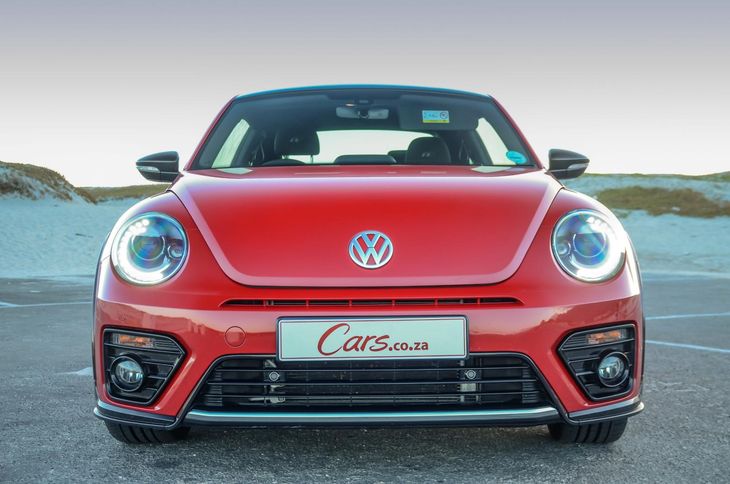 The Beetle R-Line is no slouch and it delivers good acceleration with the help of its slick DSG transmission.
A major highlight of this Beetle R-Line is indeed its 1.4-litre turbopetrol engine. With 110 kW and 250 Nm of torque on tap, the R-Line delivers punchy performance between traffic lights and accelerates briskly enough to make overtaking a cinch. It's certainly no slouch when you need to push on and it feels quicker than the claimed 9.1 seconds it is said to take to sprint from 0 to 100 kph.
A car's performance is only as good as its transmission and Volkswagen's 7-speed DSG is well-matched to this engine. Shifts are smooth and unobtrusive making for a pleasant driving experience, irrespective of whether you are just cruising at the highway limit or pushing the tempo. Steering-mounted paddle shifters further allow you extract every ounce of performance from the engine.

In terms of fuel consumption, Volkswagen claims 5.6 L/100 km and although we got close to that claim on several occasions, figures between 7.0 and 8.5 L/100km were more common during our test.
Pleasing ride & handling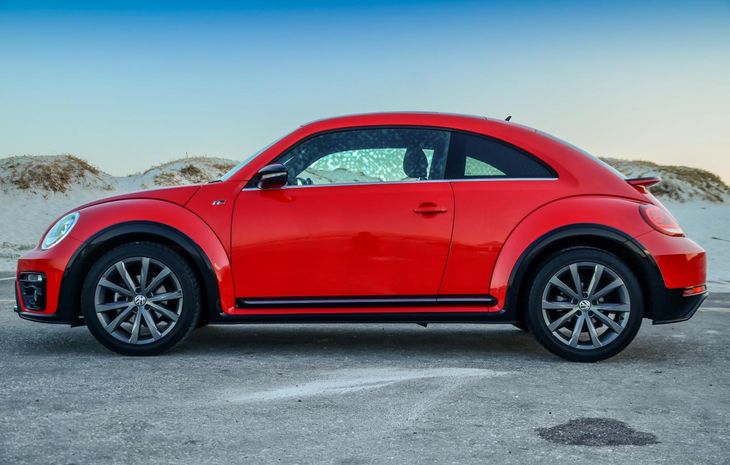 The Beetle absorbs bumpy tar with ease and its surefooted handling makes it quite fun to drive.
We were also pleasantly surprised by the way the Beetle R-Line copes with uneven, potholed roads (given its 18-inch low profile tyres). It does an admirable job of absorbing bumps and ruts and delivers a forgiving and comfortable ride quality that's quite similar to that of its Golf stablemate.
The steering is well-weighted and the R-Line, with its wide track, hugs the tar with confidence and handles enthusiastic cornering with more than a modicum of confidence. It's a very reassuring car to drive!
Comfort and features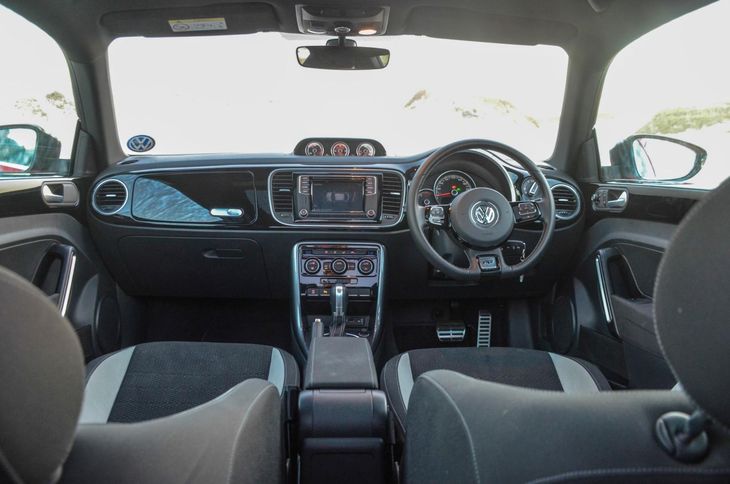 A classic Beetle-style dashboard is a nice touch and much of the switchgear is lifted from the Golf. Overall, a nice place to be...
The R-Line sports seats are upholstered in "Kyalami" cloth and although firm, they provide good comfort along with generous side bolsters for added support. Manual lumbar adjustment is available too.
In terms of entertainment, a 6.5-inch Composition Media system with 8 speakers is fitted as standard, offering Bluetooth, USB input and Apple CarPlay compatibility. The system is easy to use but we found the sound quality from the speakers to be relatively poor.
Other comfort features include a useful central armrest for the driver, dual-zone climate control, leather steering wheel, cruise control and front and rear park distance control. This test unit also came with an optional panoramic sunroof (but it only opens halfway).

An extra dose of sportiness is provided by additional gauges placed on top of the dashboard and these include a boost pressure gauge, oil temperature gauge and a stopwatch. The luggage bay is also relatively large (considering its odd shape) with 310 litres at your disposal. The seat backs are split 50:50 but don't fold completely flat, which could be an issue depending on what you need to transport.
In terms of safety, a total of 6 airbags are standard as is ABS, brake assist and stability control with traction control.
The bad
Is VW good at producing niche cars?
The Volkswagen Group has an admirable reputation for building quality products with a high level of parts commonality (to keep production costs low) by utilising common platforms and electronic architectures. Many of this Beetle's finest traits can be attributed to that – even though this version of the Beetle has been around since 2011 it still feels well made. However, whereas Mini has largely shelved what the original Sixties car was all about (tiny, light, wieldy), yet retained a level of cheekiness and "go-kart-like handling" (much of which is suggested, rather than strictly true), the Oxford firm's product has a distinct character.
The Beetle, which is admittedly far from a disappointing product, still feels like a car made by a volume manufacturer; a product that is supposed to give you a Golf (or the latest Polo, for that matter) driving experience, but is simply clad in a funky shape and adorned with twee elements (such as rubber loops on the B pillars, a rectangular glovebox and a large, thin-rimmed steering wheel) that pay homage to the original People's Car. The Beetle does not feel like something refreshingly different and unique, with a character of its own. Alas, it is, as sales figures suggest, a love-it-or-loathe-it 3-door hatchback.
Practicality woes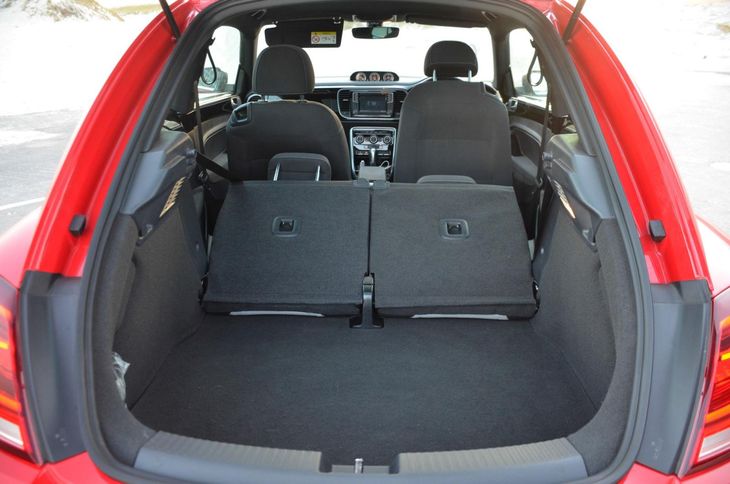 The boot is sizable at 310-litres but the rear seats don't fold completely flat which might hamper larger loading efforts.
Rear passenger space is on the tight side, especially if you are tall, but it should be adequate for kids. More rear legroom, however, can be obtained by moving the front seats as far forward as possible and we'd assume that the overwhelming majority of Beetle buyers would be single or perhaps a couple without children. That said, the front passengers will be much more comfortable without rear passengers to please!
Although some will like the Beetle-inspired dashboard design, the gloss black finish (also seen on the upper-door section) attracts dirt and fingerprints; it will have to be wiped clean on a regular basis.
Pricing and warranty
When the Beetle R-Line was launched in August 2017, it was priced at R419 900 and was sold with a 3-year/120 000 km warranty, 5-year/90 000 km service plan and 12-year anti-corrosion warranty. Following the discontinuation of the Beetle in South Africa, Volkswagen South Africa no longer lists the Beetle on its website, so if you are interested in buying the Beetle R-Line, you will have to find one in the used market.
Cars.co.za currently has 3 Beetle R-Line models listed.
Verdict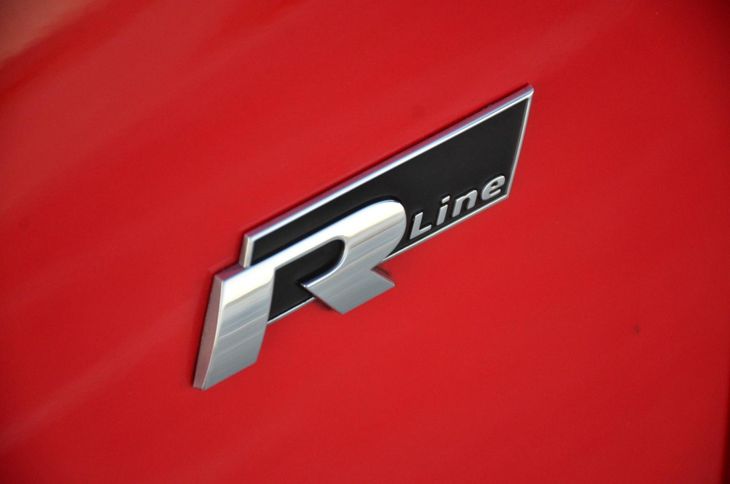 Although the Beetle R-Line has much to offer, it's not the most practical option at this point and it remains a niche vehicle.
To reiterate, the current generation Beetle has a small but passionate fan base. Yes, the R-Line derivative is a cute car and it's particularly dashing in red. Its punchy engine, slick DSG transmission and playful handling ability make it a joy to drive on a daily basis. It exhibits a relatively comfortable ride quality, which adds to its youthful appeal, and it comes well-equipped with features.

Considering the price of the R-Line (priced at about R435 000 on the used car market), it's an expensive proposition if you consider that it's not the most practical car you can buy at this price point. But if style and fun-factor take precedence over practicality for you, then it's certainly an option to consider. However, if the latest Beetle never struck a chord with you, then this Beetle R-Line is unlikely to change your mind.
Related Content
Volkswagen shows global plans for 2018 [Video]
Volkswagen Polo (2018) International Launch Review
Motoring tech of the future - CES 2018
Global Vehicle Sales (2017) Highlight Reel