Volkswagen has triggered a wave of nostalgia by producing a limited-edition CitiGolf-inspired Polo Vivo. While it is light-years ahead of the car that inspired it in terms of specification and, yes, it does tug at the heartstrings, can the product offer enough substance to match its retro style?
We like: standout youthful packaging, good build quality, impressive audio system
We don't like: interior a bit drab, lack of standard front electric windows/service plan
Alternatives:
Get one while you can. Although Chevrolet will soon exit the market as a result of General Motors' withdrawal from South Africa, the top-of-the-range Spark 1.2 LT represents excellent value. Backed by a 5-year/120 000 km warranty, the Spark has 4 airbags, an audio system with Bluetooth aux and USB ports, a multifunction steering wheel, 15-inch alloys and rear PDC. A service plan is optional.
For crossover appeal. The recently facelifted Renault Sandero Stepway 66 kW Turbo Expression offers something more than humdrum bargain hatch fare. Replete with SUV-like cladding and roof rails, the Renault has 16-inch alloys, front electric windows, stop/start function, brake assist and traction control as well as remote audio control stalk. A 2-year/30 000 km service plan is included.
A surprise package. Although Indian manufacturer Tata's products once offered marginal quality, the top-spec Bolt 1.2T XT is a revelation. Backed by a 5-year/100 000 km warranty and a 2-year/30 000 km service plan, the spacious Tata has a reasonably perky 1.2-litre turbopetrol engine and comes with nice-to-haves such as climate control and a full-colour touchscreen infotainment system.
A revitalised warhorse. A recent update to the Toyota Etios through the launch of the 1.5 Sprint hatchback sees the Indian-made budget car gain sharper looks and improved materials. It's powered by a punchy 1.5-litre motor and includes standard features such as 15-inch alloys rims, a Bluetooth audio system and a 2-year/30 000 km service plan.
Compare the specs of the 1.4 CitiVivo with those of the Spark 1.2 LT and Sandero Stepway 66 kW Turbo Expression
Compare the specs of the 1.4 CitiVivo with those of the Bolt 1.2T XT and Etios 1.5 Sprint
Facts & figures
Price: R178 800 (July 2017)
Engine: 1.4-litre 4-cylinder petrol
Transmission: 5-speed manual
Power: 55 kW
Torque: 132 Nm
Fuel consumption: 6.2 L/100 km
0-100 kph: 12.9 seconds
Top speed: 171 kph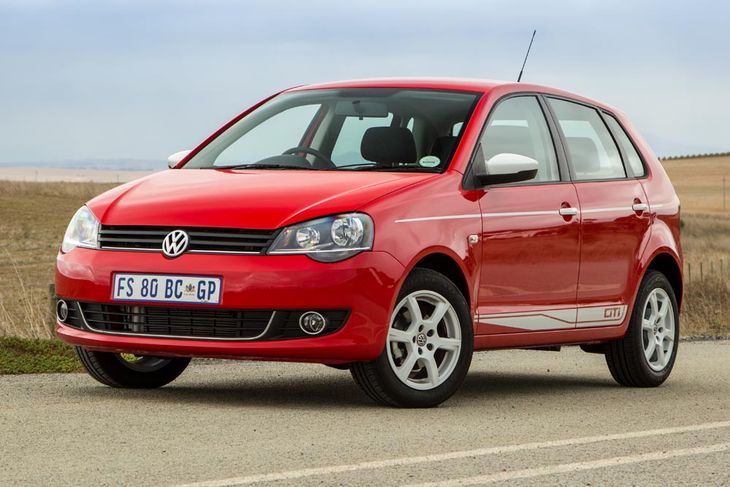 Bold white striping and white-painted 15-inch alloys (along with the optional fog lights) give the CitiVivo cheeky appeal.
What's new?
Here is where the story begins… In 1984, Volkswagen launched the CitiGolf: a cheeky, no-frills and budget-positioned continuation of the first-generation Volkswagen Golf, which had famously replaced the original Beetle in the Seventies. Production continued until 2009, during which time 377 000 CitiGolfs were produced; the little car, despite its lack of ABS and airbags, achieved cult status in South Africa.
That brings us to the Vivo. Based on the 4th-generation Polo, the Polo Vivo became Volkswagen's entry-level offering and much like the CitiGolf it replaced, the Vivo has topped the sales charts since 2010. Now, as the automotive market gears up for the introduction of the 6th-generation Polo (and quite possibly, the next generation Vivo), Volkswagen has released a Citi version, which is still fun-loving, but anything but plain.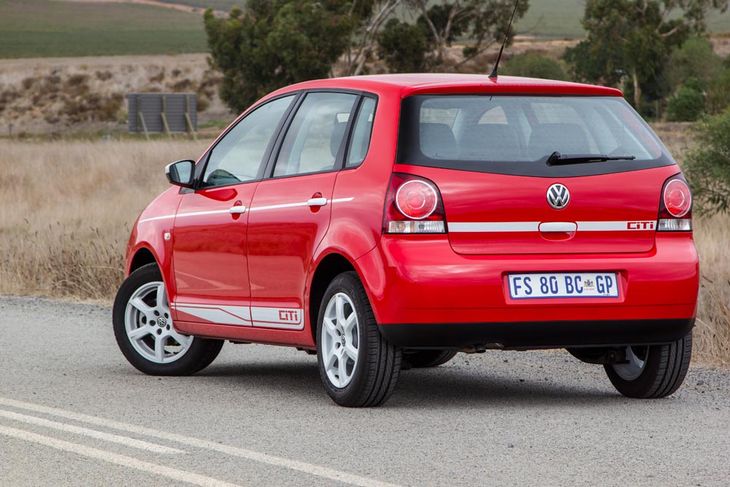 White door and tailgate handles (let alone side-mirror caps) would have been unfathomable in the '84 CitiGolf's heyday.
The good
Youthful, vibrant looks
The Polo Vivo has been around for the best part of a decade; it received an update in 2014 and numerous special editions have been brought to market in the meantime. Yet, despite its advanced age, the Vivo's exterior design looks zestful, especially in its Flash Red paint finish (which is one of three colours it has been made available in, the others being (unsurprisingly) Cornflower Blue and Sunflower Yellow).
During the CitiVivo's test tenure we parked it next to its spiritual predecessor (a faded Cornflower Blue CitiGolf) and, to be fair, the latest Citi features a lot more detailing than its predecessor. Like the old car, the CitiVivo has white wheels (but instead of painted steelies a set of 15-inch alloys) and matching branding and striping on its sides and tailgate. However, colour-coded door handles and mirror caps further set the newcomer apart and, suffice to say, the test unit drew many admiring glances. Even though it looks quite unlike a Golf 1, its instantly recognisable as a Citi.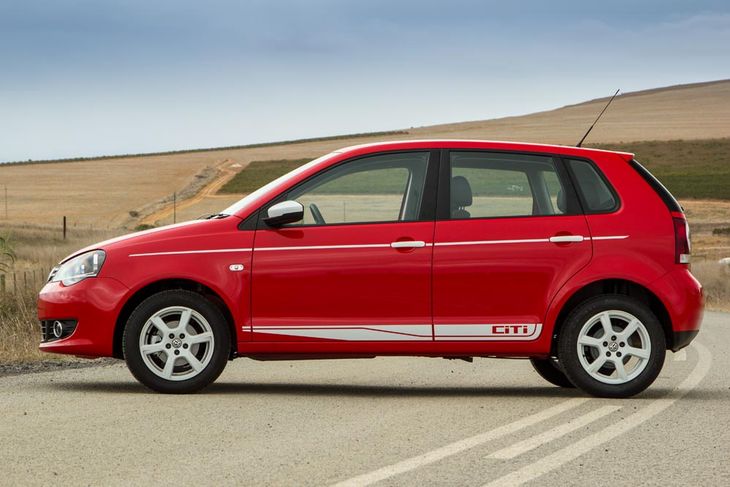 The Vivo is a reinterpretation of the 4th-generation Polo 4 facelift model that debuted more than 10 years ago... believe that!
Good build quality
As a proud product of Volkswagen SA's Uitenhage assembly plant, the CitiVivo bears the hallmarks of a vehicle that has been honed through running refinements in the production process through the years. This is a car made to a tight cost, but it does not feel cheap… the panel gaps in the bodywork appear to have neat, even widths, the doors shut with reassuring thuds, and the paintwork is consistent and has sufficient lustre.
As for the interior, Volkswagen again exhibits that knack for utilising cost-effective plastics that don't feel cheap to the touch. The panels fit snugly and seem resistant to emitting rattles, the upholstery, if less than plush, feels hardwearing, but not fibrous or cheaply finished/stitched.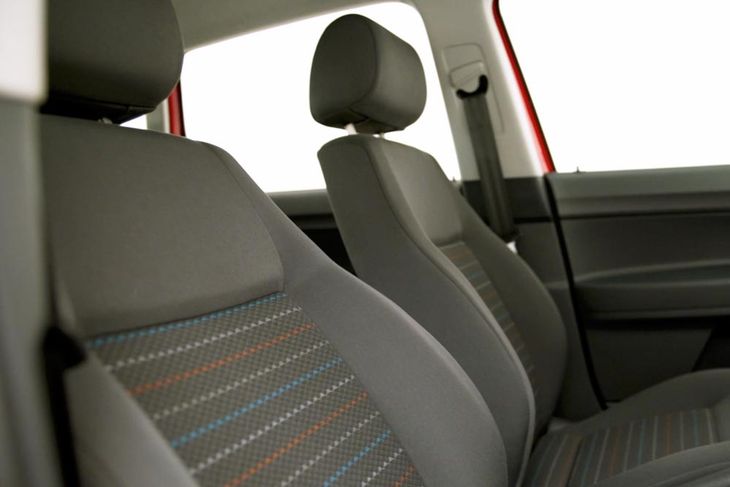 The colourful seat fabric does lift the ambience in the cabin somewhat, but it is a little drab and grey otherwise.
As for the standard interior features, the most impressive aspect of the CitiVivo is undoubtedly its Bluetooth-enabled 4-speaker audio system, which looks anything but retro-fitted (Polos of this generation certainly didn't feature such a setup). Granted, the audio system is not complemented by satellite audio controls on the steering wheel, but it offers a radio, CD player, USB and SD card inputs, is easy to pair with contemporary smartphones and delivers a reasonably voluminous and clear sound output.
Easy to drive/refined
Of course, those accustomed to the Polo driving experience will know that one of the Volkswagen's most endearing attributes is its "little big car" driving experience. From the way the wieldly steering wheel places the car accurately, to the ease of modulating the clutch pedal/gear lever and the predictable throttle responses (the motor is not revvy, but feels tractable enough), the CitiVivo has that "just get in and drive the darn thing" manoeuvrability that reassures inexperienced – and delights seasoned drivers – alike.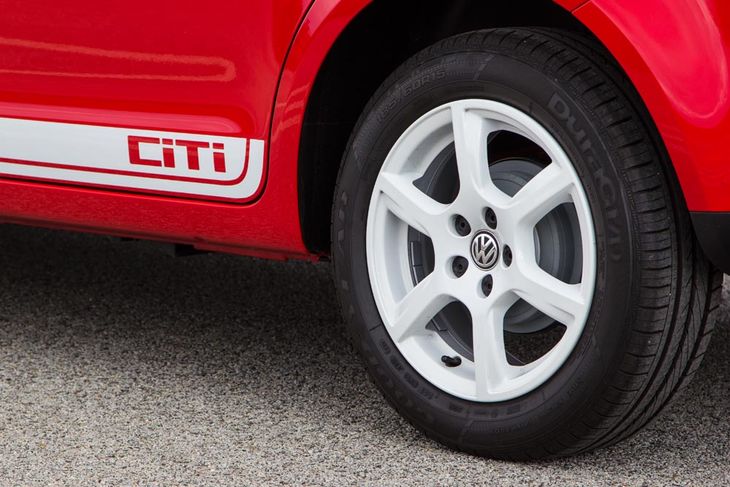 The 1.4 CitiVivo features drum brakes at the rear wheels, but the ABS-equipped braking system works well.
As expected of a budget car, delivering overtaking acceleration at freeway speeds was not the CitiVivo's forte, but we admired that the car's underpinnings (which are obviously not of the most contemporary vintage) delivered a reasonably absorbent ride quality and the ABS-assisted braking system was effective. And, perhaps the drone of the engine was largely drowned out by the machinations of the audio system – as would often be the case, we suspect, but the level of on-road noise wasn't bothersome to the car's occupants.
The not-so-good
Interior does not match exterior flair
Those who remember the original CitiGolf will attest that its interior was Spartan in the extreme, but now that we're late into the second decade of the Millennium… and the CitiVivo is an unabashed marketing exercise, after all, some of the testers were left a little disappointed that the test unit's interior, apart from the neat Silver-Blue-Orange-Gray trim, was unremarkable, even humdrum.
We understand that the CitiVivo is closely based on the entry-level 55 kW Conceptline derivative, and therefore will be pretty basic in terms of its cabin finishes and so-called modern conveniences, but some colour matched floor mats or colour-matched contrast stitching on the fabric areas would have been welcome. Some testers even suggested the addition of a retro golf ball-type gearknob, just to finish things off nicely...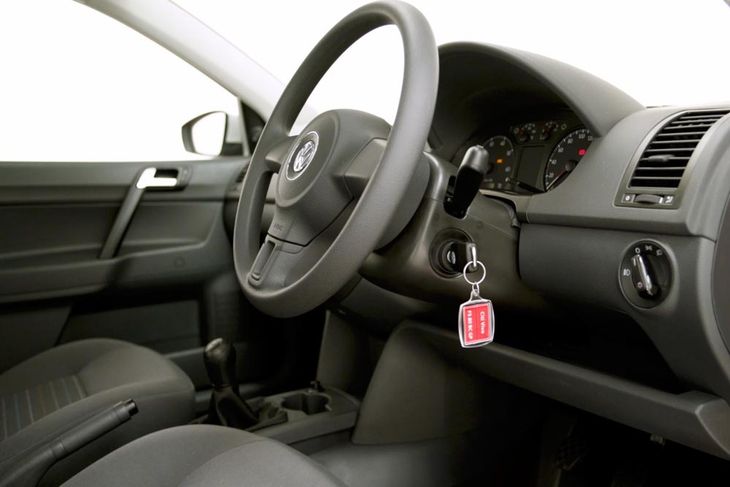 The test unit came optionally equipped with a stalk-operated cruise control function... dual front airbags are fitted as standard.
Middling performance/efficiency
If there are areas in which the 1.4 CitiVivo shows its age (apart from the well-familiar fascia design, which is to be expected), it's the performance and fuel efficiency of its naturally aspirated 1.4-litre 4-cylinder petrol motor. Ostensibly tuned for optimal reliability and performance on South African-standard fuel, the VW's engine has a lower peak power output than its 4 rivals mentioned at the head of this review and the second lowest torque output (equal with the Toyota Etios 1.5 Sprint).
Whereas its second-slowest claimed 0-100 kph time in this group (12.9 sec, although there is no stated time for the turbocharged Bolt 1.2 XT) is inconsequential to most buyers, its claimed fuel consumption is second thirstiest (after the Tata) out of the 5 cars. With running costs of major concern to buyers in this segment, many of whom can only just afford to pay their monthly instalments, let alone fuel, insure and maintain their vehicles, every cent saved is a godsend.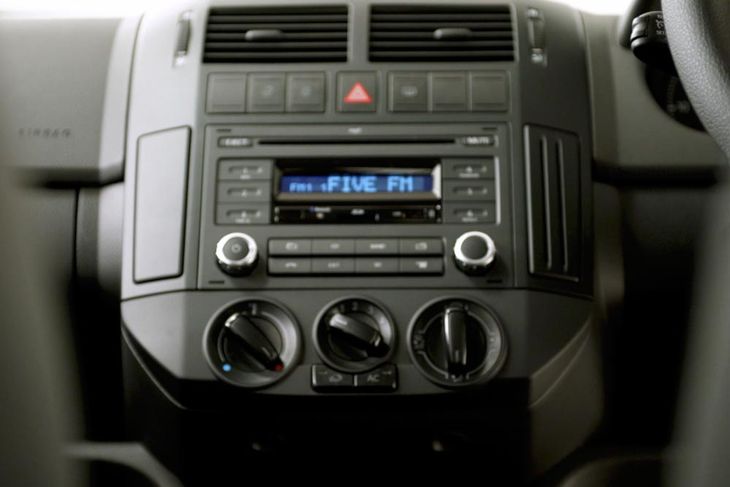 The neatly integrated Bluetooth-equipped audio system was the highlight of the 1.4 CitiVivo's cabin.
Basic specification
Before we delve into the extra-cost options on the CitiVivo, it needs to be noted that its remote central-locking key fob (some of its peers have a separate remote control), the intermittent setting on the heated rear screen's wiper and back headrests are nice to have (aircon has been standard in the Polo Vivo range for a number of years) and that despite its age, its claimed luggage capacity is second only to the Sandero's.
Some of the options included in the package include cruise control (R1 400), smokers package (R250), ultrasonic alarm system (R 1 150, in addition to the stock alarm/immobiliser setup), electric front windows (R1 300) and front fog lights with chrome surrounds (R1 400). Of these options, the first 2 are perhaps surplus to most buyers' needs, but the rest could benefit the value offering substantially had they been standard, especially considering that the Polo Vivo, unlike some of competitors, does not come standard with a service plan (a 5-year/60 000 km option costs R8 210).
In terms of safety equipment, the 1.4 CitiVivo comes equipped with ABS and dual front airbags, which is only par for the course at this price point, so there is room for improvement there as well.
Price and after-sales support
The Volkswagen Polo 1.4 CitiVivo retails for R178 800 (July 2017), which includes a 3-year/120 000 km warranty.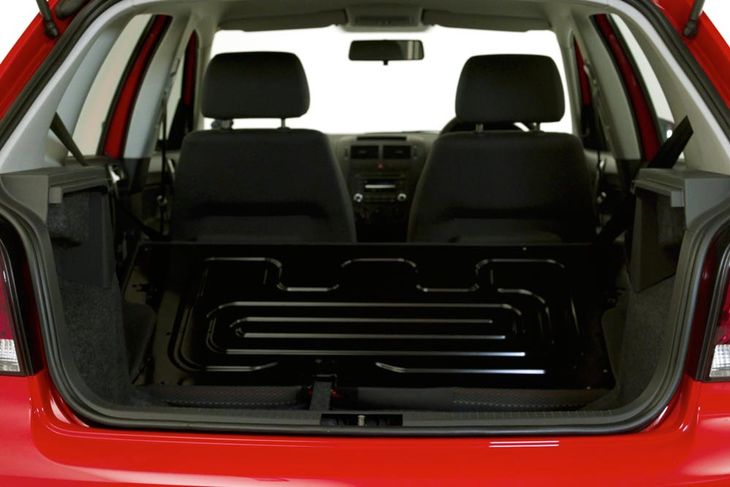 The single-piece backrest is helpful to free up utility space, but the conventional luggage capacity is quite adequate.
Verdict
The fact that the 1.4 CitiVivo feels as young and fun-loving as it does at this late point in its product cycle speaks volumes for the inherent quality and longevity of the product. The car that served as inspiration for this limited edition (only 2 000 units will be produced) is now an anachronism well out of step with 21st-century motoring standards and, alas, a fading memory for many motorists (well, at least this derivative's specific target market).
Whereas the first CitiGolf was a source of rudimentary, yet reliable transport for cash-strapped first-time buyers, the CitiVivo's reason for existence is quite different… It simply offers a measure of "bigger car" substance and sophistication at a lower price point than its Polo brother and other B-segment competitors. What the 2 Citis have in common, however, apart from their white striping and grille emblems, is oodles of cheeky charm.
Yet the Polo Vivo – a perennial top-seller in South Africa – cannot afford to rest on its laurels; there is no longer a shortage of credible rivals… some are improved old foes and there are new ones fresh on the scene. For now, what the 1.4 CitiVivo lacks in outright value for money is made up for by sheer substance, build quality, and, of course, a sterling reputation. Indeed, the market performance of the Polo Vivo speaks for itself, but let's hope that whatever product eventually succeeds this generation Volkswagen budget hatchback will be able to balance quality and price even better.
View our video review of the Volkswagen Polo 1.4 CitiVivo below:

Related content:
Volkswagen Polo CitiVivo (2017) Specs & Pricing
Toyota Etios 1.5 Sprint (2017) Quick Review
Renault Sandero Stepway 66 kW turbo Dynamique (2017) Review
Tata Bolt Hatch 1.2T XT (2017) Review
Volkswagen Polo Vivo Storm in SA - Specs and Pricing
Volkswagen Polo Vivo GTS (2016) Review
Volkswagen Polo Beats Pricing in SA
Looking for a used Polo Vivo?