Jaguar South Africa has launched pricing and spec details for its updated I-Pace electric SUV. Here's what you can expect to pay for this state-of-the-art machine.
The updates to Jaguar's electric I-Pace are not visible to the naked eye, but comprehensive enough under the skin.
The headline changes come to the infotainment system, the charging setup, and the driving assistance technology. Pivi Pro is Jaguar Land Rover's infotainment system and having experienced it in the group's various ICE products, we've come away impressed. Now its the Jaguar I-Pace which gets this system. A 12.3-inch high-definition virtual instrument cluster together with 10-inch and 5-inch upper and lower touchscreens and multi-function, haptic rotary controllers gives off an experience closer to that of a tablet or high-end smartphone.
Cleverly, this system has its own power source, meaning its quick to boot up, plus there are some AI/algorithms thrown in and the car will optimise routing, voice guidance even knows to remain quiet when you're travelling through areas you know, and maps will always be up to date thanks to software-over-the-air (SOTA) functionality. For those wanting full connectivity, there's an optional wireless device charging pad and the vehicle is fitted with Apple CarPlay and Android Auto.
On the hardware side of things, the Jaguar I-Pace now comes with an 11kW on-board charger as standard, enabling customers with access to three-phase electricity supplies to enjoy significantly faster charging. A full charge on an 11 kW wallbox will take 8.6 hours, perfect for those overnight charges. Through your standard wallplug a full charge takes 12.75 hours. If you're fortunate to have a powerful 100 kW in your area, 127 km of range will take just 15 minutes. Total range is estimated at 470 km based on the WLTP cycle and Jaguar reckons its average customers doing the daily commute would only need to plug in once a week.
Many of Jaguar Land Rover's newer products also feature the Clearsight rearview mirror, which is actually a camera and display unit. Its powerful, offering crisp images even at night.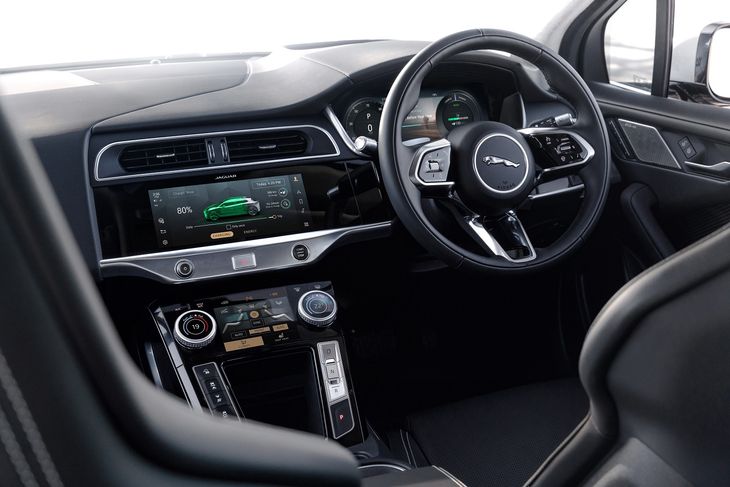 Jaguar I-Pace Price in South Africa (February 2021)
The I-Pace is offered with an 8 year or 160,000km battery warranty on top of the standard Jaguar Care plan which offers a 100,000km warranty and servicing within in 5 year period, whichever comes first. All new or Approved Pre-Owned Jaguar customers in South Africa also receive complimentary driver training at the state-of-the-art Experience Johannesburg facility in Lonehill, Johannesburg.
I-PACE EV400 S: R1 942 600
I-PACE EV400 SE: R2 005 100
I-PACE EV400 HSE: R2 112 300
Further Reading
Jaguar I-Pace Vlog - Will Electric Cars Work in South Africa?
Jaguar I-Pace updated for 2020
Updated Jaguar E-Pace adds potent hybrid