The iconic custom performance vehicle manufacturer, Shelby, is now officially represented in South Africa.
Ford Mustang enthusiasts – as well as musclecar fans in general – will be pleased to know that the iconic Shelby brand is now officially represented in South Africa, with its headquarters based at the Cape Mod Shop in Malmesbury, Cape Town. Other outlets are expected to be opened in Gauteng, Mpumalanga, KwaZulu-Natal and the North West.
Although not many of its products have reached South Africa, cars such as the AC/Shelby Cobra and original Shelby Mustangs are icons across the globe and have often been glamorised by Hollywood. The founder of the company, the late Carrol Shelby, has legend status, and the brand comes with an enviable racing pedigree. So, there's a lot of history at play...
But what if you don't know that history, which may very well be the case for many younger South Africans? Well, all you need to know right now is this... For many years the core Shelby recipe has been startlingly simple and effective – take a standard Mustang and make it gallop faster!
Want to know more about Carroll Shelby and the history of the brand? Petrolicious has done this excellent piece.
Shelby Super Snake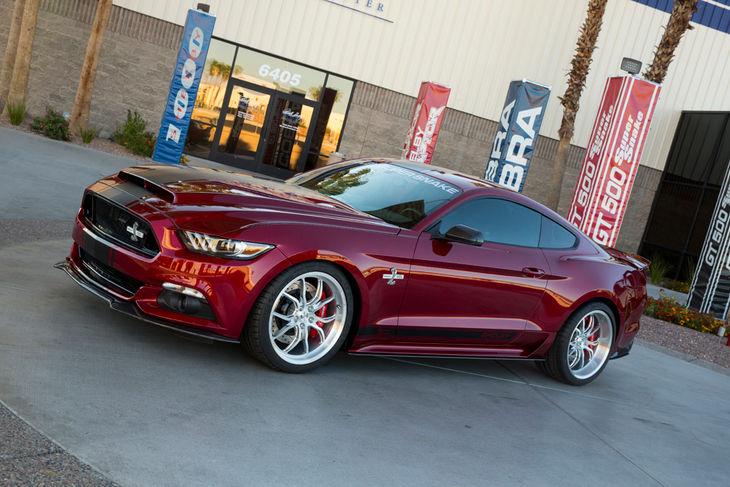 The Shelby Super Snake will ensure you are seen... and heard!
The Shelby that gets people most excited is arguably the aptly titled "Super Snake". You take your new-generation Mustang GT to Shelby South Africa and select the appropriate upgrade package, priced from R1 248 000. Given a base Mustang GT's price of around R850 000, this means a Super Snake will set you back around R2 million. What you get is a significantly different and exclusive type of musclecar, however.
Firstly, the Mustang gains carbon fibre body components, including a sexy Super Snake bonnet, rocker panels and blades, rear spoiler and diffuser. There are also changes to the grille and a variety of Super Snake details (badging and striping) added to the body. Oh, and let's not forget those lightweight, forged 20-inch Super Snake wheels made by Weld Racing. Similarly, the interior is not left untouched; a carbon fibre gauge pod cluster, which displays boost, fuel and oil pressure, is the most obvious addition.
Under that bonnet, however, is where the true magic happens. Supercharged to 670 horsepower (yes, roughly 500 kW), the changes are so far-reaching that the car gets a unique CSM numbered engine plate. And whereas the current production Mustang GT is perhaps a bit quiet to our ears, the Shelby Super Snake has no such flaw – it roars! See (hear) this video...

The Super Snake also features an all-new suspension developed with Ford Performance, Shelby Wilwood 6-piston front brakes, Ford Performance half shafts and a special cooling pack, among other items. So... it is a serious reworking of an already impressive machine.
But that's only the beginning...
Also on offer is a 750 horsepower variant (that's around 560 kW!) for just short of R23 000, that gets an upgraded cooling package (including differential and transmission cooling), Shelby Wilwood 4-piston rear brakes (around R55 000) and a brake-duct kit.
More options are available on top of that, including a 1-piece driveshaft, roll cage and race seats, among others.
Shelby GTE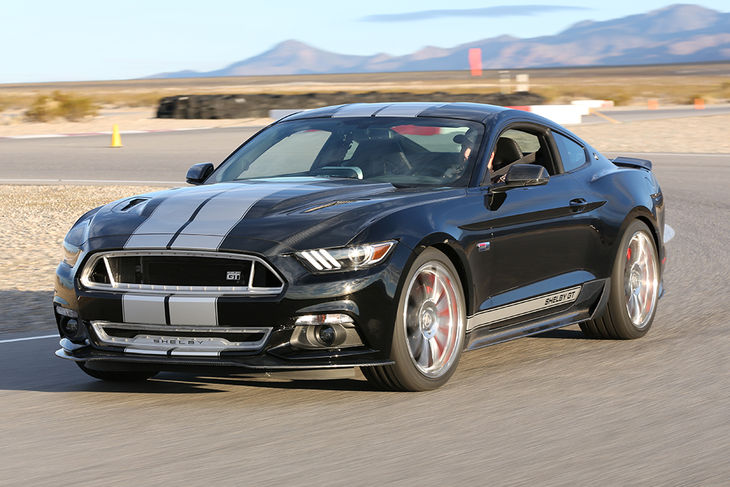 The standard Shelby GTE kit consists of mostly visual and dynamic upgrades.
If your budget doesn't quite stretch far enough for a Super Snake, then consider the Shelby GTE. Again, you start with a standard Mustang GT (manual or automatic), head to Shelby and pick your features. The standard Shelby GTE upgrade kit sells from R665 000 and includes a big exterior upgrade in the form of carbon fibre rocker panels, front splitter, bonnet, rear spoiler and diffuser. Iconic Shelby GT striping and badging is added, as are custom upper and lower grilles. The standard upgrade also includes Weld 20-inch wheels, a Ford Performance handling pack, short-throw shifter and Shelby exhaust tips.
Interior changes are more restrained, but you can always delve into the further options list and add items such as the 3-gauge dash pod and Katzkin interior kit.
A number of added-cost extras remain, of which the most important is the availability of the 670 horsepower supercharger kit, for around R165 000.
A similar GT kit is also available to Mustang 2.3-litre EcoBoost owners (though obviously not the power enhancements).
Shelby Terlingua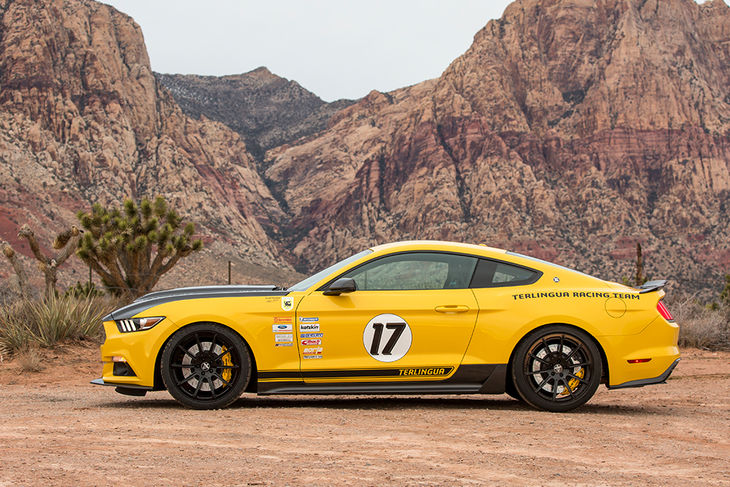 Only 50 examples of the Terlingua will be made, and 5 have been allocated to South Africa.
A surprise announcement at the Shelby launch event was that five examples of the extremely limited-run Terlingua have been allocated to South Africa. The Terlingua occupies a special place in Shelby folklore, as it recalls Terlingua racing team and their feats in the 1967 Trans Am championship. Consequently, the Terlingua is the most track-focused Shelby on offer at the moment. Pricing is unavailable at this time.
Again, using the Mustang GT as a starting point, it gets a Whipple supercharger to push power to 750 horsepower (560 kW), as well as Shelby-by-Eibach sway bar and adjustable coil overs. A large number of Ford Performance parts are also added, including half-shafts, a short-throw shifter and an "aggressive sounding" Borla exhaust with black tips. A Brembo big brake kit beefs up stopping power and several items from the Shelby carbon-fibre parts catalogue are fitted as standard.
Only 50 of these cars will be made (5 for South Africa) and each gets an autograph plaque of Bill Neale (a Terlingua founder and designer of the team's crest), Carroll Shelby and Jerry Titus, the winning driver in 1967.
Interested?
If you own a current Mustang and want to turn it into a Shelby, or would like to find out more, then head to www.shelbysa.com for contact details. Note that Shelby retains all the take-off parts from donor vehicles. The man behind Shelby in South Africa is Peter Lindenberg, who is well-known in local motorsport (and powerboating) circles. Also involved is another legend of local performance-car development, Jimmy Price of Hi-Tech Automotive.
We can't wait to get our hands on a Shelby Super Snake for filming. Until then, enjoy our Ford Mustang GT video below.

Related content
Ford Mustang 5.0 V8 GT Auto (2016) Review
Ford Mustang 2.3 Ecoboost Convertible (2016) Review
Opinion: the Mustang Effect