The facelifted 2018 Ford Mustang is expected to arrive in South Africa in 2018 and will offer a load of new technology and customisation options and what's better, it will be louder too. Ford has now revealed outputs and performance figures for the updated Mustang, take a look at the details below.
The Ford Mustang is currently the best-selling sports car in South Africa and it topped the global sports car charts in 2016. The facelifted Mustang, due locally in 2018, is sure to resonate well with local Mustang fans. The latest news to come from Ford sheds some light on the performance capability of the updated Mustang.
In terms of engines, a retuned 2.3-litre EcoBoost engine will offer 231 kW and torque has been increased to 475 Nm for better wide-open throttle acceleration. In Drag Strip mode with the Performance Package and the 10-speed automatic, Ford says the EcoBoost Mustang will accelerate to 97 kph (60 mph) in under five seconds.

As for the brawny 5.0-litre V8, it's been extensively reworked and outputs have been bumped up to 343 kW and 569 Nm of torque. The power increase comes from dual-fuel, high-pressure direct injection and low-pressure port fuel injection. It's claimed to deliver a bit more low-down torque, high-rpm power and improved fuel economy. The manual gearbox has been re-engineered and now includes a twin-disc clutch and dual-mass flywheel. However, the headline news is the introduction of Ford's 10-speed automatic transmission to the Ford Mustang range. Ford says that the 5.0 V8 Mustang GT, in drag strip mode, will accelerate to 97 kph in under 4 seconds, making it faster than a Porsche 911 Carrera.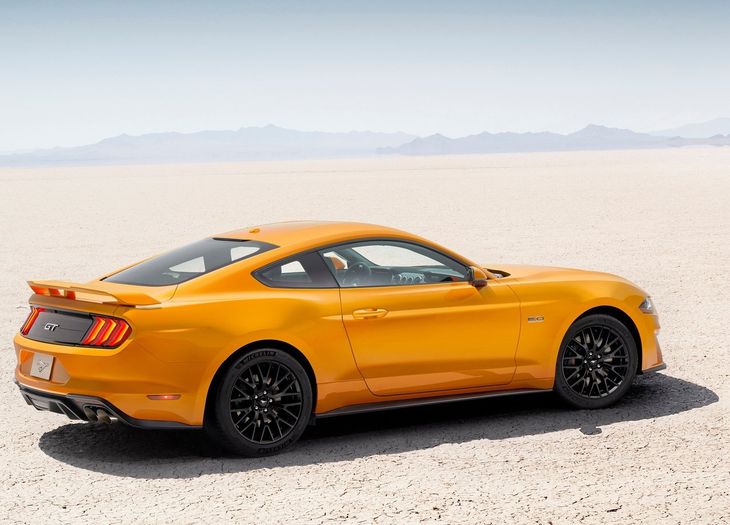 Using a new 10-speed automatic transmission, the latest Ford Mustang will offer enhanced performance.

Carl Widmann, Mustang chief engineer says, "Typically, when you shift gears, you give up time. In Drag Strip mode, the engine torque doesn't drop when you're shifting. You get peak engine torque and horsepower straight through thanks to our new Ford-built 10-speed transmission." Drag strip mode, primarily controlled by the transmission, is designed to provide maximum acceleration and performance for straight-line driving. It delivers significant acceleration boost and eliminates lost time during automatic shifting. Compared with the outgoing 6-speed transmission, the new 10-speed automatic shifts faster with better low-speed tip-in.
A few weeks ago Ford announced that all 2018 Mustangs, including the 2.3-litre EcoBoost Mustang, will be fitted with the track-only Line-Lock feature, which was previously only offered on the 5.0-litre V8 Mustang. What's more, an industry-first animation showing a wheel doing a burnout when Line-Lock is active will be displayed on the new 12-inch digital display.
"We introduced line-lock on EcoBoost Mustangs because we didn't want those customers to miss out," said Mark Schaller, Ford Mustang marketing manager. "The number of people choosing EcoBoost power continues to grow globally, and with the increased torque and new features coming on the new Mustang, customers will not be disappointed."
Don't know what Line-Lock is? Watch the video below to see a 2.3-litre EcoBoost Mustang doing a Line-Lock burnout!

What's New for the 2018 Ford Mustang?
The 2018 Ford Mustang has received numerous changes both in terms of design and technology. The V6 engine is no longer offered, but it was not available in the South African market. "The new Mustang is our best ever, based on more than 50 years as one of the iconic sports cars in America and now, the world," said Joe Hinrichs, president of The Americas. "Tapping Mustang's enormous fan base, we're bringing the new Mustang straight to the people - and introducing the new car across multiple social media channels, reaching millions."
Under the skin of the Ford Mustang, there have been changes in the form of new shock absorbers, a new cross-axis joint in the rear suspension and new stabiliser bars. Making its debut in the Ford Mustang is the new MagneRide active damping technology which will help with ride and handling.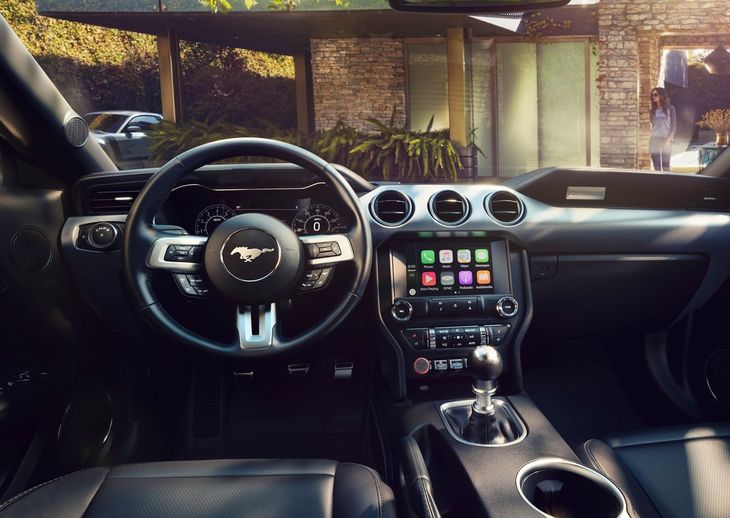 A revised interior with updated features, including a new 12-inch digital display will be offered.
In the cabin, a new 12-inch all-digital display is the big news. It offers three separate views and can be personalised to suit the driver's needs. There are different screens for the modes: Normal, Sport and Track. There is a new feature called Mustang MyMode, which remembers the driver's settings when it comes to drive, suspension and steering. Even the engine tone can be adjusted, which will address the criticisms levelled at the car for lack of V8 rumble. The new active exhaust system is optional, but Ford claims it'll offer a proper soundtrack. The interior gains some new touches which give the cabin a bit more of an upmarket look.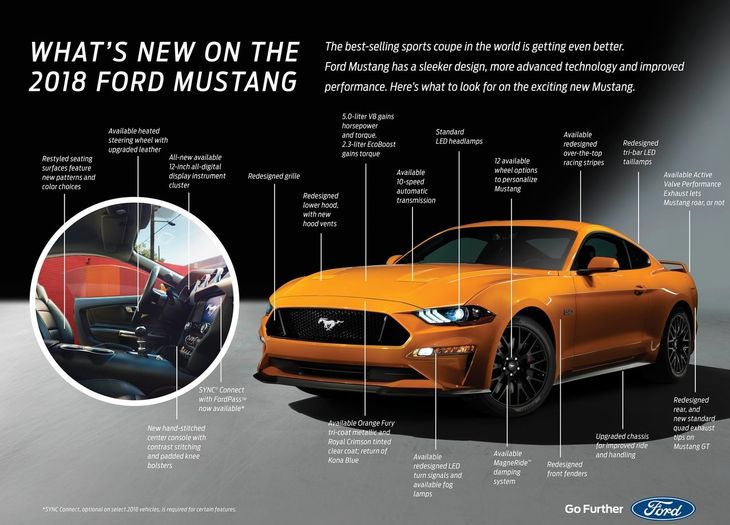 A quick summary of the new features and changes for the 2018 Ford Mustang.
Driver assist technology has been fitted and the new Mustang gets new features like Pre-Collision Assist with pedestrian detection, distance alert, lane-departure warning, lane-keeping assist and Driver Alert System. The Ford SYNC Connect with FordPass system makes it debut on the Ford Mustang. It'll link to your smartphone and offers location functionality and the ability to unlock and open the car using a phone.

The facelifted Mustang will also feature a pulsating red start-stop button that resembles the heartbeat of an adult Mustang horse at rest. The start-stop button will pulsate at exactly 30 beats per minute. Last year Jaguar announced a similar feature for its latest models, but the pulsating heartbeat start-stop button fittingly mimics the heartbeat of a Jaguar at exactly 72 beats per minutes. See the video below to see what the Mustang's start-stop button will look like.
The new Ford Mustang range is available in three new paint colours and a choice of 12 wheel designs, which will give this popular sports car a bit more personalisation. While we haven't heard anything from Ford South Africa as yet, we estimate that it will arrive in South Africa in 2018. This new model will go on sale in North America in the third quarter of 2017.

Further Reading
See the leaked 2018 Ford Mustang video and article here
Read a review of the 5.0 GT Fastback now
Watch a video review of the Ford Mustang
Ford Mustang 2.3 EcoBoost Convertible Automatic (2016) Review
Interested in buying a Ford Mustang?