The bakkie segment is the most popular vehicle class in South Africa. Should we judge body-on-chassis pick-ups and double cabs, especially those produced with affordability most in mind, by conventional passenger safety standards?
There is never a boring month that passes in the South African news cycle, but when our automotive industry makes international headlines, seemingly for all the wrong reasons – motoring enthusiasts are bound to take notice of it.
November hasn't been a good month for Nissan South Africa. Not in terms of local product demand or production efficiencies, but reputation management. A joint venture testing initiative by Global NCAP and the AA yielded results that were trumpeted with great alarm to the public.
See also: Global NCAP slams Hardbody safety, Yaris & i20 'unstable'
The vehicle that suddenly started trending on social media for all the wrong reasons was Nissan's NP300 double-cab bakkie. It had underachieved in the worst way possible, by scoring (or rather, not scoring), a safety rating of zero.
Borrowed rage is a by-product of our age and issues are seamlessly claimed as personal victimhood; principles are championed, but meanwhile, behaviour continues unaltered. Global NCAP espoused itself as an organisation working towards greater transparency in vehicle safety awareness, empowering the public to make buying decisions informed by the most independent and robust safety testing protocols available.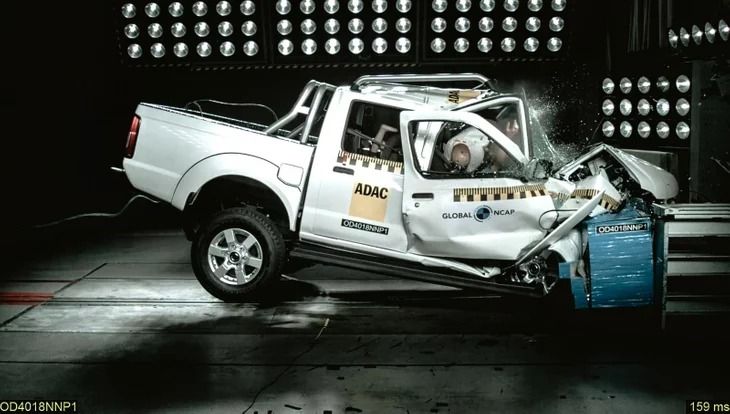 The Nissan Hardbody actually dates back as far as the late 1990s.
I'm deeply suspicious of any activism and although the principles held dear by Global NCAP are lofty and even admirable, every organisation either has an agenda or delivers its service in a very specific "context". For Global NCAP to exist, the premise is that manufacturers don't want everything to be known about their total safety engineering portfolio. The organisation's Uruguayan head of technical matters, Alejandro Furas, believes that, for some manufacturers, a lesser standard of safety engineering is deemed as acceptable for African markets – and their testing results prove this.
The complication of continuation vehicles
Cynics have questioned why Global NCAP tested the NP300 and didn't contextualise it with other affordable double-cabs from GWM or Mahindra. The NP300 does a fair trade in the local market and its sales numbers justify the importance of selecting it for testing, so I can't fault Global NCAP for its sampling logic. But, having said that, it would have been illuminating to see a Mahindra Pik-Up or GWM Steed6 tested to the same standard.
There's no doubt about the technical standards that Global NCAP employed to calculate the crash safety rating of the NP300. It was conducted in one of the world's epicentres of automotive technical excellence, Munich, by impartial (and painstakingly precise) German technicians.
Where I do think there's a lot of context and analysis missing from the entire safer-cars-for-Africa campaign, is the fact that it fails to recognise the huge discrepancy between what Global NCAP perceives as customer behaviour – and the reality of African car ownership. Added to this issue, is the traditional South African practice of continuation production, as Volkswagen does with the Polo Vivo and Toyota with the Corolla Quest.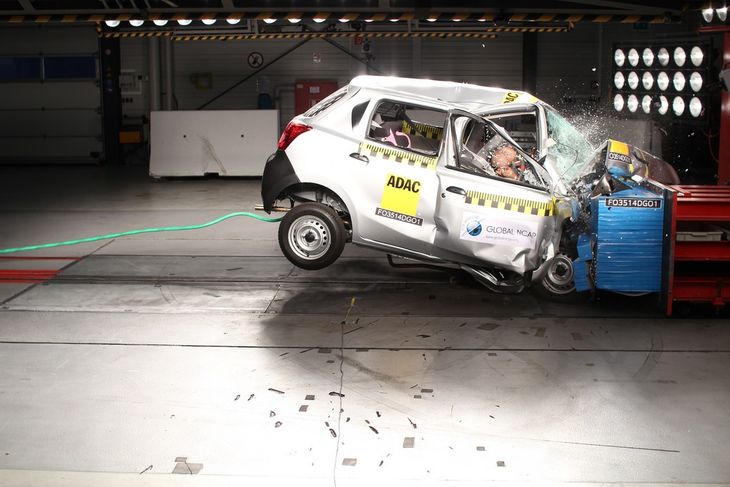 One of SA's top-selling passenger cars, the Datsun go scored zero stars. Since then Airbags have been added.
Global NCAP would like us to believe that 80% of new car buyers are influenced by their prospective purchases' safety ratings. This is a statistic that absolutely doesn't correlate with the local market's monthly new vehicle sales data. In many other global markets, with narrower income disparity, customers might regard vehicle safety features as pivotal to their buying decisions. But in South Africa, that's simply not the case. The enormous demand for the twin Renault-Nissan Alliance budget products (Datsun Go and Renault Kwid), strongly suggest that, for numerous South African new car buyers, a slick infotainment system that plays nice with your Smartphone, is a lot more important than a ticked list of safety features.
See also: Datsun Go (2018) Launch Review
Nissan's transparency about its NP300's 2018 safety standards have been called into question, but what exactly should the responsibility of a manufacturer be to someone who is purchasing a continuation vehicle? Since VW and Nissan kept the Golf1 (CitiGolf) and 1400 bakkie (Champ) in production decades after their global discontinuation, South Africans have shown a willingness to buy vehicles with outdated safety technology.
Anyone who is considering the purchase of an NP300 cannot seriously be under the impression that it is a "new" or "up-to-date" vehicle. Surely the bakkie-buying public in South Africa is well aware that this is a continuation model, a design known globally as the 1st-generation D22-series Navara, which dates to the late 1990s.
And that strikes at the most telling issue for me... and one which nobody has yet addressed. If selling a new car with 20-year-old engineering integrity is problematic, due to its failure to meet contemporary crash safety standards, why not legislate it to be illegal to trade any vehicle older than, say, 10 years?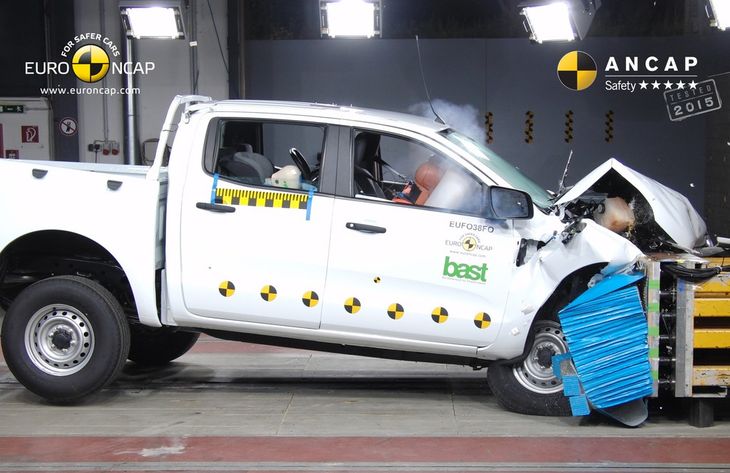 In 2015, the current version of the Ford Ranger scored 5 Stars in the Australian crash test (ANCAP).
In Europe, governments tax older vehicles out of consideration and, in Japan, a physical vehicle test has to be paid for every 2 years (it can cost up to the equivalent of R10 000, which explains why car owners choose to avoid it by replacing their cars regularly). Perhaps the true solution for Global NCAP would be to have any vehicle removed from the roads, which doesn't adhere to the latest crash safety standards. Land Rover sold its Defender deep into 2015, and it was never even casually crash-tested, leaving one to guess how (un)safe the ancient design would have been.
Before its 2018 revision, much the same could be said for Mercedes-Benz's G-Class (formerly known as the Geländenwagen), which was never independently safety tested by an organisation such as NCAP. The new one recently went on sale in South Africa, and we still don't know how it scores in most crash safety metrics. It has airbags and a raft of (even autonomous) safety features, but structurally there is no independently verifiable data on how it collides with solid objects or other vehicles. Has that stalled demand for the Geländenwagen? Not in the least.
See also: Mercedes-AMG G63 (2018) Launch Review
Making bakkies better
When crash testing protocols started becoming an issue in the late 1990s, with the establishment of Euro NCAP, the main concern was how structurally safe a car would be in a conventional collision: front, side, rear and some offset object impacts. By 2018, you cannot achieve a 5-star rating without mandatory dynamic safety intervention systems (electronic stability control), pedestrian safety features and the best LEDs on the market.
Engineering a safety cell around the cabin, with enormous energy absorption and dissipation attributes, should be a goal regarded in isolation from whether bonnets sufficiently limit the harm to pedestrians – or vehicles are equipped with lights that can illuminate rural roads like it's the second innings of a 20/20 cricket game. Fuel type is rarely mentioned in any safety testing and surely post-crash flammability is an issue? Should turbodiesel vehicles score higher than petrol-powered ones, for example?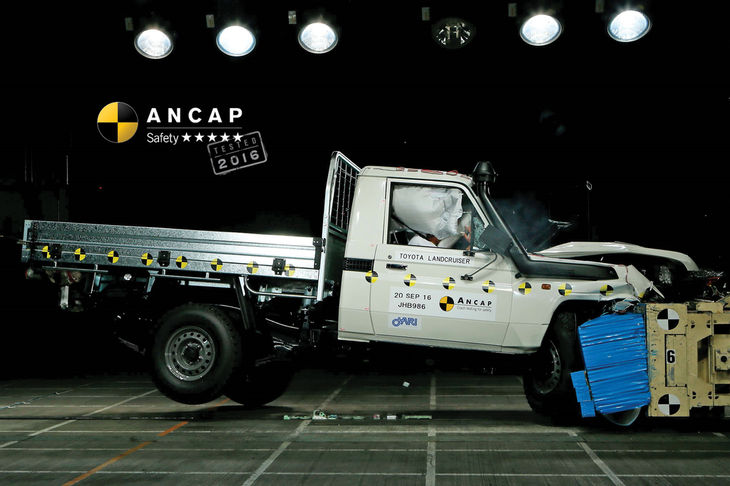 Concerns in Australia over the Land Cruiser forced Toyota to make it structurally safer.
It can be argued that bakkies exist in a safety realm of their own because they are constructed in a way that's crucially different to most cars and (these days) SUVs. The bakkie retains a steel ladder-frame, with its cab mounted on top, and this structure is not one given to crumple zone integration in the same way that a unibody or monocoque vehicle is.
The increased ride height of a bakkie means that many impacts that would be devastating for low-riding family hatchbacks and crossovers aren't of the same risk to occupants of a double-cab. The structural strength of a steel ladder frame and elevated cab design gift double-cab bakkies a tremendous advantage over most other vehicles in most vehicle-to-vehicle collisions. But, without the latest autonomous driver intervention systems and clever lighting designs, bakkies are never going to achieve scores rewarding only their structural safety.
That said, it is possible to dramatically improve the harmonised crash safety rating of a ladder-frame platform bakkie or SUV. Toyota's Land Cruiser 70-Series was first marketed in the mid-1980s and as crash safety regulations became a popular unit of vehicle analysis in the 2000s, the boxy 'Cruiser became a problem.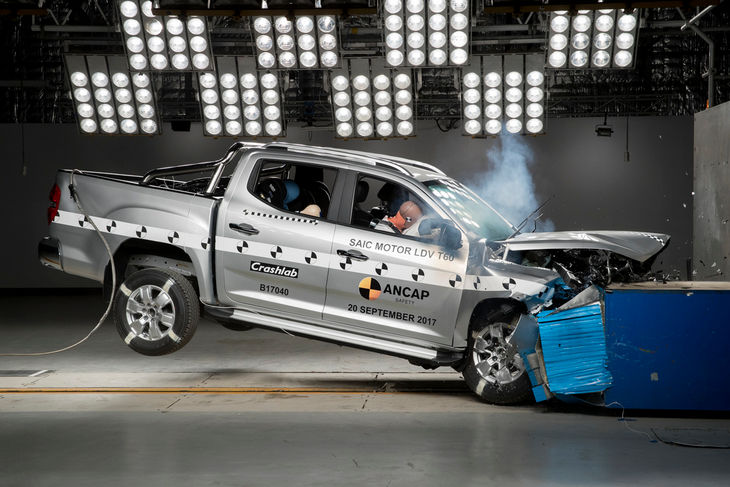 The 5 star scoring Chinese LDV T60 bakkie holds up pretty well.
Pressure from one of its most valued bakkie markets, Australia, forced Toyota to redesign the 'Cruiser 70 three years ago, adding curtain and knee airbags to the cabin, whilst engineers redesigned the cab, platform and bonnet safety structure. The result was a 2-star increase in crash safety results, as recorded by ANCAP, the independent version of Euro NCAP for vehicles marketed Down Under.
Interrogating the Australian bakkie crash safety ratings are useful, as their market most mirrors our own, and there are some startling results. To name but 2 examples: the Tata Xenon achieved a 4-out-of-5-star rating in 2013 and a Chinese bakkie, the LDV T60, achieving a perfect score last year. GWM's Steed6 rates 2 stars.
Marginal safety incentives
The sales numbers tell us that crash safety is not an issue for South Africans. If it were, Volvo would be a dominant premium brand here and the continuation models would not have a justifiable business case in the local market. However, South Africans have a gung-ho attitude to road safety, across the entire diversity of the country's motoring spectrum. Price, image and entertainment features are considered priorities outranking safety technology. Verifiable crash safety data hardly ever influences any new vehicle purchasing decision.
Nissan's NP300 could certainly benefit from some crash safety reengineering, similar to what Toyota did with its Land Cruiser bakkie Down Under, but who'd absorb that cost? If Nissan passes it onto retail pricing, NP300 becomes uncompetitive not only compared to Mahindra and GWM's bakkies, but also some "newer" rivals from its traditional competitors.
Let's face it: In an environment where the South African government's department of transport has no policy that bars or penalises outdated safety specification in vehicles offered in the new car market, it's always going to be a race for the bottom, to shore up sales volume...
Related content:
Global NCAP slams Hardbody safety, Yaris & i20 'unstable'
Global NCAP and AA Crash Test Popular Cars in SA
Children on the back of a bakkie – new law falls short
Kuga Fires: Here's What You Need to Know
Not all parking bays are created equal
3 Must-ask Questions for a Used-Car Salesman
The Motor Industry Ombudsman Of South Africa - In-Depth Q&A
Car Theft Insurance Claims: When Are You Negligent?