Can you really tune an electric car and make it faster? RevoZport believes you can and has revealed a crazy aerodynamic package for the Tesla Model 3.
It can't be easy to be a tuner with electric cars coming to market. You can't tweak the electric engine much, although tuners are trying to sharpen power delivery and increase battery capacity for extra performance. So attention is being turned to aerodynamics and suspension to improve performance. RevoZport's electric arm R-ZENTRIC has released a special aero package for the Tesla Model 3 and we think it looks incredible.
The goal was to make the Tesla Model 3 a high-performance track attack racer without impacting on the car's range. Cleverly the focus was on aerodynamics and drag reduction. By fitting active aerodynamics, the car will adapt to the driver's demands. Put your foot down and all the spoilers and wings retract to reduce drag and increase the range. The kit comprises an active front spitter that extends or retracts depending on whether you require downforce. There's also a huge carbon-fibre diffuser underneath the car with an active panel at the rear. When the panel is deployed, there's downforce which works in tandem with the front splitter to keep the car hunkered down. These 2 elements are controlled by a G-force sensor.
There's plenty of carbon fibre thrown in too, with a ducktail boot spoiler as well as a lightweight bonnet. Rounding off the package are lightweight forged 21-inch wheels wrapped in Michelin Pilot Super Sports sticky rubber. To help it corner more effectively, the tyres at the rear are wider than those at the front.
While many petrolheads lament the dawn of the electric era as the beginning of the end of the fun times, it's good to see that tuners are already getting their hands on electric cars and making them more engaging to drive. We may lose the sound and feel of an internal combustion engine, but the feel of going fast around a twisty corner should never be lost. If the acceleration feeling of an electric car puts a smile on our faces, we're looking forward to seeing what comes next.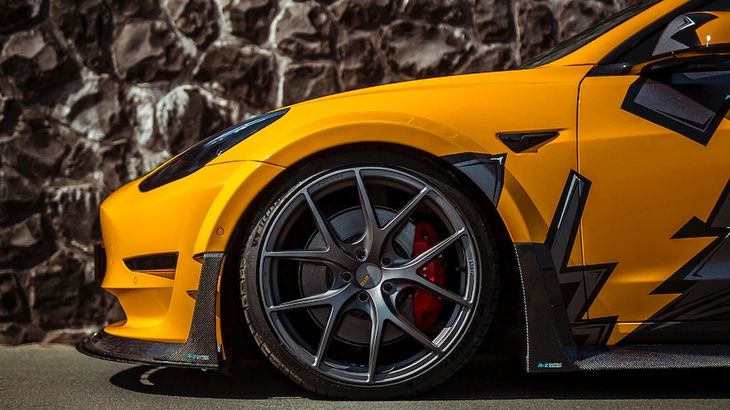 The lightweight alloy wheels wrapped in high-performance track rubber, as well as the active aero, mean this Tesla Model 3 will be super quick around a circuit.
Further Reading
Tesla Reveals Cybertruck Pickup
Tesla Finally Launches Model 3
Tesla Model 3 (2019) Pre-Launch Review