Toyota has retired its Etios budget-car offering and replaced it with another Indian-made product, the Starlet, which is essentially a rebadged Suzuki Baleno. The Starlet may not be brand new, but that doesn't mean it's "a retread". In fact, the range-topping 1.4 Xr arguably presents better value for money than its Yaris sibling...
We like: Solid build quality, refinement, liberally specced & fuel-efficient.
We don't like: Shorter service plan and warranty than its Suzuki cousin.
Fast Facts
Price: R258 500 (October 2020)
Engine: 1.4-litre 4-cylinder naturally-aspirated petrol
Gearbox: 5-speed manual
0 to 100 kph: 10.9 sec
Fuel economy: 5.1 L/100 km (claimed)
​Power/Torque: 68 kW/130 Nm
Luggage capacity: 345 to 1 075 litres.
Own a Toyota? Tell us about your experience here.
SERIOUS ABOUT BUYING?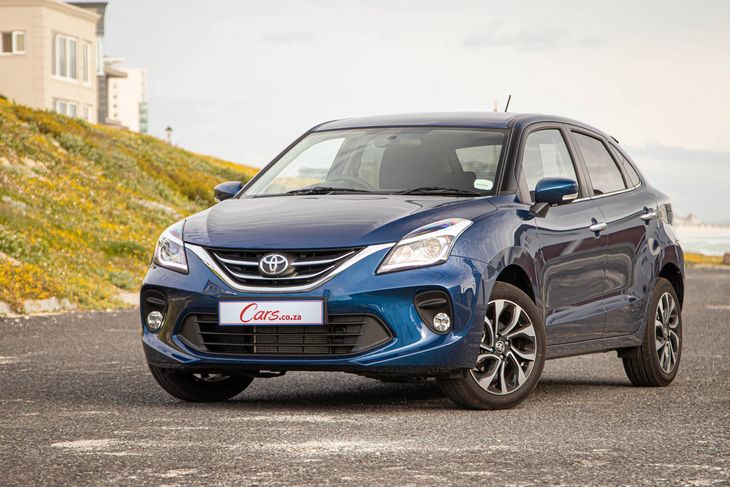 The Starlet 1.4 Xr has a welcoming frontal design; note how the shiny grille trim blends into the headlight accents.
What is it?
With the new Starlet, Toyota have revived a nameplate that was retired more than 20 years ago – in 1999, in fact. However, the Japanese marque didn't go back to the drawing board and start afresh to produce a new version. In March 2019, TMC and Suzuki announced a partnership, the results of which are now arriving on showroom floors, and the Starlet is South African motorists' first taste of this new alliance.
If you're staring at the Starlet and you're thinking that it looks very familiar, well, it is! The Starlet is a rebadged Suzuki Baleno, which has been on sale in South Africa for a good few years now. The Baleno is, however, not a common sight on our roads, and not through any fault of its own.
It's always been an excellent value-for-money proposition, but tends to be overlooked due to the affordability of the Swift, the funky styling of the Ignis (which also undercuts the Baleno by around R40 000) and, of course, strong rivals that are positioned at the same price point, notably the Volkswagen Polo Vivo – even if the Wolfsburg-based brand's locally-built model doesn't come with a standard service plan, it's a market favourite.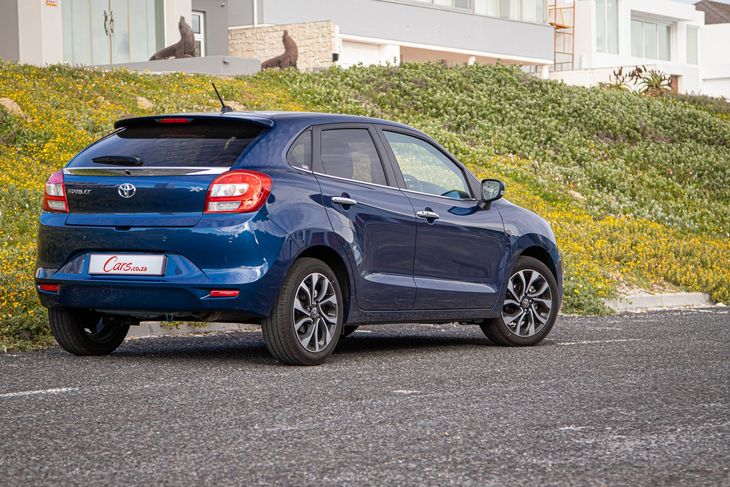 The easiest way to distinguish between the Starlet and its Baleno cousins is by the 2-tone 16-inch alloy wheels.
The base price of the Starlet range is likely to be a sore point for Suzuki, as the entry-level 1.4 Xi derivative is roughly R17 000 cheaper than the equivalent Baleno and there is little to choose between them. The difference between the 1.4 Xr and the flagship Baleno, by contrast, is negligible.
How it performs in terms of…
Build quality & Refinement
We aim to help consumers make considered purchasing decisions by comparing models with their rivals from other brands. It's not very often that the same car will carry 2 different badges, which is the case here. The Starlet is quite simply a rebadged Baleno. The only differences are slightly different front grille treatment and wheel designs (unique to Toyota), plus a leather wrapped steering wheel on the range-topping 1.4 Xr derivatives.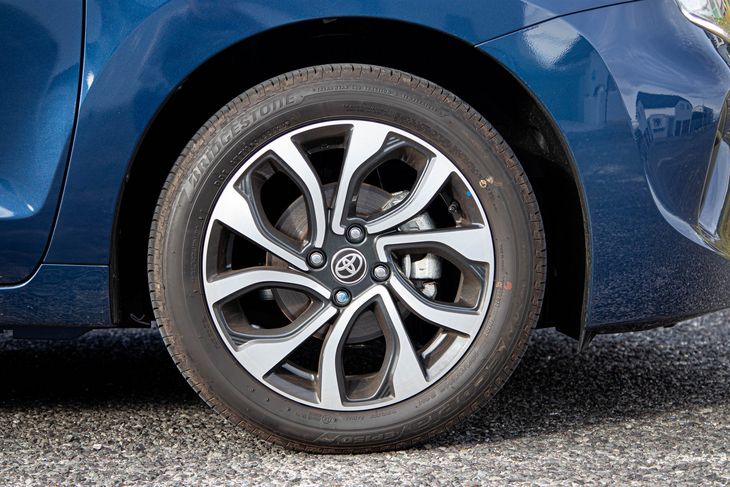 The fact that the Baleno hails from the Indian market is apparent in the way it easily soaks up bumps on uneven roads.
As journos at Cars.co.za, we've always recommended the Baleno to friends and family. It was a slightly left-field option for many, but it was always a quality product at a competitive price. And so it's impossible not to recommend the Starlet, especially at a more affordable price.
Believe it or not, the Starlet provides a driving experience comparable to cars that cost twice as much. The hatchback feels particularly solidly made and very little road or wind noise translates into the cabin.
Ride comfort is smooth and the suspension deals with road imperfections very well. In fact, in the opinion of our test team, the car simply "feels" better than the much more expensive Toyota Yaris, which is a bit awkward, considering the base price of a Yaris is R60k more than the Starlet.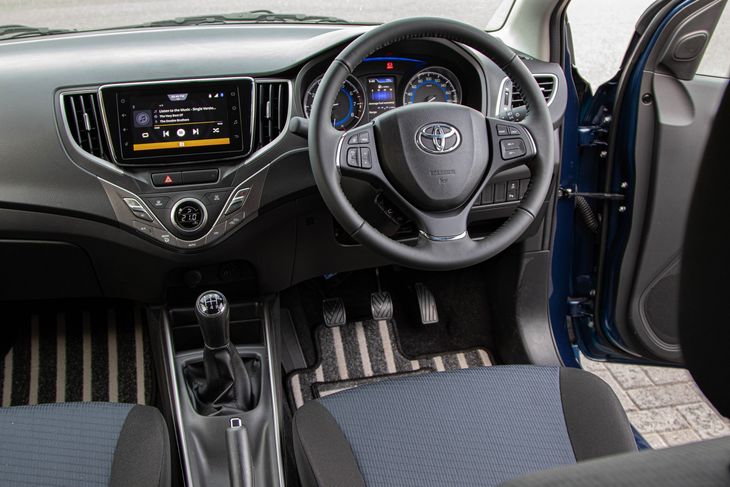 Touchscreen infotainment, push-button start, cruise control and auto aircon – the 1.4 Xr is certainly not miserly-equipped.
Standard features
In top-spec 1.4 Xr trim, the Starlet's exterior execution is distinguished by LED headlights with Daytime Running Lights (DRLs), chrome door handles, chrome beltline finishers, a roof spoiler, rear privacy glass and 16-inch alloys and wheels.
As for the interior, Toyota offers smart entry with push-button start, a reverse-view camera (including parking sensors) and a touchreen infotainment system that is compatible with Android Auto and Apple Carplay. It also offers regular Bluetooth hands-free telephony and audio streaming functions, which are linked to well-placed buttons on the steering wheel that enable you to pick up and end calls without taking your hands off the 'wheel.
That aforementioned leather-trimmed steering wheel looks and feels pleasing and offers satellite controls, including for the standard cruise control. The headlights and wipers don't function automatically, but the climate control most certainly does, plus the aircon is particularly potent.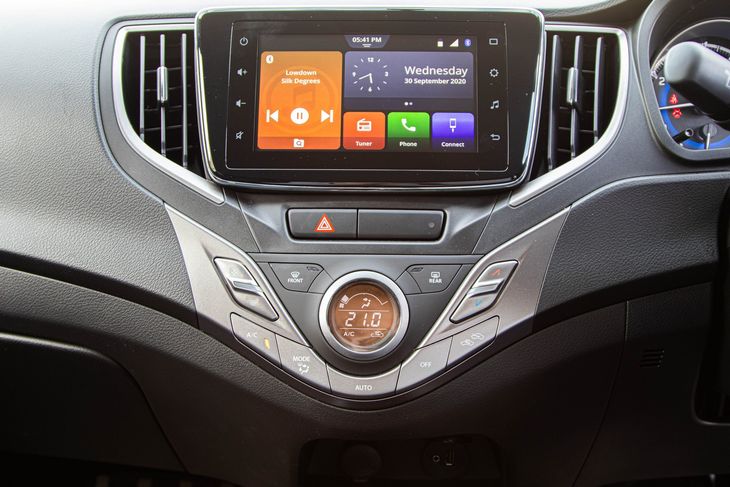 Screen mirroring technology, such as Apple CarPlay and Android Auto, is supported by the infotainment system.
The instrument cluster is analogue, but does feature a colour screen between the two dials that displays trip and fuel consumption information.
In terms of safety, the Starlet is equipped with ABS with EBD, brake assist, vehicle stability control and 6 airbags (front-, side- and curtain).
Performance & Efficiency
The 1.4-litre, naturally aspirated petrol motor is now quite an old engine, but with a proven track record of excellent reliability. Just don't expect fireworks in terms of its performance. The power figure is decent, but torque is very low (135 Nm), which results in much rowing through the gears on uphills, even in an unloaded car. Due to the lack of turbocharger, you can expect even more lacklustre performance up on the Reef...
That being said, the gearing of the 5-speed manual (a 4-speed auto is also available) is quite smart. First and 2nd gear are quite short, so the car is nippy off the line, making the most of the available torque. Top gear seems quite tall and serves to lower the engine speed to around 3 000 rpm at the national speed limit, which is impressive. During a long-distance drive the Starlet proved admirably quiet and comfortable at freeway speeds.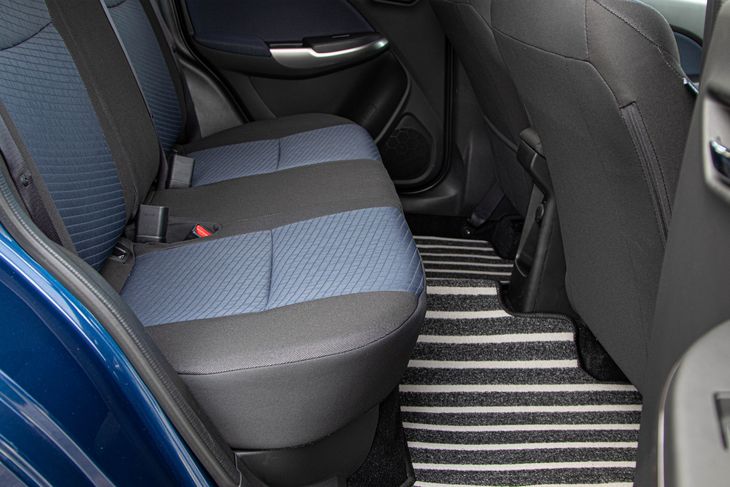 Another factor that distinguishes the Starlet from other dinky budget cars is the fact that it offers reasonable legroom.
In terms of fuel consumption, the Starlet benefits from Suzuki's rather stellar reputation for frugality. Suzuki claims an average figure of 5.1 L/100 km and we achieved an impressive 5.9. If you maintain a measured driving style, you'd eventually achieve returns close to the claimed figure.
Value for money?
And so, the million dollar question: Which one should you buy, the Baleno or the Starlet? To reiterate, the cars are identical, so there's nothing to choose between them in that sense. No, this argument comes down exclusively to rands and cents. And here's where it gets a bit complicated.
Whereas the base Starlet 1.4 Xi is listed at R204 900 and the Baleno 1.4 GL at R221 900, which strongly favours the Toyota, the 1.4 Xr (as tested here and 1.4 GLX (both in manual) are priced at R258 500 and R259 900 respectively, which makes the price difference a paltry R1 400.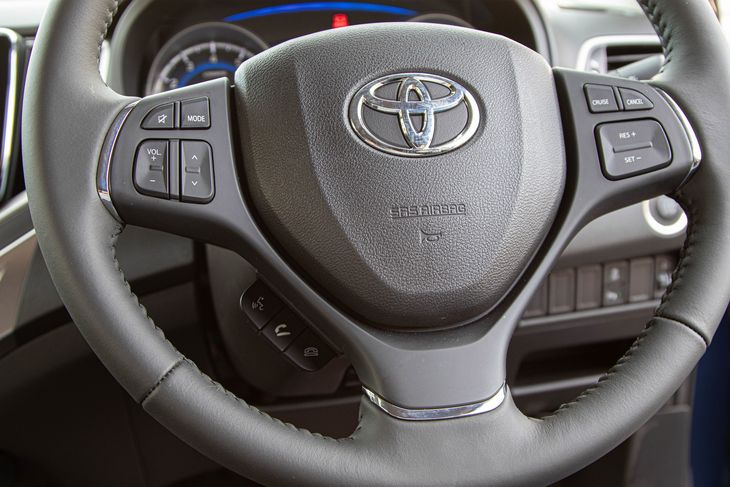 Unlike its Suzuki cousin, the Starlet has a leather-trimmed steering wheel, but with the same satellite controls.
However, the Suzuki is sold with a 5-year/200 000 km warranty and a 4-year/60 000 km service plan. The Starlet, by contrast, is sold with a 3-year/100 000 km warranty, and a 3-services/45 000 km service plan.
However (again), Toyota is currently running a promotion whereby the first 6 000 Starlets sold in South Africa will receive a complimentary 5-year/150 000 km warranty, which of course brings it more in line with that offered by Suzuki. In that case, there is 1 free service between them.
If, however, you miss one of the first 6 000 units, then Toyota offers 2 warranty-extension options, both of which can be added to your finance package at the point of purchase. The pricing is rather remarkable: you could extend Toyota's 3-year factory warranty to a 6-year/unlimited km warranty for just R3 090. If that isn't enough cover for you, you can extend your 3-year warranty to a 8-year/unlimited km warranty for just R4 750. That really is quite astonishing value, but really just underscores how confident Toyota is in the Suzuki Baleno as a product.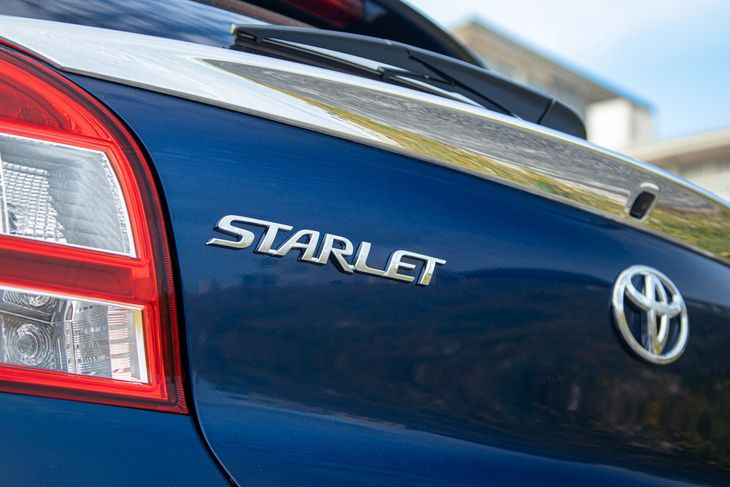 Whereas the Etios felt reasonably punchy, the Starlet's more of a cruiser, but it's a fundamentally better product overall.
Price and after-sales support
The Toyota Starlet 1.4 Xr sells for R258 500, which includes a 3-year/100 000 km warranty, and a 3-services/45 000 km service plan.
Verdict
In the 5-year history of the Cars.co.za Consumer Awards, powered by WesBank, Toyota has won the coveted Brand of the Year title on 2 occasions... and so has Suzuki! Both brands have sterling reputations for vehicle quality, reliability and steller after-sales service. So, if your purchasing decision comes down to a choice between a Starlet and a Baleno, we encourage you to shop around, you might find a Suzuki dealer that is willing to give you a better deal than a Toyota dealership, or vice versa.
Other than that, Toyota's dealership network is massive, the largest in the country, while Suzuki has a considerably smaller dealer footprint. If you live in a remote area, chances are there's a Toyota dealership near you, while your nearest Suzuki dealer might be an inconvenient distance away.
And lastly, the Toyota brand does enjoy, on average, less depreciation than just about everything else on the market, save for perhaps Volkswagen. So, if you are likely to sell your car in 3 years or less, you might find you'll get more for the Toyota vs the Suzuki. We're splitting hairs here...