The Toyota RAV4 was one of the first compact SUVs to reach the market and continues to be a smash hit worldwide. Older models remain popular in the 2nd-hand car market and, with the recent launch of Japanese marque's 5th-generation family car, it's time to take a closer look at its predecessor as a used-car offering.
Often credited with establishing the compact crossover/SUV market segment in 1994, Toyota's RAV4 continues to be a worldwide sales phenomenon. The 4th-generation RAV4, which launched in South Africa during 2013, notched up sales in excess of 3 000 units per year and it became even more popular towards the end of its lifecycle (more than 5 000 units were sold in 2017). That means there are many previous-generation RAV4s in the used-car market, and buyers looking for a trusty, versatile and stylish all-rounder have plenty to choose from.
Toyota RAV4 line-up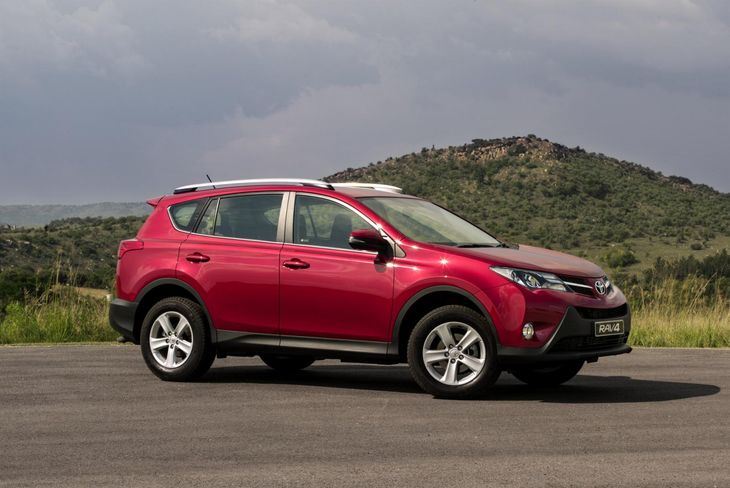 At the time of its launch in 2013 the RAV4's boxy design received mixed reviews, but it's aged comparatively well.
The 4th-generation Toyota RAV4 (internal code XA40) arrived in Mzansi during the first half of 2013. It was offered with a choice of 3 engines: a 2.0-litre petrol (107 kW/187 Nm) in the GX (6-speed manual and CVT), a 2.2-litre turbodiesel (110 kW/340 Nm) in GX AWD derivative and a 2.5-litre petrol (132 kW/233 Nm) powered the flagship VX AWD automatic, which, predictably, didn't sell too well. But the rest of the RAV4 line-up soon found favour in the local market, courtesy of a combination of high-value pricing, decent-enough standard specification... and the Toyota badge.
If fuel efficiency is important to you, then you can rule out the 2.5-litre derivative, as it is likely to consume around 10.5 L/100 km, in contrast with a claimed figure of 8.5 L/100km. The 2.0-litre petrol isn't that light on fuel, with a claimed figure of 7.7L/100 km (real world likely around 9.5L/100 km). The 2.2-litre turbodiesel is, predictably, the most frugal, with a figure of 5.6 L/100km claimed for the manual, and 6.5 L/100km for the automatic.
Almost exactly a year after its launch, Toyota made a few tweaks to the RAV4 (mostly infotainment system-related) and added a 2.2D VX AWD derivative with an automatic transmission.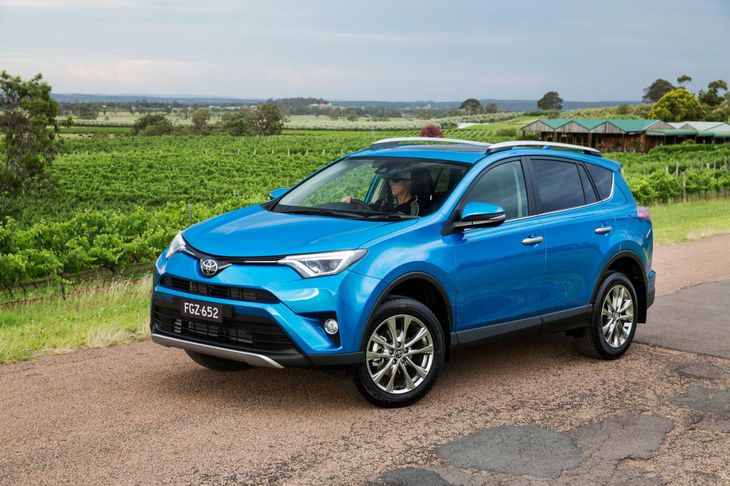 The 2016 facelift endowed the RAV4 with more sophisticated looks and an improved cabin. It was well-received by the market.
The major facelift came in 2016, and as far as mid-life updates go, it was a comprehensive and ultimately very effective revision for the RAV4. The front-end gained a far more sophisticated design, while detail changes inside made the RAV4 appear more upmarket, plus it addressed one of the few complaints that could be levelled at the pre-facelift car – that of a somewhat dowdy fascia constructed of iffy plastics.
At the time of the facelift, the range continued with the same 5 derivatives offered before, but the VX specification was considerably enhanced on the safety front, boasting such items as rear cross-traffic alert and lane-change assist. It also offered no fewer than 9 airbags as standard. At the same time, stylish footwell lighting was added to the list of features, too, but the sunroof was deleted.
That, however, wasn't the end of the refinements for the RAV4 – later, in 2017, there were more specification enhancements, with GX derivatives gaining cruise control and a leather-wrapped steering wheel.
> ALSO READ: Toyota RAV4 2.2D AWD GX (2016) Review
> ALSO WATCH: Toyota RAV4 Video Review (2016)
Product strengths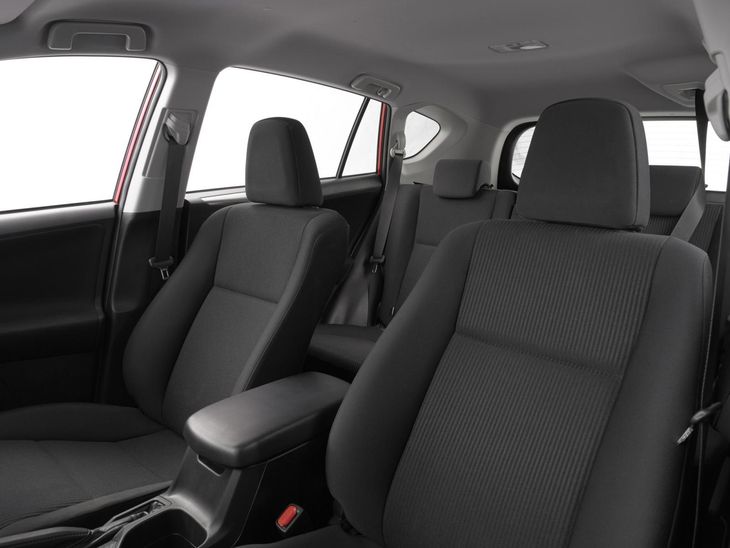 Though GX derivatives lacked leather, the upholstery fitted appears to have lasted well on the vehicles we've looked at.
Space and Practicality: A significant 205-mm longer than its predecessor, 30-mm wider and boasting a 100-mm longer wheelbase, the 4th-generation RAV4 is a spacious compact SUV/crossover that offers commendable levels of head-, shoulder- and legroom for all 5 occupants. Toyota also paid careful attention to the design of its seats, particularly for the driver, with greater range of adjustment not only for the seat (height), but also the rake/reach-adjustable steering wheel. Thinner pillars improved vision out of the vehicle, and the load bay was among the biggest in its segment (547 litres), with the claimed length of the area's floor claimed to be in excess of 1m. The rear seats don't only fold completely flat, they also offer reclining backrests. And on some derivatives, there is a neat net-like "hammock" in the bay for safely transporting bottles and other breakables.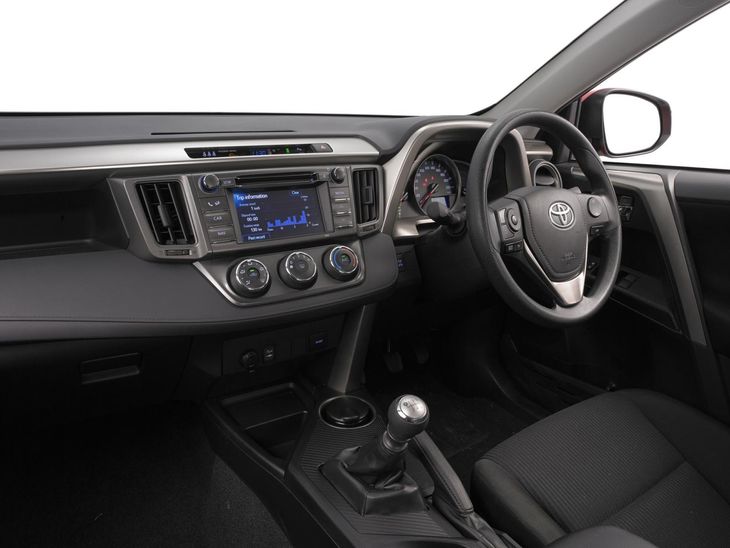 At launch, the cabin came in for some criticism, largely for an inconsistency in the "perceived" quality of the plastics and somewhat "dated" design.
Good standard specification: At the time of its launch, the RAV4 undercut most of the competition, but offered similar features. The GX, for example, offered park-distance control and a very comprehensive safety specification that included dual front-, side-, curtain- and knee airbags. Its smart-looking infotainment system was competitive, but probably more basic than it looked. Still, it offered USB/Bluetooth connectivity.
VX specification was, of course, considerably more generous, with standard items such as an electrically powered tailgate, cruise control, electrically adjustable driver's seat, heated front seats, dual-zone climate control, a reverse-view camera, sunroof, as well as keyless entry. The specification levels were continuously adjusted to better align the RAV4 with market demands (see details under "Toyota RAV4 line-up").

The 2016 facelift introduced much-improved finishes inside, and a further boost to specification levels.
Comfort levels: With its extended wheelbase and wide tracks, the RAV4 is a confident, easy-riding vehicle out on the road that also maintains its composure on poorer surfaces. The ride is on the soft side, but this is a positive trait for a family vehicle, and general refinement levels are high. After the 2016 facelift, the general interior ambience improved even further and the RAV4's cabin moved decidedly upmarket.
The all-wheel-drive system prioritises fuel efficiency, so in general use drive is sent to the front axle, with the rear only coming into play when slip is detected in the front. There is, however, a "Lock" function, which splits the torque evenly between the 2 axles. This gives the RAV4 very decent traction in most off-road conditions, but do not view this vehicle as a smaller Fortuner – the RAV4 is more of a soft-roader that can be used to confidently tackle gravel roads and lighter off-the-beaten-track situations. The "Lock" function only works up to speeds of 40 kph.
Reliability: As one of its most important models, Toyota was never going to drop the ball on the reliability front. There are very few serious reliability concerns when it comes to this generation of RAV4 and even its interior, which was initially criticised for appearing sub-par in terms of its perceived quality, appears to resist the wear-and-tear of day-to-day use well.
Product weaknesses
When the RAV4 arrived in South Africa in 2013 it was keenly-priced, which resulted in most period reviews giving it only a light rap on the knuckles when it fell short in some aspects. With time, however, Toyota's usual resale strength made its presence felt with used RAV4 examples positioned more directly over (or even above) its rivals. So, compared with some other vehicles you can pick up at the RAV4's price point(s), it may lack a little in features (no cruise control on initial GXs, for example) and the interior trim fittings were pretty humdrum compared with the competition, too.
Mechanically speaking, the 2.5-litre was a little heavy on fuel, the 2.2-litre diesel relatively noisy (particularly in pre-facelift guise) and the manual gearbox (in the 2.0-litre petrol) quite clunky. But there's nothing inherently "broken" about this offering, and those criticisms are minor given the overall durability of this product.
When we dug into our Ownership Satisfaction Survey (complete feedback on your car here), we found that owners were generally very happy, with the RAV4 only really scoring worse in terms of "rattles and squeaks" than major rivals such as the Volkswagen Tiguan and Hyundai Tucson. Interestingly, it also lagged those rivals in terms of "Driving Satisfaction", but only slightly.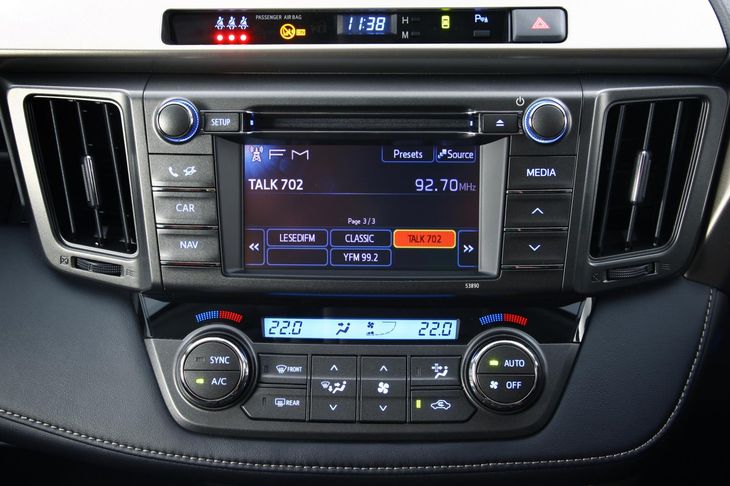 The infotainment system looked impressive at the time, but lacked the functionality offered by some rivals.
When visiting the dealership or taking a potential private-vehicle purchase for a test drive, look out for the following;
Underbody damage: Though the RAV4 is not a hardcore off-roader, they are often used as holidaying vehicles that may be required to venture off the beaten track. So have a look underneath the vehicle for signs of damage or harder-than-expected off-road usage. For the same reason (holidaying), also check out the roof...
Spare wheel: The RAV4 came with a full-size (alloy) spare wheel. Be sure to check that a) it's there and b) that it's usable. If you buy from a reputable dealer there is usually a safety check that requires the 'wheel to be up to scratch, but if you don't... it's on you!
CVT vibration: If you notice vibrations from the vehicle when accelerating (CVT-equipped vehicles), then there could be an issue with the transmission.
What to pay?
With around 400 of this-generation RAV4s listed on Cars.co.za when this article was being researched, there should be lots to choose from.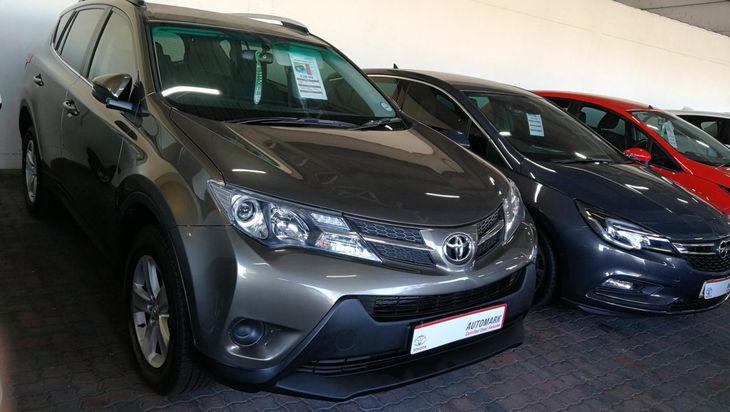 This very clean pre-facelift 2.0 GX automatic is trading for R239 900 at N1 McCarthy Toyota in Cape Town.

Below R200 000: Listings start at around R175 000, but predictably these are relatively high-mileage, older vehicles that will show some wear (exterior and interior). It's worth pointing out, however, that even the vehicles listed under R200 000 appear to have lasted well, with only a major touchpoint such as the plastic-rim steering wheel on the GX prone to wearing (as all plastic steering wheels are). A word of advice – do make the effort to look on the roof, as the standard rails on these cars lend themselves to use, and consequently, some cars show scratches on the roof. It is possible to find clean 2013/2014 2.0 GX derivatives under R200 000, and given the mechanical simplicity of the car (no turbo, for example), as well Toyota's inherent build quality, we would not be put off entirely by relatively high mileage, particularly if the vehicle is bought at a Toyota dealership.
Below R250 000: You are really spoilt for choice in this price range, with a wide variety of good quality pre-facelift 2.0 GX automatics on offer, as well as a handful of (pre-facelift) 2.2-litre turbodiesels in VX specification. Be patient, and you may even be able to pick up a facelifted example of the 2.0 GX, but likely with a mileage of over 100 000km (not necessarily a problem, provided the vehicle was properly looked after). Our choice in this price range would be a very clean (pre-facelift) 2.2L turbodiesel VX automatic.
Above R250 000: At around R270 000 you can pick up a very nice, low-mileage 2.0 GX automatic (facelift), which really offers pretty much all you need from an affordable, spacious family car. You may have to stretch your budget slightly if you want the 2017-spec version with cruise control and the leather-wrapped steering wheel. For those shopping on a bigger budget, you should definitely consider the 2017 2.2D VX Auto, which currently starts from around R330 000. It is fully loaded with features and very economical.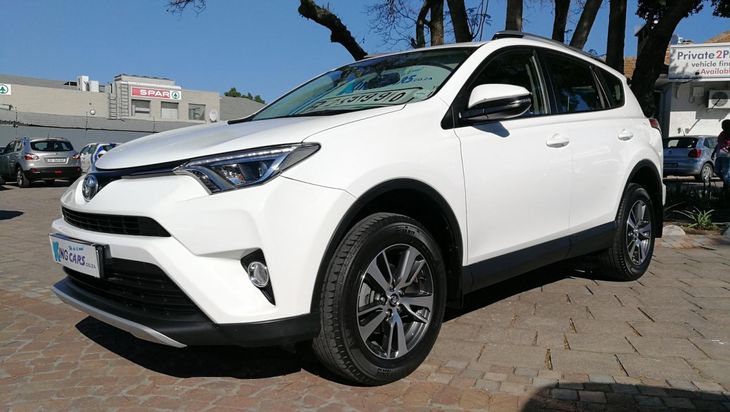 This 2017 2.0 GX Automatic (around 50 000km) was on sale at King Cars in Bellville for R299 990.
> CAN YOU AFFORD A Toyota RAV4? Find out here
Pick of the range?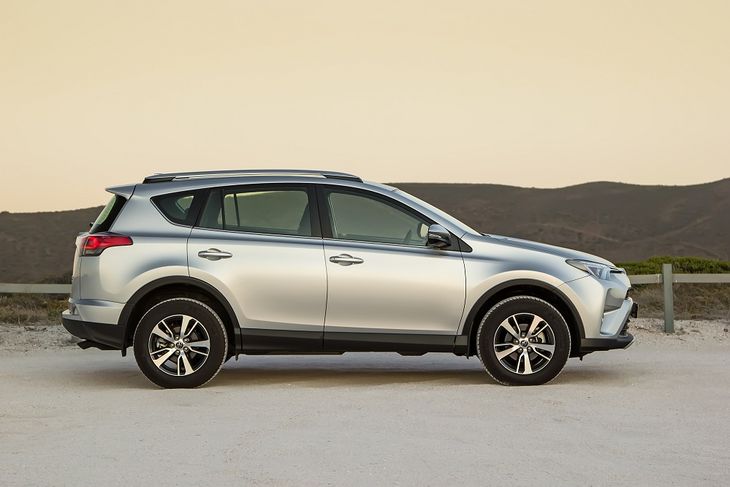 In facelifted guise, the previous Toyota RAV4 still looks like a modern, sophisticated offering.
Because of the vast price difference between early pre-facelift and post-2016 models, it's tricky to select just one derivative as the pick of the range. From a design and cabin refinement point of view, the facelifted (post-2016) RAV4 is far more desirable, but you do pay for the improvement. At the same time, a very clean, low-mileage pre-facelift car will be considerably cheaper, and therefore attractive.
Let's put it this way. The one derivative you can largely ignore is the 2.5-litre petrol, simply because it's rather thirsty. If you can stretch your budget to over R270 000, we'd highly recommend getting a facelifted car, while if under that price, we'd suggest rather looking for a low-mileage pre-facelift car. The same rule applies for petrol and turbodiesel (the latter obviously being slightly more expensive).
Verdict

Check out our 2016 video review of the Toyota RAV4 2.2D GX Auto.
You seemingly can't go wrong with one of these... Though the fourth-generation RAV4 didn't shoot the lights out in any particular area (besides, perhaps, reliability), it is such a balanced, consistently good offering that one can easily forgive it the odd missing feature or scratchy facia plastic trim. With some derivatives now selling for the same kind of money that would buy you a considerably smaller car (from potentially a less reputable brand), going the used route makes particular sense when it comes to this Toyota RAV4. It comes highly recommended.
Rivals? There are many... The Mazda CX-5 is a particularly strong candidate for similar reasons as the Toyota, being spacious and built as solid as a rock. Another Japanese contender is the Nissan X-Trail, which may be a valid alternative particularly if you need a 7-seater (sold as an option on X-Trail). And if it's German class and sophistication you're after, there's the Volkswagen Tiguan, but it can't match the Toyota's spaciousness and is not as highly rated for reliability. Don't ignore the Subaru Forester and Honda CR-V either, as both of those are solid, reliable and practical offerings. And then there are the Koreans, the Hyundai ix35, Tucson and Kia Sportage – also deservedly popular.
If what you're looking for is a no-nonsense, quality, reliable, safe, comfortable and practical family car in the below R300k bracket, then the fourth-generation Toyota RAV4 comes very highly recommended.
Parts pricing
We asked Toyota for the prices (incl. VAT) of some of the major parts for 2 of the most popular models: the 2015 RAV4 2.2D VX AWD Auto (pre-facelift) and 2017 2.0 GX CVT (post-facelift). These prices were accurate on May 13, 2019, and are subject to change.
| | | |
| --- | --- | --- |
| Part (item) | RAV4 2.0 GX CVT (2017) | RAV4 2.2D VX AWD Auto (2015) |
| Air Filter | R604.87 | R819.89 |
| Oil Filter | R256.98 / R290.41 * | R218.29 |
| Pollen Filter | R747.10 | R747.10 |
| Spark Plug (each) | R396.80 | - |
| Wiper blades (set) | R1 008.33 ** | R993.91 |
| Front brake pads | R1 550.22 | R1 550.22 |
| Rear brake pads | R859.33 | R859.33 |
| Cambelt or Timing Chain | R1 347.28 | R1 171.84 |
| Tensioner | R458.97 | R1 121.50 |
| Front brake discs | R3 719.39 | R3 719.39 |
| Rear brake discs | R2 026.19 | R2 026.19 |
| Clutch plate | - | - |
| Pressure plate | - | - |
| Flywheel | - | - |
| Fanbelt | R803.68 | R1 565.91 |
| ECU | R9 655.14 | R9 559.21 |
| Bonnet | R6 864.87 | R6 864.87 |
| Front bumper skin | R4 661.89 | R3 983.86 |
| Grille | R2 405.00 | R2 453.52 *** |
| Left front fender | R3 086.23 | R3 086.23 |
| Wheel rim | R7 869.24 | R7 828.83 |
| Front left headlamp assembly | R7 820.01 | R7 478.44 |
| Front windscreen | R7 803.12 | R7 681.99 |
| Air-con condenser | R6 494.35 | R6 494.35 |
| Radiator | R7 262.69 | R8 352.19 |
| Right-hand front door | R9 651.86 | R9 651.86 |
| Right-hand rear door | R9 316.01 | R9 316.01 |
| Tailgate | R14 010.02 | R12 519.81 |
| Rear window glass | R4 923.99 | R6 805.12 |
| Left rear taillamp assembly | R2 546.18 | R2 151.7 |
* two types for GX
** three blades
*** two pieces
Looking for a Toyota RAV4 to buy?
Find one today on Cars.co.za by clicking here