Toyota's limited-edition Hilux Dakar may focus on the visuals, but in a cut-throat segment where status and desirability are increasingly important, that may be a very good play.
We like: Handsome styling revisions, inclusion of navigation, refined powertrain, rugged off-road feel
We don't like: Clumsy infotainment system
Alternatives (click on car names to view specs and request test-drives)
Ford Ranger 3.2 Double-Cab Wildtrak 4x4 Automatic: Ford no longer offers a manual Wildtrak 4x4, so you'll have to spend about R30k more than the (manual) Hilux Dakar if you want to get into the Ranger flagship. Of course, you could then also consider the automatic Hilux – which you really should – which costs around R10k less than the big Ford. We think the Ranger has the edge on the road, while the Toyota leads in the rough stuff. The Ford's infotainment system is also better and it has more rear legroom.

Mitsubishi Triton 2.4D-ID double-cab 4x4 Extreme: Sadly Mitsubishi's latest Triton has not quite gained the market acceptance the brand might have hoped for. This bakkie does a lot of things right... the engine is refined and powerful, the cabin spacious and the price good. It may lack some of the frills of the Toyota and Ford, but given its positioning and standard specification, it is well worth a look. This Extreme special edition comes with a lot of extras, including a tonneau cover, all-terrain tyres etc. For similar money, you can also consider the newer Athlete special edition, which comes only in automatic and at a more affordable price than the Toyota.

Nissan Navara 2.3D Double Cab 4x4 LE: Another new entrant that has underperformed in the local market, Nissan's new Navara is better than its sluggish sales suggest. The engine is smooth, powerful and efficient and the standard features comprehensive. It's also good off-road and comes backed with a lengthy 6-year/150 000 km warranty. Read our review here.
SERIOUS ABOUT BUYING?
Where does it fit in?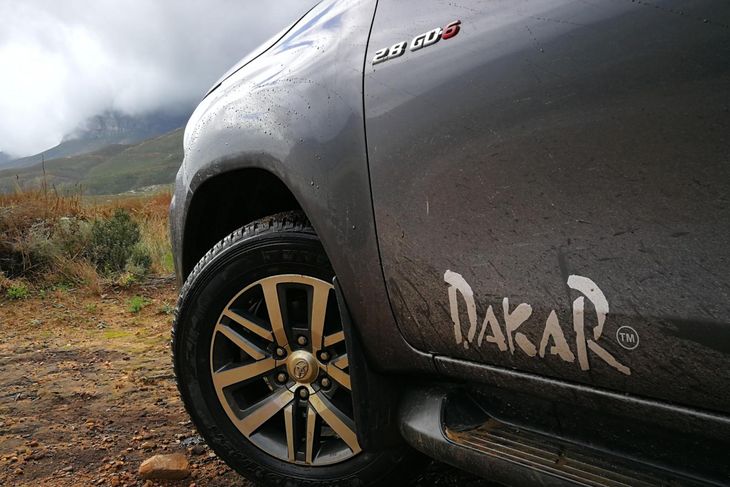 With excellent off-road ability, the new Hilux does its Dakar stickers proud.
While the Dakar name is not new to the Toyota Hilux stable, recent podium achievements in the famous desert race by locally made Hiluxes, driven by a local hero (Giniel de Villiers) have made the application of the badge to the top-selling local bakkie more fitting. Special-edition bakkies are big business in South Africa and Ford has done particularly well with its leisure-oriented Wildtrak Ranger derivative, which strictly speaking isn't a limited-run vehicle, but has gained an almost independent brand aura of its own. Toyota's current Raider flagships perhaps don't offer enough "wow" factor to garner the same enthusiasm around the braai... and that's where the Dakar comes in...
The Good
Improved styling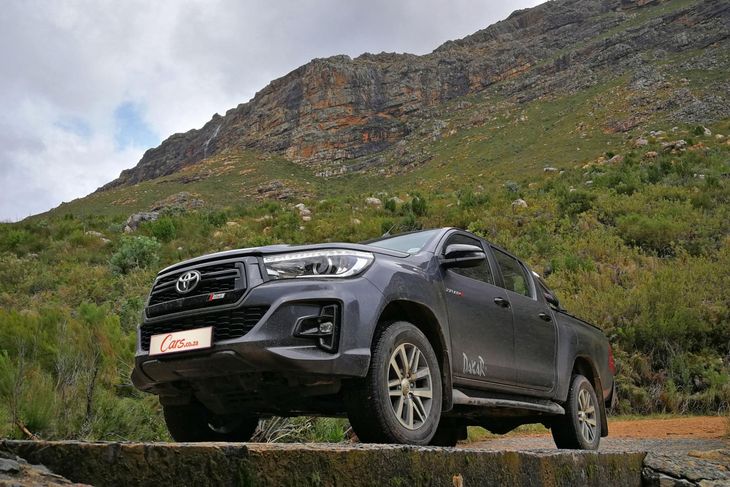 New front-end is a significant improvement on what has been used for the "new" Hilux thus far.
These days flagship bakkies are desirable, status-enhancing family cars that need to look the part. Consequently, that's where a lot of the focus falls with the Dakar edition. What do you get? Well, a significantly revised front-end design which received an enthusiastic double thumbs-up from our test team is the biggest news, but look closer and you may spot gloss-black exterior finishes for the door handles and side mirrors, for example. Dakar edition Hiluxes are also only available in 4 colours, of which a Ford Ranger Wildtrak-rivalling hue called Inferno metallic is the most eye-catching. Our Graphite Grey metallic test unit also sported various optional extras, including a tonneau cover and Dakar-branded "styling" bar.
We do think the changes have been successful in not only creating a more desirable flagship from a styling point of view, but, like the Wildtrak, which has a distinct character of its own, this Dakar looks rather different to the Raider it is closely based on. The market will undoubtedly like this "exclusivity".
Excellent drivetrain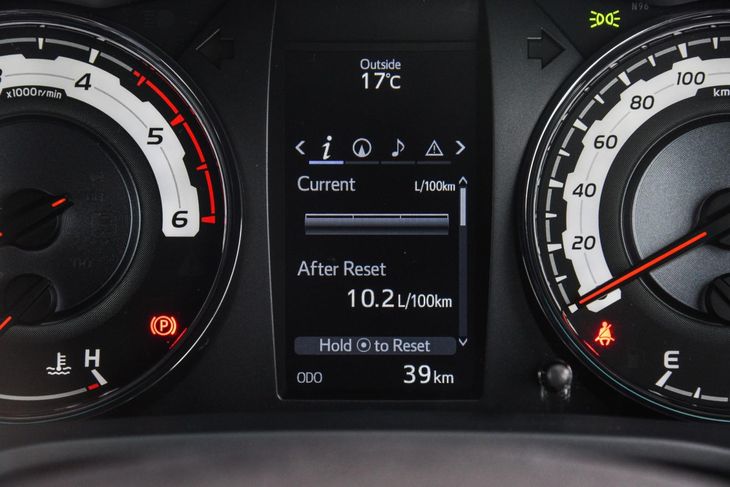 The 2.8L engine delivers its power eagerly and smoothly. It's also far more efficient than Ford's 3.2L.
We continue to rate Toyota's 2.8-litre turbodiesel engine highly – it delivers a great combination of refined power and efficiency. The outputs of 130 kW and 420 Nm compare well with the competition, but where the Hilux really beats the bigger-engined Ford (for example) is in how responsive it feels to driver inputs. The 3.2-litre engine in the Ford feels comparatively sluggish. And then there's the fuel consumption advantage, of course. Toyota claims a combined cycle figure of 8.5 L/100 km which comfortably beats the Ford, but not the Mitsubishi or Nissan offerings. Nevertheless, our real-world figure of around 10 L/100 km is good for this kind of vehicle.
Our test unit was fitted with Toyota's robust-feeling (and rev-matching) 6-speed manual gearbox, and while there's nothing wrong with it, we would highly recommend the smooth 6-speed automatic that only adds R20k to the price. The decline in demand for manual leisure-oriented 4x4 bakkies has resulted in Ford no longer offering such a vehicle. We suspect more brands will follow.
Still, if you like shifting gears yourself, then the manual 'box in the Hilux won't disappoint. Shift-on-the-fly four-wheel drive is offered and there is a rear diff-lock too. The Hilux Dakar genuinely feels unstoppable off-road and it's worth emphasising the solidity of the vehicle in off-road conditions, too – there wasn't a creak, rattle or squeak to be heard from anywhere inside the cabin.
More upmarket cabin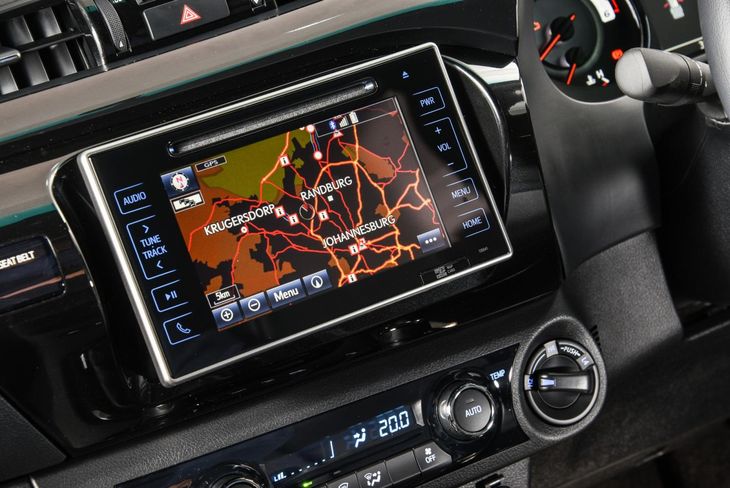 SD-card-based navigation is included with the deal. Infotainment system remains clunky to use.
Inside there are also easy clues to this Hilux being a Dakar edition – the roof lining is black (as opposed to light grey on Raider), silver trim inserts have been replaced by metallic black, the upholstery is black leather as opposed to cloth and there's also new instrumentation (both in terms of the dials and digital display). From a usability point of view, the addition of SD-card-based satellite navigation is probably the most important, but we still rate the touchscreen infotainment system's user friendliness as being relatively poor.
Standard specification is good, with climate control, cruise control, auto lights, reverse-view camera view, 7 airbags and vehicle stability control (including trailer sway) all standard.
The (not so) good
Much the same as before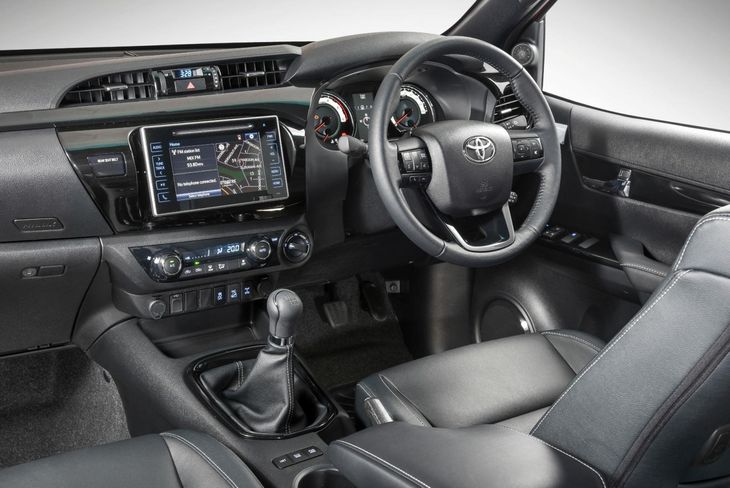 Leather upholstery is part of Dakar specification, along with the greater use of metallic black trim inserts and a black roof lining.
Seeing as the Dakar edition represents merely a style upgrade of the tried-and-tested Raider, the flaws inherent to the design remain the same. We've already mentioned the clumsy (though now more comprehensive) infotainment system, and the relatively tight rear legroom remains an irritation, more than a deal breaker.
Furthermore, the ride quality remains on the firm side and this is an area in which the Ranger arguably remains the class leader.
Pricing and Warranty
The Hilux Double Cab 4x4 Dakar costs R601 100 (July 2018) and comes backed with Toyota's usual 3-year/100 000 km warranty and 5-year/90 000 km service plan. Service intervals remain relatively short at 10 000 km. For a comprehensive specification breakdown (as well as finance estimations), please visit this page.
Verdict

If you've been looking at buying a Hilux 4x4 but found its design a trifle dull compared with, for example, the Ford Ranger Wildtrak derivative, then this Dakar edition may just be the solution. It offers significantly greater design appeal than the standard Raider for very little more and comes with the useful additions of navigation and leather upholstery. Underneath the shiny bits it remains the trusty, rugged, refined do-all we rate so highly. We do highly recommend spending a little more for the automatic, however.
Looking for a new/used Toyota Hilux to buy?
Find one on Cars.co.za today by clicking here
Related content
Most Fuel-Efficient Double-Cab Bakkies in SA
5 Special Edition Bakkies Gone Wrong
Drag Race: Hilux vs Ranger vs Amarok vs KB