The eagerly-anticipated Toyota (GR) Supra has finally touched down in South Africa and we had a chance to put it through its paces on some of the finest roads in the Eastern Cape.
To say the all-new Supra's gestation was controversial would be quite the understatement. Toyota and BMW's co-development of a sportscar (the Supra) and roadster (the Z4) set tongues wagging. However, platform/powertrain sharing is nothing new... If it didn't exist, we wouldn't be blessed with iconic machines such as the Lamborghini Huracan and Audi R8 cousins. The supercar pair share a multitude of parts and underpinnings, yet the cars' respective Italian and German manufacturers haven't provoked the ire of sportscar purists like Toyota and BMW have. Why would that be?
Granted, Toyota and BMW aren't the most natural of allies, but petrolheads tend to forget that car companies are businesses. Many of us wish that every manufacturer with sporty pretensions would produce a compact 2-door sportscar, but the reality is that cars such as the Supra and Z4 sell in low volumes; they're hardly money-spinners for their manufacturers. Plus, in the case of Toyota, the Aichi-based manufacturer did not have a suitable rear-wheel-drive platform or performance-oriented motor to produce an all-new Supra. The natural course of action was to partner with a firm with a stellar track record for those precise elements. Enter BMW, which was conveniently working on the latest iteration of its Z4 roadster.
Read the incredible story of how BMW and Toyota worked together to revive the Supra
Fast forward to 2019 and the all-new 5th generation Toyota Supra (Codenamed A90) has arrived in South Africa... and not all that long after its German ragtop relative. Just look at it! In an era in which manufacturers' design languages are often accused of being too generic/derivative, we can comfortably declare this bold and aggressive look as distinctive – there's nothing quite like it and we have the Toyota FT-1 concept (2014) to thank.
Own a Toyota? Tell us about your experience here.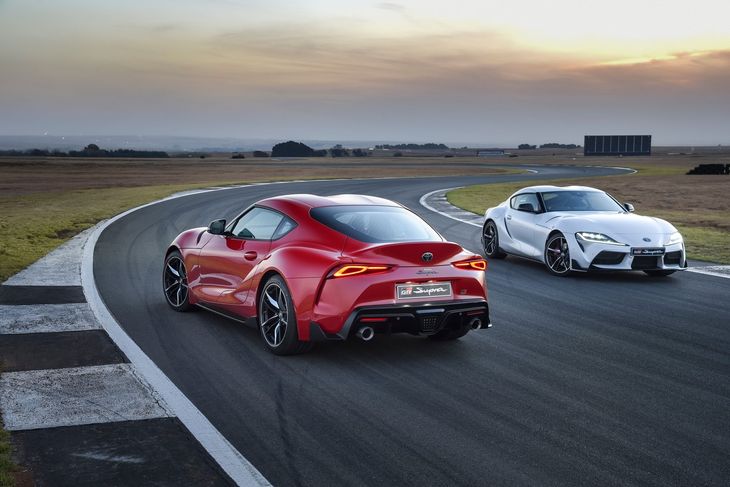 Sensational looks are the main thing when you cast your eyes upon the all-new Toyota Supra
Powertrain
The Supra's BMW-sourced 3.0-litre straight-6 motor delivers 250 kW and 500 Nm, which reaches the rear wheels via an 8-speed automatic transmission. It's a ZF-sourced transmission, which can be mapped to deliver dual-clutch-like quick shifts. Toyota claims a 0-100 kph time of just 4.3 seconds, thanks to the addition of launch control. There are shift paddles located on the steering wheel for additional control and enjoyment.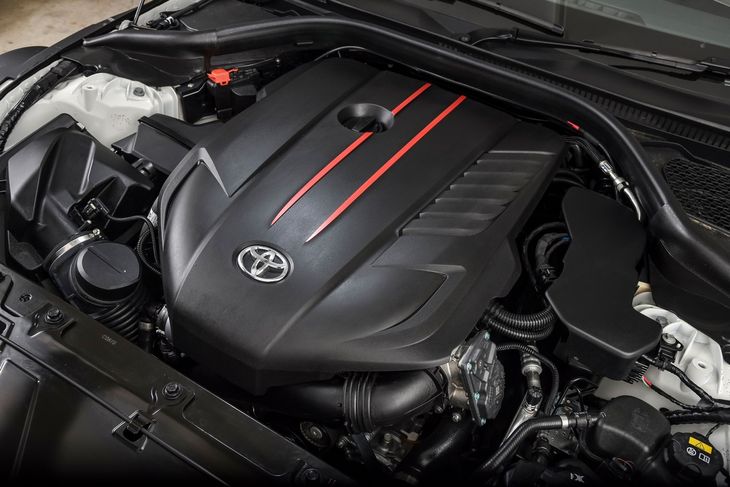 This is the 3.0-litre turbocharged 6-cylinder engine. Sourced from BMW, it produces 250 kW and 500 Nm.
The all-new Toyota Supra also features 2 driving modes: Normal and Sport. Normal mode is pretty self-explanatory, but Sport sharpens things up and makes the newcomer more responsive, eager and (importantly) louder. You can even dive deeper into the car's settings and toggle the adaptive dampers, transmission mapping, engine sound, engine responsiveness and active differential performance to your heart's content.
SA-spec cars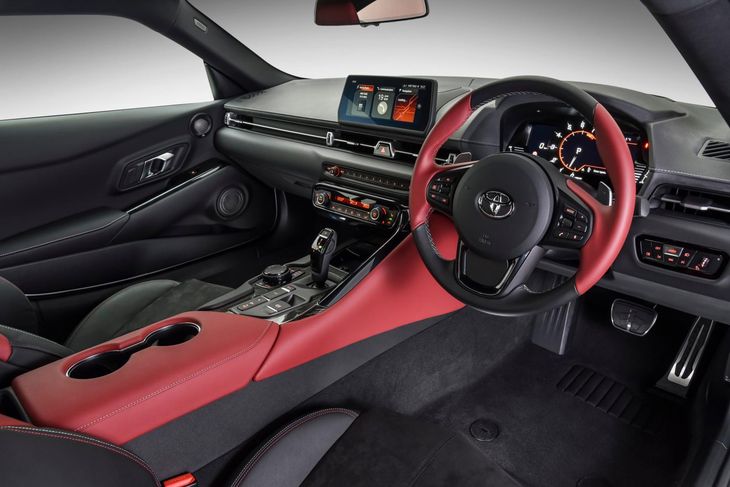 Toyota SA offers the Supra in 2 flavours: GR Supra Track and GR Supra, both of which feature an active differential and 19-inch alloy wheels.
The Track-spec Supra, which is obviously aimed at driving aficionados, comes equipped with dual-zone automatic air conditioning, smart entry with push-button start, leather-trimmed steering wheel with thumb-mounted switches and a digital instrument cluster. LED adaptive headlights, LED rear lights and LED daytime running lights are fitted, plus the mirrors (side mirrors and rear-view mirror) are all auto-dimming. Rain-sensing wipers, a reverse-view camera and a 10-speaker audio system (with a 6.5-inch display), Bluetooth functionality and USB port round off the Track derivative.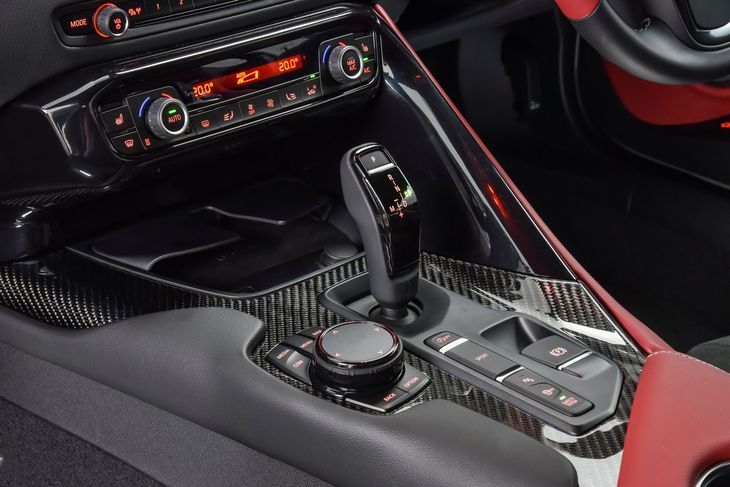 There's plenty of good looking componentry here, but as you can see, it's mostly from the BMW parts bin.
The higher-grade version gets an upgraded infotainment system (with an 8.8-inch touchscreen), satellite navigation, a 12-speaker JBL audio system, leather/Alcantara sports seats (with heating and memory function), a wireless charging pad, tyre-pressure monitoring, park distance control and a head-up display. Adaptive suspension and an array of active-safety equipment (let's be thorough: a pre-collision system, lane departure alert with steering assist, adaptive cruise control, automatic high beam, adaptive front-lighting system, road-sign assist, blind-spot monitor, rear cross-traffic alert, rear-end collision alert, plus Intelligent parking sensors) feature on this Supra derivative.
What's it like to drive?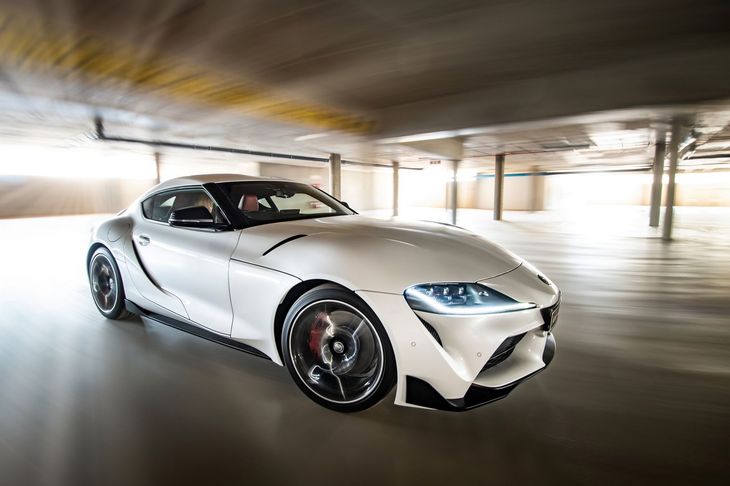 It ticks both the comfort and sporty boxes with ease.
In complying fully with its product brief, the Toyota Supra was eminently exciting to drive – our 2 days with the vehicle confirmed that. Our launch route took us through some majestic roads such as the N10 and R63 in the Eastern Cape. We also had the chance to test out the Supra's straight-line acceleration on the runway at Somerset East, as well as a few laps on the newly-resurfaced Aldo Scribante racetrack outside Port Elizabeth.
Climb into the Supra and you get that low-slung sportscar feeling right away. Take the time to get the seating position just right and ensure that you can see over that long bonnet. Stab the engine start button and the 6-cylinder wakes up with a bark, even in Normal mode. Engage Sport and the growl deepens, as if to let you know that things have become instantly more serious. The first part of our drive was leaving the confines of Port Elizabeth and we noted the fair ride quality, which was supple for a sportscar. Overtaking was effortless; the beast in the engine bay barely stirred as we dispatched slower traffic. Initially, we left the 'box to its own devices, before taking control with the paddles on more technical ribbons of tarmac.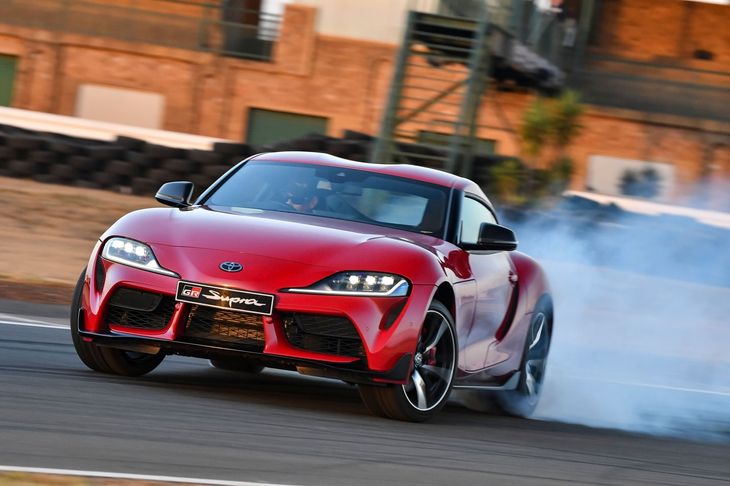 The rear-wheel-drive setup means beautiful drifts are possible
Once we reached the mountainous regions, it was time to engage Sport mode and put the vehicle through its paces. First thoughts? Goodness gracious, this is one quick and composed performer! Not only does power come on from low down in the rev range, but you can wring the motor's proverbial neck all the way to the redline before reaching for that next gear, which itself engages without hesitation. This process is accompanied by a soundtrack that is an instant mood enhancer, if only it could be bottled and sold over the counter (without a prescription) at Dis-Chem.
When coaxing the lithe sportscar into some corners, we discovered some interesting things: Firstly, those brakes are highly potent, and secondly, the car is supremely balanced. Having experienced the latest iteration of the Z4 M40i, we were apprehensive of accelerating too hard, in case the mighty motor's torque delivery overwhelms the rear wheels. Surprisingly, the grip levels were impressively high, which we're going to put down to a good setup as well as a fresh set of Michelins. Stability and rigidity levels are also to be commended – it's amazing what a hard top can add!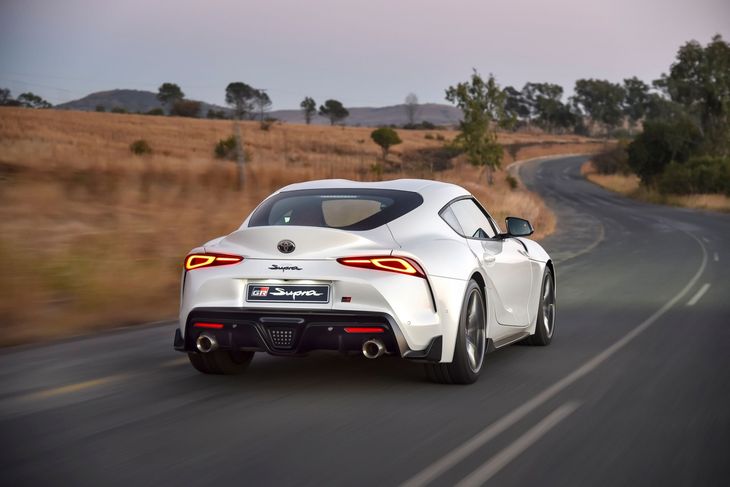 The Supra is at home on the open road where comfort and sportiness merge seamlessly
Despite its overt sportiness, the Supra's ride quality is composed. In Normal mode, there's enough pliancy and suppleness to make it a genuine day-to-day champion. Impressively, you can set the adaptive damping to Sport, and, granted, things firm up, but at no point does the ride quality deteriorate to a point where it's crashy and jarring. You could drive this on a long journey over a variety of surfaces, and emerge on the other side, feeling fresh. There's something magical about how smooth the ride is, which puts it ahead when you compare it with its dedicated sportscar rivals.
The steering is definitely worth a mention too. Unlike its BMW counterparts, the tiller's rim is not a fat M Sport unit... Instead, the rim is comfortably thin and fits perfectly in your palms. The steering column is adjustable and if you've positioned your seats correctly, you can achieve a fantastic driving position. The steering is direct, responsive and thankfully not as over-eager as its Z4 M40i cousin. However, it suffers the same affliction as most modern performance vehicles: you just want more steering feel – the sensation that you're connected to the road is not quite strong enough.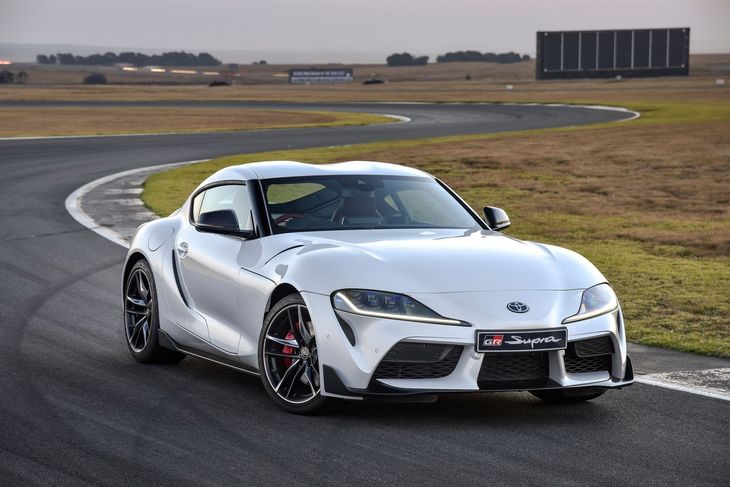 In an era where the art of driving is slowly dying, the Supra is a gorgeous reminder of how much fun it is to actually pilot a vehicle at pace
The best part is you don't need to be a driving ace to get the best out of the Supra. Whereas many rear-wheel-driven cars punish inexperienced or careless drivers, there's a neutrality to the handling balance, which is encouraging. You can press on to find your own limits at your own pace and there won't be any nasty surprises. The newcomer's remarkably easy to drive, be it in the city or through a winding section of a mountain pass.
Our track sessions took place on the fresh surface of a wet and windy Aldo Scribante racing circuit. After a few sighting laps to familiarise ourselves with the layout (and remember where the puddles of water were), it was time to open the taps. A sportscar's primary role is to evoke the fun of driving in its pilot, and the Supra duly delivers. As we mentioned before, there's predictability and ease-of-use to the Toyota's driving dynamics.
You'll be able to feel when you apply the power too early on corner exits, which will enable you to deal with its consequences long before the stability control gets involved. We also had the chance to experience the car flat out on the circuit, with Dakar legend Giniel de Villiers masterfully piloting the Supra around the twisty track. However, the wet conditions prevailed and a few corners were taken with tremendous amounts of big-angle oversteer. Impressively, with the car sideways, Giniel didn't once look fussed and kept things tidy – a testament to the car's wieldy, but forgiving, character.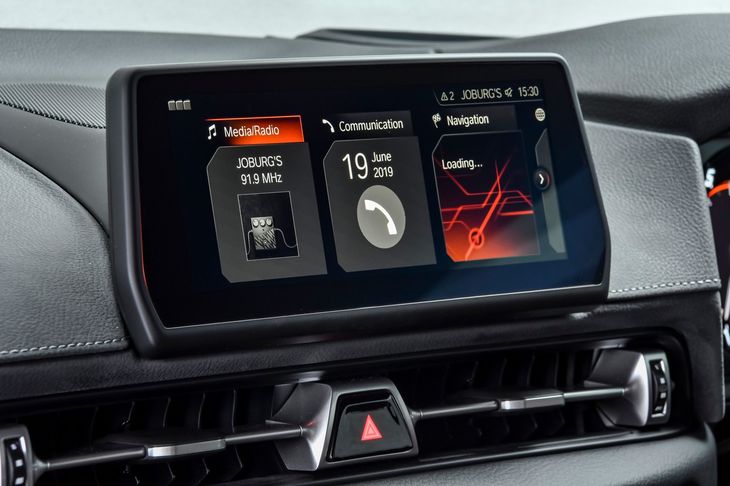 One of the gripes: BMW's presence is everywhere!
Verdict
Should you buy the all-new Toyota Supra? A low-slung 2-door coupe is a niche product, yes, but the newcomer excels at being a smile inducer and a competent daily driver. There's a boot with enough capacity to get some luggage in and plenty of convenience features. In Normal mode, it's remarkably civilised and restrained in and around urban environments. However, you can easily engage Sport mode and let fellow road users know all about your glorious howling straight-6 engine. There's enough grunt to see off other road users this side of a Jaguar F-Type V6 (one of its key rivals) too, but straight-line prowess is not this car's raison d'etre. The focus is on delivering driving thrills: an art that is slowly, but surely, being lost.
We have some gripes, but they're minor... The infotainment menus have a distinct BMW look and feel about them. The Supra's key fob, too, is BMW in origin and so are the infotainment controls. Thankfully the digital dashboard is a unique item and it really looks the part!
Despite the Supra and Z4 M40i being closely related, they do feel different to drive. The latter's handling is not as precise as the Supra's. Whereas its rear tyres are prone to scrabbling when you abuse the throttle pedal, the Supra is constantly planted and sure-footed, proving this is not just a re-skinned Z4. The 2 vehicles share a platform, engine and transmission, but Toyota and BMW have applied their own settings to the cars' suspension, active damping, differential and power steering setups. Put us on the spot and we'd say, on balance, the Supra is the more involving car to drive...
The best part is the fact that Toyota has badged this Supra as GR, which means there's more to come from the package. The Japanese market receives a 2.0-litre turbocharged 4-cylinder Supra (there's no word on whether it will come to South Africa, but it might!) and, given how good the newcomer's chassis is, we wouldn't be surprised to see a hotter, more potent Supra (with a GRMN badge) before the end of 2020.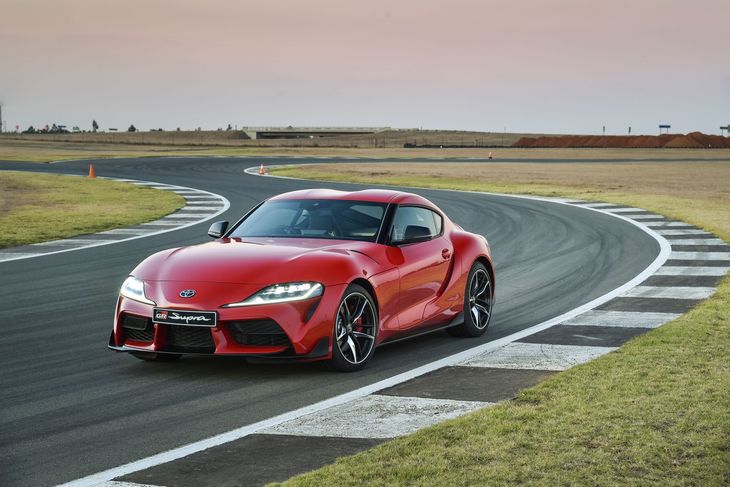 This GR Supra is just the start of the Supra's new chapter and we feel there's much more to come...
Toyota Supra Price in South Africa (July 2019)
Toyota GR Supra Track R953 000
Toyota GR Supra (Prominent Red) R1 072 300
Toyota GR Supra (Metallic) R1 082 300
Toyota GR Supra (Matte Grey) R 1 092 300
A 4-services/80 000km service plan is provided as well as a 3-year/100 000km Warranty. Customers can also purchase extended service plans via their Toyota dealer.
Further Reading
Toyota Unveils TRD Goodies for Supra
Toyota Supra TRD Concept Revealed
The First Toyota Supra Rolls Off The Line