It's not often that the entry-level derivative of a new vehicle model range represents the sweet spot in the product's line-up. With the 2.4-litre 6-speed manual Fortuner, however, we believe Toyota may have done just that!
We like: Refined and powerful engine, value for money, rugged nature, likely resale
We don't like: Bumpy ride, third-row seating arrangement, low airbag count
Alternatives:
For greater practicality: The Chevrolet Trailblazer 2.5D LT offers a better third-row seating arrangement. The seats fold flat into the floor, resulting in a more versatile, wider loading area.
For more comfort: Although there's nothing wrong with the manual transmission in this Fortuner, we'd recommend spending the extra R20 000-odd for the automatic derivative. This makes town driving (in particular) a more relaxing affair.
For greater value: It's impossible to trounce the Fortuner in this department (if you're looking to buy a brand new vehicle). It is not only the most affordable bakkie-based SUV, but also offers the widest spread of talents. Keep an eye out for a rival Ford Everest, powered by a 2.2-litre turbodiesel engine, later this year.
It's the baby, but is it the best?
We recently pitted the Fortuner 2.8GD-6 Automatic 4x4 against its fiercest competitor, the Ford Everest, in a comparative test that was just too close to call (read it here). But whereas the flagship Fortuner has some pretty tough competition, the market segment for entry-level, manual transmission, seven-seater body-on-frame SUVs is relatively sparsely populated. Chevrolet's underperforming (in the sales charts) Trailblazer is theoretically the Fortuner's strongest rival, and Mitsubishi's soon-to-be-replaced Pajero Sport is only offered with an automatic transmission (and costs a fair bit more). Ford's 2.2-litre turbodiesel Everest derivatives can't arrive soon enough to give the Fortuner a serious run for its money.
RELATED CONTENT: Click here to see the new Mitsubishi Pajero Sport
Until then, however, and even on its own merits, this entry-level Fortuner appears to have all the boxes ticked. It looks every bit as smart as its more expensive siblings, offers a punchy, refined new turbodiesel engine and comes with an impressive mix of standard comfort features. What, then, is not to like?
How does it fare in terms of...
Standard comfort and safety features?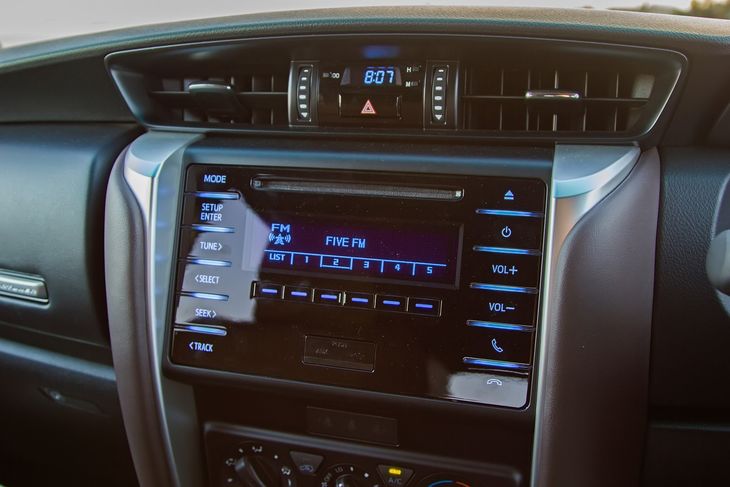 The touch sensitivity of the infotainment system's buttons take a while to get use to. Note the flap over the USB and auxiliary input sockets.
Seeing that this is the entry-level Fortuner derivative, you may expect it to be rather sparsely equipped. Thankfully, that is not (entirely) the case. From the outside, in fact, you may easily confuse the baby Fortuner for the flagship version. It still features shiny and attractive 17-inch alloy wheels, rear privacy glass, as well as roof rails. Look closely and you may notice the absence of LED detailing in the headlights, or the fact that a rear-view camera and parking sensors are not present, either. The latter, in particular, were missed very much. Manoeuvring and parking a sizeable vehicle such as the Fortuner within in the confines of the city make a parking assistance system a virtual necessity.
Climb inside the cabin and you'll probably notice the absence of leather upholstery immediately. The dark-brown cloth upholstery looks hard-wearing, though, and didn't appear to show dirt too easily. The driver has very little reason for complaint, seeing as the driver's seat is adjustable for height, while the steering column offers rake- and reach adjustment. Even in its lowest setting, you sit high in the Fortuner, with a commanding view over fellow road users. The front seats are of a new design, too, and proved to be very comfortable on longer trips.
An item missing from this model is the 2.8GD-6 model's slick touchscreen infotainment system. Toyota has tried hard to give the more basic system in the 2.4GD-6 a high-tech appearance, but to be honest we found it fiddlier to use than it needed to be. The buttons need to be pressed very "precisely" to activate, which is not great when driving. However, this minor irritation could be overcome with time and the system does offer Bluetooth, USB and aux-in functionality. Behind the steering wheel (with its awkwardly "blanked out" right spoke) is an instrumentation panel with a far simpler trip computer display than in the 2.8. But... again, it needs to be pointed out that it arguably offers everything you really need. Besides, you also get cruise control, one-touch up/down windows and the upper of the two glove boxes even includes a cooling function!
In terms of safety specification, however, we have some concerns. Yes, when it comes to active safety systems such as VSC (electronic stability control), trailer sway control, ABS with EBD and BA etc., the Fortuner appears to have all the bases covered. But the fact that it only has three airbags as standard (driver + knee/front passenger) is downright confounding. Curtain and side airbags are reserved for the more expensive models, but surely buyers wouldn't mind spending a little extra to get these on the 2.4? At least there are Isofix child seat mounts in the second row.
Performance and economy?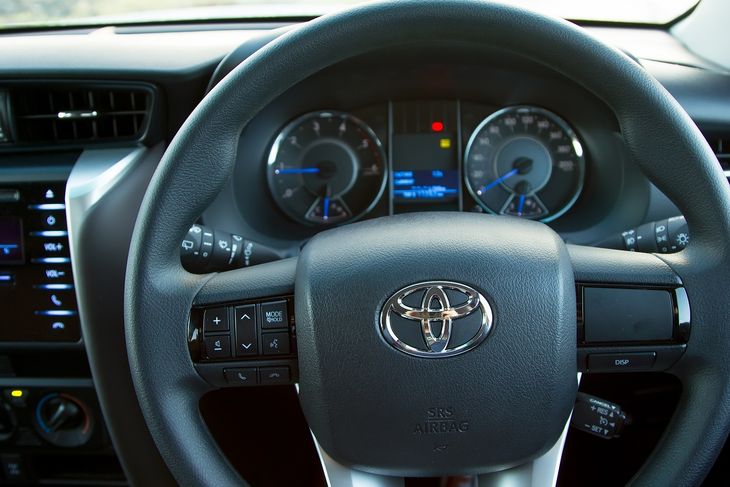 With standard cruise control, the Fortuner 2.4GD-6 is a very comfortable and refined cruiser.
This Fortuner is powered by the new-generation 2.4-litre turbodiesel engine that made its debut in the new Hilux this year. Following a drive of the Hilux 2.4GD-6 SRX 4x4 in Mozambique, we were convinced that it would be a great match for the Fortuner. We were not left disappointed.
It may not deliver the most power in this segment (110 kW), but it churns out more torque (400 Nm) than its rivals and does so from lower engine revolutions (1 600-2 000 rpm). Power goes to the rear wheels via a six-speed manual transmission that feels both slick and reassuringly robust. In short, the drivetrain is sublime, delivering effortless and strong performance in a very refined way. We expect there will be a few times that you may wonder whether the extra outlay for the 2.8 would be worth it.
And yet, somehow, Toyota's claimed figures paint a more gloomy picture. With a claimed 0-100 kph time of 13.2 seconds, the 2.4GD-6 is supposedly slower than both the Chevrolet Trailblazer 2.5 and Mitsubishi Pajero Sport. Then again, such sprint figures are of relatively little relevance here and in real-world conditions the Fortuner feels more than spritely enough. As is the case with the 2.8, three driving modes are offered (Power, Sport and Standard), and depressing Sport results in an immediately sharper throttle responses. Over longer distances, the Fortuner also impressed with its overtaking grunt, even when cruising at near the national speed limit.
It is also impressively economical, although matching Toyota's claimed average consumption figure of 7,0L/100km proved difficult. Nevertheless, in a vehicle of this size and during normal driving, you should easily achieve a consumption figure of around 8.5 L/100 km, which is very good indeed, especially considering the good range a large (80 litre) tank avails.
Packaging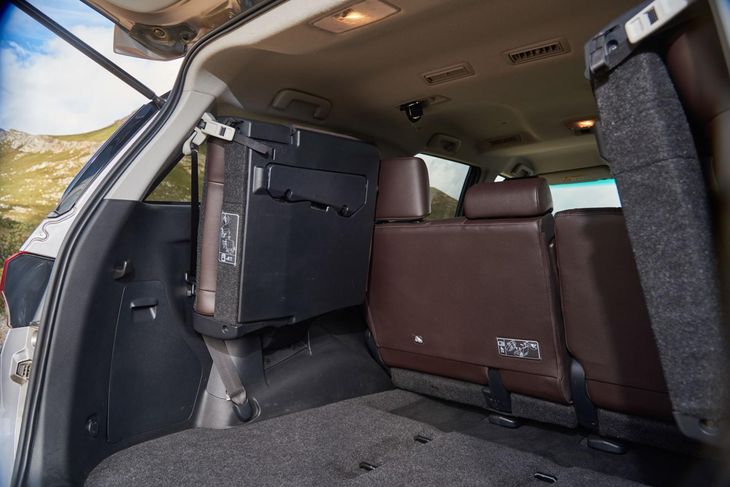 The Fortuner's third-row seating arrangement continues to cause much debate. (2.8GD-6 shown)
Whether you are going to use the full 7-passenger carrying ability or not, the fact that it is available when needed is a big contributing factor to the success of this type of vehicle. The new Fortuner is appreciably more comfortable – for all passengers – compared with the previous model. Access to the third row is gained using an easy one-touch tumble function. And while those rear seats are most definitely not ideal for fully grown adults, the sliding and reclining functions of the second row can be used to afford those in the rear some more kneeroom. Ventilation outlets are provided for second- and third-row passengers.
As per usual, with all rows of seats occupied, boot space is limited, which is why you'll almost always see these vehicles equipped with a tow hitch. This model is rated to tow a 2 500 kg (braked) trailer. But what about boot space with only five passengers? Well... this is a highly debatable topic. As before, the seats can be stowed against the sides of the luggage area (unlike the Trailblazer, for example, where they fold flat into the floor). Toyota says its research shows that customers prefer it that way and that, with some light spanner work, you could remove them altogether. But we're still not convinced... We think they impact not so much on space necessarily, but limit the shapes and sizes of things that can be accommodated.
Moving to the front of the cabin, a feature worth highlighting is a secondary, higher-placed compartment above the usual glovebox. It's particularly useful for keeping things cool, as air-conditioned air can be piped into it.
Ride and handling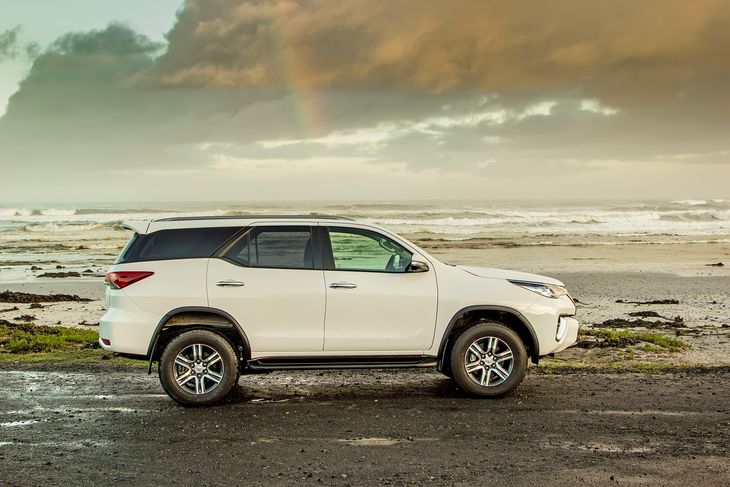 With its high stance and firm underpinnings, the Fortuner is not as smooth on-road as most rivals.
As we reported in our first review of the Toyota Fortuner, improved ride refinement and general stability were key areas targeted for improvement during the development of the new Fortuner. After all, much loved as the previous model was, it was often criticised for its overly firm, bakkie-like ride and relative "loose" feeling on poor surfaces, especially corrugated gravel.
The good news is that the new model is significantly improved all round. The ride quality is most definitely better, as is the NVH (noise/vibration/harshness) control. As a consequence, the Fortuner's cabin is a much quieter, comfier place than before, especially for those seated in the rear of the vehicle. The bad news is that it is still not as smooth and supple as a Ford Everest, or a Chevrolet Trailblazer, for that matter. And it remains decidedly less confident-boosting on corrugated gravel than either of those vehicles. That said, it does offer VSC (electronic stability control) so there is a safety net and the ride improves markedly when the vehicle is lugging a load.
But... in most instances and on most surfaces, the improvements are significant. Importantly, these enhancements have not come at the expense of the Fortuner's "off-road" ability. This may be the 4x2 version, but with generous ground clearance, great approach/departure angles, hill-assist control and a rear diff-lock, it will confidently go places where unibody/crossover SUVs would never dare to tread. This genuine and rugged versatility is core to the Fortuner's enduring appeal.
Pricing and warranty
The Toyota Fortuner 2.4GD-6 sells for a very attractive R445 100 and comes with a 3-years/100 000 km warranty and 5-years/90 000 service plan. Frustratingly, however, the service intervals are still conservatively pegged at 10 000 km, but in the long run, this may turn out to be a very good thing.
Verdict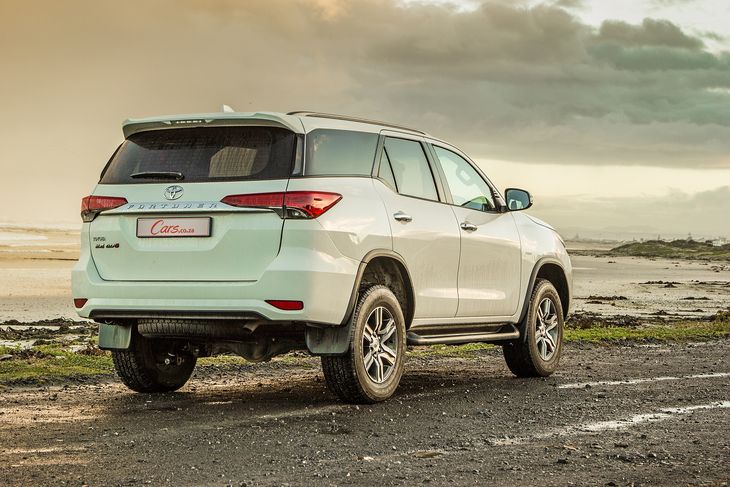 There's nothing "budget" about the entry level Fortuner's exterior. Note impressive (279 mm) ground clearance.
Locally made, well-priced and with the support of the country's leading servicing network, the cheapest Fortuner was virtually guaranteed to be a sales success in South Africa. As was the case with the previous-generation model, however, this baby Fortuner's spread of abilities make it a very desirable product, even when you don't factor in the peace-of-mind that comes from Toyota's extensive after-sales back-up. More stylish and refined, and therefore better suited to town and city driving, while retaining the all-road, rugged versatility of its predecessor, this Fortuner is a very appealing prospect for thousands of South African families. More's the pity, then, that it doesn't offer a better complement of airbags...
Compare the Toyota Fortuner 2.4GD-6 with the Chevrolet Trailblazer 2.5D LT and Mitsubishi Pajero Sport 2.5Di-D Automatic here
Related content:
Toyota Fortuner vs Ford Everest (2016) Comparative Review [Video]
Comparative Review: Ford Everest 3.2 4x4 XLT vs Toyota Fortuner 2.8 GD-6 4x4 6At
Toyota Fortuner (2016) First Drive
Interested in buying a Toyota Fortuner?
Search Cars.co.za for new/used Fortuners