Toyota's Gazoo Racing performance brand has lofty ambitions and will be enhancing most of the Japanese brand's portfolio over the next few years. The next model to get the go-faster treatment is the C-HR.
We've already seen information and images regarding the Toyota C-HR GR Sport, a visually-enhanced version of the Japanese brand's compact SUV. Now, information has come to light that Toyota's Gazoo Racing wishes to unlock some serious performance.
While the Toyota C-HR GR Sport featured no engine upgrades, there were some upgrades in the form of a centre brace to enhance rigidity, and a suspension package comprising coil springs, shock absorbers and stabilizers. The steering has been tuned for more responsiveness. Nice, but hardly the performance weapon the Gazoo Racing brand is known for.
The cost of new powertrain research and development is astronomical and most OEMs have adopted cost-cutting across the board. There's a reason why there are so many brand collaborations, it's simply cheaper to work together and share the costs. Case in point: the BMW Z4 M40i and Toyota Supra 3.0 sharing an engine and interior. However, an anomaly appeared earlier in 2020 with the Yaris GR - a purpose-built homologation car aimed at rallying that came with a 1.6-litre 3-cylinder turbocharged petrol motor. With 200 kW and 370 Nm driving all 4 wheels via a 6-speed manual gearbox, the Yaris GR is going to be one potent little performer. Toyota SA confirmed this little weapon is on the cards for our market, with timing and pricing subject to the exchange rate.
This engine raises some questions. Toyota may be flush with cash, but surely it wouldn't spend vast amounts of money for a vehicle that's essentially a niche product and will sell in very limited numbers? With SUVs commanding more global interest, a fast and expensive Yaris is hardly going to be a volume seller. The costs of such engine development need to be offset, so it makes perfect sense for this powertrain to be distributed across the portfolio. Given both Toyota's and Gazoo Racing's plans to "GR" the entire lineup, this engine could land up in more than just the Yaris GR.
Best Car Web Japan reckons the Toyota C-HR will be revealed in October 2021 and will be packing this exact powertrain combination. Given that both the Yaris GR and the C-HR (as well as the Corolla and RAV4) all run on variations of what's essentially the same TNG platform, we're confident the powertrain package should work.
If you're doubting the handling characteristics of such a high-riding compact SUV, we'll remind you that Toyota entered the 2016 24 hours of Nurburgring endurance race with a modified version of the C-HR, where it finished 84th out of 158 competitors. There's no doubt Toyota used the opportunity to conduct testing and research on the limits of the C-HR.
In an interview with Motor1, Herwig Daenens who works for Toyota Motor Europe in the R&D Vehicle Testing Department and drove in the race confirmed that the event was not just a race, but a chance to do some solid on-the-limit testing. "The Toyota C-HR's engine size and power were among the lowest on the track, so we knew it would not have the top speed – yet, it had good potential in cornering. And we had no doubts about its durability. The race result was not our ultimate goal – that is where Toyota will start looking for ways to bring progress, challenging its members' ability to make better cars."
You can bet the knowledge gained back in 2016 will be applied to the Toyota C-HR GR's production.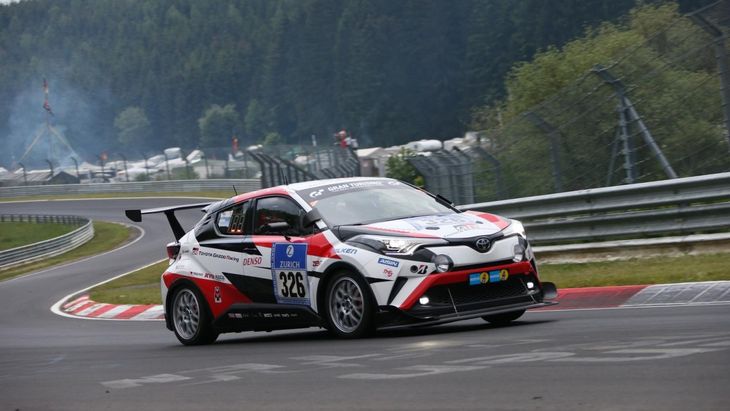 The Toyota C-HR tackling the 2016 Nurburgring 24 hour endurance race
Further Reading
Updated Toyota C-HR (2020) Launch Review
Toyota C-HR Facelift (2020) Specs & Price
Toyota C-HR 1.2T Luxury (2018) Quick Review