The updated Toyota Aygo was recently introduced with fresh styling, enhanced spec and a slightly more powerful engine. Is Toyota's refreshed city car worthy of our attention, or should you look elsewhere? We spent some time with the Aygo X-Play to find out.
We Like: Perky performance, good ride and handling, reasonable fuel economy
We Don't Like: Noisy/unrefined engine at higher revs, poor interior material quality and leg room, small load bay
Fast Facts
Price: R170 800 (October 2018)
Engine: 1.0-litre, 3-cylinder petrol
Power/Torque: 53 kW/93 Nm
Gearbox: 5-speed manual
Fuel economy: 4.3 L/100km
Serious About Buying?
Check out full specification details and finance estimates here.
Some Toyota dealers regularly offer specials: Have a look here.
What is it?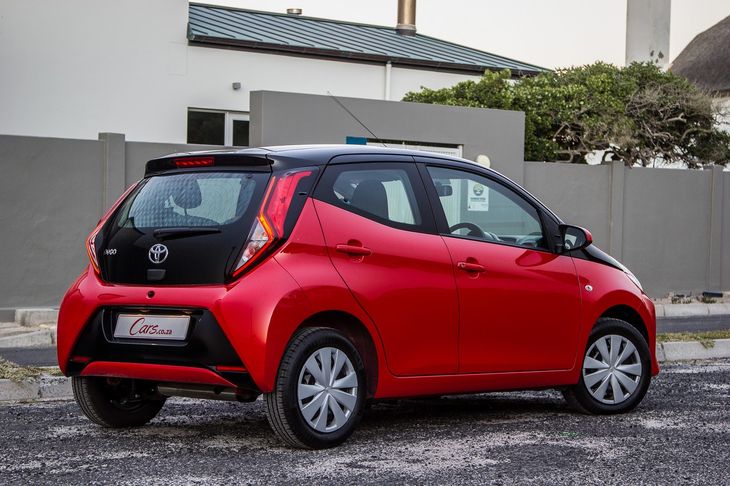 The Aygo's enhanced styling should find favour with young, first-time buyers. It's a funky little thing...
The Aygo has proven to be a popular choice in the budget car segment, offering funky exterior styling and a somewhat colourful interior (the pre-facelift 1.0 X-Play was a finalist in its category of the 2016 #CarsAwards), which appeals to younger clientele looking for an affordable and reliable urban runabout.
A revised Aygo came to market recently and it now has larger headlamps (with LED daytime running lights) while still wearing its distinctive X-face. The 2-tone X-Play derivative has a contrasting black roof, an upswept rear window line (to boost its visual appeal), while new boomerang-shaped taillights define the rear-end.
We like its compact and youthful styling, but how well does the Aygo perform overall? Let's take a closer look.
What's good?
Strong line-up of standard features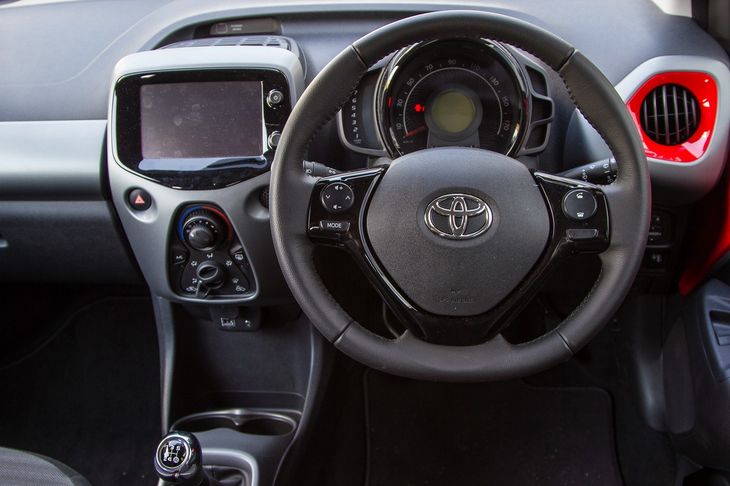 Standard specification is good and coloured panels liven up an otherwise dark and grey interior.
For a budget car, the 1.0 X-Play offers many standard features. While the 1-piece fabric bucket seats look cool, we found them to be quite firm with minimal bolstering, but the coloured interior panels liven up the interior. The multifunction steering wheel is adjustable for rake and reach and smartly bound in leather, as is the gear lever.
A nice-to-have feature is the touchscreen infotainment system, which offers Bluetooth connectivity as well as a USB and auxiliary audio port. While the system is basic, it's very easy to use, with a simple-to-understand menu. On the safety front, this Aygo comes equipped with 4 airbags, ABS with EBD, brake assist and stability control.
Performance/economy balance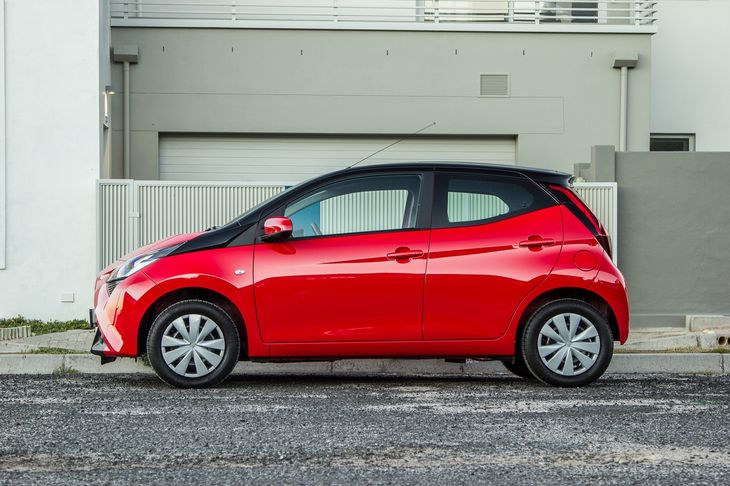 The Aygo's compact dimensions make it perfectly suited for the city and for people who want to live the small car lifestyle.
Don't expect fireworks from this Aygo – its naturally-aspirated 1.0-litre petrol engine whips up 53 kW (2 kW more than before), 93 Nm of torque and comes equipped with a 5-speed manual transmission. Thankfully though, its small body doesn't need much oomph to get it moving at an acceptable pace.
If you want to get the most from this engine, you will obviously have to drive it with vigour and change gears often to keep the motor "on the boil". At higher revs, the 3-pot becomes annoyingly noisy, but even if the Aygo's a bit of a slouch off the line, it perks up nicely as the revs climb and copes relatively well at highway speeds.
It's worth noting, however, that the Aygo's performance will be diminished at altitude and it will struggle even more if you have a full complement of passengers and luggage on board. The upshot is that the Toyota rewards a measured driving style with admirable fuel efficiency. The claimed consumption figure is 4.3 L/100 km, which is ambitious, but the test unit returned an acceptable average of 6.3 L/100km and indicated figures of under 6.0 L/100 km could be achievable with perseverance.
Ride and handling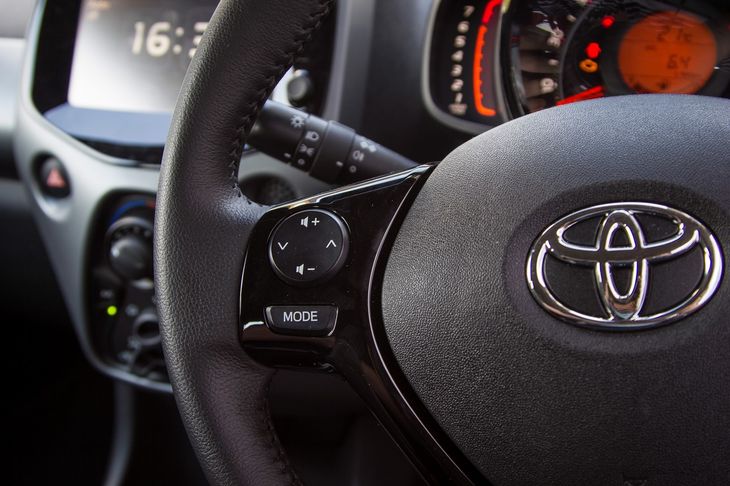 With a nicely-weighted steering feel, the Aygo offers good handling.
This is perhaps the Aygo's best attribute. The steering offers good feedback and the little Toyota can be whipped through corners with confidence (road-holding is good, always a boon for young, inexperienced drivers) while remaining reasonably composed. Given its basic underpinnings, some body roll is present, but it's not excessive.
What's more, the Aygo is well-sprung... Its ride quality is more pliant than those of many of its rivals, even on rougher surfaces, which many buyers will appreciate.
What's not so good?
Not very spacious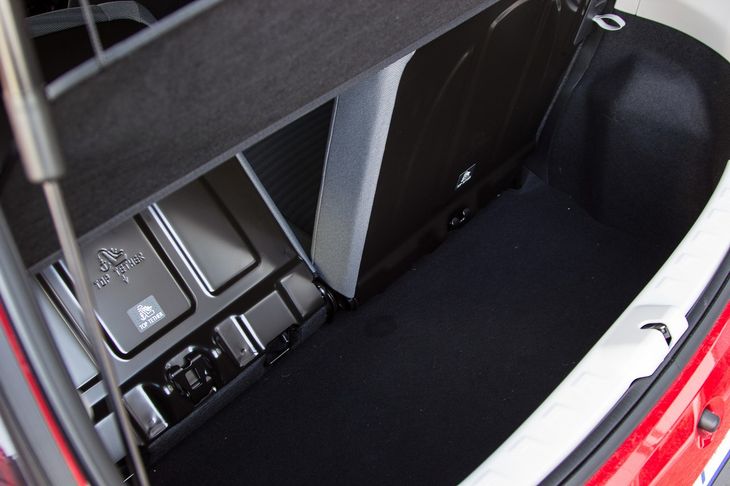 There's not much space for luggage, but the 50:50 split seats free up useful utility space, should you need it.
The biggest downside to the Aygo is that its rear passenger space is tight – taller adults will struggle to get comfortable on the rear bench as legroom is limited and headroom is also a squeeze. It should, however, be perfectly suitable for small children.
The load bay is also very small (168 litres), which is significantly smaller than rivals such as the Suzuki Celerio (235 litres) and Volkswagen up! (251 litres). The 50:50 split rear seats can be folded down to access more space for larger luggage items, but doing so does create a pronounced lip (at the base of the seatbacks), which could be a potential hindrance. We also don't like the exposed steel on the seatbacks as they will probably be prone to scratches and scuffs with prolonged hard use.
Cheap interior look and feel
As with all budget cars, the Aygo's interior is made with cost-saving in mind, but some of the plastic trim feels marginal, even at this price point, plus the doors, general trim and switchgear feel insubstantial. Sure, you could argue that this is to be expected in this segment, but there are other products (such as the Suzuki Swift and Volkswagen up!) that offer higher levels of perceived interior quality for not much more money. With that said, cheap doesn't necessarily have to be nasty...
Also, we found rearward visibility to be hampered by the new upswept C-pillar, so be sure to double check those blind spots before changing lanes...
Pricing and Warranty
The Toyota Aygo X-Play is priced from R170 800 and comes with a 3-year/100 000 km warranty as standard while a service plan is offered as an option.
Buy a new or used Toyota Aygo on Cars.co.za
Verdict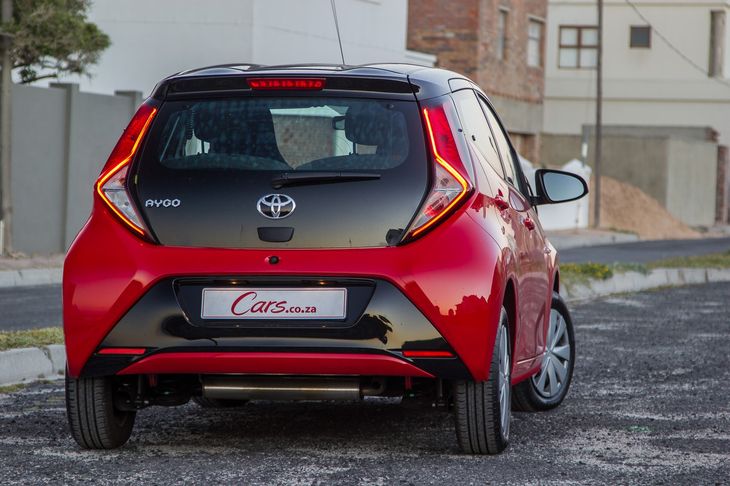 The Aygo works if you are willing to accept its flaws, but it's not, in our opinion, the best offering in this segment.
The Aygo certainly has its charms. Its styling is youthful and upbeat and it delivers a good combination of ride and handling. It doesn't have the most refined engine on the market, but it has enough shove to scoot through city traffic with relative ease, provided that you don't load to the hilt.
The Aygo is far from perfect, but if you can come to terms with its quirks, namely its space limitations and its noticeably cheap interior finishes, then it should serve you well on a daily basis. Also, the Aygo is backed by Toyota's expansive dealership network in South Africa and should be reliable and fairly affordable to maintain.
If space, practicality and perceived interior quality are more important to you, then we suggest that you consider other options in this segment (see below).
Alternatives (click on the names for detailed spec info)
Suzuki offers excellent budget cars and the Celerio is far more spacious than the Aygo. It produces comparable performance from its 3-cylinder, 1.0-litre petrol engine with 50 kW and 90 Nm driving the front wheels via a 5-speed manual transmission. The Celerio 1.0 GL is the one to go for and is attractively priced from R156 900.
If your budget can stretch to R177 900, then the new Suzuki Swift 1.2 GL is an excellent value proposition. It offers 61 kW and 113 Nm of torque from its 1.2-litre petrol engine and comes equipped with a 5-speed manual transmission. It's worth mentioning that the Suzuki Swift 1.2 GL is a finalist in the Budget Car category of the 2018/19 Cars.co.za Consumer Awards - powered by WesBank.
For roughly the same price as the Aygo, you can step into the entry-level Volkswagen Take up! priced from R171 200. Its specification is very basic, but if you want more features then the Move up! derivative, priced from R186 000 is the better buy. It has similar outputs of 55 kW and 95 Nm developed from its 1.0-litre petrol engine, but it's far more refined than the Aygo and its perceived interior quality is better than its Japanese rival.
Related Content:
Toyota Aygo (2018) Specs and Price
Most Fuel Efficient Budget Cars in SA
Toyota Aygo 1.0 X-Play (2015) Review